Aktuelno
Istraživanje: Koliko košta kvadrat nekretnine u novogradnji
Novogradnja je postala prvi izbor – svaki kvadrat koji se izgradi odmah se i proda.
Ukoliko ste od onih koji ove godine traže krov nad glavom, verovatno ste i načuli isti savet koji ekonomisti i bankari već duže vreme dele – kupite stan i to što pre. Nekoliko je razloga za to, kamate koje su trenutno povoljne, banke koje se otimaju o klijente, dobra ponuda na dobrim lokacijama, posebno kada je reč o novogradnji.
Prema tumačenju javno dostupnih podataka Republičkog geodetskog zavoda (RGZ), izgleda da se sve što se se izgradi u Beogradu, to se odmah i proda. Kupci daju prednost novim stanovima i zbog poreskih olakšica i zbog činjenice da ti stanovi ne traže dodatnu adaptaciju. Stanovi u staroj gradnji su nešto povoljniji, ali najčešće traže dodatna ulaganja, tako da je negde tas vage na strani novogradnje, piše 4zida.rs.
Najskuplji metar kvadratni stambenog prostora u Beogradu plaćen je 7.866 evra.
Prema istim podacima RGZ, prošle godine u Srbiji prodato je 37.500 stanova i još 12.000 garaža, poslovnih i industrijskih prostora. Najskuplje nekretnine dostigle su milionske iznose, a bile su u nekoj od beogradskih opština.
Lokacija diktira cenu
Prošla godina, ukazuju, pokazala je da lokacija igra veliku ulogu u visini cene nepokretnosti, a naročito kada se radi o onim najskupljim. I tu prednjači novogradnja. Tako, prosečna cena stanova po kvadratnom metru u prestonici iznosila je 2.050 evra.
Najskuplji stan kupljen je u Beogradu na vodi za nešto više od 1,1 milion evra, a ta ekskluzivna lokacija može da se pohvali i najskupljim metrom prodatog stambenog prostora koji je plaćen 7.866 evra.
Nekretinari nam kažu da se najveći broj stanova pazari se na Novom Beogradu, Voždovcu, Vračaru i Čukarici. Najskuplji kvadrati su pak na Vračaru, Starom gradu i Savskom vencu. Inače, tokom prvih deset meseci 2018. u Beogradu su izdate građevinske dozvole za više od 700.000 metara kvadratnog prostora različitnih kategorija.
Najskuplji kvadrat u Vojvodini je u Novom Sadu, tako je u tom gradu, u novogradnji kvadrat stana u proseku 1.300 evra. Za kvadrat novog stana u Pančevu prosečno se prošle godine plaćalo 827 evra. U Vršcu je lane prosečna cena kvadrata u novogradnji 764 evra.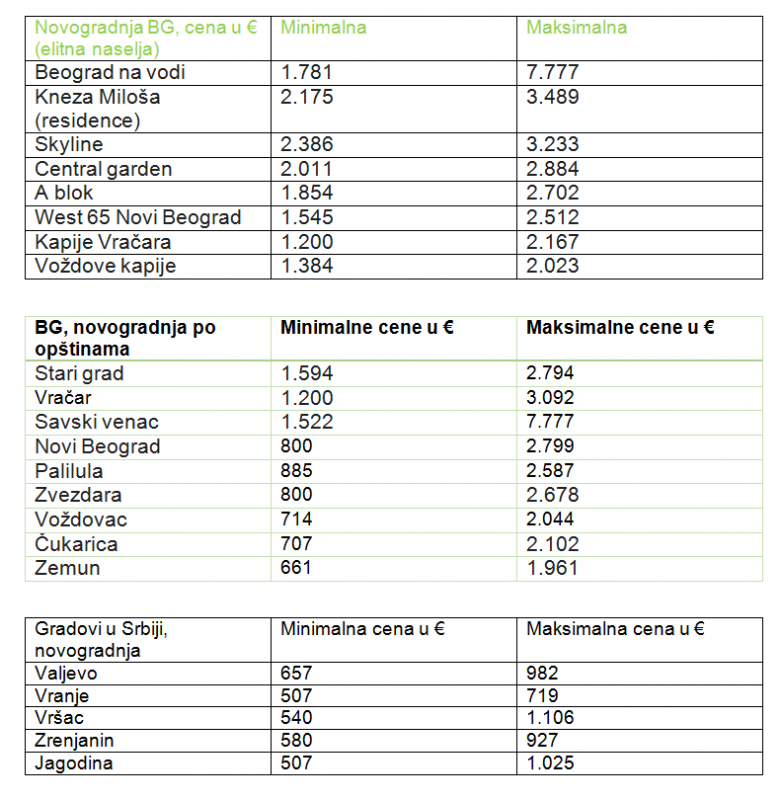 Kad ste već ovde…