Baugruppen model izgradnje stanova nudi građanima mogućnost udruženog finansiranja i izgradnje stanova i po 30 do 50 posto jeftinijoj ceni od standardne tržišne vrednosti.
Okončanjem Hladnog rata, Berlin je postao centar preklapanja ideja sa Istoka i Zapada, pa su mnoge komunističke koncepcije dobile svoj kapitalistički pandan. U moru hibrida, Baugruppen model (stambeno zadrugarstvo) pokazao se kao praktičan način samoinicijativnog rešavanja stambenog pitanja građana u tržišnim uslovima još od 1993. godine, kada je prvi put praktično primenjen u nemačkom Frajburgu. Zbog visokog kvaliteta stanovanja po minimalnoj ceni izgradnje, Baugruppen model se iz Berlina, za svega četvrtinu veka, proširio širom sveta, pa sada možemo pratiti primenu ovog modela u raznim oblicima.
Iznajmljivanje stana u Beogradu, kraj Save, za 60 evra?! Moguće je uz drugačiji model izgradnje stanova.
Kristijen Ring u svojoj prezentaciji Self Made City: New Urban Development Strategies and Housing Typologies govori o spregu interesa banaka i investitora, te rezultatima istaknutih primera primena Baugruppen modela u Berlinu. Izrabljivanje građana i radničke klase ide po principu niskih plata i visokih kirija, što je u našoj sredini, ne računajući jugoslovenski period, uobičajena praksa još perioda oslobađana od Turaka. S druge strane, građani Berlina pokušavaju da se odupru ovoj tendenciji. Kristijen Ring naglašava prostorne kvalitete dodatnih stambenih sadržaja koje nisu uobičajene u standardnim arhitektonskim tipologijama – kao što su zajednički dnevni boravak, krovne terase ili servisne prostorije. Takođe, ona ukazuje da predmetni primeri čine "periferni momenat", odnosno da se njihova izgradnja odvija na lokacijama koje iz nekih razloga nisu atraktivne velikim investitorima.
Protivteža visokim tržišnim cenama stanova
Fascinantno je videti šta se sve u Berlinu može sazidati i za koji novac. Na primer, cena m2 stana u BIGyard kompleksu iznosi 2.280 evra, a stanari ove zgrade imaju na raspolaganju prostrano zajedničko dvorište. Kvadrat stana u čuvenom projektu Ritterstrasse 50 iznosi 2.150 evra po m2, a stanari imaju na raspolaganju zajedničku prostoriju u prizemlju, vešernicu i krovnu terasu. S druge strane, rentiranje stana u SPREEFELD stambenom kompleksu iznositi oko 9 evra/m2. To znači da se stan od 30 m2 u ovom kompleksu može iznajmiti po ceni od 270 evra, zajedno sa svim pratećim sadržajima. Prevedeno na domaće cene, to je isto kao kada bi se stan identične kvadrature u Beogradu, pored Save, iznajmljivao po ceni od 60 evra.
Kako bi podstakla Baugruppen model, Vlade zemalja Evropske unije pružaju brojne benificije građanima – nižu stopu PDV-a na građevinski materijal i usluge, povoljne kredite za nove stambene investicije, povlašćenu kupovinu zemljišta. Takođe, u državama EU zajednice, Vlada za projekte stambenih zadruga izdaje i garancije kako bi građani dobili bankarski krediti s povoljnom kamatom. Cilj ovih intervencija je stvaranje protivteže visokim tržišnim cenama stanova, odnosno onemogućavanje kartelizacije vrednosti stambenih nepokretnosti i regulisanje internih kontradikcija kapitalističkog sistema. Koliko ovo daleko može da ide, može se videti na nedavno objavljenoj analizi tržišta novogradnje u Novom Sadu u kojoj se vidi da su cene kvadrata skočile i da je sada prosek 1.400 evra što je nerealno.
Umesto ulaganja u zaradu privatnih investitora i stranih banaka, ulaganje u sopstveni dom uvek je bolja opcija.
Stambene zadruge u razvijanim demokratskim društvima su činioci aktivne stambene politike. Njihova uloga je da javnost informišu o aktuelnim stambenim problemima, pitanjima i potrebama, te da vrše pritisak na vladajuću većinu da dodatno ulaže i razmatra podmirivanje stambenih potreba. Stambenim zadrugama se, često, poverava i izgradnja pristupačnih stanova (Social Housing), te njihovo rukovođenje. Na primer, stambene zadruge od druge polovine 19. veka u Austriji imaju naročito uspešnu tradiciju. Zadruge su u Austriji sagradile petinu ukupnog broja stanova nakon Drugog svetskog rata. Od sredine 90-ih pa do danas, u Austriji su polovinu nove stambene izgradnje realizovale stambene zadruge, a po Baugruppen modelu finasiranja i kooperacije.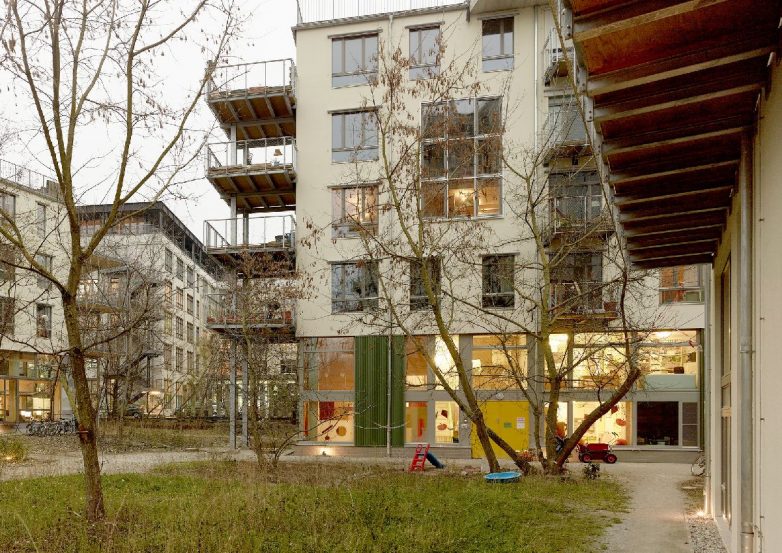 Redefinisanje odnosa cene i kvaliteta
Baugrupen model u Evropi redefinisao je odnos cene i kvaliteta višeporodične stambene izgradnje. Fantastično visoki nivo izgradnje i dodatnih sadržaja po pristupačnoj ceni primorao je i privatne investitore da povećaju nivo kvaliteta po sniženoj ceni, smanjujući udeo profita. ECKWERK je jedan od novijih projekata koji se razvijaju po Baugruppen modelu i pokazuje maksimalne domete stambenog zadrugarstva. S druge strane, projekti kao što je Brunnenstrasse 9, uključuju u okvir zgrade i druge, nestambene sadržaje čijim rentiranjem se ostvaruje zarada koja se ulaže u redovno održavanje objekta, plaćanja poreza i računa.
Ulaganje u sopstveni dom
Saznanje o alternativnim modelima finansiranja i izgradnje stambenih zgrada, kao što je stambeno zadrugarstvo, pruža građanima praktično rešenje stambenog problema za novac koji oni zaista raspolažu. S druge strane, ovi pristupi pružaju alternativu postojećoj stambenoj ponudi, ujedno pružajući diversifikaciju stambenih obrazaca i šema. Baugruppen model izgradnje stambenih objekata daje šansu velikom broju ljudi da uz zajednička nastojanja postanu vlasnici stana po 30 ili čak 50 posto pristupačnijoj ceni od prosečne tržište vrednosti. Poruka Baugruppen modela je da, umesto ulaganja u zaradu privatnih investitora i stranih banaka, ulaganje u sopstveni dom uvek je bolja opcija.
Kad ste već ovde…