Da, pločice se mogu lepiti preko druge pločice ali postoje neke razlike u odnosu na klasično lepljenje na košuljicu ili na malter. Zato, obratite pažnju na sledeće korake.
Na našom primeru lepili smo podne pločice na već postojeću keramiku u toaletu. Na ulaznim vratima postojao je prag što nam pomoglo da nemamo problem u nivelaciji s parketom koji je u ostatku prostora.
Za početak, potrebno je očistiti postojeće pločice i namazati podlogu valjkom. Ovo je obavezan deo kada lepite pločicu na pločicu jer će podloga doprineti boljem prianjanju. Mi smo koristili Ceresit CN 94 koji se ne razređuje, a nanesen je četkom tako da smo izbegavali stvaranje barica. Potom smo sačekali oko 4 sata da se ova bezbojna podloga osuši.
Pogledajte video u kojem je pokazano kako se lepe pločice:
Pre lepka, na pločice se mora naneti podloga koja će doprineti boljem prianjanju.
Za lepljenje pločice na pločicu moraju se koristiti jači lepkovi. Mi smo koristili SikaCeram 220 koji se umuti mikserom. Na podlogu se nanosi, kao i klasičan lepak, zupčastom špaklom. Osim na podlogu, lepak smo naneli i na pločicu što će doprineti većoj čvrstoći prianjanja.
Deo lepka se nanese na pod i započinje se postavljanje jedne po jedne pločice. Koristili smo krstiće, to jest, distancere između pločica debljine 2 mm. Obavezno libelom proveravajte horizontalnost, to jest, pad pločica. S obzirom na to da su se pločice postavljale u prostoriju u kojoj su već postojala vrata, keramiku smo opkrojili prema obliku pervajza.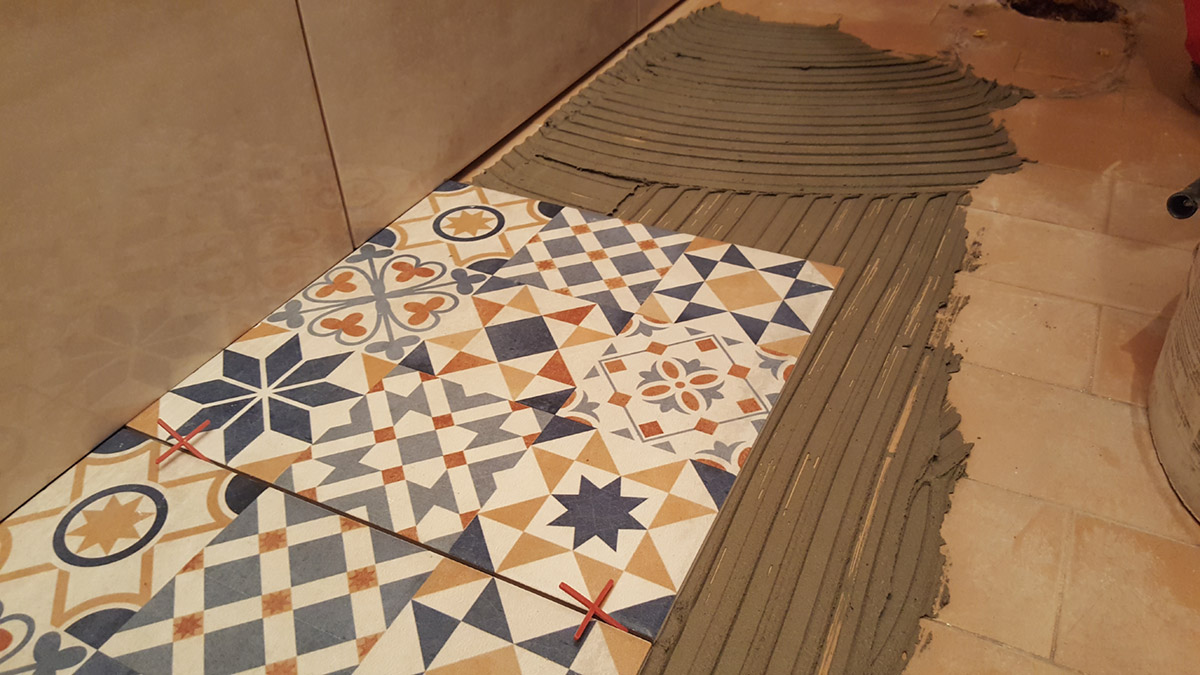 Fugovanje i završni radovi
U međuvremenu, odaberite odgovarajuću fug masu za keramiku. Mi smo koristili fug masu Mapei koju smo postavili nakon što je slaganje pločica završeno. Keramika se fuguje tako što se gletaricom nanosi fug masa, a potom se mokrom krpom skida višak fug mase sa pločica.
I tako je naš toalet zasijao novim sjajem! Mi smo koristili majolika pločice koje su veoma zgodne za male prostorije kao što su toaleti.
Ako mislite da je ovaj postupak komplikovan, pogledajte kako tek izgleda postavljanje pločica velikog formata…
Foto i video: Gradnja.rs
Kad ste već ovde…