Otvaranje robne kuće Lesnina XXXL zakazano je za 16. maj, a mi smo imali priliku da obiđemo gradilište u kojem su neka od rešenja primenjena prvi put u našoj zemlji.
NOVO: Kako izgleda završena robna kuća Lesnina XXXL u Novom Sadu
Lesnina je dobro poznat brend u našoj zemlji još iz doba stare SFRJ. U tadašnjoj Jugoslaviji niko nije znao za Ikeu, jer su domaći brendovi poput Lesnine, Simpa ili Šipada pokrivali celokupno tržište kvalitetnim nameštajem iz lokalne proizvodnje. Međutim, nakon raspada stare države, Lesnina je povremeno poslovala na našim prostorima bez zapaženog uspeha. Sada su, zajedno sa austrijskom kompanijom XXX Lutz koja ih je stavila pod svoje okrilje, rešili da to promene!
Lesnina XXXL stiže na velika vrata u našu zemlju i to prvo u Novi Sad, građenjem robne kuće od 20.000 kvadrata tik uz auto-put Novi Sad-Subotica odmah pored tržnog centra Rode na parceli od 35.000 kvadrata na kojoj inače treba da se izgradi i robna kuća Momax koja takođe posluje pod ovom austrijskom kompanijom.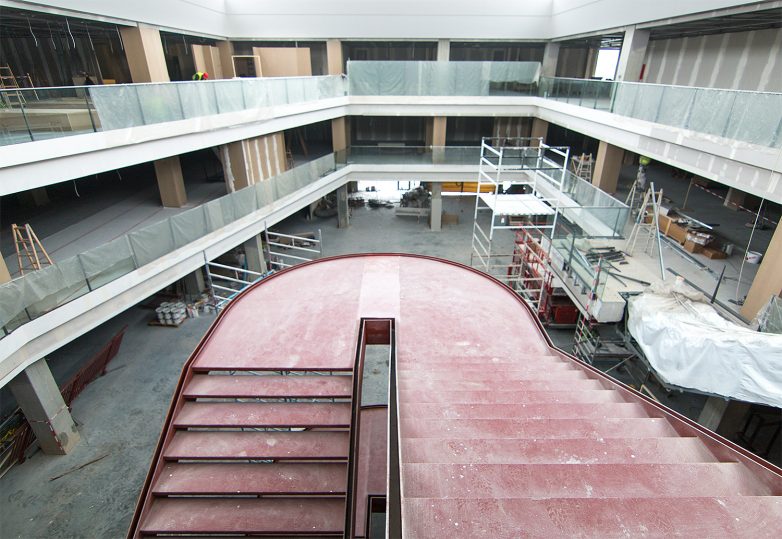 Objekat dužine 135 i širine 55 metara izveden je u prefabrikovanoj armirano-betonskoj konstrukciji.
Radovi na izgradnji robne kuće počeli su po projektu Velcon Projekt iz Splita u avgustu prošle godine i to na močvarnom tlu zbog čega su morali biti postavljeni šipovi. Za razliku od uobičajenog rešenja, s pobijanjem, u ovom slučaju šipovi su bušeni i to uz pomoć svrdla dužine 12 metara. Ono što je specifično za ovaj postupak jeste da svrdlo ima cev kroz koje se vrši betoniranje – kako se svrdlo vadi, tako se automatski pod velikim pritiskom kroz cev utiskuje beton i na taj način formira se telo šipa. Armatura je polagana po betoniranju tako što je utisnuta na 2/3 visine šipa. Koliko je ovaj posao bio veliki, govori i podatak da je ispod svakog temelja samca postavljeno po 4 šipa i to dužine 6 metara ispod oboda objekta, odnosno 8 metara ispod unutrašnjeg dela objekta. Zemljište je tako armirano s preko 600 šipova! Nosivost šipova ispitivana je dinamičkim opterećenjem na najopterećenijim šipovima, dok je integritet šipova proveren na više od trećini ukupnog broja šipova.
Galerija fotografija na bušenju šipova, izradi temelja i konstrukcije:
Ploča bez armature
Ono što je posebno interesantno jeste da prva ploča nema armaturu. Naime, na tlo je nasuto 80 centimetara tucanika koje je u prvom sloju zbijeno do 50 MPa, dok je drugi sloj zbijen do čak 100 MPa čime je dobijena idealno ravna i pre svega čvrsta podloga preko koje je izlivena betonska ploča od 20 centimetara sa polipropilenskim vlaknima. Ova ploča ne trpi deformacije pa tako nije bilo potrebe za armiranjem.
Objekat dužine 135 i širine 55 metara izveden je u prefabrikovanoj armirano-betonskoj konstrukciji koju je isporučio Put inženjering. Na temelje samce, koji su betonirani na licu mesta, postavljane su prefabrikovane čašice. Na čašice postavljeni su stubovi visine 11 i 12,5 m visine u rasteru 6×9 metara, na koje idu međuspratne i krovne grede i prefabrikovane ploče. Prefabrikovane međuspratne ploče su ošupljene i prednapregnute debljine 20 i 25 cm, a preko njih je izliven sloj monolitizacije debljine 6 cm.
Enterijer od iverice
Mi smo u unutar robne kuće mogli da prisustvujemo završnim radovima na HVAC sistemu kao i na enterijerskim radovima. Šuma majstora užurbano radi u prodajnom delu gde se od iverice prave pregradni zidovi, viseći plafonski elementi pa čak i rasvetna tela kroz koju su provučene LED trake. U prodajnom delu se na podove lepe PVC ploče različitih dezena kao i tepisoni, dok se u servisnom delu polažu pločice.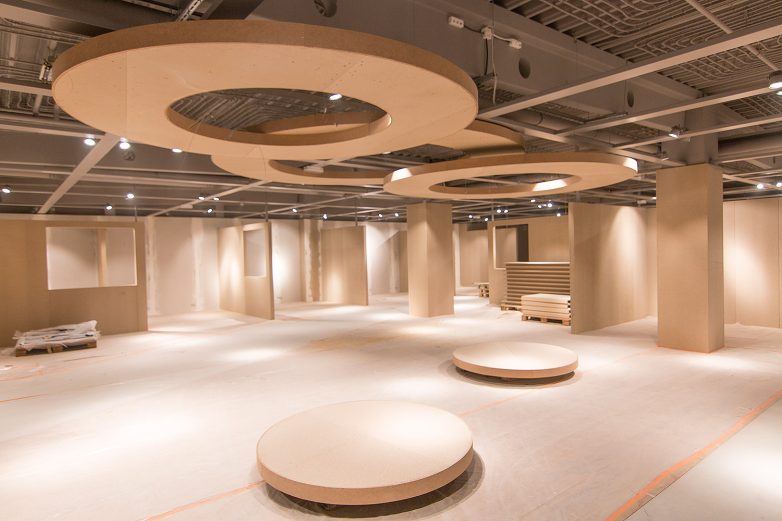 Klimatizacija robne kuće rešena je putem plafonskog grejanja i hlađenja sa panelima veličine 2×2,5 metara.
Dok se na podovima užurbano radi, plafoni su već gotovi, a na njima se krije nešto veoma interesantno. Naime, klimatizacija koju izvodi LSG Group rešena je putem plafonskog grejanja i hlađenja sa panelima veličine 2×2,5 metara. Svih 1.300 panela povezano je na jednu pumpu koja isporučuje 50 litara vode po panelu. Ono što je posebno interesantno jeste da cevi, koje je isporučio Peštan, nisu izolovane jer je sistem opremljen temperaturnim senzorima vlage. Kada dođe do entalpije, odnosno, do tačke zasićenja, diže se temperatura u panelima pa samim tim nema ni kondenzacije.
Čelično stepenište dominira atrijumom
Ono što na kupca treba da ostavi utisak kada uđe u robnu kuću jeste ulazni atrijum. On već sada deluje interesantno jer se prostire celom visinom objekta, a njime dominira impozantno čelično stepenište. Pored njega će biti postavljen panoramski lift, a vertikalna komunikacija obavljaće se i Klemann eskalatorima koji su već na mestu. Iz ovog atrijuma, kreće prodajni deo prostora koji je projektovan s vatrootpronošću od 60 minuta, dok je to vreme u skladištenom prostoru 30 minuta duže.
Na projektu Lesnine XXXL uključeno je veliki broj izvođača i projektanata. Radove izvodi SMB Gradnja iz Subotice po projektu Velcon Projekt iz Splita. Novosadski Axis građevinski biro potpisuje arhitektonski projekat, kao i projekte unutrašnjih instalacija i vrši stručno tehnički nadzor tokom izgradnje objekta. Span iz Novog Sada odgovaran za projekat konstrukcije, Vojvodina Projekt uradio je spoljno uređenje i infrastrukturu, dok FLOW iz Beograda radi celokupnu koordinaciju i finansije. Jedinstvo Užice uradilo je čeličnu konstrukciju, Misal je isporučio stakla i ograde, dok je Hörmann bio zadužen za garažna vrata.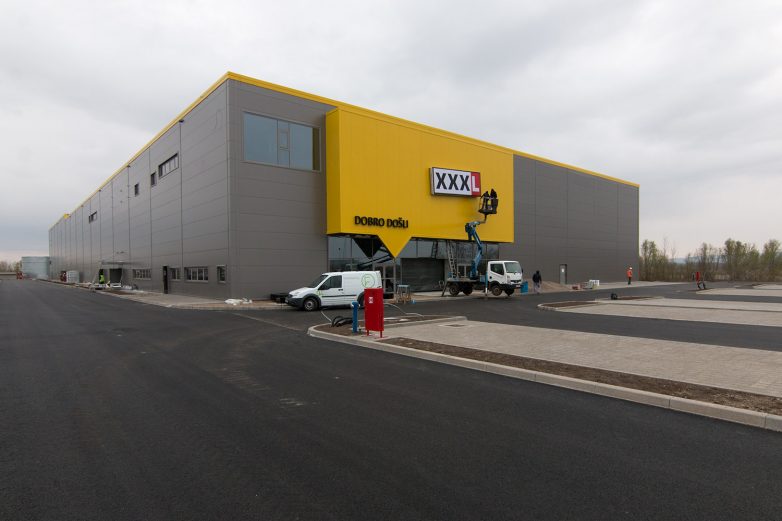 Natpis dobrodošlice
Fasada objekta izvedena je od Trimo termoizolacionih panela, a kada smo se mi zatekli na gradilištu počela je i postavka natpisa "Lesnina XXXL" na fasadu. Postavljanjem ovog upečatljivog natpisa na karakterističnu žutu fasadu, kompanija želi da pokaže svim Novosađanima ali i onima koji prolaze auto-putem da su radovi pri kraju i da uskoro ovde mogu da očekuju novo mesto za kupovinu nameštaja. I zaista, otvaranje je veoma blizu – 16. maja 2019. godine.
Fotogalerija sadašnjeg stanja:
Kad ste već ovde…