Kolumna
More arhitekte, ne orite trgove. More građani, ne gazite projekte
Od Slavije, preko Trga Republike, Savskog i Nikole Pašića do Cvetnog trga – beogradski trgovi su velika gradilišta koja izazivaju veliku pažnju (i negodovanje) javnosti.
U zadnjih nekoliko meseci ponovo su aktuelne polemike na temu beogradskih trgova, kako onih već preuređenih tako i onih na kojima se sada radi ili će u skorije vreme biti preuređeni. Primećuje se jedna neusklađenost, odnosno, nerazumevanje između nekoliko činilaca: gradskih čelnika, arhitekata i šire javnosti.
Svako ima neke svoje zamisli kako bi Beograd trebalo da izgleda, a nekako deluje da se ta mišljenja gotovo uopšte ne poklapaju. Odsustvo stručnosti, komuniciranja i javnih rasprava podstakli su aktuelnog gradskog urbanistu Marka Stojčića da stavi jači akcenat na ulozi samih građana uvođenjem javne ankete, čija je tema dalja sudbina nekoliko gradskih lokacija. Ovaj logičan sled koraka – inicijativa političara, mišljenje struke, mišljenje javnosti, raspis javnog konkursa/tendera i na kraju realizacija, nije baš uvek poštovan prilikom preuređenja određenih lokacija ili odabira prvonagrađenog rešenja za datu lokaciju. Da li će uvođenje ankete, pored javnih uvida koji su u mnogome dobili jednu formalnu crtu, uspeti da poboljša novonastalu situaciju ili potrebno preduzeti još neki korake? Pa ne baš u potpunosti.
Građani su se odvikli od bilo kakvih izmena u javnom prostoru pa su često odbojni prema bilo kakvim novim intervencijama.
Za početak prisutna je činjenica da Beograd nekoliko decenija nije menjao izgled svojih javnih prostora. Trgovi, skverovi, pešačke zone, parkovi, česme, fontane i drugi segmenti javnog prostora gotovo u potpunosti su nasleđeni iz vremena kada je grad bio prestonica Socijalističke Federativne Republike Jugoslavije. To ne znači da su svi ovi motivi zastareli ili prevaziđeni i da im je pošto-poto potrebna zamena, već da su se građani odvikli od bilo kakvih izmena u javnom prostoru i srodili sa onim što postoji već decenija, a samim tim nezainteresovani i često odbojni prema bilo kakvim novim intervencijama. Ako se na to još doda da je naše stanovništvo i u prošlosti bilo negativno raspoloženo prema bilo kakvim promenama u javnom prostoru, koje su na bilo koji način odstupale od neke ujednačenosti, tradicionalizma i često ustaljenih šema urbanističko-arhitektonskih preuređenja (spomenik Pobednik, Palata Albanija, park Kalemegdan itd.) nimalo ne čudi i aktuelno negiranje, dodatno podgrejano i političkim nezadovoljstvom.
S druge strane, politička rukovodstva imaju dugu tradiciju autoritarnog upravljanja i ličnih sujeta pojedinaca, koji su najčešće kao rezultat imali potpuno ignorisanje mišljenja javnosti i struke. Jednostavno, gotovo svi naši vladari  i političari su uvek sve znali bolje, za sve imali najbolje rešenje i često nisu uvažavali mišljenje stručnjaka, osim ako se ono nije poklapalo s njihovim interesima. Ovo vaganje između javnih potreba i ličnih interesa, to jest, njihovo usklađivanje, bilo je i ostalo presudno prilikom bilo kakve realizacije. Ne smemo skrajnuti ni faktor arhitektonskog egocentrizma, gde bi određeni autori zbog svojih ličnih sujeta davali rešenja koja često nisu bila u skladu s okruženjem ili bi u prvi plan nametali isključivo svoje motive.
Dve su stvari koje građani Beograda zameraju gradskim čelnicima. Kao prvo, od kada je izgrađena fontana na trgu Slavija, bilo kakva druga izgradnja česmi ili fontana nije poželjna, a kao drugo, od kada je rekonstruisan Cvetni trg, inače pobedničko rešenje na arhitektonskom konkursu, građani svaki sličan vid rekonstrukcije vide kao obično betoniranje javne površine. Takođe, svako posečeno stablo, opravdano ili ne, takođe izaziva gnev i bunt. A kada se posade neka nova stabla duž ulica ili trgova, to se nekako ne primećuje jer su u pitanju mlade sadnice, koje još nisu razvile svoje krošnje i ne ostvaruju isti efekat kao stabla stara nekoliko desetina godina. Šta to zaista smeta građanima i predstavnicima struke?
Muzička fontana
Trg Slavija je rekonstruisan po projektu koji se nije pozivao ni na jedno od nekoliko drugonagrađenih rešenja sa konkursa iz 2012. godine. Gradski čelnici su smatrali da su sva rešenja isuviše apstraktna, komplikovana i neefektna za građane, pa su odlučili da na centru trga postave prepoznatljiv motiv u vidu fontane. Istina, izgradnja fontana i česmi je uvek dobrodošla u svakom gradu, kao vid osveženja okoline, ali je nekako promašaj što muzičkoj fontani niko od prolaznika ne može da priđe i da se eventualno osveži. U centar kružnih tokova se obično postavlja neki veći spomenik, koji će biti vidljiv iz svih uglova trga, kao što je predviđeno za kružni tok kod Bogoslovije, gde se planira postavljanje monumentalne skulpture vajara Koste Bogdanovića.
Prvi manifestacioni trg
Trg Republike će uskoro biti u potpunosti rekonstruisan, pa će Beograd konačno dobiti svoj prvi manifestacioni trg. To su obično glavni trgovi na kojima mogu slobodno da se odvijaju organizovani skupovi građana i druge javne manifestacije, po čemu je ovaj tip trg i dobio ime. Na takvim trgovima se obično nalazi bar jedan spomenik i eventualno neka česma ili fontana, a veći deo prostora je slobodan, namenjen pešačkom tranzitu ili okupljanjima. Dakle, nema žardinjera, klupa i drveća, koje bi sprečavale primarnu ulogu trga, a ako ih i ima oni su pozicionirani na njegovom obodu ili na površinama koje se nalaze sa druge strane saobraćajnica koje okružuju trg.
Trg Republike je rekonstruisan po projektu tima arhitekata Zorice Savičić i Zorana Dmitrovića, koji je pobedio na konkursu koji je održan 2015. godine. Arhitekte su gledale da potpuno očiste trg od suvišnih elemenata, a potpuno nepraktične breze zamene drvećem koje će imati velike krošnje i koje su pozicionirali na samom obodu trga uz saobraćajnicu. Dakle, nema mesta nekom drugom zelenilu jer to zaista nije park, a eventualno dodatno ozelenjavanje prostora moglo bi se postići rušenjem tržnog centra Staklenca, na mesto koga bi postojeći park sa spomenikom Branislava Nušića mogao biti proširen.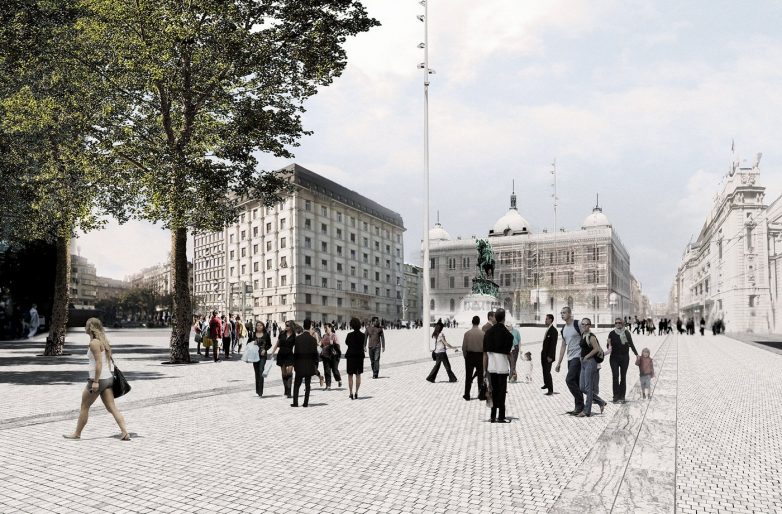 Pašić s fontanom
Trg Nikole Pašića (nekada trg Marksa i Engelsa) takođe bi trebalo da bude rekonstruisan po pobedničkom projektu iz 2015. godine, koji potpisuje tim na čelu sa arhitektama Savičić i Dmitrović. Po njihovom predlogu i ovaj trg je očišćen od suvišnih motiva u vidu žardinjera, ali i od fontane, koja već šest decenija krasi ovaj prostor, što su gradski čelnici i javnost prepoznali kao grešku i odlučili da se na trgu ipak nađe fontana. Međutim, kako je naglasio gradski urbanista Marko Stojčić, stara fontana bi bila zamenjena novom, što možda i nije preko potrebno jer je ova već uveliko prepoznatljiv motiv, a njen dizajn je vanvremenski i može da podrži svaku dalju rekonstrukciju.
Španci za Beograd
Savski trg (nekada Vilsonov trg) dobio je ove godine pobedničko rešenje, koje potpisuje Fenwick Iribarren Architects – tim arhitekata iz Madrida. Konačno je i ovom poludevastiranom javnom prostoru vraćen približno sličan oblik, preusmeravanjem celokupnog saobraćaja u obodni prsten koji će se protezati oko zgrade stare železničke stanice. I tu je drveće postavljeno po obodu trga i pored hladovine pruža dodatnu zvučnu izolaciju od saobraćaja. Ovde je kao glavni motiv postavljen kolosalni spomenik Stefanu Nemanji, čija veličina, oblik i pozicija su naveli mnoge stručnjake i laike na negativnu kritiku. Zanimljiva je njegova pozicija na samom dnu istoimene ulice, ali se postavlja pitanje kako će njegova disproporcionalna veličina da se uklopi sa okruženjem.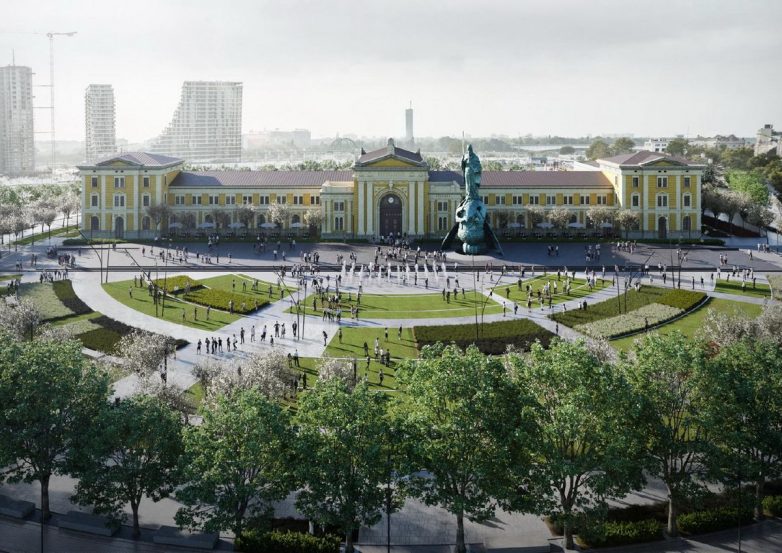 Cveće i voda
Tu je i nesrećni Cvetni trg, koji je prvi primio najviše udaraca. Rekonstruisan je takođe po pobedničkom rešenju iz 2000. godine, koji potpisuje arhitekta Ksenija Bulatović. Veoma smelo rešenje, u kojem zapravo i nije isuviše intervenisano po pitanju seče okolnog drveća, ali je stvoren širok (za mnoge građane isprazan) prostor koji nije ispunjen nekim motivom. Klupe su postavljene u okviru obodnog stepeništa, a na jednom od njih, na samom špicu trga, postavljen spomenik Borislavu Pekiću, rad vajara Zorana Ivanovića. Tu su i stakleni kiosci, u kojima je smešten dodatni sadržaj. Arhitekta Bulatović je uvidela propuštenu šansu da dodatno oplemeni površinu trga, pa je naknadno isprojektovala i fontanu, koja će biti postavljena na drugom kraju trga.
Ukus javnosti, loši materijali i najniže ponude
Kako što možemo videti, arhitekte već skoro dve decenije daju prednost modernom, minimalističkom i pročišćenom izrazu u projektovanju trgova, ali se on ne pogađa uvek sa ukusom javnosti koji su više za neku klasičnu formu, po uzoru na istorističku arhitekturu, koja ubedljivo odnosi pobedu nad savremenom. Ova savremena rešenja se mogu naći i u drugim evropskim i svetskim metropolama, ali kada naši građani posete te gradove, njima ta rešenja ne smetaju. Isto je i sa fontanama i česmama, za koje je u svakom gradu poželjno da ih  je što više, ali naravno da su izvedene sa određenim ukusom.
Finalna obrada trgova je pre svega glavni problem u našem gradu, jer neka dobra i inovativna rešenja potpuno padaju u vodu zbog upotrebe loših ili neodgovarajućih materijala koji nisu dovoljno otporni na sunce, vlagu ili tehnička oštećenja, pa nam trgovi već posle godinu ili dve deluju jeftino i zapušteno. Ovo je pre svega problem gradske uprave koja isuviše blagonaklono gleda na izvođače, koji na tenderima pobeđuju isključivo samo na osnovu najniže ponuđene cene radova. Tačno je da je ozelenjavanje gradova i izgradnja parkovskih celina jedan od prioriteta svakog grada, ali se on ne može vršiti na uštrb trgova, već isključivo stručnom rekonstrukcijom postojećih parkovskih celina i po mogućstvu izgradnjom novih na upražnjenim lokacijama gde nije potrebno zidati novu zgradu ili popločavati/asfaltirati za potrebe nekog novog trga ili ulice.
U svakom slučaju, puno je problema i neusklađenosti između sva tri faktora, ali se na njihovom prevazilaženju mora raditi i to isključivo komunikacijom, razmenom mišljenja i edukacijom, kako bismo zajedno došli do najboljih rešenja za naše trgove i druge javne prostore.
Kad ste već ovde…