Saloni
Nagrada salona arhitekture 2018. za rekonstrukciju Muzeja savremene umetnosti
Gran Prix 40. jubilarnog salona arhitekture osvojio je Dejan Todorović za projekat adaptacije, rekonstrukcije i dogradnje Muzeja savremene umetnosti u Beogradu.
Nagrada u kategoriji Arhitektura je pripala Milanu Lojanici i Vladimiru Lojanici za projekat Poslovno-trgovačkog i hotelskog centra Rajićeva u Beogradu. Nagrada u kategoriji "Gosti salona delo u inostranstvu" pripala je autorima Branislavu Mitroviću, Siniši Tataloviću i koautoru Ognjenu Krašnom za hotel Kondo, Kamenovo, u Crnoj Gori, a laureati u kategoriji – Enterijer su Bojana Marković i David Bilobrk za delo Četiri zemlje, jedan jezik u Beogradu.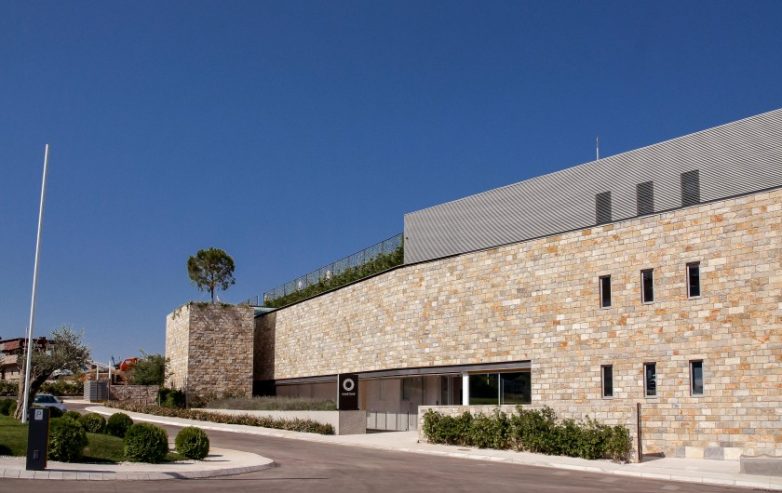 Sadašnjost i budućnost Salona
Svečanom dodelom ovih i brojnih ostalih priznanja i pohvala, juče je u Muzeju primenjene umetnosti otvorena izložba 40. jubilarnog Salona arhitekture, pod poetskim naslovom "Polja budućnosti", koja će se u znaku brojnih događaja i aktivnosti odvijati do 5. maja, piše Danas.
Od osnivanja 1974. do danas, ova smotra se pozicionirala kao mesto i događaj artikulisanja mišljenja o arhitekturi i arhitektonskoj kulturi i to sa tendencijom da Salon kao izložba bude afirmativna i aktivistička kritika aktuelnog stanja, iz pozicije arhitekte izlagača i paralelno sa javnim pogledom.
Tematizacijom ovogodišnjeg izdanja Salona arhitekture je naznačeno i pitanje imenovanja ove manifestacije u smislu da ona postoji i "diše" u kontinuitetu već 44 godine. Mali paradoks je u tome što se jubilarni broj ovogodišnjeg Salona ne poklapa sa brojem godina od kada je Salon arhitekture osnovan. Na određeni način, kao i izložba sama, implicira ideju o protoku vremena i očiglednim tokovima arhitekture koji se iščitavaju u tako dugom periodu od 44 godine koliko Salon postoji. Odnosno, otvara kritičku upitanost kakav je uticaj Salona na kasniji život dela.
Prisutna su dva moguća koda, jedan je pozitivan koji ukazuje na važna, trajna dela arhitekture, a drugi je manje afirmativan, jer svedoči o obilju proizvodnje s kratkim rokom trajanja. Možda se uopšteno može povući paralela između izložbe arhitekture i samih zgrada. Kao što i zgrada postoji, sve dok služi svojoj nameni, samo u sadašnjosti, a onda kada se sruši ili preuredi ostaje samo trag u istoriografiji arhitekture sačuvan za buduće vreme. Tako i izložbe arhitekture, koje se uvek održavaju u određenom trenutku u vremenu, i posle demontaže, dokumentuju u memoriji o arhitekturi poruke o sadašnjosti, prošlosti ali i o budućnosti – poručuju iz MPU.
Tokom trajanja 40. Salona , biće priređen bogat prateći program kroz niz diskusija i izložbi, a muzejske publikacije na temu savremene arhitekture i dizajna prodavaće se po značajno povoljnijim cenama.
Takmičarski deo i Žiri
Žiri 40. Salona arhitekture čine ugledni profesionalci koji dodeljuju Grand Prix Salona, nagrade, priznanja i pohvale po kategorijama. To su: Ružica Bogdanović, Branko Belaćević, Predrag Milutinović, Veljko Radulović i Snežana Ristić. Na ovogodišnjem Salonu je kandidovano 180 radova u svim kategorijama. Žiri je u zvaničnu selekciju uvrstio 106, od kojih je u konkurenciji za nagrade razvrstano 75 radova u šest kategorija (konkursni i studentski radovi izlažu se van kategorije za nagrade).
Foto naslovna: Relja Ivanić
Kad ste već ovde…