Kolumna
(Ne)izvesna sudbina hotela na Vlasinskom jezeru
Vlasina, Jezero, Vilin lug, Srbija – ovi hoteli sagrađeni oko jednog od najlepših prirodnih predela naše zemlje više ne primaju goste.
Već duže od pola godine traju nezvanična i medijska nagađanja na temu sudbine hotela u okolini Vlasinskog jezera, koje je pre skoro četiri godine kupio katarski investitor Ali Abdul al Maki. Većina njih je zatvorena ili radi na nivou minimalnih kapaciteta, a preostali zaposleni i stanovnici okolnih mesta nagađaju da je u pitanju promašena investicija iz koje investitor pokušava nekako da se izvuče. Iako je al Maki četiri hotela kupio za samo milion evra i za otpremnine određenom broju radnika isplatio još oko pola miliona, još uvek se ne nazire rešenje problema ugostiteljskih objekata koji tavore zatvoreni ili na nivou običnih kafića. Po najnovijim informacijama nije sve baš tako čemerno kao naziv planine na kojoj se nalazi Vlasinsko jezero – Čemernik.
Prvi hotel Vlasina izgrađen je ubrzo po izgradnji brane i formiranja hidro-akumulacionog jezera, početkom 60-ih godina prošlog veka.
Prvi hotel Vlasina izgrađen je ubrzo po izgradnji brane i formiranja hidro-akumulacionog jezera, početkom 60-ih godina prošlog veka. Podignut je na markantnom uzvišenju, koje se nadvija nad jezerom, nekoliko kilometara od brane i obližnjeg mrestilišta. Nekoliko decenija bio je jedini ugostiteljski objekat s punom uslugom noćenja, svih obroka (pansiona i polupansiona) i drugim zabavno-rekreativnim sadržajem i kao takav mesto okupljanja ne samo gostiju koji su u njemu odsedali već i okolnih vikendaša i drugih izletnika, koji bi u prolazu navraćali da bi se odmorili i okrepili u bašti restorana s predivnim pogledom na jezero. Izgrađen je kao troetažni objekat u prepoznatljivoj arhitekturi planinskih odmarališta, koji su tih godina kao pečurke nicali po planinama širom Jugoslavije. Uskoro doživljava i proširenje na još par objekata, što govori o porastu posećenosti i noćenja turista ne samo iz okruženja već širom države i inostranstva. Nažalost, krajem prošle godine je zatvorena hotelska usluga, a ovu sezonu započeo je kao kafić.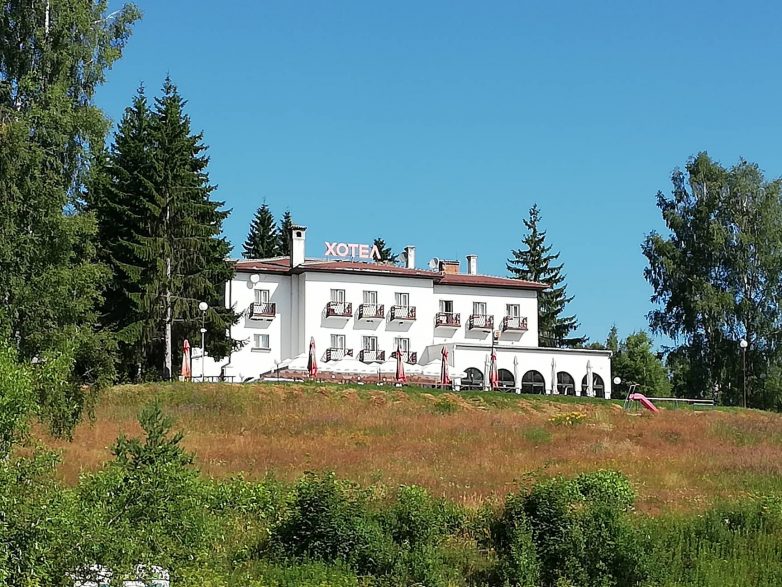 Duva Promaja
U vreme proširenja hotela zidaju se i drugi ugostiteljski objekti u bližem i daljem okruženju. Već 70-ih godina, kada vlasinski turizam doživljava pravu ekspanziju, što se može videti i po izgrađenim privatnim vikendicama, u mestu Promaja, na raskršću puteva koji iz Surdulice vode prema Bosilegradu i Crnoj Travi, izgrađen je omanji motel Jezero. S pogledom na Veliki zaliv Vlasinskog jezera, bio je omiljeni među turistima i vozačima, koji su putovali na relaciji Jugoslavija-Bugarska, ali i lokalnog stanovništva iz okolnih sela, koje se tu često okupljalo. Nažalost, zatvoren je početkom 2000-ih uz obrazloženje da posluje s gubicima.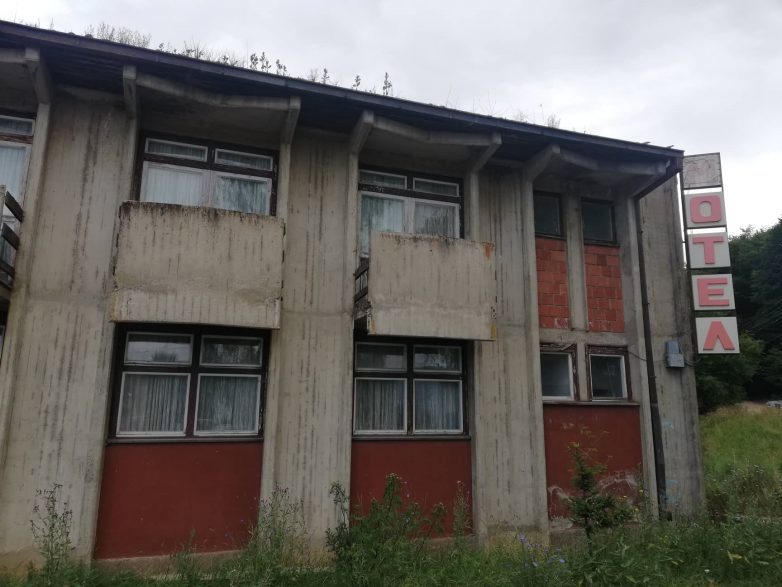 Vile ne zalaze u Crnu Travu
U to vreme zida se i hotel Vilin lug u Crnoj Travi, a izgrađen je u prepoznatljivoj arhitekturi koju poseduju i poznata Građevinska škola i autobuska stanica. U vreme prosperiteta cele države, ovo maleno mesto na jugu Srbije postaje lokalni centar čitave opštine, ali i regiona, koji se u to vreme sve više razvija pod uticajem turizma Vlasinskog jezera, ali i industrijskih pogona koji su tih decenija građani u okolnim mestima. Hotel je tih godina bio preko potreban, ali je u poslednjoj deceniji doživeo istu sudbinu kao i motel Jezero.
(Baš) pozna moderna
Još jedan hotel, sličnih kapaciteta kao hotel Vlasina, izgrađen je 1978. godine u Surdulici. Grad je tada dobio reprezentativni hotel Srbija s kompletnom uslugom, a sve to zaodenuto arhitektonskim ruhom pozne moderne, koja je svojom funkcijom i  formom dodatno istakla ovaj ugostiteljski objekat. Nažalost, hotel Srbija je takođe od nedavno svoj rad nastavio u smanjenom obimu posla, najviše na nivou iznajmljivanja banket sale za privatne proslave, venčanja i novogodišnje dočeke.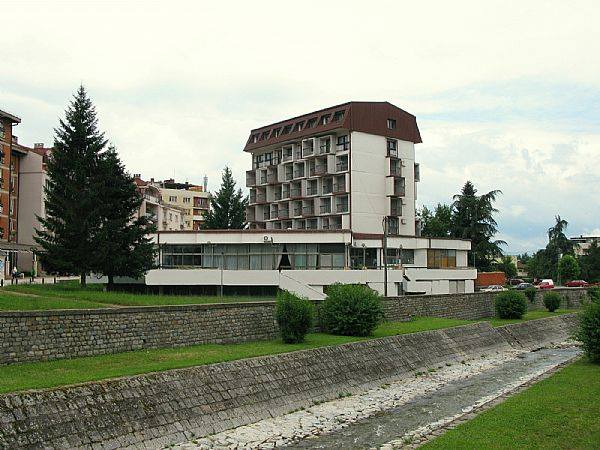 Katarski koraci
U nekom trenutku, sva četiri ugostiteljska objekta stavljeni su u vlasništvo jednog akcionarskog društva – HUP Evropa, čiji većinsko vlasništvo je otkupio 2015. godine katarski investitor. Jedna od klauzula ugovora navodi da je novi investitor bio u obavezi da u roku od tri godine dodatnim investicijama rekonstruiše i poslovno aktivira kupljene ugostiteljske objekte. Kako je ovaj rok istekao, a situacija se samo još dodatno pogoršala, priprema se tužba na račun katarskog investitora, kao i obeštećenje za zaposlene, ukoliko u skorije vreme ne preduzme neke korake ka rešavanju novonastale situacije.
Kako saznajemo, Al Maki je već preduzeo korake za početak rekonstrukcije hotela Vlasina, poslavši svog predstavnika u Surdulicu i na Vlasinsko jezero, koji odlično poznaje naš jezik, kulturu, ali pre svega i materiju jer je školovan na univerzitetima u Sarajevu i Beogradu. Katarski (Irački) predstavnik je već posetio planinski hotel u pratnji vlasnika jedne građevinske kompanije, sa kojim je ugrubo pravio planove buduće rekonstrukcije objekta. Nezvanično je najavljeno da bi rekonstrukcija mogla započeti već krajem ove ili početkom sledeće godine.
Naravno, ovo investitora neće osloboditi plaćanja penala, ali može uliti nadu da će posle ovog na red doći i drugi objekti. Hotel u Surdulici i motel na Promaji su izvesniji da bi mogli biti aktivirani, dok to nije slučaj sa onim u Crnoj Travi, koji je investitor već sada oglasio za prodaju, ali po ceni od 600.000 evra, koju za sada nema ko da prihvati. Da sačekamo i narednu godinu i vidimo da li su u pitanju ozbiljni, to jest, realni planovi ili će sve ostati na nivou šarene (investitorske) laže.
Kad ste već ovde…