Enterijeri
Ovako izgleda enterijer stana u kojem je sve skockano u 18 kvadrata
Elementi koji imaju dvojaku funkciju, galerija sa spavaćim blokom i skladišteni prostor na neočekivanim elementima čine ovaj prostor interesantnim.
Inspirisani sve zastupljenijim trendom življena u malim kućama, Standard Studio uradio je projekat enterijera u Roterdamu. Izazov je bio napraviti kompletan dom za jednog studenta i spakovati sve u samo 18 kvadrata. Pod "komplet" misli se da garsonjera treba da ima ima kupatilo sa tušem, kuhinju, sto za ručavanje, radni sto, kauč, prošireni krevet i prostor za odlaganje. Kako im je to uspelo? Pogledajte!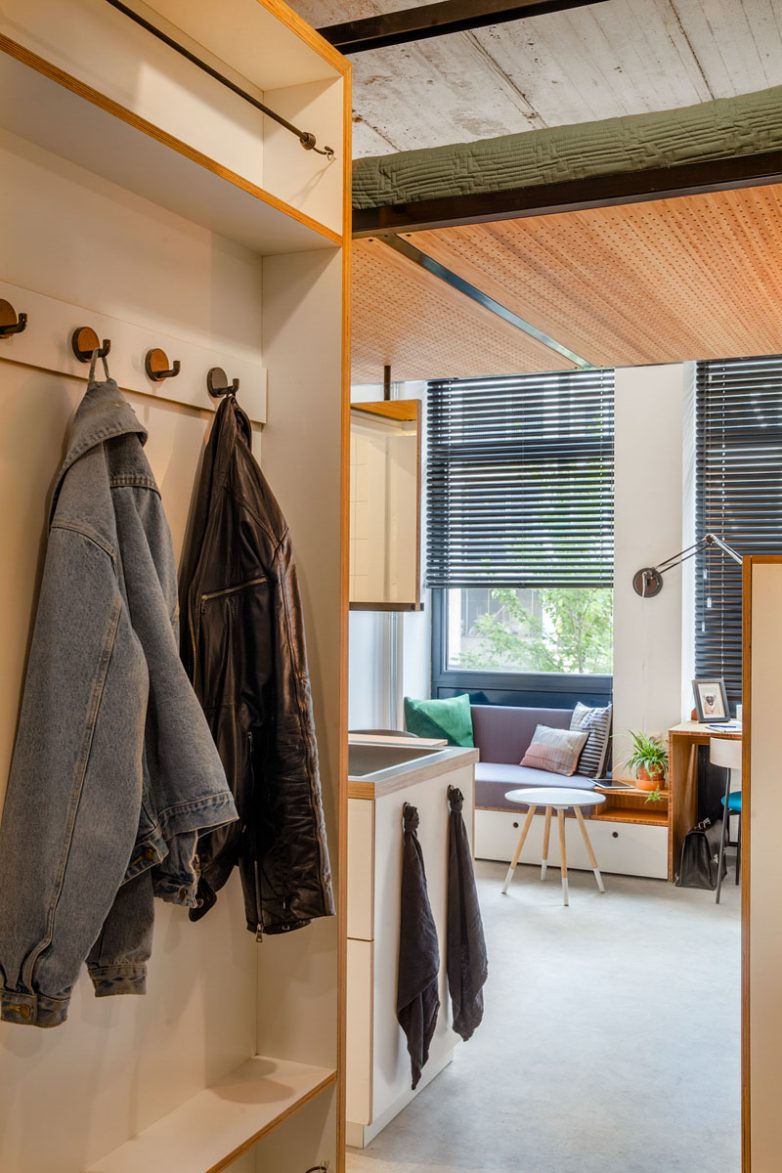 Malo veća visina prostora iskorišćena je za smeštanje galerije sa spavaćim blokom.
Do konačnog rešenja stana došlo se, naravno, pažljivom analizom osnove garsonjera vodeći računa da se iskoristi svaki kvadratni centimetar kao i da elementi dobiju višenamensku ulogu.
S obzirom na to da se kupatilo nalazi s jedne a kuhinja s druge strane zida, došlo se na ideju da se napravi kombinovani element koji ujedno ima ulogu i umivaonika i sudopere. Na ovaj način je ušteđen prostor, a pritom funkcija nije remećena.
Kao primarni drveni materijal korišćen je bambus, kao jak, izdržljiv a ujedno i lagan materijal koji ima topao izgled.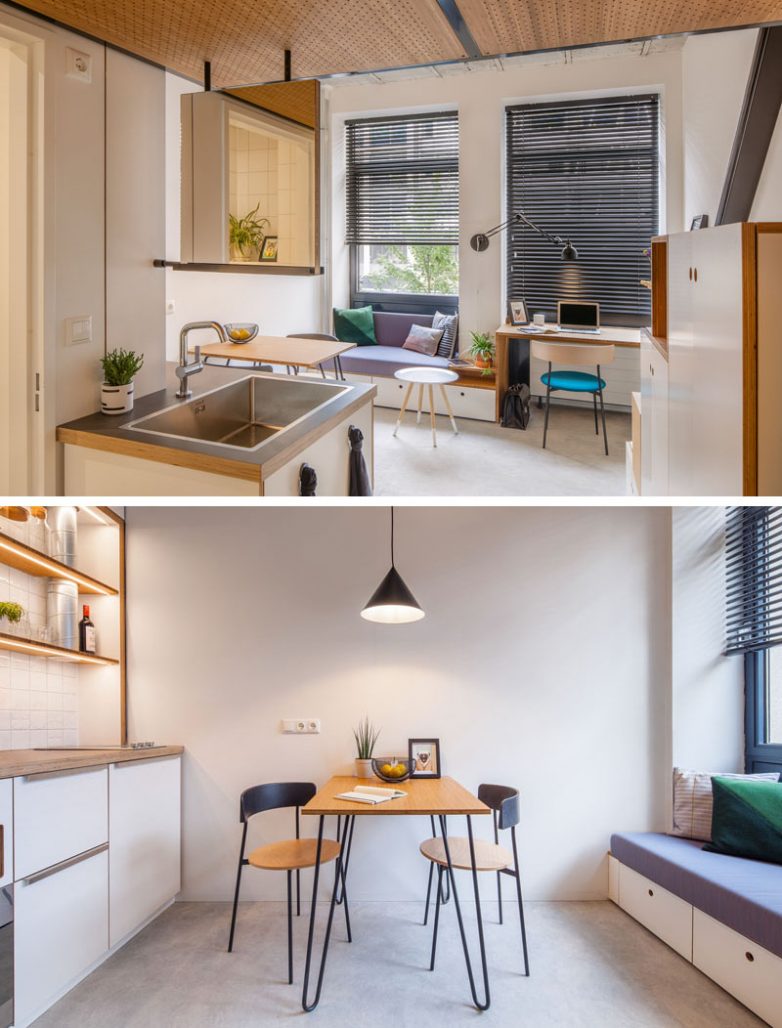 Kauč i radni sto, koji su smešteni ispod prozora, dele zglobnu rasvetu koja se po potrebi može pomerati ka radnoj zoni ili ka kauču, piše Contemporist.
Spavanje na galeriji
Želja klijenta je bila da ima bračni krevet, pa su dizajneri u nameri da tu želju i ispune koristili veću visinu stana. Položen na čeličnu konstrukciju, krevet visi tri metra iznad poda.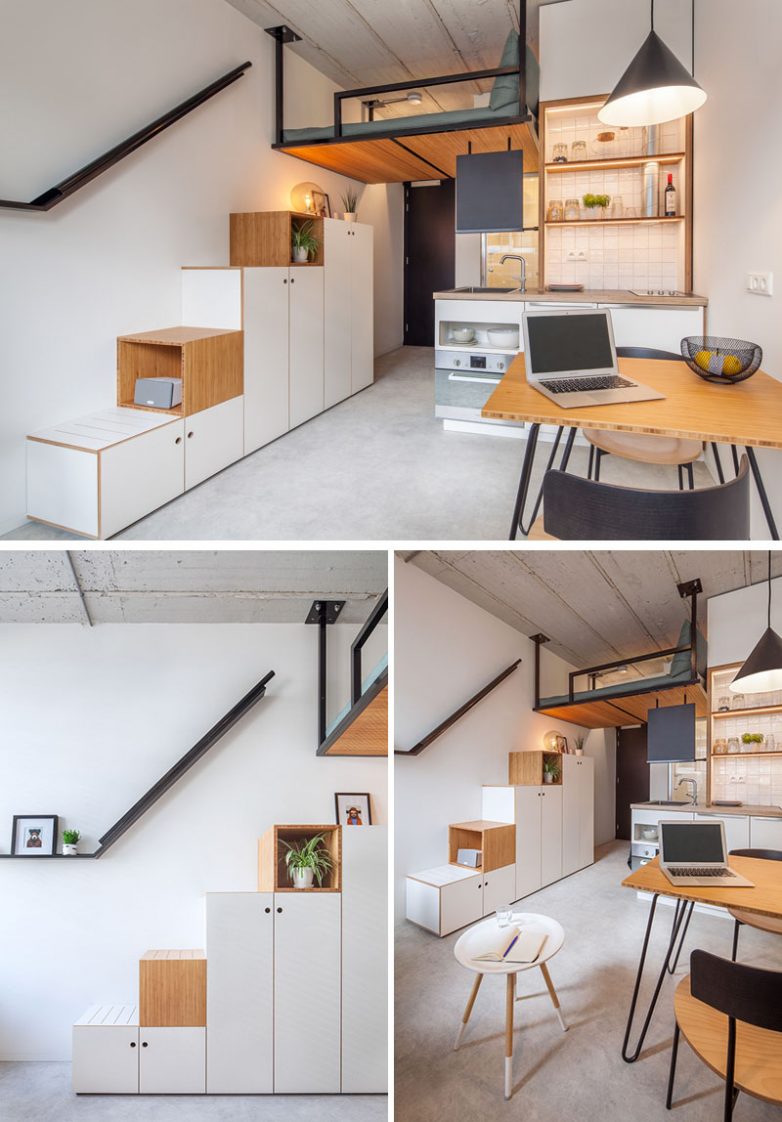 U stepenicama koje vode ka krevetu, organizovan je skladišni prostor. Tako da je svaki kvadratni centimetar prostora maksimalno iskorišćen.
Foto: Wouter van der Sar 
Kad ste već ovde…