Intervju
Paper Storm skulpture od papira po ideji arhitektice Jelene Ilić
Njene skulpture nateraće vas da zastanete i dobro ih pogledate, jer nećete verovati da su napravljene od papira. Raznorazni oblici, životinje i ikone popularne kulture oblikovane papirom nastale su u domaćoj radionici pod imenom Paper Storm.
Flamingo, lisica, sova, papagaj, maska Dart Vejdera, prepoznatljiva kosa Dejvid Bouvija, štit poznatog super heroja… Sve ovo mogu da naprave spretne ruke Jelene Ilić, mlade Novosađanke koja se bavi izradom skulptura i raznih predmeta od papira. Jelena je pričala za portal Dizajn enterijera za koji je za početak otkrila gde nalazi inspiraciju, kako je počela da se zanima ovim vidom umetnosti i još mnogo toga…
Ko se krije iza imena Paper Storm?

Moje ime je Jelena Ilić, završila sam Fakultet tehničkih nauka u Novom Sadu, na odseku arhitekture i urbanizma. Živim i radim u Novom Sadu. Istovremeno se bavim projektovanjem arhitektonskih objekata, enterijera i osmišljavanjem i izradom papirnih skulptura, instalacija, scenografijom… Po prirodi sam znatiželjna, vedrog duha, spremna da u svakom trenutku naučim nešto novo. Zanimaju me gotovo sve oblasti likovnih i drugih umetnosti: skulptura, slikarstvo, književnost, film i slično…
Kada i kako si počela da praviš skulpture od papira?
Sve je počelo interesovanjem za origami i tangram, pre otprilike 15 godina. Vremenom se ta ljubav proširila na skulpturu. Dosta mi je pomoglo to što sam po struci arhitekta, omogućilo mi je lakše sagledavanje i osmišljavanje papirnih struktura i prostora uopšte.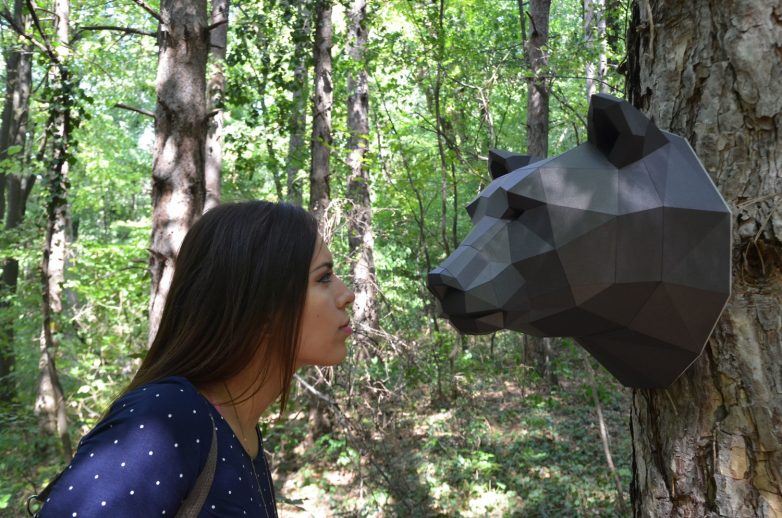 Dosta mi je pomoglo to što sam po struci arhitekta, omogućilo mi je lakše sagledavanje i osmišljavanje papirnih struktura i prostora uopšte.
Gde pronalaziš inspiraciju za svoje radove?
Inspiraciju pronalazim gotovo svuda, u prirodi i okruženju, kulturi, medijima… Često radim po porudžbini pa su mi motivi, boje, oblici, često i dimenzije poznate i taj proces komunikacije sa klijentom doživljavam više kao kreativno ograničavanje nego kao sputavanje inspiracije.
Kako izgleda izrada jednog rada? Da li koristiš neke specijalne papire i alate?
Sve počinje osmišljavanjem i skiciranjem, proces nastavljam modelovanjem na računaru gde sređujem detalje i spremam skulpturu za izradu. Prilikom same izrade skulpture koristim najrazličitije vrste papira i materijala, u zavisnosti od teme rada.
Koja je najzahtevnija skulptura koju si uradila do sada? Možeš li da podeliš sa nama iskustvo rada na njoj?
Najobimniji projekat na kome sam radila je bila izrada scenografije i kostima za ceremoniju proglašenja Novog Sada za omladinsku prestonicu Evrope 2019. godine. Veličina projekta i vremenski rokovi iziskivali su angažovanje više ljudi u samoj izradi. Razrada ideja rediteljke i mene kao scenografa dovela nas je do nesvakidašnjeg spoja i dopunjavanja digitalnog dela scene i fizički prisutnih skulptura. Kreativni put celog tima, angažovanog od strane Omladinske prestonice Evrope Novi Sad (OPENS), rezultirao je sjajnim reakcijama publike.
Ostatak intervju pročitajte na portalu Dizajn enterijera.