Materijali, Promo
Pasivne kuće postaju realnost: Zidni paneli od slame sertifikovani i na srpskom tržištu
Kompanija EcoCocon ltd. razvila je inovativni građevinski konstruktivni modularni sistem od prefabrikovanih zidnih panela od slame koji se sada mogu nabaviti i kod nas.
U Evropi, Severnoj Americi i Australiji se presovanom slamom objekti grade već više od 20 godina i postoji više tehnika gradnje, a revolucionarnim pristupom izgradnji EcoCocon je usavršila tehniku gradnje panelima od slame i drveta, koji se proizvode prema svakom projektu u fabričkim uslovima i veoma brzo se ugrađuju na gradilištu. Za to poseduje sertifikate svetskih instituta i klijentima pruža višedecenijske garancije na kvalitet gradnje i performanse materijala. Po tome je ova litvansko-slovačka kompanija jedinstvena na globalnom tržištu.
Radi se o 99% ekološkom proizvodu, paneli su od gotovo potpuno prirodnih i zdravih materijala, slame i drveta, koji ne zagađuju životnu sredinu i u završnoj obradi zidova nemaju veštačkih i štetnih aditiva, pa u životnom veku ne stvaraju štetne toksine.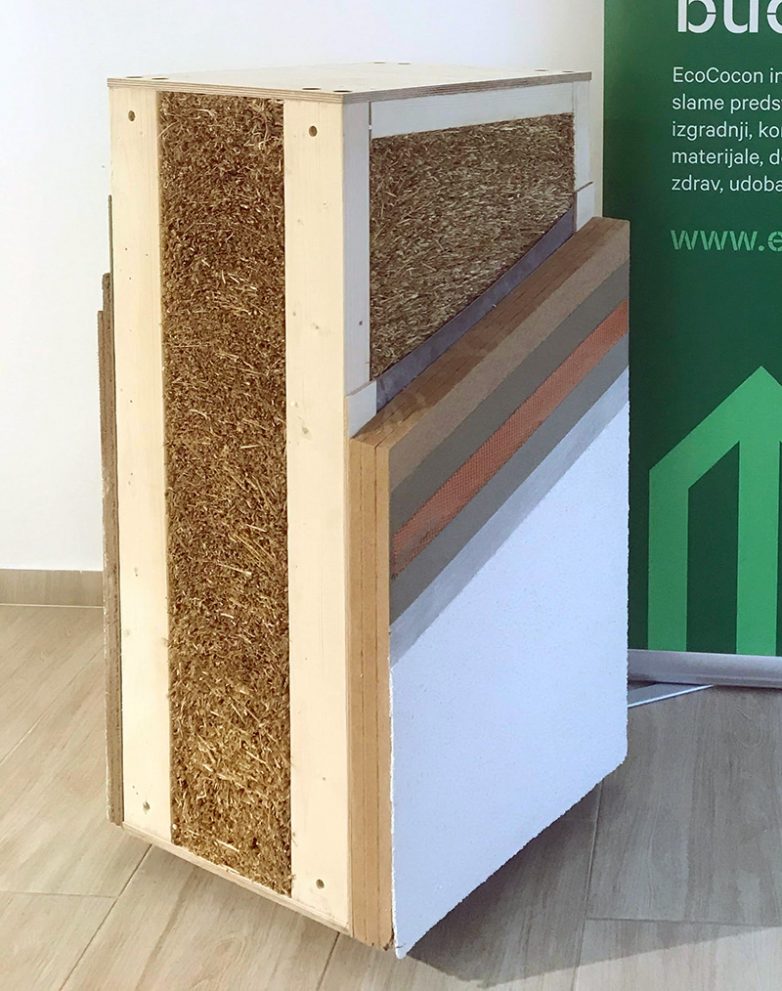 Ovakva kuća imaće oko 90% manje račune za grejanje i hlađenje u poređenju sa klasično građenim objektima.
Izvanredna termoizolacija zidova i sposobnost zadržavanja toplote štedeće oko 90% energije i troškova za grejanje i hlađenje u poređenju sa klasično građenim objektima, ispunjavajući tako standarde pasivne kuće. To znači da će tipična EcoCocon kuća prosečno uštedeti 1 tonu CO2 godišnje, a to su ogromne količine tokom životnog veka objekta, što svakako utiče i na kvalitet života. U proizvodnji EcoCocon modularnog sistema troši se vrlo malo energije, pa će sve ove uštede, takođe, uticati i na ublažavanje efekata klimatskih promena.
Proizvod je 2013. sertifikovan u skladu sa svim građevinskim regulativama Evropske unije, 2016. je sertifikovan od strane PassiveHouse instituta u Darmštatu (Nemačka), kao i Instituta Cradle to Cradle u Ouklendu (Kalifornija, SAD), a 2018. godine dobijen je sertifikat validan u EU o vatrootpornosti REI 120, što znači da paneli u požaru mogu da izdrže minimum 120 minuta, što je najviša klasifikacija. Ove godine kompanija je dobitnik prestižne nagrade 23. međunarodnog kongresa o pasivnim kućama održanog u gradu Gaobeidijan u Kini, za inovacije za zidne panele od slame.
A+ razred gradnje
Sertifikovan koeficijent toplotne provodljivosti zidnih panela je λ=0,056 W/mK sa izvanrednom ukupnom vrednošću koeficijenta prolaska toplote U=0,121 W/m²K i specifičnim toplotnim otporom R=8,3 m²K/W, uključujući i 60 mm debljinu sloja ploča Steico od drvenih vlakana na spoljašnjem zidu.
Sadašnja srpska regulativa obavezuje investitore da novi objekti moraju zadovoljiti C energetski razred sa godišnjom potrošnjom energije od 80-100 kWh/m², a stariji objekti, kojih ima najviše, imaju energetski razred E ili F i godišnje troše oko 200 kWh/m². Objekti izgrađeni EcoCocon zidnim panelima godišnje troše manje od 15 kWh/m² energije za zagrevanje i hlađenje, što ih svrstava u energetski razred A+.
Ako se zna da građevinski objekti učestvuju u ukupnoj globalnoj potrošnji energije sa 40%, što je više i od transporta i od industrije, ovaj način gradnje značajno doprinosi energetskoj efikasnosti i u skladu je sa globalnim trendom i imperativima smanjenja emisije CO2.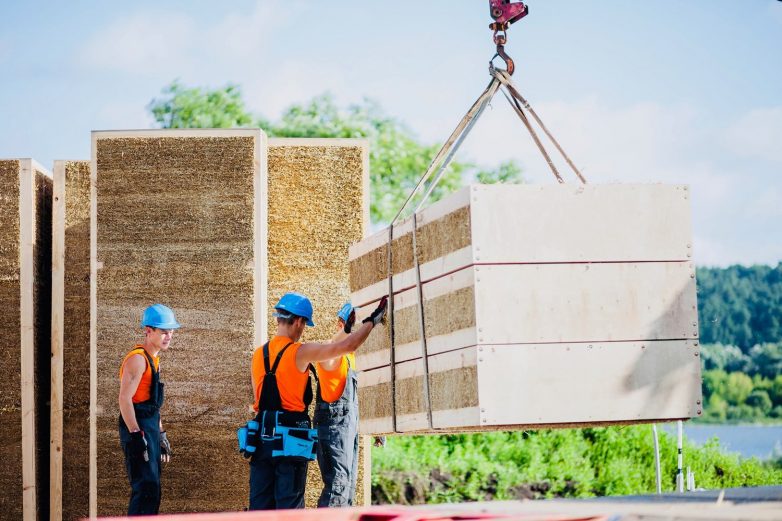 Do kuće za tri meseca
Modularni sistem gradnje EcoCocon panelima odlikuju brzina i efikasnost. To je jedan od najjednostavnijih načina gradnje, pa od dobijanja građevinske dozvole, investitor prosečne veličine kuće može planirati useljenje i za tri meseca. Paneli, napravljeni po projektu, sa predviđenim otvorima za prozore i vrata, jednostavno se slažu na betonski temelj i spajaju jedan uz drugi, na koje se posle postavlja krovna konstrukcija i završne obloge.
Za proizvodnju panela za objekat zidne površine od 120m² potrebno je 1-2 nedelje, a za ugradnju 4 radnika i 5 dana. Zbog jednostavnosti ugradnje nije potrebna nikakava specijalna oprema i alati ako se radi o prizemnom objektu.
Od dobijanja građevinske dozvole, investitor prosečne veličine kuće može planirati useljenje i za tri meseca.
Statička stabilnost se postiže integrisanom dvostrukom drvenom konstrukcijom u ramu panela dizajniranom tako da potpuno onemogućava pojavu hladnih mostova. EcoCocon panelni sistem menja zidarske, izolaterske, armiračke i betonske radove, a predviđa spratnost do tri etaže. Paneli od presovane slame su dovoljno stabilni da bez problema mogu podneti velika opterećenja, čak i u ekstremnim slučajevima kao što su zemljotresi i jaki vetrovi.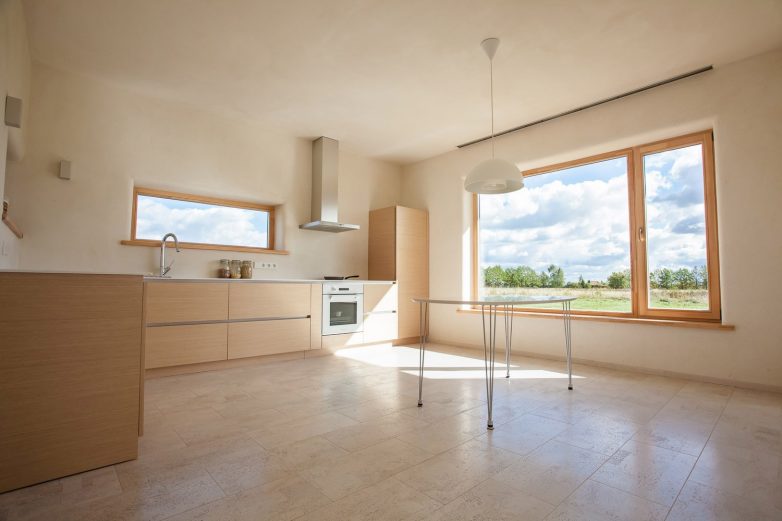 Cena panela od slame i drveta
Cena panela od slame i drveta debljine 40 cm varira u zavisnosti od složenosti projekta i količine materijala, odnosno veličine objekta. Prosečno iznosi oko 18.000 RSD bez PDV-a po m² zidne površine, pri čemu se ne obračunavaju otvori za vrata i prozore. Pored svih benefita energetske fikasnosti i drastično smanjenim troškovima energenata pri korišćenju, obezbeđene su sve vrste višedecenijskih garancija investitora. Takvi objekti mogu biti i predmet bankarskih hipoteka.
Od sada i u Srbiji
EcoCocon ima svoja predstavništva u više od 20 zemalja EU, a od ove godine, pored SAD i Kanade, proizvod je dostupan i u Srbiji. Zastupnik za Srbiju EcoCocon zidnih panela od slame je firma ORG sistem d.o.o. iz Novog Sada, a više podataka o ovom materijalu možete pogledati ovde.
Kad ste već ovde…