Kako izgleda keramika kada se ona stvarno postavi na pod? Da bismo vam pomogli da to lakše sagledate, napravili smo paralelan pogled na teksturu keramike i kako ona izlgeda na terasi, balkonu ili dvorištu.
Prilikom odabira pločica često je pitanje da li pločice za unutrašnju upotrebu smeju da se postavljaju na terasu ili dvorište. Da, smeju ali samo ako imaju određene karakteristike kao sto su protivkliznost ili otpornost na mraz. Zašto je to bitno?
Završna obrada spoljne pločice treba da je hrapava. Ova hrapava tekstura na površini pločice, koja može da nosi naziv slate-hammered, grip ili bocciardato, obezbeđuje njenu protivkliznost. Za keramiku sa hrapavom površinom se koristi i oznake: R10, R11 i R12. Što je veći broj R, to je tekstura hrapavija, pa su tako, na primer, pločice R12 pogodne za upotrebu pored bazena, zato što je tamo mogućnost klizanja najveća. Ipak, što je površina pločice hrapavija to je i njego održavanje teže pa se zato za terase i balkone savetuje korišćenje R10 ili R11 keramike.
Što je površina pločice hrapavija to je i njego održavanje teže, pa se zato za terase i balkone savetuje R10 ili R11 keramika.
Pločice namenjene za spolja treba da imaju smanjeno upijanje vlage kako bi bile otporne na smrzavanje u zimskom periodu. Dakle, za eksterijer se predlažu pločice sa mogućnošću upijanja vode manjom od 0,5%.
Osim ovih tehničkih karakteristika, bitan je i izgled keramike i njeno održavanje. Pločice sa teksturom kamena su vrlo popularne za eksterijere jer se prljavština i prašina manje vide na teksturi koja nije jednobojna već ima žilice i različite nijanse po svojoj površini. Naravno, tekstura drveta je takođe nezaobilazna opcija u izboru keramike.
Najpopularnije su neutralne nijanse, siva i bež koje ujedno daju modernu i liniju prostoru. Izbegavajte jako tamne nijanse na pločicama jer one privlače dodatnu toplotu u letnjem periodu.
Predstavljamo vam izbor od 7 tipova keramike za spolja od italijanskih proizvođača. U pitanju je granitna keramika za spoljna oblaganja i eksterijer sa apsorpcijom vode E< 0,5 %, abrazivnosti <175mm3 i protivkliznosti R10 i R11 i debljine 10 mm. Ove pločice primenjiva su i za sve tipove terasa, kafića, restorana, ulaznih holova ispred objekata kako privatnih tako i komercijalnih.
Predlog 1: lepota prirodnog kamena
Prvi predlog za spoljnu keramiku jeste serija Natural Stone brenda Cerim. Ovo je protivklizna keramika sa obradom R10 i R11. Cena ove keramike u dimenziji 30 x 60 centimetara je oko 29 evra po m2. Osim u debljini od 1 cm, proizvodi se i u debljini od 2 centimetra.
Predlog 2: Vanvremenska tekstura
Jedan od naših favorita jeste granitna keramika u teksturi sivog kamena. Ovaj tip pločica nikada ne izlazi iz trenda! Serija Material Stone brenda Cerim je jedna od njih. Predstavili smo vam nijansu Material 07, koja se osim u debljini od 1 cm, proizvodi i u debljini od 2 cm za polaganje u zemlju ili u šljunak kao što je prikazano na slici. Cena ove keramike u formatu 30×60 centimetara debljine 1 cm je 30 evra po kvadratnom metru.
Predlog 3: drvo na podu terase
Kao i sa teksturom kamena, ne možete pogrešiti ni sa pločicama u teksturi drveta. Osim klasičnog slaganja pločica na trećinu, možete se poigrati rasporedom i slagati je u polja, kao na slici ispod, i koristiti manje dimenzije keramike. Fabrika Cerim proizvodi seriju Detail Wood. U dimenziji 20 x 120 cm, ova keramika košta oko 45 evra po m2.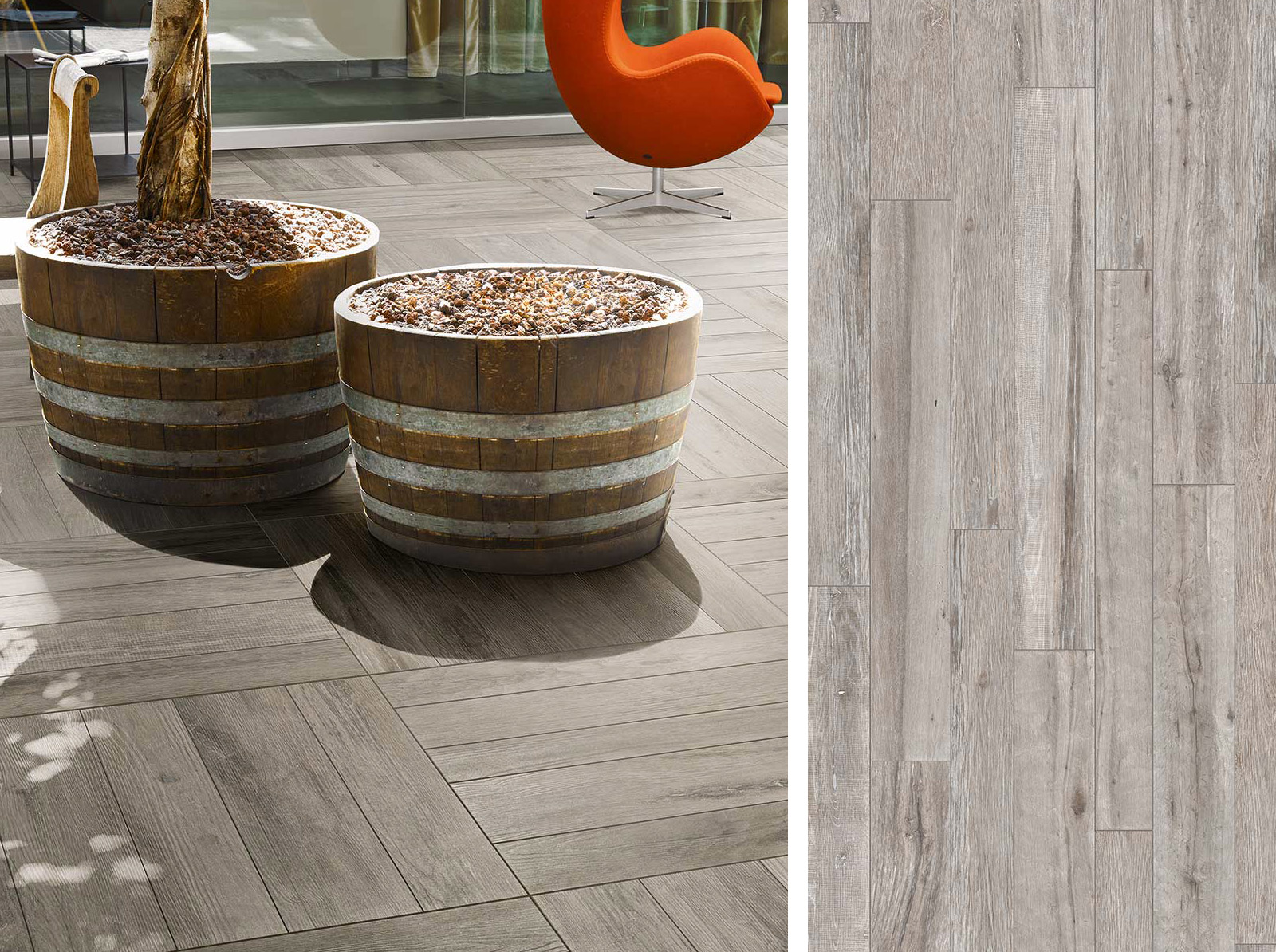 Predlog 4: Za uživanje pored bazena
Protivkliznost spoljne keramike u ovom slučaju najviše dolazi do izražaja. Oko bazena koristite keramiku sa protivkliznošću R11 ili R12. Takođe, na ovom primeru se lepo vidi korišćenje različitih dimenzija keramike kako bi se postigao dinamičan izgled na velikoj površini. Serija Walks Format brenda Floorgres u dimenziji 40 x80 centimetara košta oko 40 evra/m2.
Predlog 5: ista keramika u enterijeru i eksterijeru
Ako imate veće staklene površine ili vam se keramika iz trpezarije nastavlja na terasu, najbolje je da koristite iste pločice u oba prostora. Tako je i serija Airtech brenda Floorgres u nijansi Miami white iskorišćena na ovom primeru. Cena keramika dimenzija 40 x 80 centimetara, kreće se od 38 evra/m2.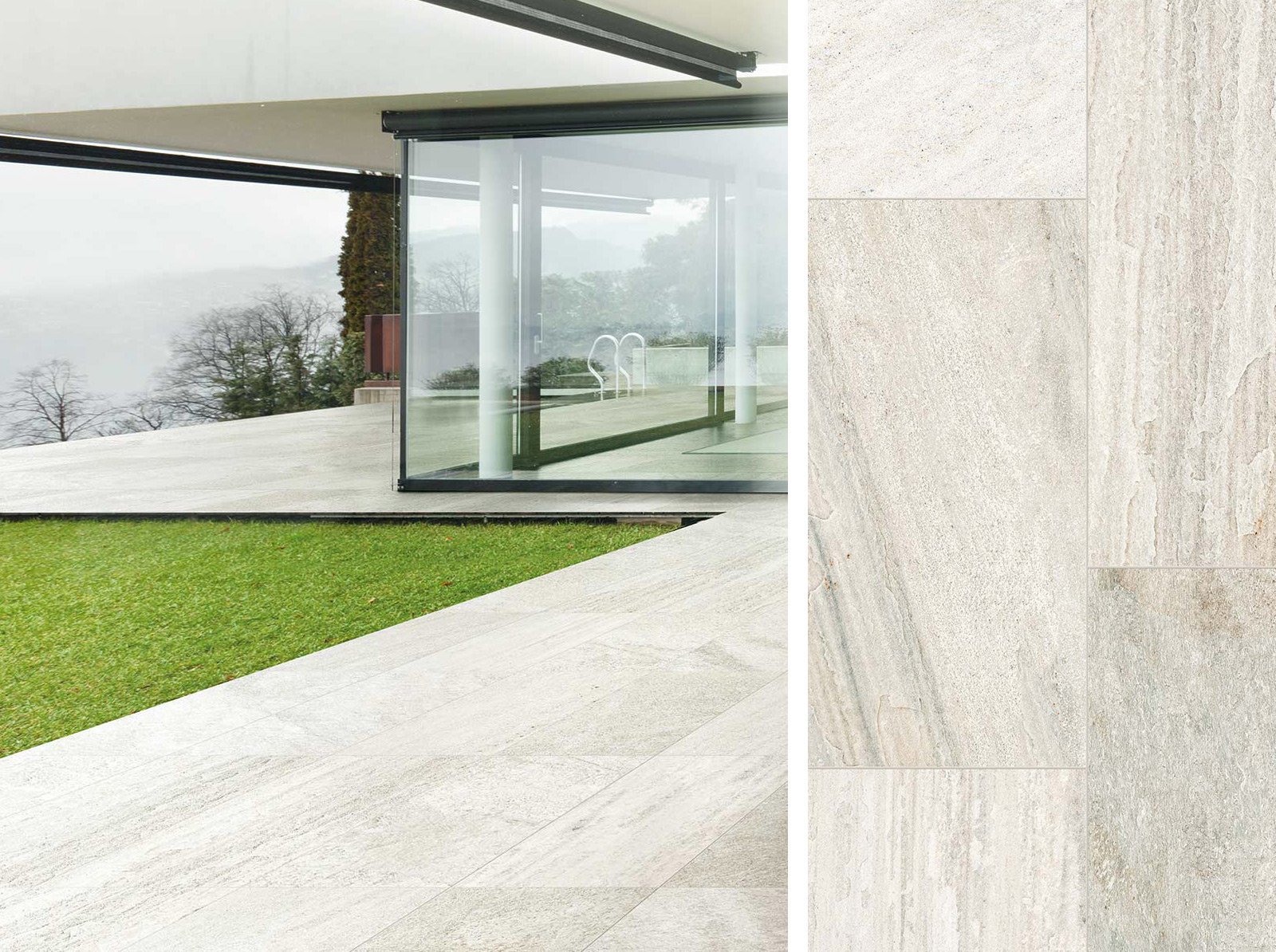 Predlog 6: Jednostavnost održavanja
Sivkasti tonovi sa neujednačenom teksturom i nijansama na površini možda je najpraktičniji izbor za keramiku za eksterijer. Još jedan primer korišćenja iste keramike i u unutrašnjem prostoru i na terasu jeste serija La Roche Format, proizvođača Rex. Ovde je korišćen drugačiji format za enterijer i eksterijer ali u istoj nijansi: La roche grey. Cena ove protivklizne keramike, u dimenziji 40×80, iznosi 41 evro/m2.
Predlog 7: Prirodan izgled je najlepši
Za kraj, neravno nezaobilazno drvo koje će vašoj terasi dati toplu atmosferu. Pločice u dimenziji 20×120 centimetara smiču su na trećinu dužine i tako se dobija izgled parketa. Serija keramike sa vernim izgledom drveta jeste Planches de Re Format brenda Rex. U dimenziji 20×120 cm ova protivklizna keramika se prodaje po ceni od oko 49 evra/m2.
Sav prikazan asortiman možete pogledati i kupiti u salonima EuroDOM u Beogradu.
Kad ste već ovde…