Standard arhitekture u jednoj sredini najbolje se može izmeriti po stepenu razvoja arhitekture jednoporodičnih kuća. Porodična kuća u Hektorovićevoj ulici svedoči da arhitektura u Beogradu polako ulazi u zlatno doba svog savremenog razvoja.
Kupiti stan, sazidati novu ili renovirati staru kuću – večita je dilema. A stanovanje u gradu u porodičnoj kući? Neugledna straćara može se proširiti, nadograditi i preurediti u pravu lepoticu. Sastojci za ovaj magični recept su: ozbiljan klijent, dosta maštovitosti i jedan vešt arhitekta.
Kroz celovitu rekonstrukciju, proširivanje i dogradnju porodičnog objekta u Hektorovićevoj ulici arhitekta Miloš Đurasinović je demonstrirao široki spektar moći i mogućnosti savremene arhitektonske intervencije. Miloš je nekadašnji asistent na Arhitektonskom fakultetu u Beogradu, a sada jedan od osnivača arhitektonskog studija PLAT.FORM.A. Za portal Gradnja govori o svom novom projektu – rekonstrukciji kuće koja je nastala pre Drugog svetskog rata i to kao potez skromnijih slobodnostojećih kuća na beogradskoj periferiji.
Prilikom rekonstrukcije ove kuće koja se nalazi na Zvezdari, u neposrednoj blizini Cvetkove pijace, "zadržano je kompletno prizemlje, dok je, uz neophodna ojačanja, podignuto potkrovlje, a urađena je i dogradnja" – ističe Đurasinović. Prizemlje i sprat funkcionišu kao dve zasebne jedinice i imaju dva odvojena ulaza. Prizemlje se sastoji od pet prostorija: prolazne dnevne sobe, izdvojene kuhinje sa trpezarijom, spavaće sobe, predsoblja i kupatila. Prostor u potkrovlju je samostalna funkcionalna celina podesna za stanovanje ili za poslovni prostor.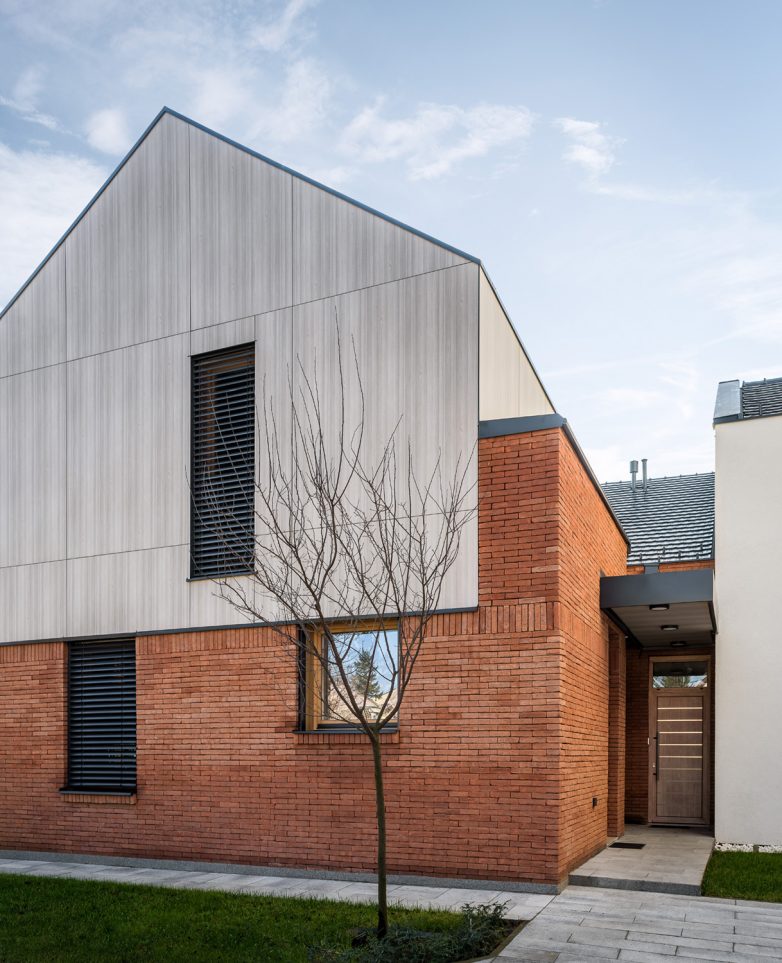 Fasada objekta je izvedena u kombinaciji tradicionalne crvene opeke i savremene trespa obloge.
Najatraktivnija pojedinost porodične kuće u Hektorovićevoj ulici jesu njen oblik i njena pojavnost. "Fasada objekta je izvedena u kombinaciji crvene opeke, koja predstavlja vezu sa starim izgledom objekta u prizemlju i trespa obloge na spratu, koja je odraz savremenih tehnoloških mogućnosti" – ističe autor. Ovim odabirom materijala stvoren je dinamički kontrast oštrog i rustičnog, zidanog i montažnog, tradicionalnog i sadašnjeg. Takođe, kroz odabir opeke kao primarnog materijala stvara se kontinuitet i veza sa mikro istorijskim okruženjem.
Zabat na podužnoj fasadi
Osnova kuće je razvijenog plana. "Rasprostiranje po podužnoj osi postojećeg objekta je naglašeno i dodatnom bočnom dogradnjom, kao i horizontalnom podelom materijala (opeka-trespa). Kao akcenat javlja se zabat i na podužnoj fasadi i to kao neočekivan događaj u prostoru. Zabat naglašava arhetipsku pojavnost kuće kao i individualnost samog arhitektonskog izraza" – ističe Đurasinović. S tim u vezi, možda najveći kvalitet ove kuće su skladne i prijatne proporcije.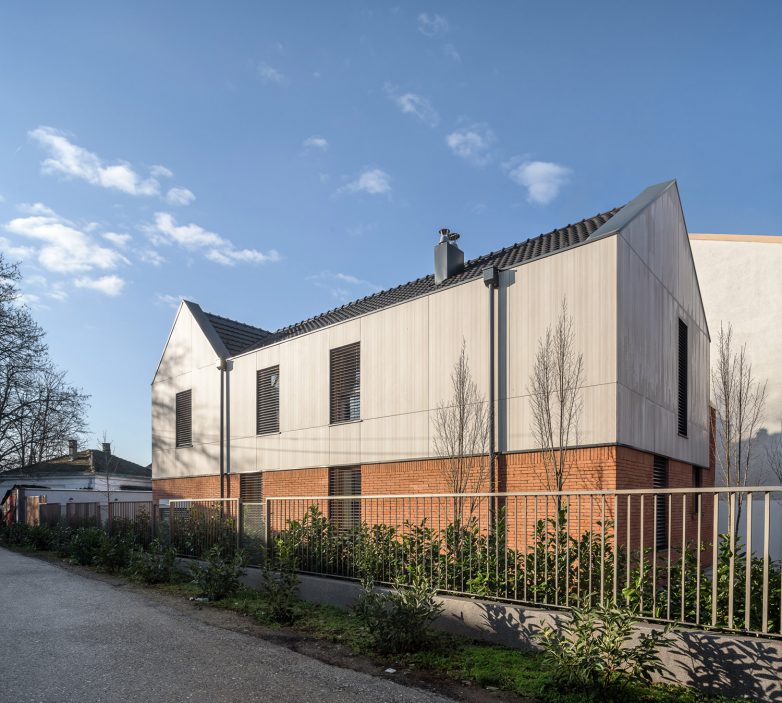 Kosi krovovi naglašeni su u skladu sa klimatskim uslovima i posebno u skladu s duhom mesta.
Kuća u Hektorovićevoj ulici se može smatrati za primer kritičkog regionalizma. O ovoj činjenici arhitekta Đurasinović govori na sledeći način: "Kosi krovovi su naglašeni u skladu sa klimatskim uslovima i posebno u skladu s duhom mesta – mirnom predgrađu Zvezdare sa okruženjem individualnih porodičnih kuća iz perioda pre Drugog svetskog rata" – navodi autor. Istovremeno, svojom arhitekturom kuća uspeva da se odupre nedostatku smisla i značenja rutinske arhitektonske prakse, ali i silama bezličnog internacionalizma. Po svom obliku, duhu i pojavnosti kuća ima korene u konkretnom mestu, njegovoj istoriji i oblikovnom kodu susedstva.
Primer dobre prakse
Po svojoj neubičnoj priči, porodična kuća u Hetorovićevoj ulici jedan je od najistaknutijih objekata stambene arhitekture 21. veka u Srbiji. Ljupka i ikonična, reč je o primeru dobre prakse koja ilustruje količinu dodatne vrednosti koju arhitektura i arhitekte mogu uneti u život svojih klijenata.
S druge strane, rekonstrukcije porodične kuće u Hetorovićevoj ulici primer je i revitalizacije samog urbanog okruženja. Naime, ovakvom intervencijom u postojećem tkivu čitavo susedstvo dobija na vrednosti i značaju, a sve okolne kuće i parcele na većoj tržišnoj vrednosti.
Standard i društveni status ljudi najbolje se očitava u tome gde i kako žive. Ne mora se samo živeti u prevelikim, preskupim a jako loše organizovanim stanovima. Može se stanovati i u porodičnoj kući i to lepo, ljupko i komotno. Arhitektura u Beogradu i Srbiji ulazi u novu fazu istorijskog razvoja. On polako postaje diferencijalni faktor između onih koji su elita i onih koji se prave da to jesu.
Pre i posle
Faktografija
autor: Miloš Đurasinović / PLAT.FORM.A
lokacija: Beograd
projektovanje: 2017-2019.
realizacija: 2019.
stara površina: 70 m2
nova površina: 225 m2
fotograf: Miloš Martinović