Kolumna
Rušenje zgrade Eurosalona: Koliko vrede tržni centri u arhitektonskom smislu?
Da je Eurosalon Home market izdržao još bar pet godina, možda bi mogao da bude zaštićen kao autorski objekat…
Nakon izjave Viktora Čalovskog, generalnog direktora Home Plusa, da će upravna zgrada i prvi maloprodajni objekat ove kompanije biti srušeni, kao i izjave nekih opozicionih političara da je cena po kojoj je prodata zgrada sa zemljištem neosnovana, počele su rasprave oko vrednosti same zgrade, kako one u poslovnom, tako i u arhitektonskom smislu.
Priča o zgradi Eurosalon Home marketa (prvobitni naziv) započinje krajem 90-ih, kada Eurosalon, jedna od naših najuspešnijih kompanija za proizvodnju nameštaja, odlučuje da izgradi svoju novu poslovnicu i prodajni centar. Pozivni konkurs je raspisan 1997. godine, na kojem pobeđuje idejno rešenje ženskog tandema arhitekata Ksenije Bulatović i Vesne Cagić-Milošević. Lokacija na kojoj je trebalo da se zida objekat je postepeno pripremana, ali je do gradnje došlo tek 2003, a dovršeno 2004. godine. U tom trenutku, to je bio najsavremeniji mega market, koji je po svojoj arhitekturi i konceptu trgovine bio daleko ispred dotadašnjih tržnih centara, lociranih uglavnom na perifernim delovima Beograda. Na neki način prva veća privatna robna kuća, koja je već tada imala širok asortiman ponude stvari za pokućstvo, ali i mnogo čega drugog, poput alata i igračaka. Naravno, centralno mesto je zauzimao nameštaj i tehnika, a za potrebe ovako sveobuhvatnog trgovačkog objekta bilo je potrebno isprojektovati funkcionalnu i atraktivnu zgradu. A naš poznati ženski tandem je u tome uspeo.
Pozivni konkurs je raspisan 1997. godine, na kojem pobeđuje idejno rešenje ženskog tandema arhitekata Ksenije Bulatović i Vesne Cagić-Milošević.
Na mestu nekadašnjeg polusrušenog industrijskog objekta, nikao je novi prodajni objekat na 7.000 kvadrata. Potpuno otvoreni prodajni prostor organizovan je na dve etaže, prizemlju i prvom spratu, dok su kancelarije sa konferencijskom salom i kantinom, locirane na drugom spratu. Iz kantine je moglo da se izađe na prostrani ravni krov, koji je ubrzo natkriven lakom montažnom konstrukcijom i iznajmljivan tokom prolećnih i letnjih meseci za potrebe privatnih proslava, venčanja, prezentacija, konferencija i tim bildinga. Kompletna fasada izvedena je u tada aktuelnom hi-tech izrazu, s kvalitetnijim materijalima, koji su na taj način aludirali na snagu kompanije i kvalitet ponude unutar mega marketa.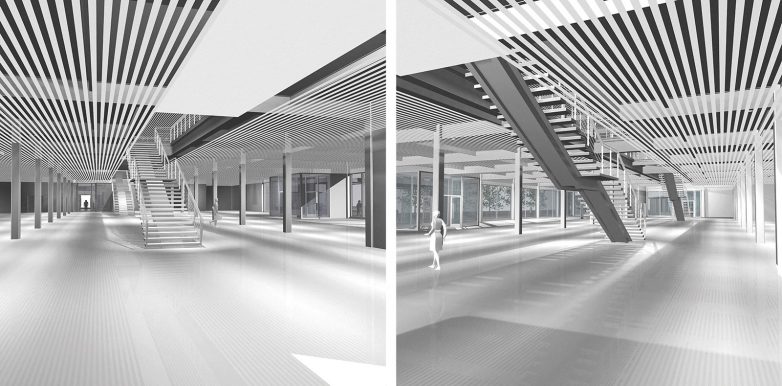 Funkcionalni enterijer
Enterijer kancelarijskog prostora izveden je u funkcionalnom panelnom sistemu, dok je prostor kantine i kafea u prizemlju, dizajniran da zaposlenima i kupcima pruži prijatne trenutke odmora. U sastav zgrade ušao je i aneks mega marketa, popularno nazvan "mali objekat", u koji se pored ponude rasvete, alata i farbarskih materijala, uselio i deo tima komercijalista, ali i projektni biro Eurosalona.
Kratki rok trajanja
Nakon 15 godina postojanja, mnogi ljudi, počevši od zaposlenih pa do mnogobrojnih kupaca, vezali su se za ovu lokaciju, to jest, zgradu i njeno okruženje, pa je vest o njenoj prodaji i rušenju neke i rastužila. Funkcionisanje trgovačkih objekata se dosta promenilo u poslednji par decenija, pa zidanje tradicionalnih međuratnih i posleratnih robnih kuća, više nije isplativo. Zidaju se mega marketi i šoping molovi, čiji vek trajanja je u svetu procenjen na 7 do 10 godina, tokom kojih moraju da opravdaju svoje postojanje (povrate uloženi novac i zarade minimum 5 do 10 puta više), nakon čega ih smenjuju drugi tržni centri, obično veći, sa novijom arhitekturom, sadržajem, ali i atraktivnijom lokacijom. Da je Eurosalon Home market izdržao još minimum 5 godina, možda bi mogao da bude zaštićen kao autorski objekat, ali bi to bilo kontraproduktivno za samog investitora, koji bi time morao da zadrži zgradu, koja bi nakon dve decenije bila zastarela, bez mogućnosti da se prepravi ili proda nekom drugom investitoru. Dakle, tržni centri su vredne reference, ali se arhitekte moraju pripremiti za tužnu činjenicu da ih za svojeg života moraju videti srušene, kako bi ustupili mesto nekom drugom objektu, koji uz malo sreće ponovo oni mogu projektovati.
Zgradu i zemljište je kupila kompanija Beograd na vodi, za potrebe širenja svoje lokacije, koja će se time prostirati od Brankovog mosta do novog Beogradskog sajmišta. Ukupna suma za koju je prodata lokacija iznosi 16 miliona evra. Istini za volju, zgrada vredi mnogo manje, možda čak trećinu spomenute cene, ali nije u ovom slučaju u pitanju samo zgrada već i trgovinska dobit, koju kompanija ostvaruje na godišnjem nivou, bez plaćanja zakupa jer se nalazi u zgradi koja je u njenom vlasništvu.
Od Viktora Čalovskog smo saznali da će prodajni objekat Home Plus biti preseljen u obližnji Ada šoping mol, a kako već uveliko postoji Home Plus u Ušće šoping centru, ovo će kompaniji dati mogućnost da svojom ponudom pokriju tržište u strogom i novom delu Beograda.
Kad ste već ovde…