Rušenje snova za sve one koji su maštali o Beogradu kao drugoj Barseloni. Stvarnost je potpuno drugačija, piše istoričar umetnosti Marko Stojanović.
U poslednjih nekoliko godina pred našim očima niče "grad razdora" između struke i političara, pod nazivom Beograd na vodi. Gotovo celokupna arhitektonska struka Srbije osudila je i negativno ocenila ovaj projekat, izuzev nekolicine projektnih biroa koji rade na razradi određenih segmenata, to jest, objekata. Problema ima mnogo, mnogi kritikuju, ali neko ne objašnjava istorijat ili srž problema niti daje neko eventualno rešenje.
Za početak, možemo se nadovezati na izjave nekih starijih arhitekata da je struka, zajedno s gradskim upravama, u prošlosti čuvala ovaj neprocenjivi deo grada, u nadi da će on doživeti svoju prvobitnu namenu – izgradnju objekata kulture, kao što je opera, filharmonija, muzeji, galerije i drugi javni sadržaj koji bi bio dostupan svim Beograđanima. Međutim, arhitekte i nekadašnji političari su toliko dugo čuvali ovaj prostor da su zaboravili da je država iz društveno odgovornog socijalizma prešla u brutalno surovi kapitalizam i da se inicijativa za izgradnjom objekata od javnog interesa nikada više (ili bar ne u skorije vreme) neće vratiti na dnevni red. Arhitekte zaboravljaju ili ne žele da prihvate da gradove zidaju političari, a da ih projektuju (političke ideje uobličavaju) arhitekte i urbanisti. Nijedan grad na svetu nije nikao tako što je inicijativu dao neki arhitekta, već se ideja mora poklopiti sa željama i planovima političara, to jest, investitora koji poziva arhitektu da za njega osmisli i isprojektuje grad ili gradsku celinu. Ali kako smo od Bare Venecije došli do Beograda na vodi?
Pantović i Savski amfiteatar
Kada je krajem 19. veka Beograd postepeno počeo da se širi u svim pravcima, pa i duž rečnih obala, Venecija je i pored izgradnje Železničke stanice ostala još više decenija nerešiv problem za gradske čelnike. Jedna od prvih osoba koja je razmišljala u pravcu isušivanja ovog prostora i izgradnje stambenih zgrada, bio je arhitekta Milorad Pantović. Ovo se može videti na jednoj omanjoj urbanističkoj skici gde su na prostoru Savskog amfiteatra ucrtani objekti i parkovske celine koje podsećaju na ono što će koje deceniju kasnije biti izgrađeno na Novom Beogradu. Niko se nije okrenuo za tom idejom, čak ni posle Drugog svetskog rata, jer je ideja samog Josipa Broza Tita bila da se razvija druga obala Save, to jest, nova prestonica nove socijalističke države, koja nije bili opterećena prošlošću kao obala starog beogradskog jezgra. Kraći osvrt na tu temu pogledati u knjizi Ljiljane Blagojević, Novi Beogad, osporeni modernizam.
Od Dobrovića do Jovina
Nakon Drugog svetskog rata ponovo se povela priča o izgradnji Terazijske terase, arhitekte Nikole Dobrovića, što se opet dovodilo u vezu sa Savskim amfiteatrom, do kojeg se kaskadno spuštala spomenuta terasa. Projekat je bio neko vreme aktuelan, ali je ponovo pao u zaborav zbog svoje preobimnosti i neekonomičnosti.
Narednih nekoliko decenija, arhitekte i urbanisti su se poigravali sa ovim delom grada, predlažući raznorazna rešenja, što je opisano u knjigama Miloša Perovića, Iskustva prošlosti i Zorana Lazovića, Istorijske odrednice razvoja Beograda i Savskog amfiteatra. Međutim, inicijativa političara je izostala, a država je polako zakoračila u dekadentne devedesete godine. Država i društvo su počeli da se degradiraju, a arhitektonska struka je ostala uljuljkana da stručnjaci mogu da diktiraju nešto što se odnosi na političke i individualne interese. Možda najbolji primer glavnog, za neke i početnog raskola između struke i politike, bila je neuspešna inicijativa za izgradnju beogradskog metroa.
Idejni tvorac tog projekta bio je arhitekta Branislav Jovin, koji je pored metro mreže, dao predloge za razvoj više gradskih celina, kroz koje bi prolazio metro ili koje bi zbog njegovog postojanja doživele temeljne transformacije. Nije bilo nekog novog gradonačelnika Pešića koji bi svojom energičnošću podržao inicijativu, a ni društveno-ekonomska kriza u državi nije išla na ruku Jovinu. Projekat je zbog nedostatka sredstava otkazan, ali su zato ostala idejna rešenja grada, među kojima i za Savski amfiteatar. Kada i laik pogleda, može da primeti rešenje koje odiše humanošću.
Beograd na vodi
Bilo je pitanje koja politička garnitura će staviti tapiju na Savski amfiteatar. To je uradila sadašnja, ali ne zato što je prethodna bila brižna prema Beogradu, već zato što su uvideli da moraju nešto veliko da pokrenu, kako bi sebi obezbedili kontinuitet na vlasti. Naravno, zarada koja bi bila evidentna bila je još jedan razlog više. Nešto slično se dogodilo sa Novim Beogradom, ali su okolnosti i razlozi bili potpuno drugačiji.
Kada je Josip Broz Tito uvideo da će narednih nekoliko decenija biti na vlasti, dao je zeleno svetlo za sveobuhvatniji razvoj projekta izgradnje Novog Beograda. Bio je siguran da će ostati dovoljno na vlasti da dočeka rađanje i razvoj novog grada, za čije potrebe je u većoj meri dao odrešene ruke arhitektama i urbanistima, a državno zemljište je parcelisano većinom za potrebe stanogradnje, pa se nije štedelo na prostoru. Sve potpuno suprotno je dočekalo Beograd na vodi.
Političari su ga proglasili projektom od nacionalnog značaja i kojim su obezbedili političke poene i sigurni profit od prodaje nekretnine. Prostorno-urbanistički planovi za Novi Beograd su trajali više od jedne decenije, ali za Beograd na vodi političari nisu imali toliko vremena. Struka je tražila istraživanje lokacije, javni konkurs, a političarima se žurilo pa su zaobišli nefleksibilne i tvrdoglave arhitekte. Kapitalizam nas uči da je vreme novac, a to su naučili i političari, pa su nastojali da što pre pokrenu izgradnju i prodaju nekretnina. Naravno, kako nam je država urušena već nekoliko decenija, interesi privatnih investitora su na prvom mestu, pre interesa za prostore i objekte od javnog značaja. Lako je zapadnim gradovima da diktiraju pravila, kada su u poslednjih par vekova akumulirali enormnu količinu kapitala, pa ne zavise u toj meri od mešetarenja domaćih i inostranih investitora.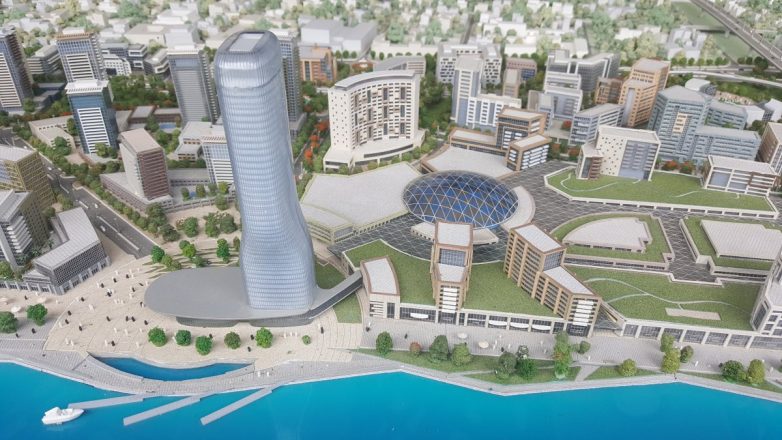 Beograd kao druga Barselona
Tu je i problem pozicije i razvojne prirode Beograda, koji se neće kretati u pravcu Pariza, Rima i Beča (zaštićeni kulturno-istorijski gradovi), već u pravcu Londona, Roterdama i Hamburga (poslovne metropole), što znači znatno više primarnih investicija u poslovno-ugostiteljsku kvadraturu, a tek posle u kulturno-umetnički sektor. Rušenje snova za sve one koji su maštali o Beogradu kao drugoj Barseloni. Stvarnost je potpuno drugačija.
Država je u potpunosti okrenuta investitorima, koji naravno za svoj novac žele što više korisnih kvadrata na što gušćoj površini, a stopiranje ili još dalje – rušenje Beograda na vodi, zaista je utopistička ideja svih onih građana koji ne shvataju način funkcionisanja našeg društva, politike i interesa. Struka se buni, a gotov niko nije izneo bilo kakvo prihvatljivo rešenje, koje bi u slučaju nekih promena bilo prihvatljivo političarima i investitorima. Svi očekuju nekog "poštenog političara" koji će stopirati izgradnju i odmah kontaktirati struku, koja će nakon toga raspisati javni konkurs za uređenje Savskog amfiteatra, a svi znamo da je to nemoguće. Arhitekte su čuvale Savski amfiteatar, ali su prespavale smenu društveno-političkog sistema, gde su ciljevi i interesi u potpunosti promenjeni. Sa druge strane, političari su potpuno isključili struku iz odlučivanja i rešavanja problema. Da li je to zbog spomenute sporosti i nefleksibilnosti ili pak zbog nespremnosti da se znatno više izlazi u susret investitorima? Mislim da je oba.
I šta bi onda moglo biti rešenje? Rešenje može biti u komunikaciji i lobiranju – sve ono što se inače koristi u razvijenom svetu. Ne mogu sve arhitekte imati iste sposobnosti niti u istoj meri dolaziti u dodir sa nadležnim institucijama ili individualnim političarima, ali se zato mora izdvojiti grupa koja bi to mogla da izvede. Takođe, napraviti plan i program delovanja i ciljeva same struke. Naravno, sve ovo se može postići ako se najpre pobedi sujeta u našim redovima i složno nastupi na tržištu. Sa političarima se ne može terati inat jer se od toga može samo navući njihov gnev, a oni kao u predstavi Kralj Ibi, uvek mogu dovesti neki drugi narod (u ovom slučaju neke druge, inostrane arhitekte).
Kad ste već ovde…