Pogledajte kako se pločama od gipsa spušta plafon u stambenom prostoru kako bi se sakrile instalacije struje i klimatizacije, ali i kako bi se dobio zanimljiv enterijerski trik.
Imate neravan plafon, nemate gde da progurate instalacije ili želite da dobijete interesantan detalj u svom domu? Spušteni plafoni se česte izvode u stambenim prostorima, a sa unakrsnom konstrukcijom, koju ćemo mi prikazati, plafon se može spustiti od 15 cm pa naviše.
U našem primeru, u pitanju je stan u kojem smo spuštali plafon 18 centimetara kako bi se sakrili ne samo kablovi već i vodovi od klimatizacije koje se nalaze na plafonu.
Pogledajte video-prilog o spuštanju plafona:
Postupak spuštanja gipsanog plafona unakrsnom konstrukcijom
Za početak se, pomoću kanapa za obeležavanje, na zidovima izvuku visine i pravci na koju će se spustiti plafon. Uglavnom se on spušta minimalno da prođu instalacije ili izravna plafon. Ovo su pravci na koje će se kasnije postavljati konstrukcija i vrlo je bitno da oni budu izvučeni precizno.
Kanap za obeležavanje se razvuče na odgovarajući pravac, zategne i odapne, a on će potom ostaviti jasan trag na površini. Da bi se koristio kanap na većim rastojanjima, potrebne su dve osobe.
Iznad ove linije, koja se ocrtava na plafonu, ostaju sve instalacije koje će biti skrivene.
Da bi odredili idealno ravan plafon, možete koristiti i laser koji dosta olakšava posao obeležavanja pravaca.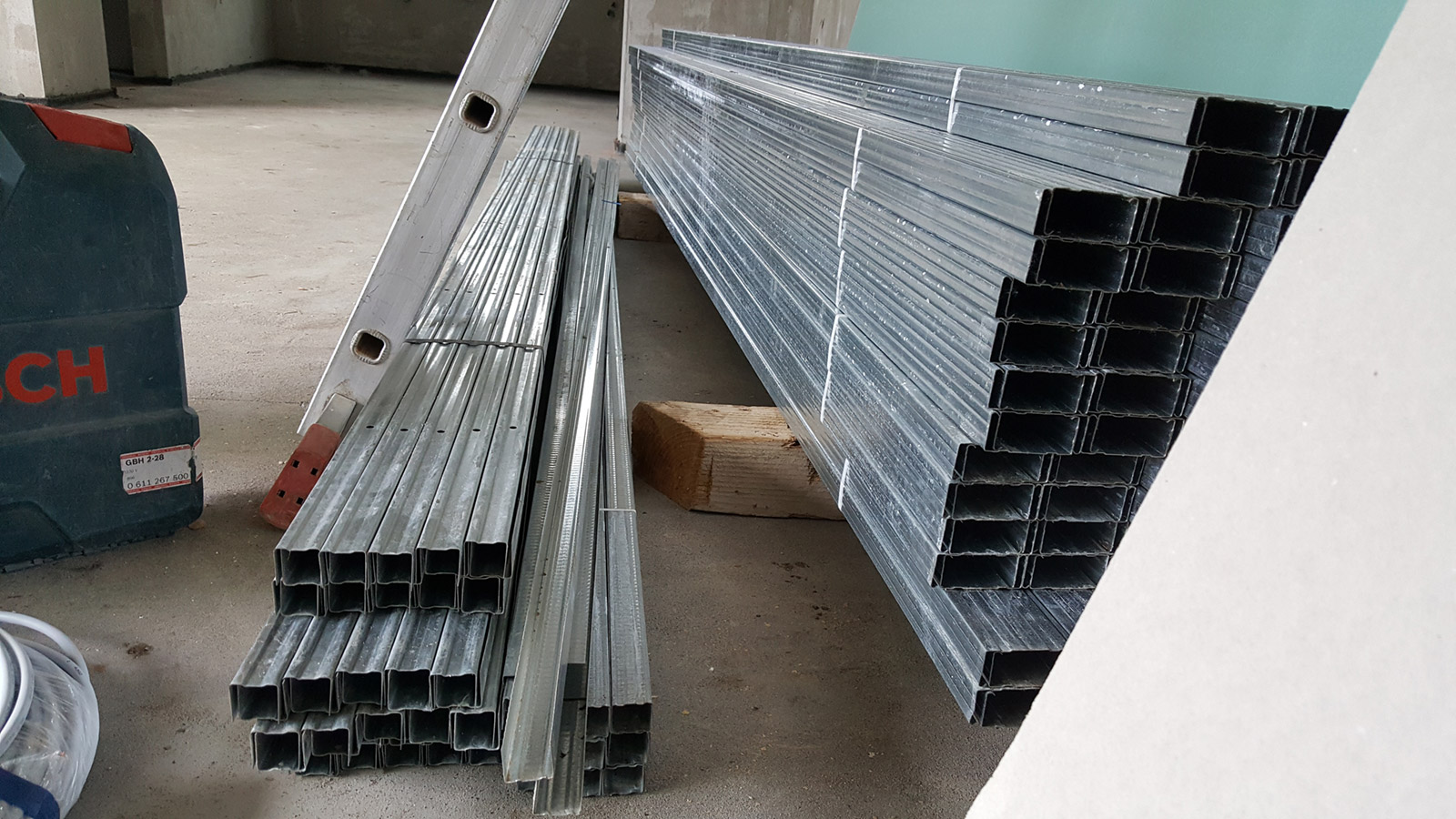 Na obeležene visine, po o obodima, to jest, po zidovima, postavljaju se tanji, UD profili koji služe kao opšivni profil. Oni se postavljaju tako što se prvo probuše rupe u zidu na razmaku od pola metra, a potom se ukucaju plastične tiple i uvrnu šrafovi koji nose profile.
Na primarne noseće profile postavljaju se montažni profili koji prihvataju gipskartonske ploče.
Primarna noseća konstrukcija (noseći profili) postavlja se u razmaku između 90 i 120 cm dok će se kasnije sekundarna konstrukcija, na koje se prišrafljuju ploče (montažni profili), postavljati na razmaku od 50 cm.
Na plafonu se uz pomoć kanapa za obeležavanje izvlače pravci za postavljanje nosećih profila na razmaku od, u našem slučaju, 90 cm . Na ove obeležene pravce se ubušuju rupe za postavljanje visilica koje nose primarnu noseću konstrukciju.
U našem slučaju je plafon od betona i zbog toga smo koristili betonske tiple (ne plastične) za kačenje visilica. Širi deo tiple naleže lepo na okce visilice i tipla sa visilicom se čekićem ubacuje u rupu.
Nakon postavljanja visilice na plafon, na nju se navlači anker vislica sa oprugom. Opruga se ručno nategne i spoji se za anker kada se ubacuje u visilicu. Kada se pusti, anker ne može da sklizne sa visilice.
Zatim se na visilice i ankere postavljaju CD profili koji se na obodu, to jest, kod zida naslanjaju na prethodno postavljene UD profile. Noseći profili se kače za anker zaokretanjem anker visilice. Ako je potrebno da se profil nastavi, produžavanje profila se radi uz pomoć nastavaka za CD profile.
Bitno je napomenuti da se profili koji su nastavljani, postavljaju naizmenično, odnosno, nastavci nikada nisu na jednoj strani prostorije kako ne bi došlo do slabljenja plafona na jednoj strani.
Ispod nosećih profila, pod uglom od 90 stepeni, postavljaju se montažni profili na koji se kasnije kači gipskartonska ploča. Ovi montažni CD profili se pri zidovima upuštaju u UD profil, a za nosaće profile se vežu sa krstastom spojnicom.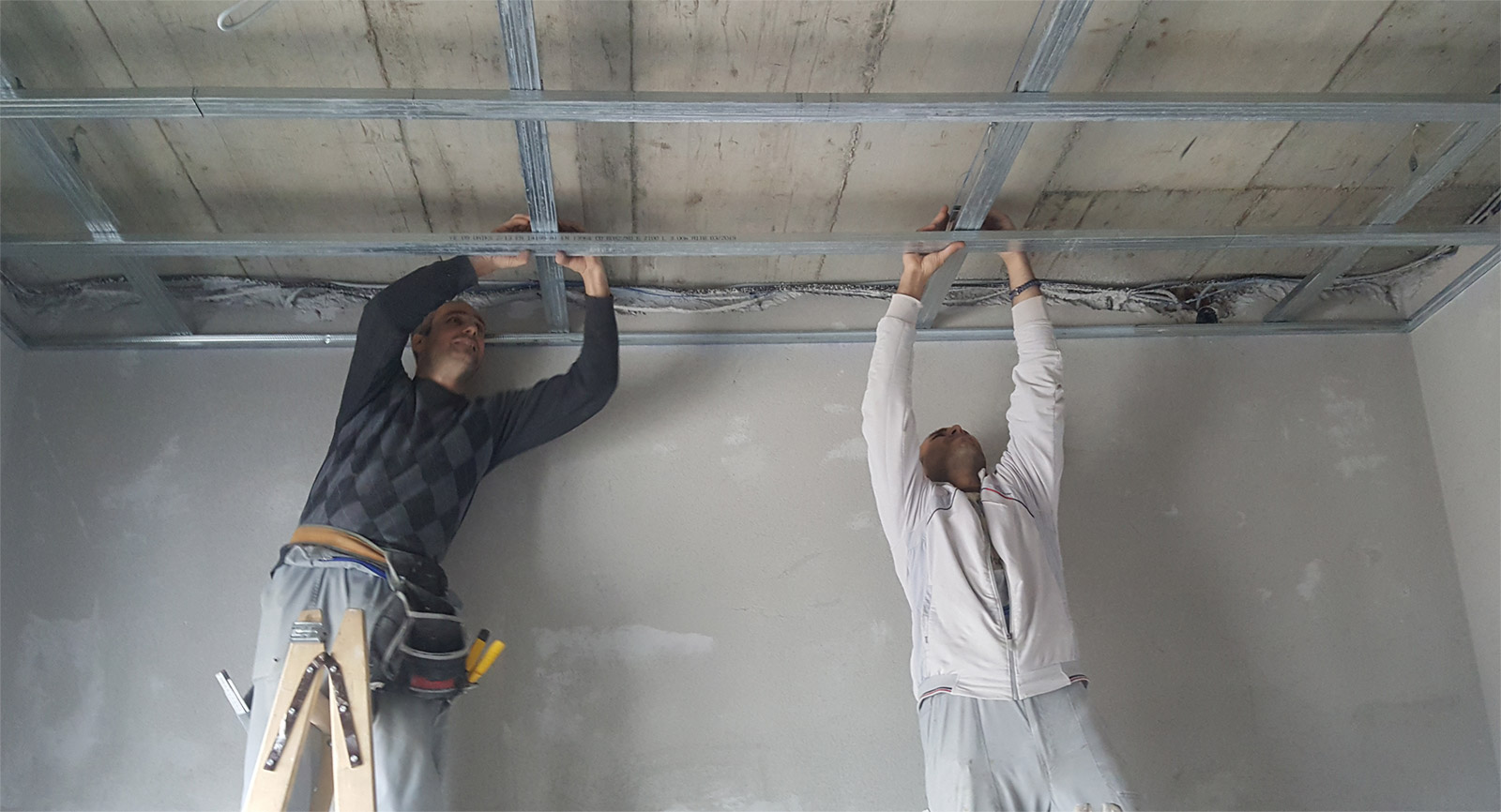 Postavljanjem unakrsne konstrukcije i profila, plafon može da radi, to jest, omogućene su minimalne oscilacije. Ako bi se plafon vezao direktno za noseće profile, imali bi krutu vezu sa plafonom a to nije dobro.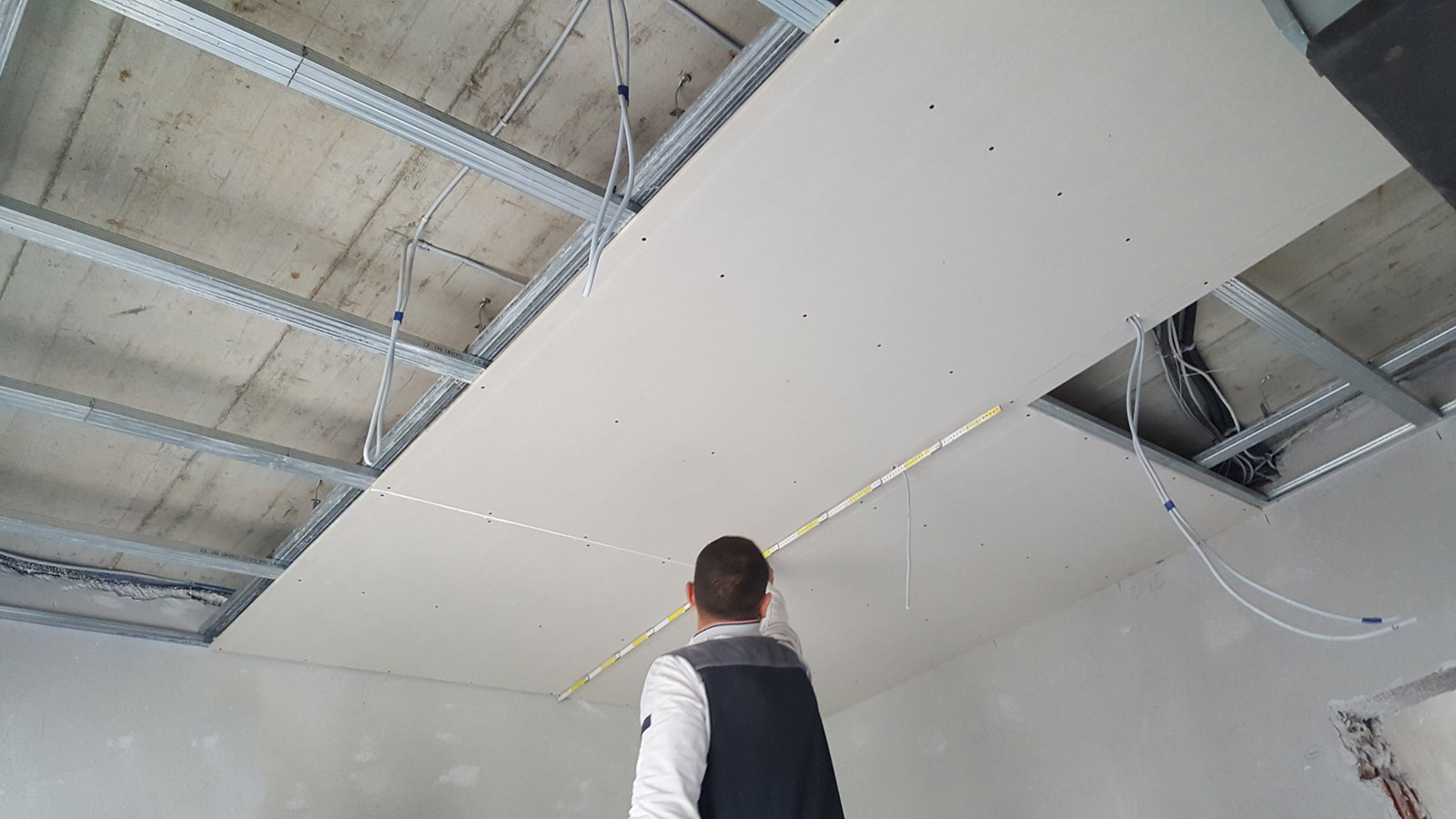 Ivice ploča ne treba da se nastavljaju kako bi se smanjile mogućnosti za pucanje ploča.
Zatim se na postavljenu konstrukciju montiraju gipskartonske ploče. Ploče su dimenzije 120×200 ili 120×260 cm i one se seku skalpelom na odgovarajuće dimenzije. Sa konstrukcijom se povezuju uz pomoć vijaka crne boje. Za jednu gipskartonsku ploču treba oko 30 vijaka jer se u jedan red stavlja oko 6 komada (6 komada u 5 redova = 30 vijaka). Bitno je da se gipsane ploče postavljaju unakrsno, to jest, da se izbegava postavka spoja ploče na spoj ploče. Ivice ploča ne treba da se nastavljaju kako bi se smanjile mogućnosti za pucanje ploča.
Na pozicijama izvoda struje, razmerite poziciju i probušite rupu u ploči pre postavke na plafon.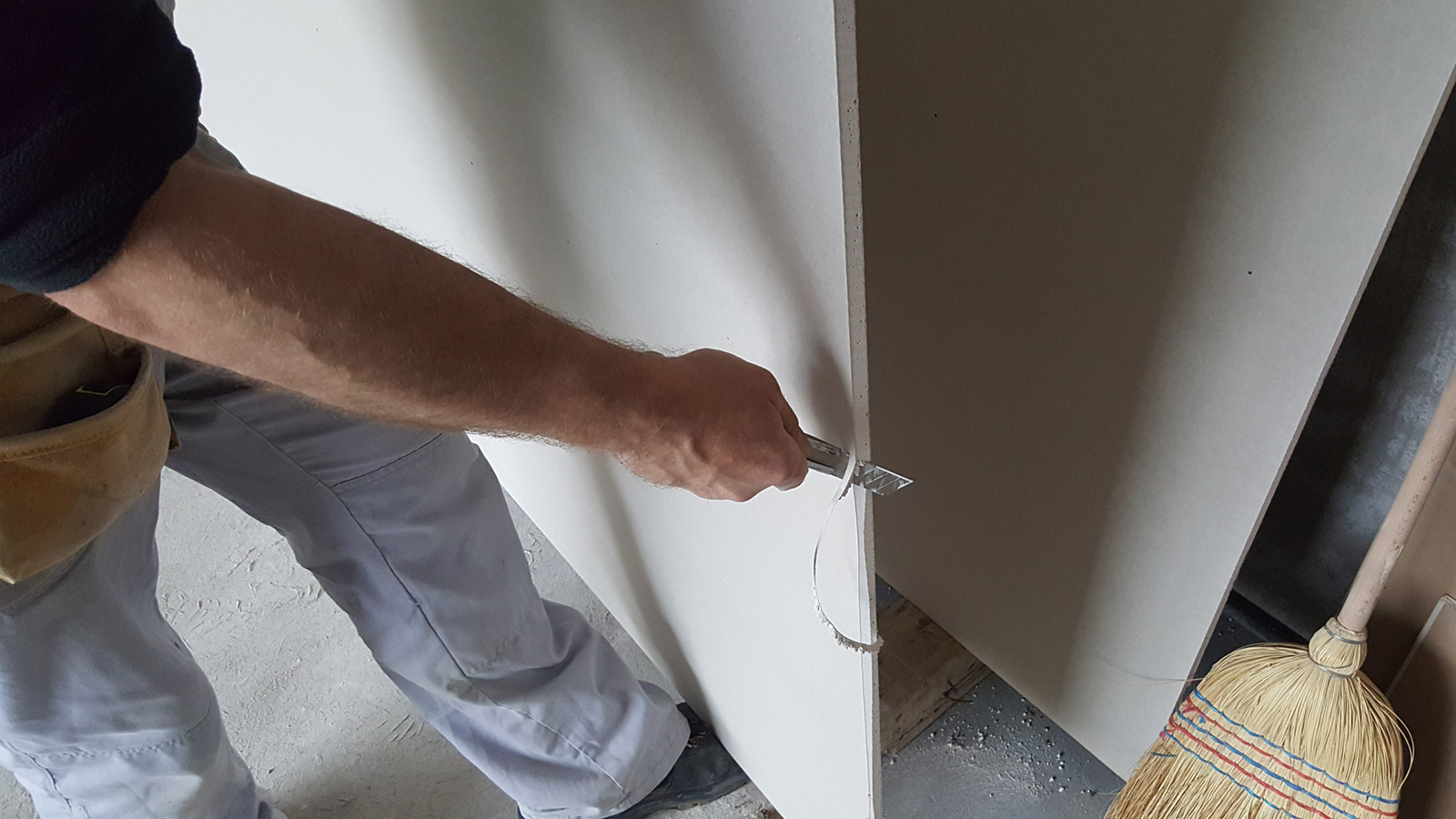 Gerovanje ivica gipskartonskih ploča radi se kako bi se bolje uradio spoj ploče uz ploču. Na ovom spoju se postavljanje bandaž trake koja će kasnije sprečavati nastanak pukotina na spojevima ploča.
Cena spuštanja plafona
Cena spuštanja plafona s unakrsnom konstrukcijom se kreće od 12 do 14 evra po m2. Ovo su cene sa uračunatim materijalom i bandažiranjem. Naravno, cene mogu da variraju u zavisnosti uglavnom od količine ali i od visine spuštanja, pristupa poslu i gradilištu.
Foto i video: Gradnja.rs
Kad ste već ovde…