Imate krive zidove a ne želite da ih malterišete? Rešenje je oblaganje zidova gipsanim pločama na metalnoj podkonstrukciji, odnosno, suvo malterisanje.
Renoviranje stanova je naporan i dugotrajan proces, međutim postoji načini da se vreme potrebno za adaptaciju skrati. Jedan od njih je i da zidove obložite gips-kartonskim pločama čime ne samo da ćete dobiti idealno ravne zidove, u koje možete da smestite zvučnu ili termoizolaciju, već nećete morati da štemate zid kako biste provukli kablove za struju. Proces suvog malterisanja je drastično brži od klasičnog malterisanja, a jedina mana je što ćete ovim postupkom skratiti veličinu prostorije za oko 5 centimetara po zidu.
Pogledajte kako se radi suvo malterisanje:
Gips-kartonske ploče se zašrafljuju za potkonstrukciju od CD i UD profila koji su fiksirani za zid i plafon.
Za oblaganje zidova mogu se koristiti plafonski ili zidni profili. Mi smo u ovom slučaju koristili plafonske CD profile za vertikale i manji UD profil koji se postavlja na pod, plafon i krajnje ivice zida.
Nakon što se laserom izvuku pravci zidova, postavlja se donji UD profil na pod, plafon i na krajeve zidova. Ovi profili će poslužiti za dobijanje pravca budućeg zida. U njih se umeću deblji, CD profili na razmaku od 60 cm. Ako je opterećenje na zid, to jest, na ploču veće, vertikale se postavljaju gušće, na oko 40 cm. Pošto smo bi oblagali zid u kupatilu gde zidovi trpe opterećenje zidnih pločica a zbog uštede u prostoru nismo želeli da stavljamo duplu gipsanu ploču onda smo se odlučili na razmak od 40 cm.
Profili se isporučuju dužine od tri ili četiri metra a seku se specijalnim kleštima.
Vertikalni profili se obavezno dodaju i na sve ivice otvora, kod prozora i vrata kako bi se dodatno ojačale ivice zidova. Vertikalni profili se vežu za zid uz pomoć distancera koji se postavljaju na oko 90 do 100 cm po visini. U našem slučaju distanceri su postavljeni gušće u gornjoj zoni pošto nismo mogli postaviti gornji UD profil na plafon zbog postojeće krivine na spoju plafona i zida.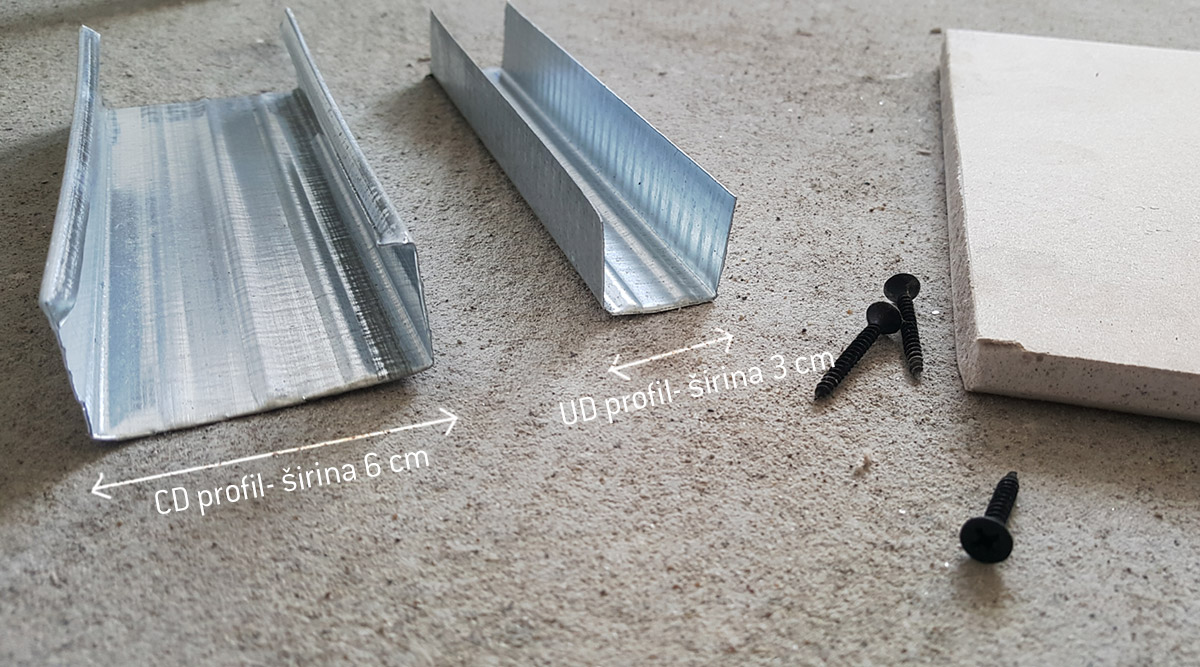 Od izolacije do postavljanja ploča
Kada je postavljena konstrukcija, može se dodati izolacija. Predlaže se postavka mineralne vune na spoljne zidove zbog termoizolacije ali i prema komšijama zbog zvučne izolacije. Ona se stavlja između profila, tako što se krajevi distancera pomere u stranu, ubaci izolacija i distanceri vrate na mesto.
Sada na red dolazi postavljanje gips-kartonskih ploča da potkonstrukciju. Bitno je da ploče prilikom montaže odignu od poda, to jest, od cementne košuljice kako ne bi povlačile vlagu ali i kako bi dopuštale minimalne oscilacije. Ovaj prorez od oko 1 cm će kasnije da se popuni završnom podnom oblogom, odnosno, pločicama ili parketom. Ploče se fiksiraju za profile šrafljenjem. Šrafljenje se radi u razmaku od oko 25 cm dok je za plafone to oko 15 cm.
Na mestima gde se nalaze budući prekidači i utičnice, potrebno je na gipsanim pločama, pre montaže na zid, izbušiti rupe za prolaz kablova.
Bandažiranje
Gips-kartonske ploče se lako seku skalpelom prema potrebnim dimenzijama. Za zidove bez dodatnog opterećenja postavlja se jedna ploča dok se na zidove gde se planiraju dodatna opterećenja, kao što je to slučaj kuhinji i kupatilu, treba staviti dupla ploča. Spojevi ploča i uglovi se na kraju bandažiraju, odnosno, na spojeve se postavlja mrežica i specijalni gips. Nakon ovoga površine su spremne za gletovanje pa zatim za krečenje ili lepljenje tapeta.
Cena oblaganja zidova gipsom
Cena oblaganja zidova gipsanim pločama krećese od 10,5 evra/m2 s uračunatim materijalom i bandažiranjem. Ukoliko se umesto jedne gipsane ploče za oblogu postavljaju dve gipsane ploče cena je veća za oko 5 evra/m2 i iznosi oko 15 evra/m2.
Ako želite da postavite zvučnu i termo izolaciju u gipsani zid, to će vas koštati dodatnih 1,5 evra/m2. Moguće je koristiti klasičnu mineralnu vunu ili specijalne akustične ploče koje su nešto gušćeg sastava.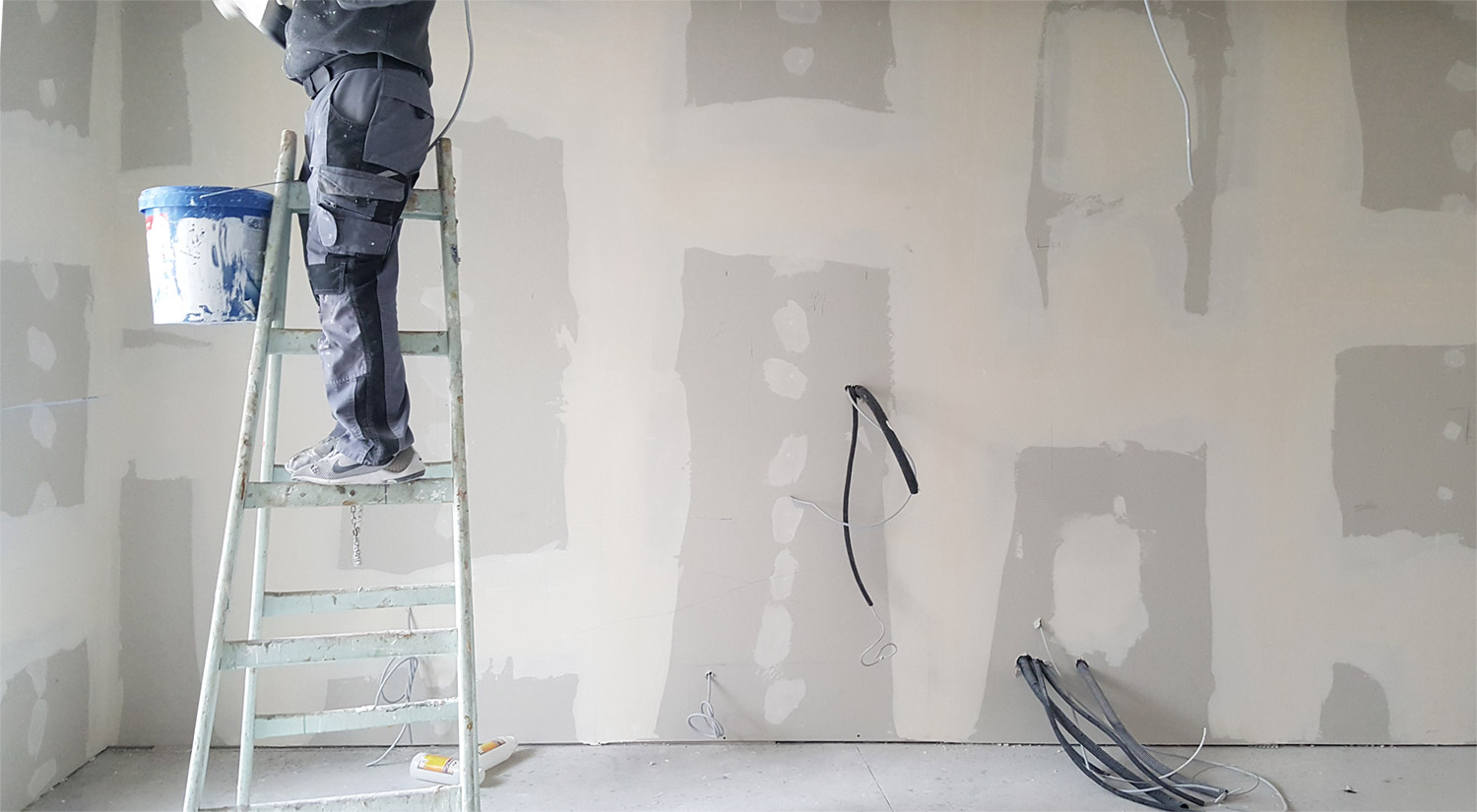 Srećan rad!
Foto i video: Gradnja.rs
Kad ste već ovde…