Obišli smo jedno od naših gradilišta i zabeležili kamerom postupak gletovanja. Pogledajte koje savete vam može dati naš iskusan majstor!
O pravilnom postupku gletovanja smo već ranije pisali, međutim u pitanju je vrlo složen zanat koji krije brojne majstorske tajne koje kada se otkriju i primene na licu mesta čine da se dobiju besprekorno ravne površine i ivice pogodne za krečenje ili postavljanje tapeta. Zato vam ovog puta otkrivamo cake koje će vam uz video-prilog pomoći da dobijete idealno ravne zidove.
Pogledajte video o pravilnom gletovanju:
Ugaona lajsna za ojačane ivice
Ništa bez ugaone lajsne! Najčešće se koristi ugaona lajsna za ivice zidova i plafona za obradu s obe strane zida. One daju pravac i ojačanje na uglovima, a ugrađuju se pre gletovanja. Osim ove lajsne, postoji i završna ugaona lajsna koja se koristi onda kada se samo jedna strana gletuje dok se na drugoj vidi metalna završnica.
Obavezna podloga pre gletovanja
Pre gletovanja, uz pomoć četke ili valjka nanosi se prajmer ili podloga na zidove. Ona se nanosi na kompletan zid i ostavi da se suši dva do tri sata (zavisi od temperature i vlažnosti). Mi smo koristili Silex Silakril i Maksi Kril akrilni prajmer. Ovi prajmeri se mešaju s vodom u odnosu 7 na 1, odnosno, na litar prajmera ide sedam litara vode. Nakon što se osuši, zid je spreman za prvu ruku gletovanja.
Priprema glet mase: dobra gustina za kvalitetno gletovanje
U našem primeru koristili smo glet masu Silex Gletosil koja se pakuje u džakove od 25kg. Ona se ručnim mikserom meša s vodom. Na punu kantu gleta ide otprilike oko 1/3 kante vode. Mora se sačekati oko 15 minuta da se gromuljice razbiju. Gustina glet mase mora da bude kremasta, da se ne razliva ali i da je dovoljno gusta da stoji na hobli čak i kada se okrene naopačke.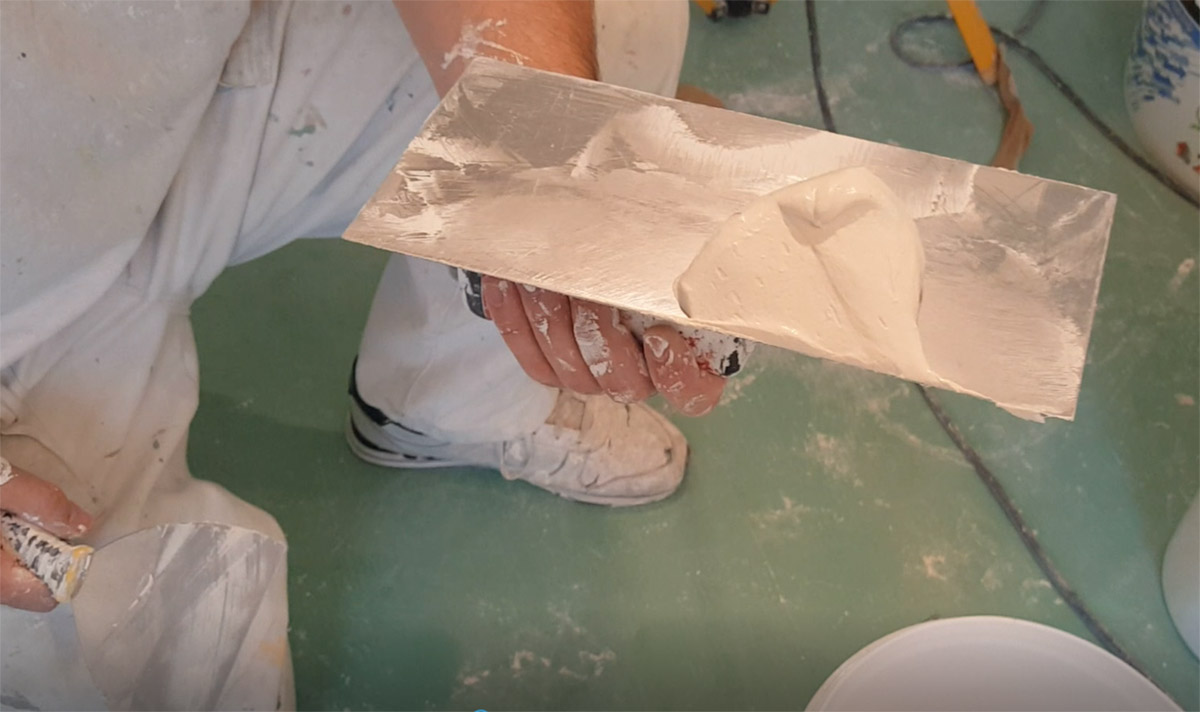 Potrošnja glet mase: koliko vam treba materijala
Za jedan kvadratni metar, računajte da vam treba otprilike oko 1 do 1,5 kg gleta. Ovo je potrebna količina za gletovanje u dve ruke.
Pravilan postupak gletovanja: prva ruka gleta
Nakon sušenja podloge i pripreme gleta, spremni smo za gletovanje. Obično se glet nanosi u tri štosa, to jest, dela. Prvo radimo deo od plafona do oko sredine zida. Za početak glet treba naneti špaklom na hoblu, a potom se hoblom glet nanosi na zid u širini oko jedan metar i to u smeru odozgo na dole. Kada glet malo uhvati, vraćamo se unazad da pokupimo višak materijala. Na ivice, glet navlačimo uz pomoć špakle koja može lepo da priđe uglu.
Kada završimo gornji štos, prelazimo na središnji deo zida nanoseći glet odozdo na gore spajajući ga sa gornjim delom. Glet se takođe nanosi u širini oko jednog metra i onda se vraća nazad uz sakupljanje ostatka.
Poslednji se radi donji štos, to jest, onaj pri podu i to u smeru odozdo na gore spajajući ga sa središnjim delom.
Saveti za drugu ruku gletovanja
Nakon što završite prvi sloj gletovanja, potrebno je da se glet na zidu lepo osuši. Najbolje je da se ostavi da glet prenoći, a druga ruka se može započeti sutradan.
Razlika između gletovanja prve i druge ruke jeste da za drugu ruku materijal za gletovanje treba da je malo ređi ili kako bi majstori rekli "za peglanje". Lakši je za rad i brže povlači, to jest, lakše se veže. Postupak se isto radi u tri štosa, kao kod prve ruke.
Da ruka ne boli: Kako se pravilno drži hobla
Pravilno držanje hoble je veoma bitno kako zglob ne bi primao teret. S tri prsta se podešava ugao hoble. Ako je hobla otvorena, to jest, ugao ka zidu veći, više se materijala skida. Ako je ugao manji, odnosno, hobla više zatvorena ka zidu, manje se materijala skida.
Šmirglanje (šlajfovanje): Najprašnjavije za kraj
Šlajfovanje ili šmirglanje dolazi nakon što se glet dobro osuši (oko 15-20 sati). U slučaju da glet nije dovoljno suv, mašina, to jest, šmirgla može da ga kopa, odnosno, da pravi rupe.
Mašinski se šmirglaju velike ravne površine dok ivice (uglovi prema plafonu, ivice kod vrata i delovi oko utičnica) se šmirglaju ručno jer tu alat ne može da priđe.
Preporučuje se šmirgla finoće P180 kako za ručno tako i za mašinsko šmirglanje.
Šmirglaju se i postavljene aluminijumske lajsne koje trebaju biti čiste i bez gleta na sebi.
Postupak je gotov! U zavisnosti od vaših želja, sada možete zid prekrečiti ili zalepiti tapetu.
Cena gletovanje: Da izračunamo koliko to košta
Cene gletovanja majstori naplaćuju od 2,5 do 3,5 evra po kvadratnom metru s uračunatom zaštitom poda i naravno, s materijalom. Ako uzmete stvari u svoje ruke, možete lepo uštedeti. Srećan rad!
Foto i video: Gradnja.rs
Kad ste već ovde…