Pogledajte na šta bi sve trebalo da obratite pažnju kod uzimanja mera, odabira a potom i kod ugradnje unutrašnjih vrata jer od toga zavisi koliko će ona biti funkcionalna. 
Unutrašnja vrata su važan enterijerski element jer svojom veličinom i izgledom značajno utiču na vizuelni kvalitet celog prostora. Takođe, njihova funkcionalnost je od presudne važnosti da bi se mogla neometano koristiti dugi niz godina pa je zato veoma važno da se unutrašnja vrata pravilno montiraju. Stoga smo posetili salon nemačke kompanije Hörmann u Beogradu i saznali kako se vrata postavljaju na ispravan način. Međutim, pre nego što dođe do montaže, vrata je potrebno poručiti tako da odgovaraju mestu ugradnje u zidu kao i pravilnom otvaranju.
Pogledajte video o ugradnji vrata:
Veličina otvora
Ovo je najbitniji deo posla pre poručivanja vrata kako ne bi došlo do greške, odnosno neslaganja vrata sa otvorom u zidu.
Za vrata su bitne tri mere. Širina i visina građevinskog (svetlog) otvora i debljina zida.
Širina svetlog otvora se uzima uvek na više mesta jer su zidovi retko kada pravi i kao vrednost se usvaja najmanja mera. Laser je najpraktičniji način da se proveri vertikalnost, to jest, da se vide odstupanja u otvoru. Laserom se može lako proveriti i koliko je sam zid ravan.
Smer otvaranja vrata
Da li su vrata leva ili desna?! Ovo pitanje često zbunjuje i pravi nedoumice. Odgovor se razlikuje u zavisnosti od standarda koji se primenjuje.
Prema DIN standardu, smer će te odrediti tako što stanete ispred vrata na strani na kojoj su šarke (vrata se otvaraju prema vama), pa će desna vrata biti ona kod kojih su šarke sa desne strane, a leva kod kojih su šarke sa leve strane. Hörmann vrata se poručuju prema DIN standardu.
Međutim, prema JUS standardu je drugačije. Ona se određuje prema tome kojom rukom se otvaraju vrata kada se ulazi u prostoriju (vrata se otvaraju od vas). Dakle, kada ulazite u prostoriju i kvaku hvatate levom ruko, to su leva vrata. Ako otvarate vrata desnom, to jest, u smeru kazaljke na satu, to su desna vrata.
Sastavljanje i montaža unutrašnjih vrata
Sastavljanje vrata je najbolje da se radi na velikom stolu ili podu. Površina na kojoj se radi bi trebalo da bude zaštićena kartonom kako ne i došlo do oštećenja vrata prilikom sklapanja.
Prvo se sastavlja štok, to jest, ram oko krila vrata koji se pozicionira na zid a nakon toga se postavlja krilo vrata.
Po vađenju delova iz kutija, potrebno je da se oni prvo pregledaju kako bi se se proverilo da li ima nekih oštećenja nastalih u toku transporta. Uz vrata dolaze i svi potrebni zavrtnjevi i spojnice potrebni za montažu.
Za vrata su bitne tri mere. Širina i visina građevinskog (svetlog) otvora i debljina zida.
Na delovima štokova su već izbušene sve potrebne rupe. Prvo se montira deo štoka na kojoj se nalaze šarke odnosno onaj koji ide preko dubine zida. Na sam ugao vertikale i horizontale štoka, stavlja se lepak za drvo, a zatim se delovi prislanjaju jedan uz drugi. Na već izbušene rupe postavljaju se uvodnici za šrafove koji imaju dva dela, bele i crne boje boje. Bele idu na jednu, crne na drugu stranu ugla. Kroz beli se šraf provlači, a kroz crni šraf izlazi. Šfafovi se pozicioniraju ali ne pritežu potpuno. Na obeleženo udubljeno mesto u uglu se postavlja spojnica za pervajz, a zatim se šrofovi zatežu uz obavezno proveravanje da je ugao idealno nalegao. Ovako će ger lepo da nalegne i izgledaće uredno. Predlaže se da ovaj postupak rade dve osobe.
Isto se ponavlja i sa druge strane. Kada je štok sastavljen, okreće se i još jednom se pregledaju ivice spojeva.
Sada se ovaj deo štoka podiže i postavlja u otvor za vrata. Prvo se privlači zidu o otvor donji deo štoka pa zatim i gornji. Štok se fiksira na tačnoj poziciji pomoću drvenih kajli i podmetača. Kajle se postavljaju na više mesta: pri vrhu, sredini i pri dnu štoka. Drvene klinove možete sami napraviti ili ih kupiti. Ove kajle pomažu da se štok fiksira i isprati tačan pravac jer ukoliko štok ima trbuh ili je krivo postavljen, krilo neće lepo naleći i postojaće problem prilikom otvaranja i zatvaranja vrata.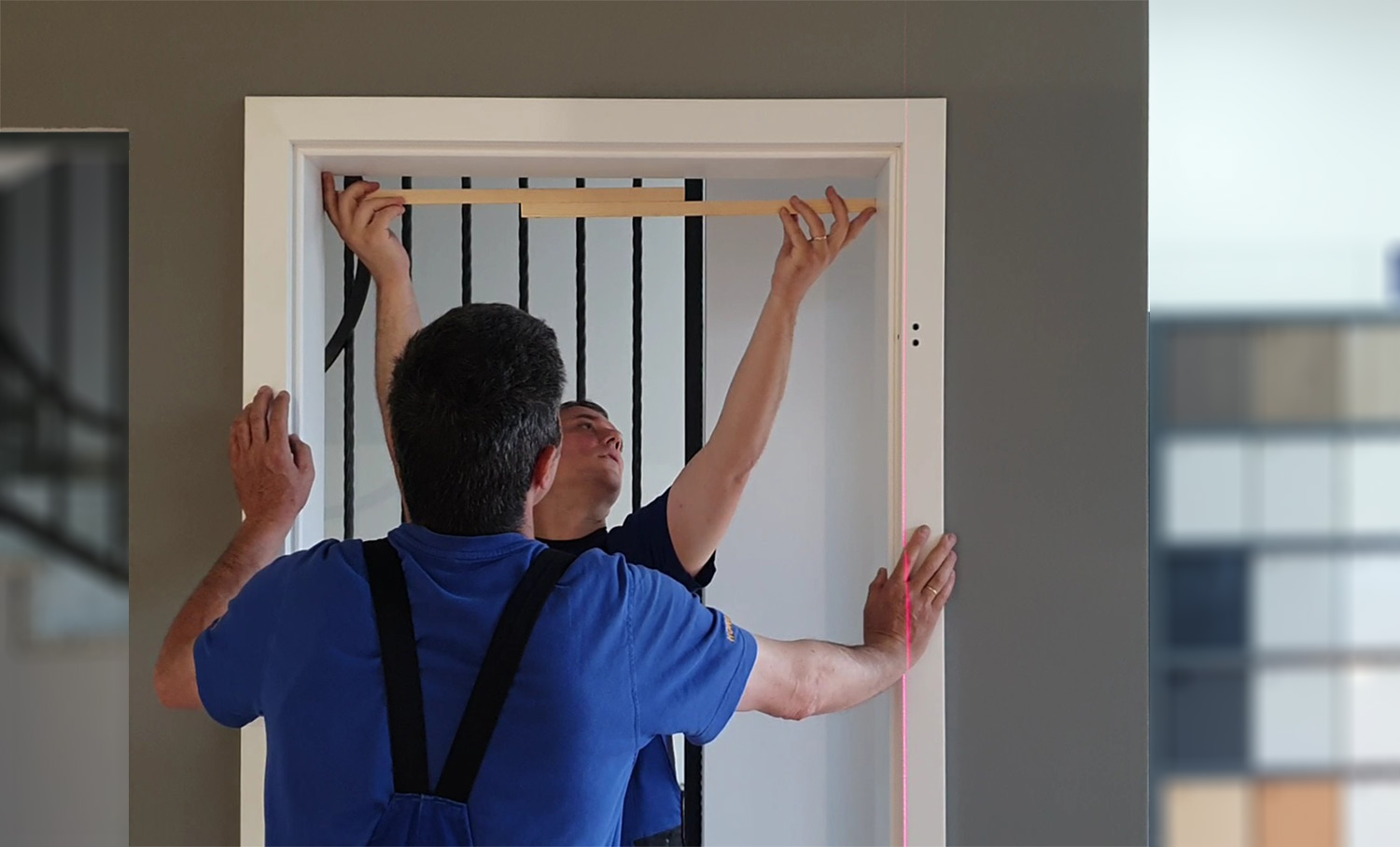 Stege obezbeđuju da se vrata ne iskrive nakon što pur pena počne da se širi i "gura" štok ka unutrašnjosti.
Nakon pozicioniranja štoka, libelom ili laserom proverava se vertikalnost. U otvor postavite potporne letvice od drveta ili stege. Potporne letvice ne dolaze uz vrata te ako nemate stege, možete lako napraviti potporne letvice od drveta. One se postavljaju u tri zone, donju, srednju i gornju. Stege obezbeđuju da se vrata ne iskrive nakon što pur pena počne da se širi i "gura" štok ka unutrašnjosti. Znači, stege će osigurati da se štok ne deformiše.
Kada je štok fiksiran kajlama i potpornim letvama, na red dolazi nanošenje pur pene između zida i štoka. Pur pena se nanosi uz pomoć pištolja ili direktno iz tube, a bitno je da ona bude nisko ekspanzivna. Pur pena može da se prvo postavi tačkasto na više mesta kako bi se štok fiksirao, a zatim linijski u ostatak prostora. Bitno je znati da se pur pena širi pa ne treba preterati sa njenim nanošenjem. Još jednom se proverava vertikalnost libelom.
Iako je pur pena suva na dodir već nakon dva sata, po pravilu bi trebalo ostaviti da se ona osuši 24h pre nastavka radova. Višak pur pene, koja je van ravni zida, odseca se skalpelom.
Nakon ovoga, postavlja se pervajz sa zadnje strane, to jest, sa strane gde su šarke. Pre postavke, pervajz je potrebno sastaviti na isti način kao i štok nanoseći lepak za drvo a zatim i spojnice za ugao.
Na štok se postavljaju dve šarke u pripremljena ležišta na štoku. Šarke dolaze zajedno sa kapicama. Šarka se postavlja u otvor i pozicionira pomoću distancera koji se postavlja između nje i štoka a potom se steže torex ključem. Kada se postavi šarka, proveri se njena čvrstoća.
Postavljanje krila vrata
Na red je došlo postavljanje krila. Nakon što ga otpakujete iz kutije, proverite površinu i ivice krila. Na krilu se nalaze maske kojima su zaštićene šarke – 2 komada. Šarke se podešavaju uvrtanjem i odvrtanjem i potrebno ih je iznivelisati odnosno dovesti u istu osu kako bi bile spremne za montažu.
Krilo se podigne sa stola i postavi se na jastučiće na naduvavanje ili na neku drugu meku površinu. Jastučići su dobri kada su vrata teška jer je tada mnogo lakše pozicionirati krilo na šarke. Krilo treba da "ukliza" u šarku i da se postavi osovina kroz nju. Nakon postavke osovine, na drugi kraj se postavlja šraf osovine. Rupice kroz koje se šarke pričvršćuju za štok zatvara se kapicama koje dolaze u setu zajedno s Hörmann vratima.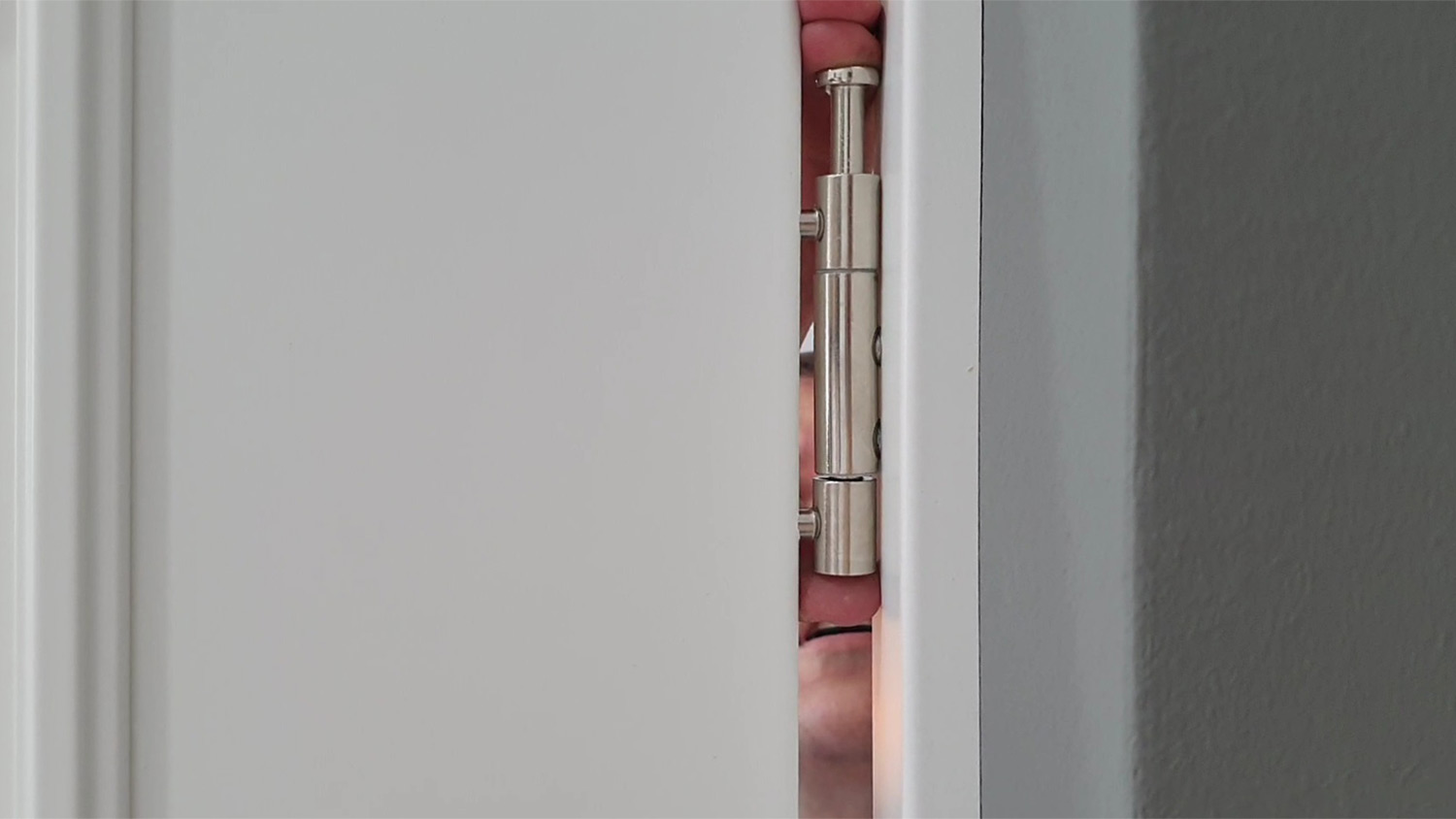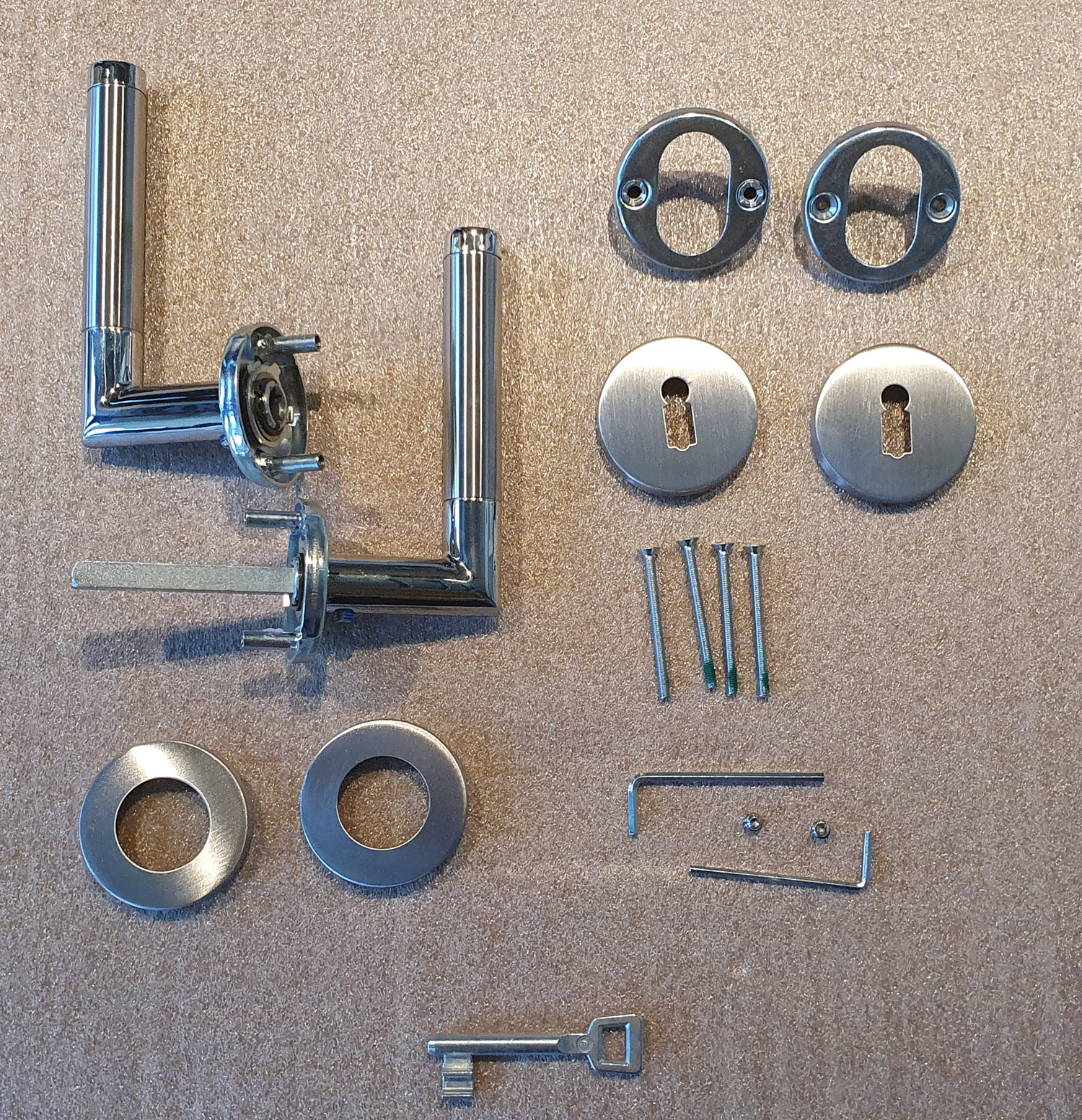 Ugradnja ručki za vrata
Kada je krilo pozicionirano na štok, postavljaju se ručke vrata. U zavisnosti od izabranog tipa ručki, potrebno je izbušiti krilo za njihovu montažu. U posebnom paketu, uz garnituru ručki, nalazi se i odgovarajući šablon za bušenje. Šablon se lepi krep trakom i potom se buše rupe. Bitno je obratiti pažnju da se rupe izbuše spram odgovarajuće konfiguracije (jedna ili dve rozetne za kvaku i za ključ). U našem primeru je brava sa dve rozetne. Spoljna i unutrašnja kvaka spajaju se imbus zavrtnjima kroz rozetnu.
Kod Hörmann vrata, ključ je zakačen uz bravu.
Kada je kvaka pozicionirana i ključ proveren, montaža vrata je završena. Sada bi se vrata trebalo lako otvarati i zatvarati.
Foto, video, grafika: Gradnja.rs
Kad ste već ovde…