Kupili ste stari stan koji treba da adaptirate i već vas je zabolela glava? Samo polako, imamo aspirin za vas.
Niko zaista ne voli da se upušta u renoviranje stana jer su to dugotrajni, prljavi i često dosta skupi radovi za koje ne znate kada će se tačno završiti. Međutim, to ne mora da bude tako ako nađete prave majstore i, što je najvažnije, ako napravite plan po kojem ćete tačno znati kada nastupaju koji radovi, koliko oni traju i koliko oni koštaju. Upravo na ova pitanja daćemo vam odgovore i to na primeru jednog prosečnog stana od 70 kvadrata.
1. Sve staro napolje
Okej, ušli ste u stari stan i odmah vam je jasno da neke stvari moraju odmah napolje. Dakle, prvi korak je demontaža. To podrazumeva skidanje starih pločica, sanitarija, podova (ukoliko ga menjate), električnih prekidača, ugradnog nameštaja, unutrašnjih vrata (ukoliko ih menjate).
Vodite računa da ovaj šut ne smete bacati u kontejner već ga morate odvesti na deponiju. U suprotnom rizikujete da dobijete kaznu od komunalne policije ili da izazovete gnev kod komšija… koji će potom zvati one prve. Ukoliko se useljavate u novu zgradu, ne bi bilo loše da pre početka radova ostavite poruku na ulazu koja glasi, na primer, ovako: "Drage komšije, u stanu broj 12 na III spratu obavljaće se radovi u trajanju od mesec dana. Trudićemo se da budemo što tiši. Hvala na razumevanju." Ove rečenice će im odzvanjati u ušima kada im bude odzvanjao i zvuk hiltija…
Trajanje radova: 2 dana
2. Nove instalacije
Pošto je sve staro uklonjeno iz stana, vreme je za postavljanje novih instalacija. To podrazumeva ugradnju plastičnih cevi za vodovod i kanalizaciju kao i postavku električnih instalacija. Ovo su dosta bučni radovi pošto ima dosta štemovanja i bušenja pa vodite računa da besni komšija nije pocepao vašu ceduljicu pomirenja.
Trajanje radova: 7-10 dana
3. Poručivanje stolarije
Sada je pravo vreme za poručivanje novih prozora i vrata. Dakle, dok stari prozori još uvek stoje na svom mestu, tim iz firme za koju ste se odlučili, treba u ovom trenutku da izađe na teren i da uzme mere za nove prozore. Isto važi i za unutrašnja vrata i sigurnosna vrata. Stara unutrašnja vrata se iznose odmah, dok spoljašnja vrata stoje sve dok ne dođe trenutak za ugradnju novih. Ukoliko se odlučite da farbate stara unutrašnja vrata, pogledajte postupak ovde.
4. Gipsani radovi
Volite spuštene plafone? Sada je red za sve gipsane radove koje podrazumevaju pravljenje gipsanih niša, spuštanje plafona i pregradne zidove. Pročitajte više o ovim radovima ovde.
Trajanje radova: 3-7 dana u zavisnosti od obima posla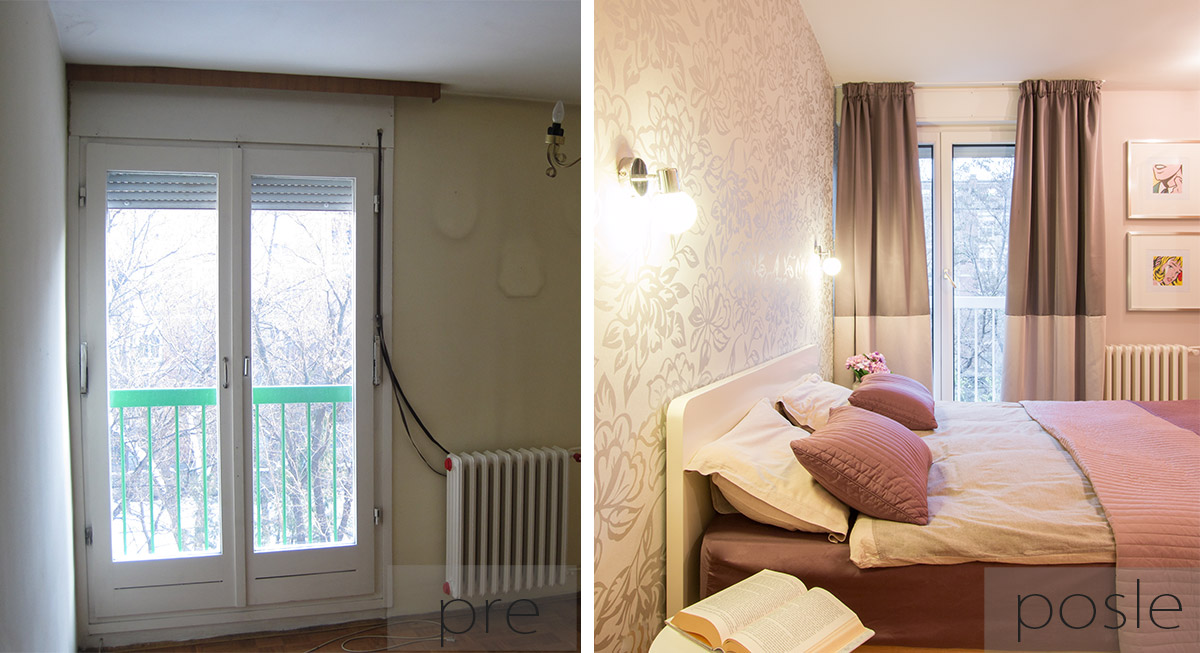 5. Popunjavanje rupa
Nakon izvedenih gipsarskih radova, vreme je da se srede sve rupe nastale ugradnjom instalacija i rušenjem. Dakle, sledi krpljenje šliceva na zidovima i plafonima, popunjavanje rupa ukoliko su rušeni zidovi, kao i nivelisanje podova ukoliko je cementa košuljica oštećenja skidanjem starog parketa. Izlivanje podoliva (nivelina) produžava vreme radova za period sušenja (7 dana).
Trajanje radova: 3-4 dana
6. Hidroizolacija i postavka pločica
Pre postavke keramike, obavezno je odraditi postavku hidroizolacije u kupatilu. Pročitajte više o ovim radovima ovde. Sada možete da postavite pločice a najlakši način da to uradite je ovaj. Naravno, najbolje je da pozovete keramičare, a vi odete negde na kafu.
Trajanje radova: 1 dan (hidroizolacija), 7-10 dana (pločice) u zavisnosti od količine i odabrane vrste
7. Ugradnja prozora
Ukoliko ste se odlučili da menjate prozore, sada na red dolazi ugradnja spoljne stolarije koju ste prethodno naručili (pogledajte korak 2). Majstori će u istom danu skinuti stare prozore i postaviti nove. Podrazumeva se da bi za ovu operaciju trebalo da izaberete neki dan bez padavina. Pogledajte kako se skidaju stari i postavljaju novi prozori.
Trajanje radova: 1 dan
8. Molerski radovi
Pošto ste izabrali boje za vaš novi životni prostor, sledi gletovanje i jedna ruka krečenja. Pre gletovanja moleri treba da obrade špaletne oko novih prozora i balkonskih vrata. Dobro bi bilo i da postavite aluminijumske lajsne na uglove zidova i uglove prozora. Druga ruka krečenja sledi tek u koraku 12. Pročitajte kako se pravilno kreči i koliko to košta na ovom linku.
Trajanje radova: 7-15 dana u zavisnosti od vrsta boja i potrebe da se gletuje dva ili tri puta
9. Sigurnosna vrata
Ukoliko ste se odlučili da ugradite nova sigurnosna vrata, sada je pravi momenat da to učinite. Naravno, prethodno ste ih naručili, zar ne? (pogledajte korak 2).
Trajanje radova: 1 dan
10. Postavljanje podova
U zavisnosti od toga kakav ste pod izabrali (parket, masiv, laminat…), kao i površine za postavku, zavisiće i vreme potrebno da se ovaj korak izvede. Vodite računa da se po postavci poda, on obavezno zaštiti kartonom i folijom jer će majstori i dalje biti prisutni u stanu. Pročitajte više o tome kako se postavljaju parketi, a kako laminati.
Trajanje radova: 2 dana (gotov parket), 5-7 dana (masivni parket sa hoblovanjem, bajcovanjem i lakiranjem), 2 dana (laminat)
11. Postavka unutrašnjih vrata
Po postavci podova, sledi ugradnja unutrašnjih vrata. Pročitajte više o ovom koraku ovde. Saznajte i od čega zavisi cena unutrašnjih vrata.
Trajanje radova: 2 dana
12. Završni radovi
Blizu ste kraja! Ovo je vreme za postavku parket lajsni, a nakon toga kreće silikonisanje. Silinkonišu se sve rupice i šupljine između parket lajsni i zida, kao i između pervajza vrata i zida. Nakon završetka ovog dela radova, sledi druga, odnosno, završna ruka krečenja. Ukoliko ste se odlučili da na neke zidove stavite tapete, ovo je trenutak da angažujete majstora za ovaj posao. Možete to uraditi i samo ukoliko pratite ovo uputstvo.
Trajanje radova: 3-4 dana
13. Fini radovi
Za kraj, sledi postavljanje rasvete i električne galanterije. U kupatilima se montiraju sanitarije, čime se okončavaju radovi na grubom renoviranju enterijera. Ipak, nemojte sklanjati kartone i folije jer ukoliko planirate ugradnju kuhinje i garderobera, oni će vam poslužiti da sačuvate podove. Pročitajte koliko košta pravljenje kuhinje po meri.
Trajanje radova: 2 dana (montaža rasvete i sanitarija), 7-10 dana (ugradnja kuhinje i plakara)
14. Komadni nameštaj
Sada je vreme da sklonite zaštitnu foliju i otvorite (sigurnosna) vrata novom nameštaju. Ukoliko vam trebaju saveti za kupovinu nameštaja pogledajte našu sekciju Šoping s arhitektom.
15. Enterijerski detalji
Ovo je verovatno najlepši deo u celom postupku adaptiranja stana kada unosite lične detalje, postavljate slike na zidove, stavljate tepihe na podove i dekorišete stan po vašoj meri. Neke od ideje za dekorisanje stana možete videti ovde.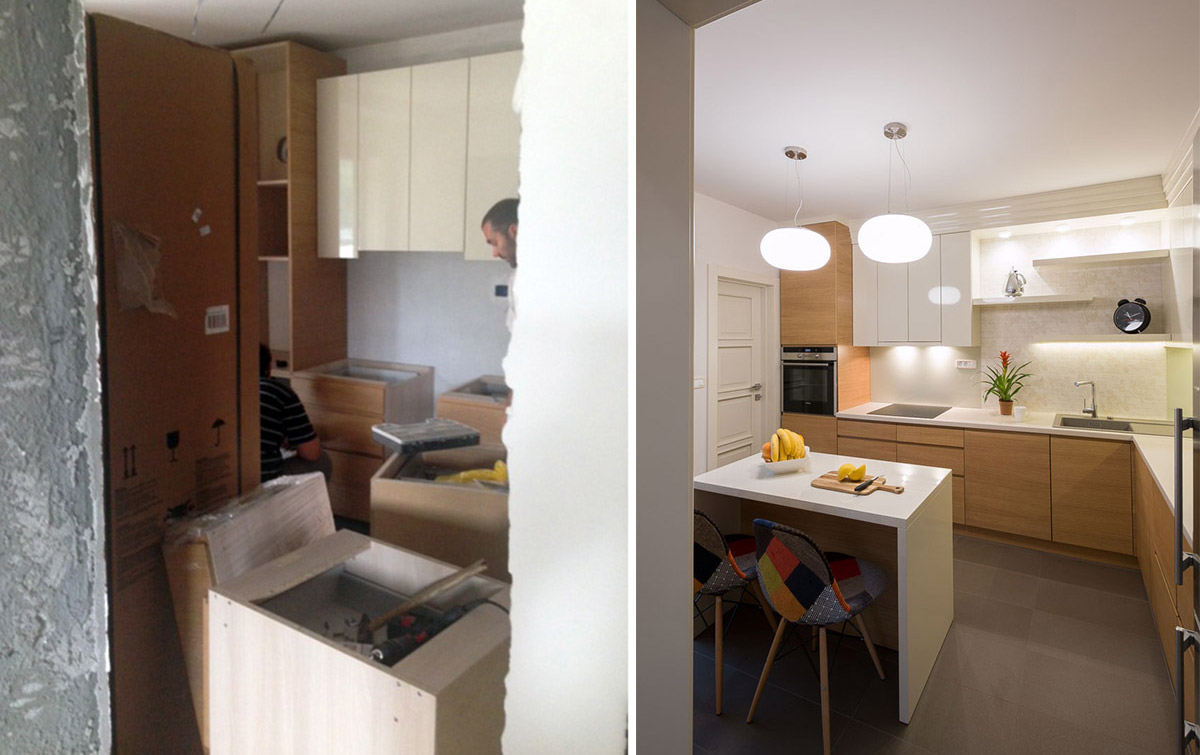 Koliko kvadrata – toliko dana
Dakle, nije baš toliko komplikovano, zar ne? A da traje – traje. Iskusni preduzimači će vam reći da radovi traju onoliko dana koliko stan ima kvadrata. Za naš ugledni stan od 70 kvadrata, radovi bi, dakle, mogli da traju nešto duže od dva meseca. To je, naravno, ugrubo predviđen period ali može biti dobar orijentir koji će vam pomoći da lakše organizujete svoje vreme. Čitaj: da pošaljete decu kod bake i deke.
Koliko to zadovoljstvo košta
Veoma je teško dati predračun radova bez predmera, ali, opet, iskusni preduzimači će vam reći da cena renoviranja stana košta u proseku oko 120-140* evra, odnosno oko 170-180* evra po metru kvadratnom s ugradnjom novih prozora. Ove cene treba uzeti s rezervom jer ukupni troškovi mogu značajno varirati u zavisnosti od kvaliteta odabranih materijala. Naravno, u ovu cenu nisu uračunati troškovi ugradnog i komadnog nameštaja, rasvete, niti enterijerskih detalja poput zavesa i slično.
Iako na prvi pogled deluje puno, treba imati na umu da ovakvom adaptacijom dobijate potpuno novi stan. Ukoliko uporedite cenu kvadrata u novogradnji i cenu kvadrata polovnog stana, na koju ćete dodati troškove renoviranja, uvidećete da ova računica ima smisla. Ako ima smisla, šta čekate? U renoviranje!
* (decembar 2019) Cene su se u poslednje dve godine značajno promenile tako da sada morate računati u proseku 220 evra za renoviranje stana po kvadratnom metru.
Foto: izvedeni enterijeri arhitekte Sonje Brstine
Srodni članci na našem portalu: