Najveći evropski sajam nameštaja održan je i ovog aprila u Milanu. Pred vama je pregled trendova koji će zasigurno obeležiti narednu sezonu.
Kako kažu iz organizacije, 57. izdanje milanskog sajma nameštaja Salone del Mobile 2018 završeno je sa velikim uspehom. Kvalitetni izlagači, inovativne ideje i pozamašan broj uspostavljenih saradnji dokazali su da je najpopularnija Nedelja dizajna u Evropi tu da ostane, a nadamo se i da promeni industriju na bolje. 
Ali koji je to nameštaj obeležio Sajam, koje su boje preovladavale, šta je u trendu što se tiče dizajna enterijera, čiji nameštaj se izdvajao od konkurencije? Saznajte u nastavku teksta.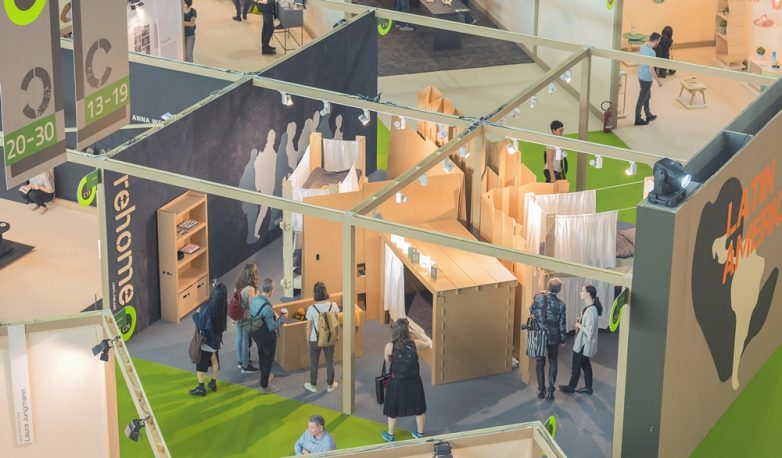 Kompletno ugrađene kuhinje, automatizovana kupatila, mermerne površine i tamniji tonovi nameštaja obeležili su sajam u Milanu.
U brojkama to izgleda ovako: U šest dana, sajam je posetilo 434.509 učesnika iz 188 zemalja, a to znači osetno poboljšanje u odnosu na prethodne dve godine. Ukupno 1.841 učesnik iz 34 države je predstavio svoje proizvode, dok je u okviru posebnog programa SaloneSatelit 650 dizajnera mlađih od 35 godina dobilo priliku da se predstavi internacionalnoj publici.
Posetioci su posebnu pažnju posvetili međunarodnim izložbama dizajna kuhinje i kupatila koje su se vratile na sajam nakon dve godine. Nikad glamuroznija izložba kućnog tekstila i dekoracije takođe je oduševila posetioce. Sasvim očekivano, u toj sali dominirali su Foresti i Moroso koji je udružio snage sa Dieselom u posebnoj kolekciji.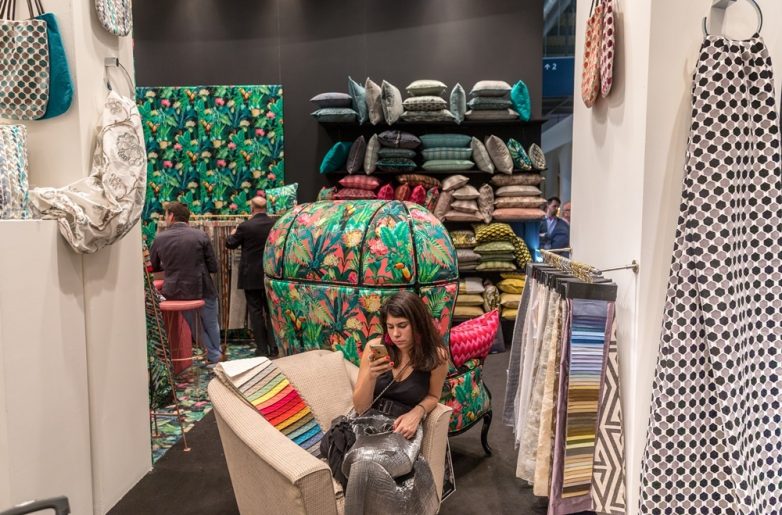 Živeti s prirodom
Zanimljivo je da je Salon ove godine prigrlio zeleni dizajn najjače nego ikada do sada. Ova tendencija zapažena je i pre samog sajma, kada su njegovi čelnici poslali otvoreno pismo Gradu Milanu u kom se naglašava neophodnost uključivanja ekološke svesti u sve buduće projekte u gradu. Eksperimentalna izložba Living Nature izazvala je veliku pažnju posetilaca jer je na izuzetan način pokazala šta sve može da se postigne kada se udruže kvalitetan dizajn, tehnologija i botanika. Po zatvaranju izložbe, Salon će pokloniti preko dvadeset visokih stabala Gradu Milanu.
EuroCUCINA – u slavu dobre kuhinje
Posebna poslastica na sajmu svakako je bila velika međunarodna izložba kuhinjskog dizajna koja se u Milanu održava na svake dve godine. Ovaj put posebno je zanimljiva po tome što je većina ovogodišnjih trendova zapravo proizašla iz ove prostorije. Budući da kuhinja obično predstavlja srce jednog doma to ne treba da čudi.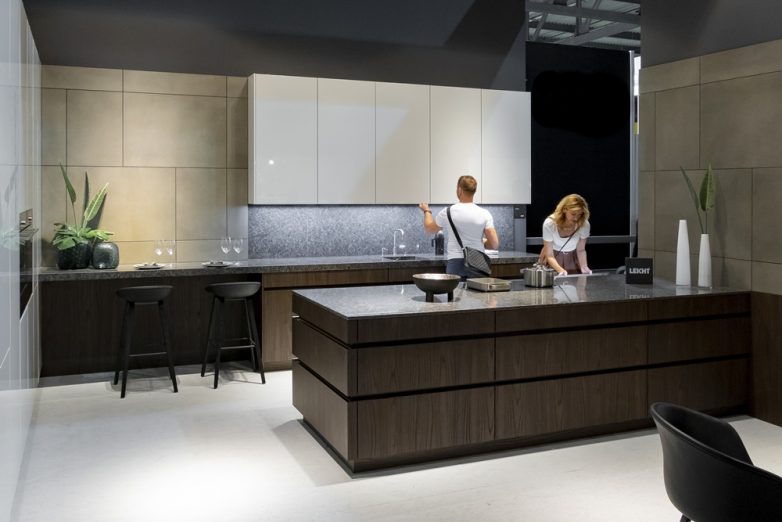 Mermer vodi glavnu reč
Tako smo šetajući kroz besprekorne kuhinje shvatili da će naredna sezona biti okupana u tamnim nijansama, sa po kojom bojom iznenađenja. Industrijske konstrukcije poput rešetkastih objekata i metalnih greda naći će svoje mesto u skoro svakom domu, baš kao i detalji od betona. No, očigledno je da pored drveta, glavnu reč u narednoj sezoni definitivno vodi mermer.
Poseban segment izložbe kuhinja bio je posvećen naprednim tehnologijama. U ovom kutku sajma, posetioci su mogli da se upoznaju sa novim načinima spremanja hrane i integracijom sa sistemom pametnog stanovanja.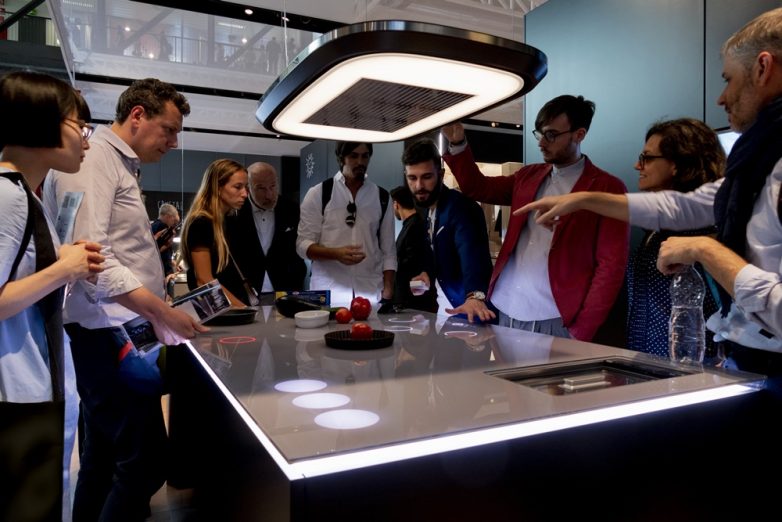 Ugradne kuhinje
Posebno zanimljiv trend predstavljaju ugradne kuhinje za domaćinstvo ili ugostiteljske objekte. Dakle, ovde se više ne radi samo o posebnim ugradnim elementima poput frižidera, već o kompletnim kuhinjama koje su dizajnirane kao plakari.
Boja senfa svakako predstavlja veliko iznenađenje u dizajnu kuhinja.
Automatizovana kupatila
Nešto manjeg obima, ali nikako manje spektakularna bila je izložba kupatila na kojoj su dominirala pametna rešenja i elegantne, pravilne linije. Ovalne forme i retro stil zadržali su bitno mesto u ovoj prostoriji.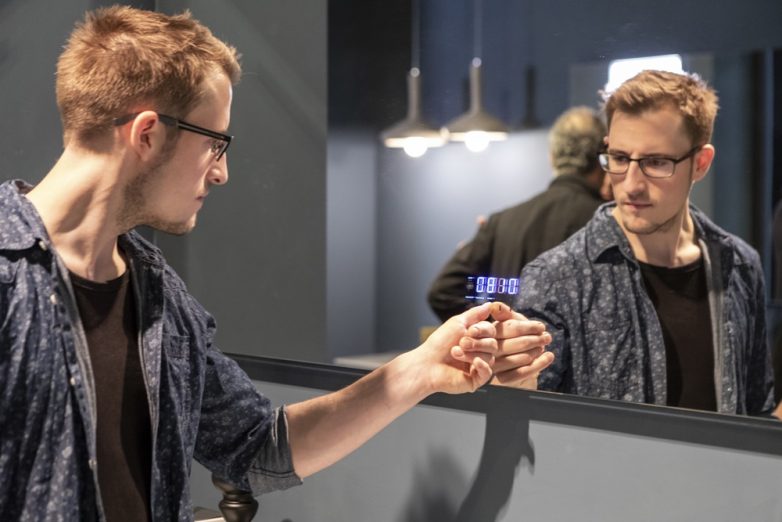 Od Milana do Beograda
Kolekcije nekih od najprestižnijih proizvođača koji su svoje inovacije predstavili na sajmu uskoro će moći da se kupe i kod nas. Počnimo od Poliforma. Ova firma je ceo svoj štand osmislila kao veliki luksuzni stan, opremljen njihovim najnovijim proizvodima. Ipak, može se reći da je na najveće oduševljenje posetilaca izazvala kolekcija kuhinja Shape.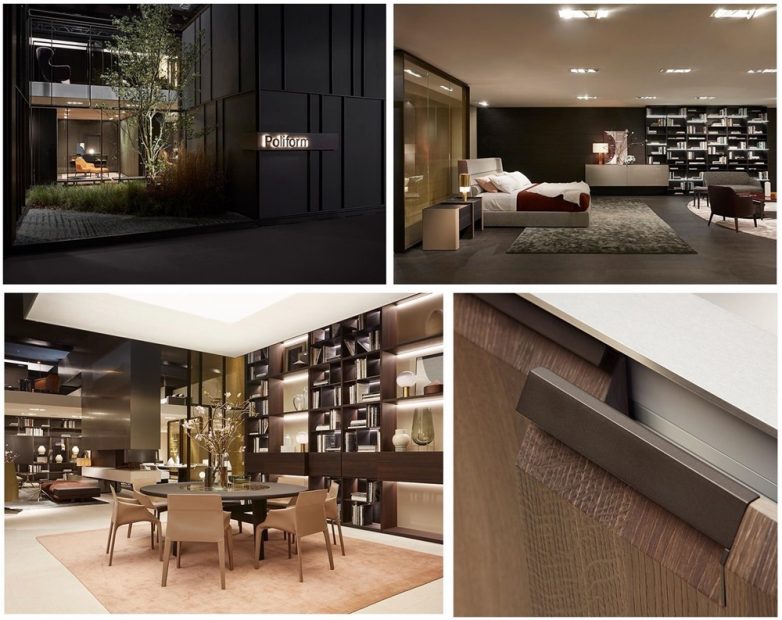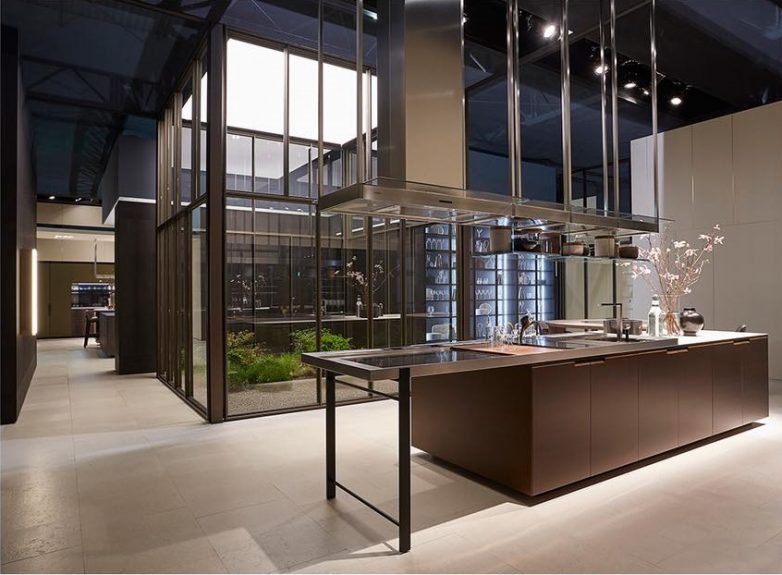 Kuća Rimadesio pružila je najdirektniji prikaz onoga što možemo da očekujemo u narednom periodu. Drugim rečima – zbogom pastelne nijanse, zdravo staklu, bronzi, mermeru i drugim luskuznim finišima.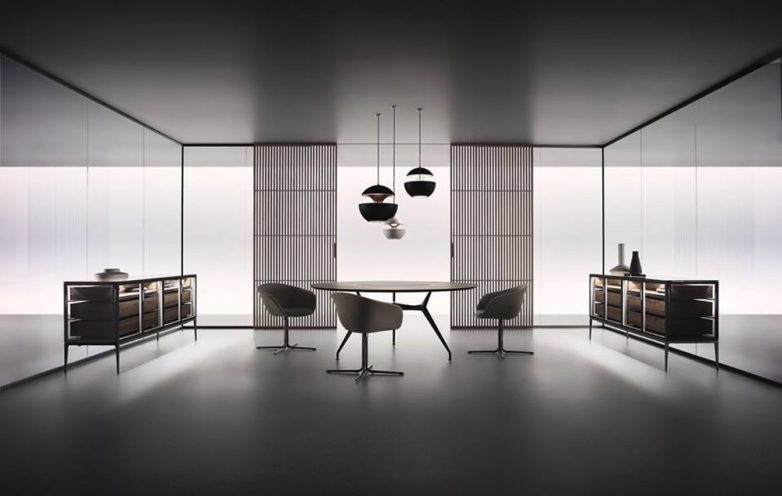 Razni proizvođači ove godine poigrali su se temom kompaktnog stanovanja. Projekat MINI Living podržali su brojni dizajneri, među njima i ambiciozni biro Studiomama, a svoj doprinos ovoj temi dao je i prestižni Magis sa konceptom Box Living. Više o Magisovom uspehu na sajmu pročitajte ovde.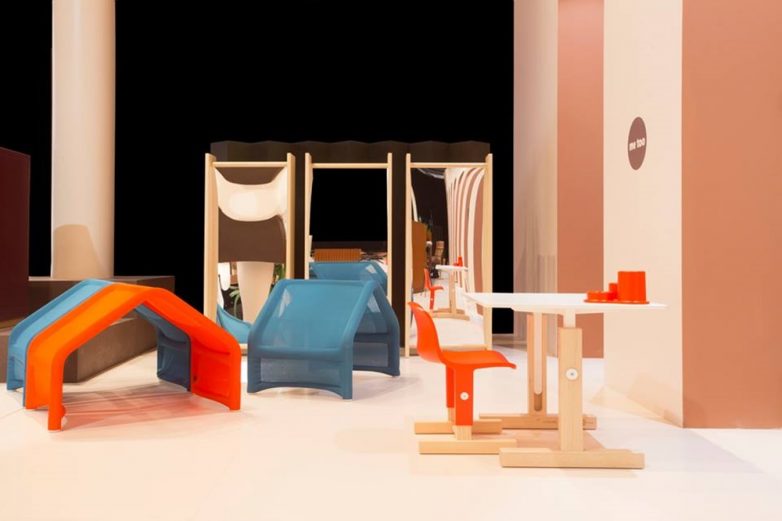 Flou je opet imao štand na kome se najbolje spava. Kompanija je na sajmu proslavila 40. rođendan zajedno sa luksuznim novitetima kakav je krevet Icon.
Još jedna čuvena italijanska kuća nameštaja proslavila je jubilej na sajmu – i to 70 godina od nastajanja! Porada je, po običaju, donela elegantne komade i pokazala ko je glavni kada se radi o obradi drveta.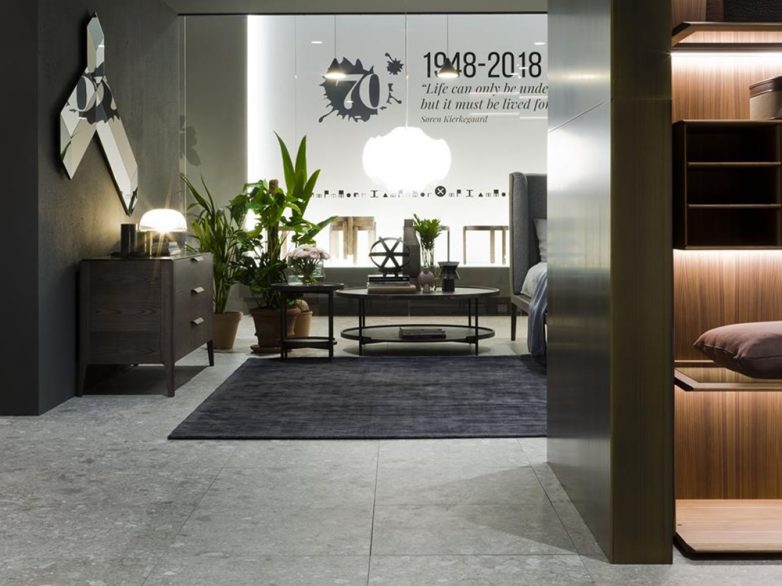 Bonaldo je predstavio nešto prizemljenije kolekcije. Prijatne boje, tiho osvetljene i razbarušeni krevet doprineli su tome da se svi posetioci na njihovom štandu osećaju kao kod svoje kuće. No i pored toga, i u njihove redove su se uvukli sveprisutni trendovi poput bakra, mermera i elemenata od žice. Premijeru na sajmu doživela je kolekcija koju su osmislili u saradnji sa renomiranim francuskim dizajnerom kakav je Fabrice Berrux, profesor u pariskoj školi dizajna École Bleue.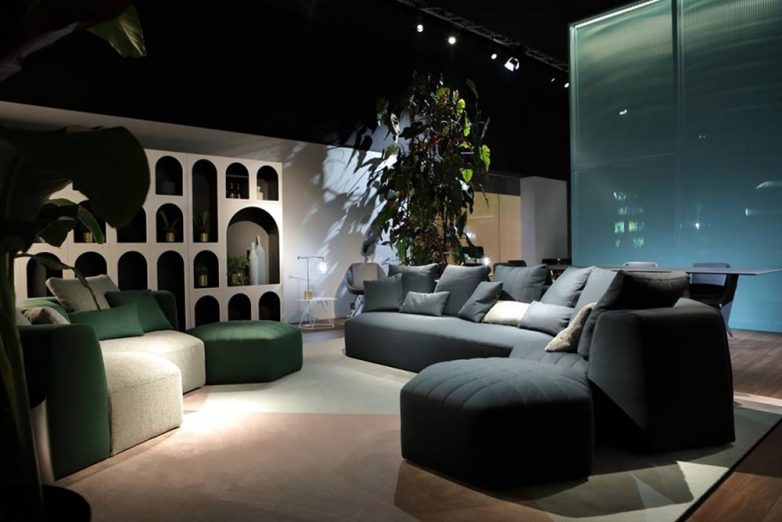 Jedan od favorita na svakom sajmu, kuća nameštaja Calligaris, istupila je sa eklektičnim kolekcijama koje spajaju staro i savremeno, teške materijale poput mermera sa lakim poput plastike, kolorit sa minimalizmom.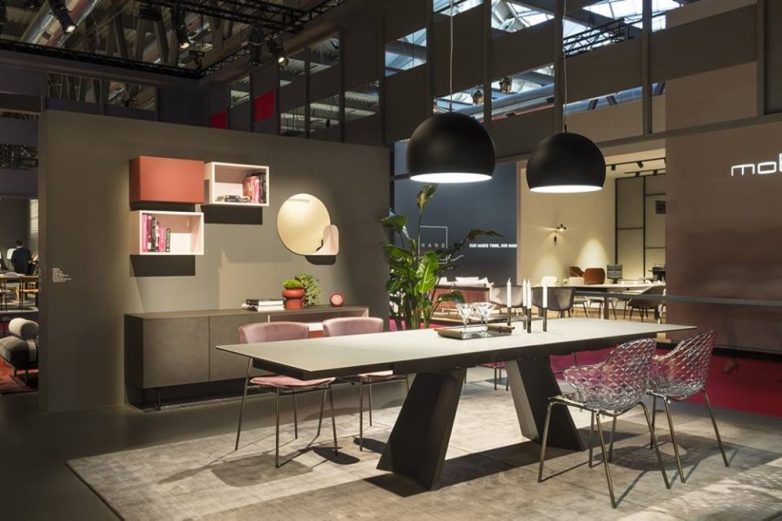 Na kraju, tu je i Vitra koja je još jednom pomerila granice kada je pitanju prezentacija proizvoda. Njihov novi sistem organizacije zove se Typecasting i izgleda ovako:
While each community's members share certain aesthetic affinities and behavioural traits, the Communals occupy an emblematic position within this presentation. Even if these – mostly new – products were not necessarily conceived for such a purpose, the designs in this group offer an ideal platform for self-staging. www.vitra.com/typecasting #vitra #ProjectVitra #typecastingvitra #milan #mdw18 #salonedelmobile #milandesignweek

Posted by Vitra on Četvrtak, 19. april 2018.
Među ostalim proizvodima koje je Vitra prikazala na svom velikom štandu istakle su se stolice po dizajnu Charlesa i Ray Eames koji su inspiraciju za svoje proizvode i arhitektonske objekte obično nalazili u pop artu. Vitrin "mlađi brat" Artek takođe je imao uspešnu prezentaciju na sajmu.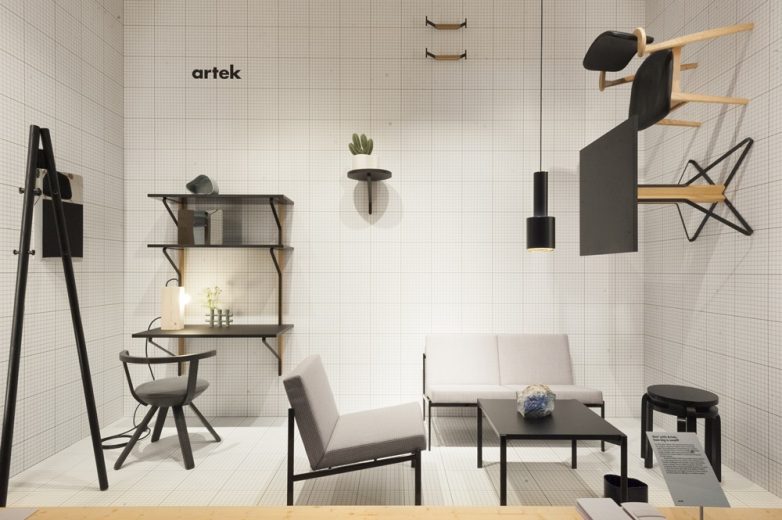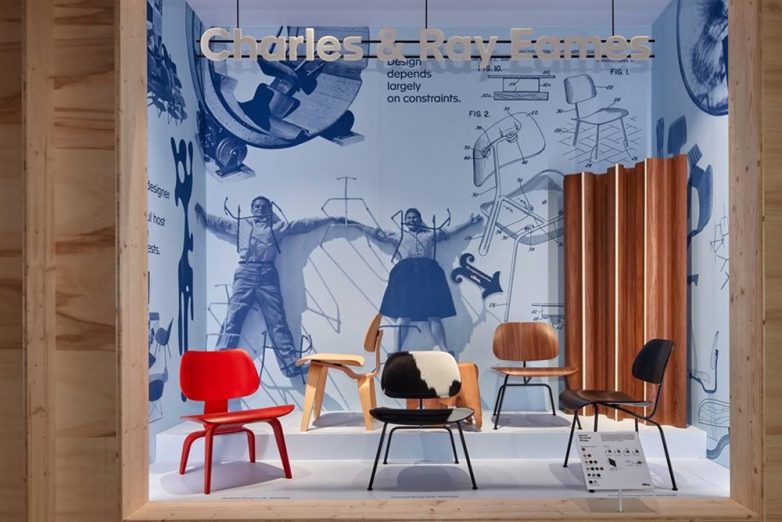 Ilustracije: Foto tim salona (Andrea Mariani, Alessandro Russotti, Diego Ravier, findinGALILEO, Luca Fiammenghi, Saverio Lombardi Valluri), Facebook stranice proizvođača, Billiani (naslovna)
Kad ste već ovde…