Aktuelno
13 domaćih i svetskih muzeja koje možete obići danas… virtuelno
Od Narodnog muzeja u Beogradu, preko Galerije Matice srpske u Novom Sadu, do Viminacijuma, Luvra, Meta i Gugenhajma – svi su vam dostupni besplatno iz vašeg doma.
Pokušajmo da na što produktivniji i zanimljiviji način provedemo predstojeće dane u izolaciji usled pandemije koronavirusa. Iako bi nam trebale čak i godine da sve ove muzeje obiđemo fizički, zahvaljujući virtuelnoj realnosti, u toku današnjeg dana možemo obići čak 13 svetskih i domaćih muzeja! Preporučujemo vam najzanimljivije.
Luvr
Jedan od najvećih i najpoznatijih svetskih muzeja, ujedno je i jedan od najznačajnijih istorijskih spomenika u Parizu. Sada ovaj muzej nudi besplatne online obilaske nekih od najvažnijih njihovih eksponata, poput egipatskih antikviteta i čuvenih Mikelanđelovih dela. Klikom na određeni eksponat možete dobiti dodatne informacije o njegovoj istoriji.
Gugenhajm
Sama zgrada muzeja Gugenhajm u Njujorku, koju je projektovao Frenk Lojd Rajta, sama po sebi je impozantan objekat vredan posete. Muzej sada nudi virtuelnu posetu nekim od svojih kolekcija i eksponata, uključujući radove Mondriana, Pikasa i Kunsa.
Galerija Matice srpske
Galerija Matice srpske u Novom Sadu će tokom narednog perioda preseliti iz galerijskog u virtuelni prostor i ponuditi nov sadržaj kroz kampanju ove institucije "S vama kod kuće" u želji da svim ljubiteljima umetnosti učini boravak kod kuće "kulturnijim". Galerija Matice srpske je jedan od najstarijih nacionalnih umetničkih muzeja u Srbiji, sa kolekcijom od preko 9.500 umetničkih dela, a neka od njih možete videti u virtuelnoj turi.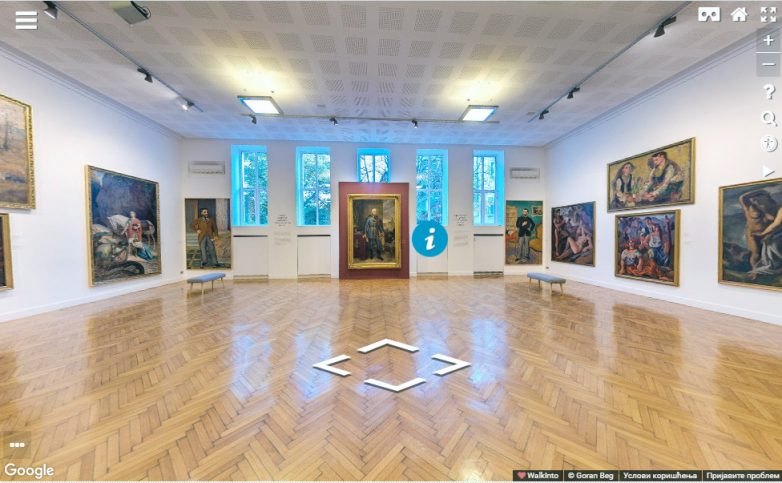 Nacionalna galerija umetnosti
Osnovana 1937. godine, Nacionalna galerija umetnosti u Vašingtonu otvorena je i besplatna za javnost, a sada i online. Možete gledati sadašnje postavke ali i slušati audio snimke i imati uvid u video zapise prethodnih raznovrsnih predavanja.
Britanski muzej
Sa kolekcijom koja broji više od osam miliona predmeta, Britanski muzej u Londonu omogućio je besplatni uvid u određeni broj dela koja se u njemu čuvaju. Muzej je udružio svoje snage sa Guglom, kako bi omogućio virtuelne obilaske pomoću Google Street View tehnologije.
Muzej Smitsonian
Ovaj čuveni muzej u Vašingtonu jedan je od najposećenijih u svetu. Sada su posetioci dobro došli u njegovu virtuelnu turu gde će između ostalog moći da vide izložbe posvećene sisarima, insektima i dinosaurusima.
Met
Čuveni Met predstavlja dom za više od dva miliona likovnih dela, a sada ne morate biti u Njujorku kako biste u njima uživali. Veb prezentacija sadrži interesantnu kolekciju, uključujući dela Van Goga, Džeksona Poloka i Đota.
Narodni muzej u Beogradu
Narodni muzej zatvorio je vrata za posetioce, ali im je omogućio da virtuelno obiđu izložbu posvećenu Ivanu Meštroviću. Skulpture iz zbirke Narodnog muzeja u Beogradu", koja je krajem prošle godine imala velikog odjeka u kulturnoj javnosti, ali i da virtuelno prošetaju kroz kolonadu karijatida velikog jugoslovenskog vajara – zaštitni znak ulaska u ovaj hram kulture na Trgu republike. Virtuelnu turu možete započeti ovde.
Muzej Dalija
Smešten u katalonskom gradu Figeras, Muzej Dalija u potpunosti posvećen radu ovog slavnog umetnika. U muzeju se nalaze mnogobrojni predmeti iz svakodnevnog života Salvadora Dalija, kao i neka njegova dela. U okviru ovog muzeja slavni umetnik je i sahranjen. Španski muzej nudi virtuelne obilaske lokacije, kao i nekoliko važnih eksponata.
NASA
NASA vam nudi besplatne virtuelne obilaske istraživačkog centra Lengli u Virdžiniji, kao i istraživačkog centra Glen u Ohaju. Svemirski centar Hjuston takođe ima aplikaciju koja pruža virtuelne obilaske, kao i video i audio snimke o istraživanju svemira.
Vatikanski muzej
U Vatikanskim muzejima se nalazi ogromna kolekcija važnih umetnina i klasičnih skulptura, koje su Pape čuvale tokom vekova. Sada možete obići muzejske prostore i istorijske eksponate, a imaćete i uvid u čuvenu Mikelanđelovu Sikstinsku kapelu.
Viminacijum
Arheološki park Viminacijum poziva sve koji su kod kuće da ga posete preko virtuelne ture. Za Viminacijum se zna 2000 godina, ali on i dalje ne prestaje da fascinira, kao i kada je bio pun ljudi iz celog tada poznatog sveta, tako i sada kada su njegovi žitelji arheolozi, vodiči i posetioci u virtuelnom svetu.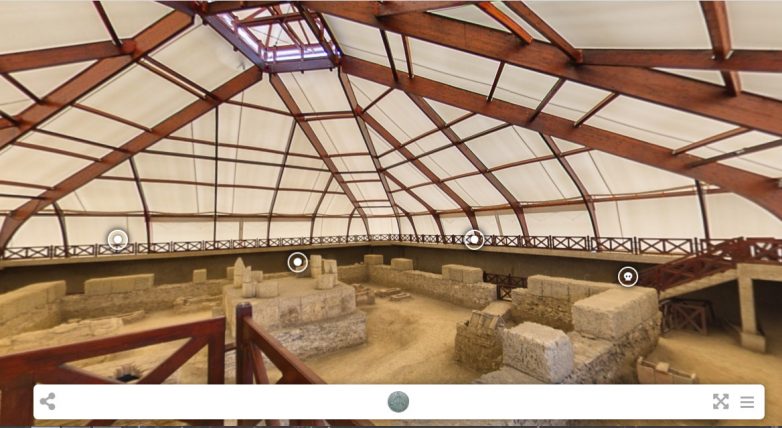 The Google Art Project
Kako bi pomogao korisnicima da otkriju i pogledaju važna umetnička dela onlajn i to u visokoj rezoluciji, Gugl je u partnerstvu sa više od 1.200 kulturnih institucija iz celog sveta arhivirao i dokumentovao neprocenjiva umetnička dela, a potom kreirao virtuelne obilaske pomoću Google Street View tehnologije. Google Art projekat sadrži kolekciju likovnih umetnina iz Bele kuće pa čak i uličnu umetnost iz Sao Paola u Brazilu. Ovde je celokupna lista muzeja koji su u sklopu Gugl platforme.
Kad ste već ovde…