Projektni biro Enforma, na čelu sa arhitektom Nikolom Novakovićem potpisuje projekat hotela sa belom čipkom sačinjenom od profilisanih stubova i greda, naravno i – lukova.
I dok na televiziji gledamo prazne ulice italijanskih gradova, opustele pod naletom koronavirusa, na internetu su se pojavila poređenja sa motivima u delima italijanskog slikara Đorđoa de Kirika. Svima su poznate gotovo zastrašujuće opustele vedute italijanskih gradova koje je de Kiriko, kao predstavnik racionalističkog pokreta u Italiji, ovekovečio na svojim mnogobrojnim platnima.
Pored pustih trgova i ulica, sa tek pokojim prolaznikom, oko stručnjaka može zapaziti još jedan detalj koji se provlači kroz gotovo sve slike iz ove serije – lučno završeni otvori na prozorima, vratima i tremovima zgrada.
Ovaj motiv biće zajednički gotovo svim italijanskim umetnicima koji su stvarali u duhu racionalizma, od početka do sredine 20. veka. Možda je ovo i trenutak da u priču uključimo i jedno novije delo, nastalo pod uticajem ovog italijanskog racionalizma. Ali kako je nastao ovaj pokret i zgrade koje su postale arhitektonske ikone i inspirisale mnoge autore širom sveta?
Palata italijanske civilizacije bila je prava prostorna materijalizacija de Kirikovih metafizičkih slika.
Za razliku od drugih evropskih diktatora, koji su bili na vlasti od treće i četvrte decenije 20. veka, koji su cenili isključivo klasičnu, akademsku arhitekturu, vulgarizovanu da odgovara estetici totalitarizma, Musolini je u najvećoj meri podržavao rad i uticaj italijanskih racionalista, poniklih na idejama futurizma i internacionalne moderne. Da li su oni kroz svoja dela ili manifeste uspeli nekako da podvale Musoliniju ili su se njihova dela jednostavno uklapala u senzibilitet samog diktatora, to sada nije ni preterano važno.
Važno je da su oni projektovali i izveli nekoliko zavidno kvalitetnih, modernih objekata, a jedina veza sa tadašnjim totalitarnim režimom bili su nazivi tih objekata, koji su morali da sadrže reč "fašizam" i/ili "Italija, italijanski" iako po svojoj strukturi gotovo i da nisu imali veze sa takvim društvenim uređenjem. Jedan od tih objekata, nastalih u sam osvit Drugog svetskog rata, bila je i Palata italijanske civilizacije.
Od Musolinija do Fendija
Ova zgrada, popularno nazvana Kubični Koloseum, bila je prava prostorna materijalizacija de Kirikovih metafizičkih slika i potpuno vanvremenski monumentalna zahvaljujući zalučenim svodovima, motivu koji je pratio dela racionalista i koji se verovatno posebno dopadao samom Musoliniju.
Namena zgrade je bila je da reprezentuje kulturu jednog naroda, a centralna pozicija u okviru Musolinijevog "Novog Rima", to jest, EUR distrikta (Esposizione Universale Roma) može govoriti o njenom značaju i društvenoj ulozi koju je uživao njen autor, arhitekta Marcelo Piacentini.
Nakon Drugog svetskog rata, zgrada gubi svoju prvobitnu namenu. Ovaj deo Rima je teško oštećen prilikom savezničkog bombardovanja, pa je na posleratnoj obnovi pozvan da učestvuje i tada već uveliko marginalizovani arhitekta Piacentini.
Ceo distrikt je obnovljen, a umesto javne svrhe, sve zgrade, zajedno sa Palatom italijanske civilizacije, dobile su ulogu poslovnih objekata. U samu Palatu se 2015. godine uselila i prestižna modna kompanija Fendi. Naravno, na zgradu uveliko niko više nije gledao kao na simbol fašizma već kao na simbol vanvremenske moderne mediteranske arhitekture.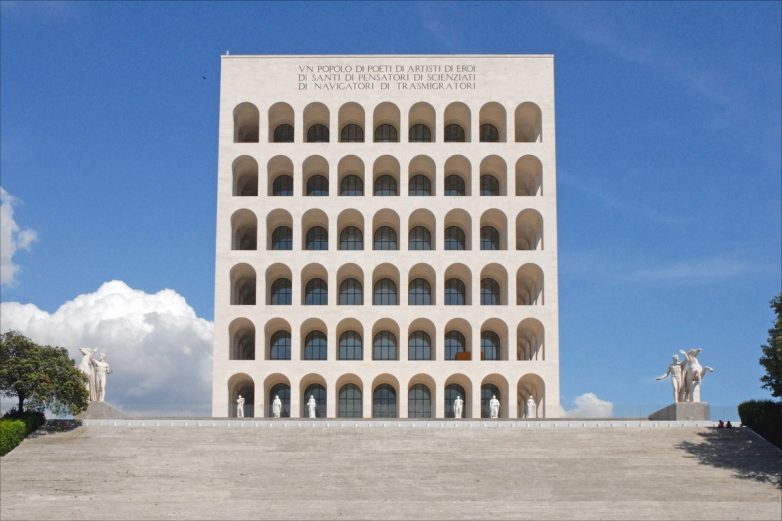 Budvanski hotel
Kada pogledamo ovaj novi projekat, za koji iz poslovnih i ugovorom obavezujućih razloga, nemamo više informacija, možemo naslutiti da je kao uzor imao i Palatu italijanske civilizacije. Naravno, uz ozbiljno, profesionalno modelovanje i razradu, kakvu inače poseduje projektni biro Enforma, na čelu sa arhitektom Nikolom Novakovićem.
Enforma je u saglasnosti sa željom investitora, iznela ideju ekskluzivnog, urbanog ugostiteljskog objekta, sa elementima mediteranske arhitekture. Rezultat je više nego inovativan, a opet tradicionalan, s obzirom da je gradnja hotela planirana na Slovenskoj plaži, delu Budvanske rivijere na kojoj se susreću razni stilski i istorijski uticaji.
Spoljna struktura obučena je u belu čipku sačinjenu od profilisanih stubova i greda, naravno i – lukova.
Objekat je koncipiran da metodološki upija uticaje primorske arhitekture, ali sa druge strane starne i primese savremenog graditeljstva, sistematizujući celinu u jednu primamljivu strukturu. Koncept se bazira na čistim i jednostavnim formama i funkcionalnom strukturom, elementima koji su ustaljene odlike moderne arhitekture.
Karakteristična spoljna struktura, odaje utisak solidnosti i stamenosti, a obučena je u belu čipku sačinjenu od profilisanih stubova i greda, naravno i – lukova, elementa bez kojeg mediteranska arhitektura bilo kojeg istorijskog razdoblja ne može da se zamisli.
S obzirom na ekskluzivitet lokacije, ova opna nastala je upotrebom belog kamena, kojim su podjednako tretirane sve fasadne površine, tako da ni jedna partija ne dominira, to jest, ne preuzima primat. Tu je i biljno rastinje, koje dodatno oplemenjuje fasadu u svim partijama i pojavljuje se kao generalni pristup u tretiranju neaktivnih zona. Arhitektonski koncept je osmišljen tako da primarna fasadna forma sakriva unutrašnjost i provocira posmatrača da postepeno otkriva slojevitost strukture.
Gigantski red
Kada se hotelski objekat malo podrobnije analizira, možemo primetiti da su autori otišli mnogo dalje od pretpostavljenog uzora. Za razliku od Palate italijanske civilizacije, koja pored svoje ikoničnosti i vanvremenske atraktivnosti, poseduje i izvesnu dozu istorističke ukočenosti i monotonije, zgrada hotela je to prevazišla prozorskim otvorima, koji su i pored vertikalnih i horizontalnih serklaža, u trakastom kontinumu.
Romantični efekat postignut je zalučenim detaljima na samo dva mesta, u partiji prizemlja i prvog sprata i na partiji poslednjeg sprata. Ovaj efekat može se uporediti sa renesansnim umetnikom Mikelanđelom, koji je među prvima primenio takozvani "gigantski red", stubove i pilastre koji nisu pozicionirani isključivo na jednom spratu palate, već se protežu duž dve ili tri etaže. Ovaj mikelanđelovski zahvat dao je željni efekat elegantnosti, dinamičnosti i monumentalnosti, prekopotrebnih za elitni ugostiteljski objekat poput ovog.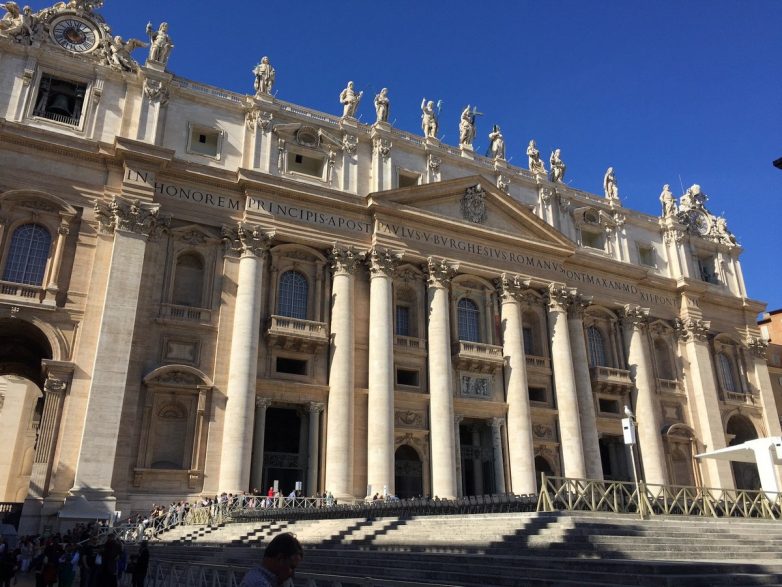 Nesvakidašnji objekat poput ovoga zaslužuje još dodatne pažnje, pa se nadamo da će uskoro ući i u fazu realizacije, nakon koje ćemo moći da pristupimo detaljnijoj analizi njegove arhitekture, al i enterijera.
Kad ste već ovde…