Opsežnom rekonstrukcijom betonske zgrade uz zadržavanje zatečenih kvaliteta graditeljskog nasleđa, nikao je prostor koji je oplemenio ceo kvart. 
Nakon što nam je arhitekta Marko Dabrović, gostujući na konferenciji BuildUp 2019 u Beogradu, zagolicao maštu s fotografijama njihovog novog poslovnog prostora u centru Zagrebu, dobili smo poziv da obiđemo njihove nove kancelarije i to samo par dana nakon samog otvaranja koje se poklopilo s proslavom 25 godina rada ovog poznatog zagrebačkog biroa.
Nove kancelarije 3LHD-a nalaze se u bioskopu izgrađenom 1939. godine kao trobrodi objekat od betona.
Pošto na Kvaternikovom trgu nismo iz prve mogli da pogodimo njihovu novu adresu, zatražili smo pomoć od prodavačice cveća koja je znala tačno o čemu se radi tek kada smo joj napomenuli da se radi o starom bioskopu. "Urania?! Pa to vam je odmah preko puta." Da, nove kancelarije biroa 3LHD nalaze se u starom bioskopu izgrađenom 1939. godine koji se u početku zvao Grič, potom Partizan, a onda je promenio naziv u Urania. Poslednja projekcija u ovom bioskopu sa 840 mesta upriličena je 2000. godine nakon čega je zgrada pala u zaborav. Međutim, opsežnom rekonstrukcijom betonske zgrade uz zadržavanje zatečenih kvaliteta graditeljskog i arhitektonskog nasleđa, nikao je prostor koji je oplemenio ceo kvart.
Ono što je nekada bio oronuo bioskop, sada je moderan kancelarijski prostor na 1.150 metara kvadratnih za 44 zaposlena sa multifunkcionalnom dvoranom sa 110 mesta, koji se može iznajmiti, i kafićem koji će proraditi prve nedelje decembra.
Betonski pod, originalni zidovi od opeke kao i nameštajem s borovim furnirom dominiraju enterijerom.
Na samom ulazu u zgradu, kojim dominira siva fasada sa crnom stolarijom, dočekala nas je dvorana duple visine sa projektnim platnom, tribinama i ogromnim staklenim prozorom visine 7 metara koji se može otvoriti po potrebi. Betonski pod u kombinaciji s originalnim zidovima od opeke kao i nameštajem s borovim furnirom osvetljenim svedenim rasvetnim telima crne boje, daju ovom prostoru potrebnu dozu elegancije i arhitektoničnosti.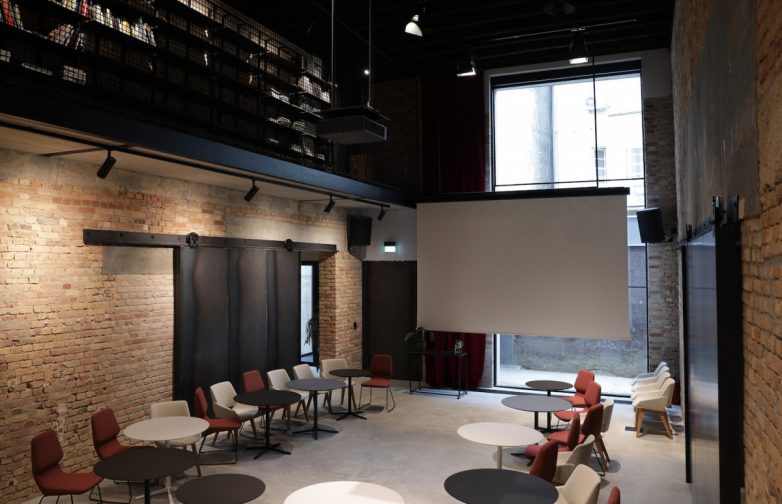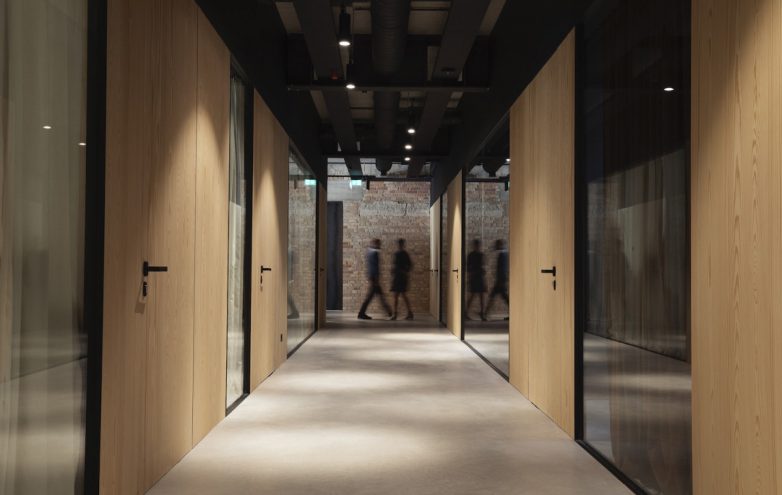 Priliv svetlosti
Originalna trobroda zgrada prilagođena je novoj funkciji tako što je srednja lađa visine devet metara prepolovljena po visini, a da bi se obezbedilo svetlo u donjoj etaži, bočne lađe pretvorene su u spoljašnje atrijume. U povučenom delu zasađeno je rastinje koje tek treba da se formira, dok je prizemlje dobilo ogromne staklene površine koje obezbeđuju priliv dnevne svetlosti. Na ovoj etaži organizovana je administracija, a tu su i kancelarije osnivača biroa. Međutim, najimpresivniji deo ovog zdanja zapravo se nalazi na galeriji.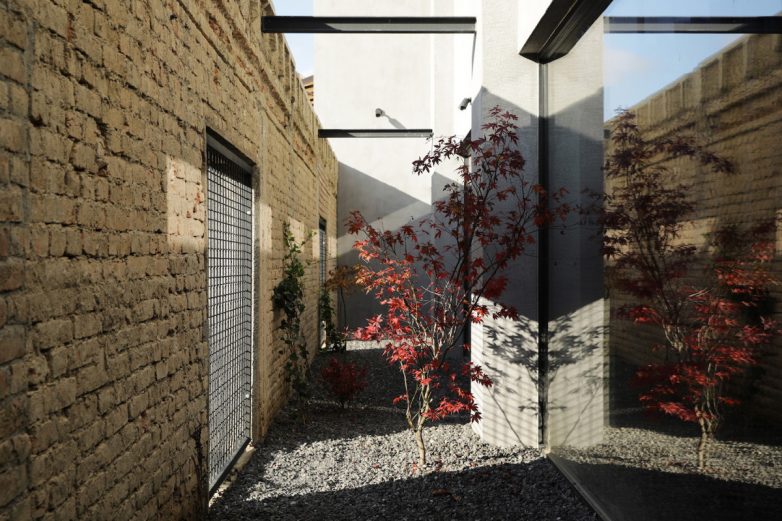 Presečeni betonski krov
"Marko, zašto vi ne sedite ovde nego u prizemlju?" – bilo je naše prvo pitanje kada smo videli spektakularan prostor na spratu sa zasvođenim krovom od rebraste betonske konstrukcije koji je u najvišem delu, u širini od 2,5 metra, odsečen kako bi propuštala dnevno svetlo.
U ovom prelepom ambijentu smešten je projektni biro sa oko 50 radnih mesta s prijatnim svetlom i klimom koja je obezbeđena preko potpuno nove HVAC opreme koja izmenjuje vazduh tako da on uvek bude svež i željene temperature.
Da bi se dobilo dodatno prirodno svetlo, formirani su prozori koji su od ivice parcele udaljeni 3 metra, odnosno, od fasade 1,2 metra, što je bio urbanistički uslov. Ipak, ovo je omogućilo da se formiraju police koje se prosežu celom dužinom prostorije ali i da se provuku kanali za ubacivanje svežeg vazduha.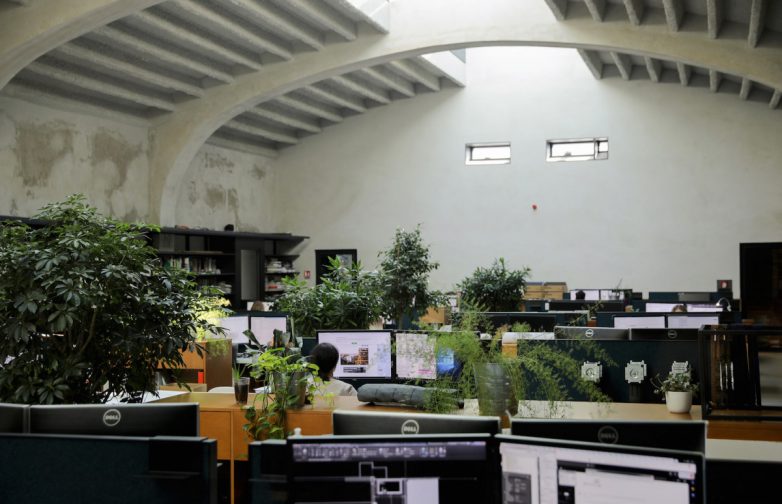 Originalna zgrada zadržana je u potpunosti sem ulaznog dela koji je zamenjen staklenim paviljonom gde se sad nalazi kafić. Konstrukcija objekta je u izvornom obliku tako da enterijerom dominira ne samo opeka već i plafon od sitnorebraste konstrukcije koja je u ovom delu obložen akustičnim malterom. Zgrada ostavlja utisak da se vodilo računa o svim detaljima kao i kvalitetu celog prostora.
Sigurna mreža
Posebno zanimljiv deo enterijera jeste i biblioteka iznad dvorane u kojoj je umesto klasične ograde stavljena mreža od kanapa. Marko nam je demonstirao koliko je ona jaka legavši na nju viseći tako nad galerijom visine nekoliko metara. I mi smo, doduše uz blagu nervozu, takođe isprobali jačinu ove mrežaste ograda i uverili se kakav lep, ptičiji pogled, pruža na dvoranu ispod.
Dobar primer intervencije u gradskom jezgru
Nove kancelarije biroa 3LHD u centru Zagreba su pravi primer kako bi trebalo rekonstruisati stare zgrade i kako im se može udahnuti novi život na dobrobit ne samo novih ukućana već i celog grada. Intervencije se moraju raditi samo u skladu s vremenom i tehnikama savremenog graditeljstva, a poštovanjem arhitektonskog nasleđa dobija se savršen balans koje prija i oku i struci.
Pogledajte i video-prilog u Uraniji:
Kad ste već ovde…