Oskarom nagrađeni korejski film Parazit oduševio je gledaoce širom sveta kako zbog uzbudljive radnje, satiričnog prikaza današnje društvene hijerarhije, tako i zbog odlične scenografije.
Upravo je ovaj poslednji element filma privukao i pažnju naše redakcije, jer se radi o zaista odličnoj primeni arhitektonskih principa u sedmoj umetnosti.
Naime, primetićete da je u Parazitu svaki prostor pažljivo osmišljen, dok siromašna četvrt u kojoj žive glavni likovi, baš kao i spektakularna bogataška kuća u kojoj se odvija dobar deo radnje praktično igraju neke od glavnih "likova" u filmu.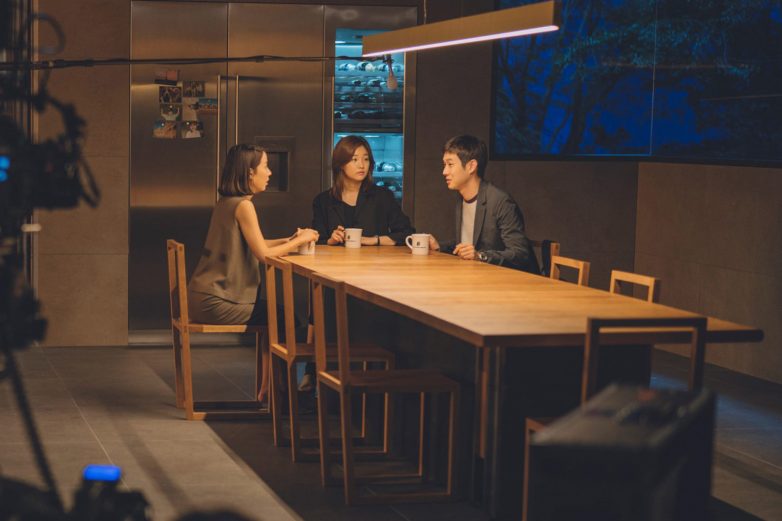 Na veliko iznenađenje svih gledalaca, ispostavilo se da su sve lokacije lažne, odnosno da su pravljene isključivo za potrebe filma.
Scenografija je zaista toliko realistična da je većina publike čvrsto verovala da se radi o već postojećim lokacijama u Seulu. No, na veliko iznenađenje svih gledalaca, ispostavilo se da su sve lokacije lažne, odnosno da su pravljene isključivo za potrebe filma. O procesu dizajniranja ovako upečatljivog filmskog seta, za magazin The Spaces govorio je jedan od glavnih scenografa filma, Li Ha-džun.
Slojevitost arhitekture
– Rad na ovom projektu počeo je nakon dugih razgovora sa režiserom Bong Džun-hoom. Scenografiju smo potom postepeno razvijali kroz dizajn i 3D simulacije. To što smo set izmodelovali pre nego što smo ga fizički napravili, omogućilo nam je da unapred predvidimo kretanje likova i pozicioniranje kamera – priča Lee.
– Koncept koji se provlači kroz film je njegova vertikalnost; spušta se beskonačno od vrha do dna. Kuća Parkovih ima istu takvu strukturu. Kao što možete videti na primeru njenog suterena, inače prostorije u koju se ulazi kada se spustite iz prizemlja, svi slojevi u filmu postoje vertikalno. Brojne stepenice i gustina prostora pomeraju se dok se spuštate. U Parazitu ima mnogo slojeva.
80 posto filma je scenografija
– Među mojim prijateljima ima mnogo arhitekata, pa sam dosta razgovarao i sa njima ne bih li dobio inspiraciju. Budući da 80% celog filma čini njegova scenografija, bio sam uveren da ona ne bi smela da izgleda kao klasičan set. Zato sam se jako trudio da ne propustim detalje. Rano smo odlučili publika ne treba da zna da se ovde ne radi o pravoj kući, jer je to jedini bio način da ih navedemo da se usredsrede na radnju i "urone" u film – kaže Lee.
Još jedan iscrpan razgovor na ovu temu Lee Ha-jun je vodio i sa novinarima tokom filmskog festivala u Linkoln Centru. Pogledajte ga u nastavku:
Dobitnik Oskara
Inače, istina o scenografiji konačno izašla u javnost nakon premijere u Kanu, a sudeći po reakcijama publike, njihovo strpljenje se definitivno isplatilo.
Južnokorejski film Parazit reditelja Bong Džun-hoa osvojio je rano jutros glavnu nagradu američke Akademije filmskih umetnosti i nauke, Oskara za najbolji film. Dobitnik ovogodišnjeg Oskara prvi je u istoriji dodele tog priznanja koji je osvojio i nagradu za najbolji film i za najbolji međunarodni film, a istovremeno je i prvi film izvan engleskog govornog područja sa titulom najboljeg filma. Parazit je osvoji ukupno četiri Oskara – za najbolji film, scenario, režiju i najbolje međunarodno ostvarenje.
U nastavku pogledajte još jedan sjajan video o vizuelnoj arhitekturi Parazita koji daje iscrpnu analizu odnosa kamere, scenografije i postupaka likova u filmu:
Film Parazit prikazan je na programu RTS1 uoči dodele Oskara 9. februara u 22.23h. Premotajte i uživajte u arhitekturi filma!
Kad ste već ovde…