Najzelenija prestonica sveta odlučno nastavlja borbu protiv klimatskih promena i na mestima gde nije moguća sadnja drveća.
Drveće i zelene površine su, smatraju u bečkoj gradskoj upravi, najbolji klima uređaji. Zbog toga je bečka gradska uprava prošle godine za sadnju stabala i održavanje postojećeg zelenila izdvojila čak osam miliona evra.
Iako gotovo nema ulice ili dela grada gde nisu posađena nova stabla, razmišlja se i o lokacijama gde zbog guste izgrađenosti ili previsokih troškova preuređenja javnih površina i premeštanja podzemnih instalacija to ipak nije moguće. Na takvim lokacijama se s ciljem zaštite od letnih vrućina i štetnog sunčevog zračenja kreće s postavljanjem kreativnih zasenčenja i nadstrešnica nad javnim površinama, piše Ekovjesnik.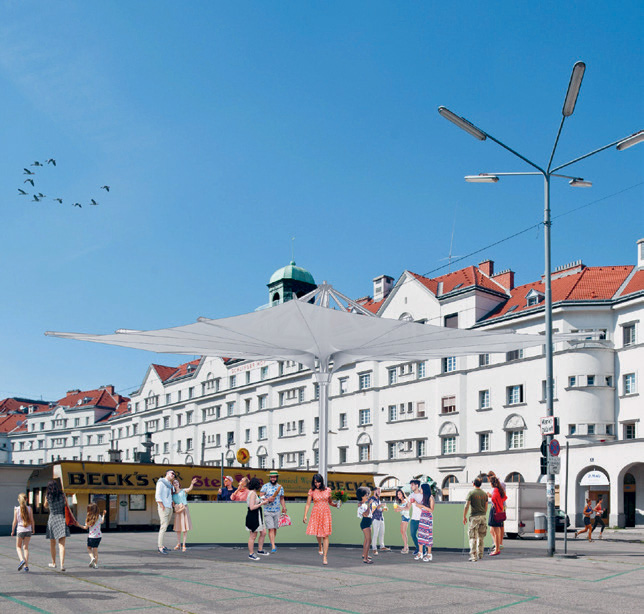 Tende, zasenčenja, pergole ili umetničke instalacije – sve su to mogućnosti koje su poslednjih nekoliko meseci osmišljavali bečki stručnjaci.
Novi projekt gradske uprave pod nazivom Wiener Schatten ("Bečke senke") predstavljen je 10. maja, a sprovodiće se s ciljem zaštite od štetnog delovanja sunčevog zračenja i osiguranja dovoljno hlada na javnim gradskim površinama.
Prema podacima Zavoda za meteorologiju i geodinamiku Austrije, prošlo leto u Beču bilo je najtoplije u istoriji merenja. Tako je u samom središtu grada zabeleženo čak 39 izrazito toplih dana s temperaturom vazduha od 30 i više Celzijevih stepeni.
Predstavljenim projektom građani Beča dobiće dodatnu zaštitu od letnih vrućina, a u tu svrhu odeljenja za zaštitu okoline Beča kao i za arhitekturu i urbani dizajn izradili su katalog Wiener Schatten koji sadrži ideje i mogućnosti za postavljanje različitih zasenčenje na gradskim ulicama i trgovima.
Katalog je namenjen realizaciji raznih umetničkih projekata u gradskim četvrtima, ali i vlasnicima dvorišta i kompanijama koje ih održavaju, kao i privatnim osobama i udruženjima.
Lako sprovodive ideje
Tende, zasenčenja, pergole ili umetničke instalacije – sve su to mogućnosti koje su poslednjih nekoliko meseci osmišljavali bečki stručnjaci, ali i brojni spoljašnji saradnici kao i arhitektonska kompanije Gaupenraub+/-.
Ideje predstavljene u katalogu Wiener Schatten tako su nove mogućnosti zasenčenja javnih površina i zaštite od sunca, koje neće samo hladiti gradski prostor, već će biti kompatibilne s gradskim pejzažom te će dodatno doprineti njegovoj lepoti i živopisnosti.
Trg kao ogledni primer
Gradska uprava je već započela s uređenjem trga Christian-Broda-Platz u okrugu Mariahilf gde će se do ovog leta završiti postavljanje velikog sunčanog jedra, delomično obešenog o stubove javne rasvete. Ovaj prostrani trg nalazi se na kraju poznate trgovačke ulice Mariahilfer koja je pre nekoliko godina temeljno preuređena i pretvorena u najveću bečku "zonu susreta".
Na drugim lokacijama, posebno na trgovačkim ulicama, za postavljanje i pričvršćivanje zasenčenja koristiće se postojeći elementi za postavljanje novogodišnje dekoracije.
U gradskoj upravi takođe napominju kako se tekstilne tende i pergole mogu prvenstveno koristiti na lokacijama na kojima nije moguća sadnja drveća zbog podzemnih vodovodnih cevi, optičkih kablova ili kanalizacijskih cevi.
Kad ste već ovde…