Arhitektura
Brisanje granice muzejskog prostora kroz virtuelizaciju umetničkog dela
Odlazak u muzej ili galeriju i stajanje ispred slike ili skulpture ustaljeni je modela doživljavanja likovnog umetničkog dela. Pri tom iskustvu jasno je definisan odnos posetioca kao aktivnog posmatrača i umetničkog dela kao statičnog objekta posmatranja. Šta se, međutim, događa kada objekat postane aktivni narator sa kojim je posmatrač u interakciji?
Na  izložbi "Leonardo da Vinci" održane u Luvru, povodom obeležavanja 500 godina od smrti umetnika, primenjene su različite nove tehnologije, pomoću kojih su na novi način analizirana Leonardova dela. Prezentirani su infracrveni snimci slika kojima je prikazan ceo proces nastanka likovnog dela, rekonstruisani su modeli Leonardovih tehnoloških izuma, a kao "kruna" svega oživljena je najčuvenija slika na svetu – Mona Liza – u VR (Virtual Reality) instalaciji.
Fizičko premeštanje "Mona Lize" sa svom bezbednosnom opremom iz muzejske sale u kojoj se nalazi bilo je teško izvodljivo, pa su kustosi izložbe primenili najsavremenije tehnologije da posetiocima "nefizički" približe slavnu Đokondu. Iako ni u jednom momentu posmatrač ne vidi sliku, on može da je doživi kroz virtuelno okruženje, u virtuelnom formatu, bez uobičajene gužve koja je u stvarnom prostoru u kome se slika nalazi neizbežna.
Virtuelnim oživljavanjem okruženja stvarne muzejske prostorije, kao početkom VR instalacije, posetilac potpuno doživljava ambijent u kome se slika nalazi. Tu je veliki broj ljudi ispred nje, tu su i žamor, i zvuci "škljocanja" fotoaparata, tu je i raščišćavanje gužve, kako bi se posmatraču omogućilo da "uđe u sliku". On je, zahvaljujući svom doživljaju, a ne realnosti, u prostoru u kome zapravo nije.
Posmatrač može da doživi sliku kroz virtuelno okruženje, u virtuelnom formatu, bez uobičajene gužve.
Posle virtuelnog ulaska u sliku, Mona Liza postaje trodimenzionalni oživljeni lik, pri čemu preuzima ulogu naratora, umesto posmatranog objekta. Tumačeći ovako sebe, kroz modelovan lik, ona preuzima i ulogu istoričara umetnosti. U "razgovoru" sa Mona Lizom, posmatraču se prikazuju 3D modeli različitih slojeva slike, varijacija kroz koje je umetnik prolazio tokom stvaranja, i analize svakog detalja slike – od položaja šaka, do čuvenog "zagonetnog osmeha".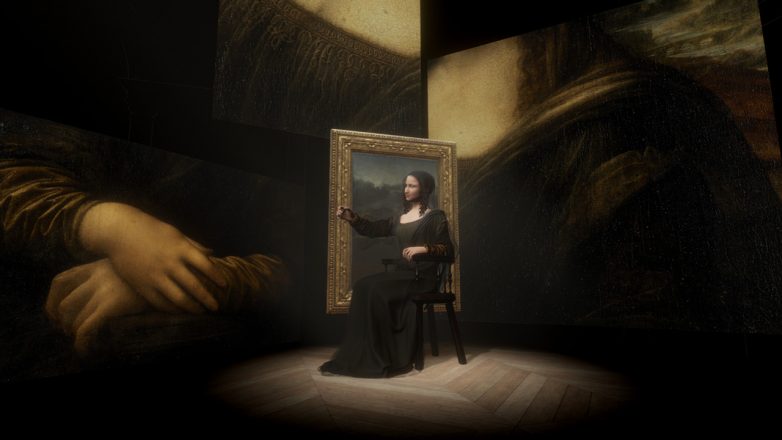 Kompletan ambijent
Da bi prostorno iskustvo i percepcija odmakli od uobičajene relacije posmatrač-slika, u virtuelnom modelu dočaran je ambijent u kome je slika nastala, sa potpuno rekonstruisanim okruženjem. Umesto ramom kadriranog ambijenta, posmatrač sedi na tremu zajedno sa Mona Lizom, posmatrajući je iz ugla iz kog je Leonardo slikao. Moglo bi se reći da to više nije slika "Mona Liza", već je to Leonardova Mona Liza, model za slavno ostvarenje. Ambijent je upotpunjen zvucima prirode, čime virtuelno iskustvo postaje još realističnije.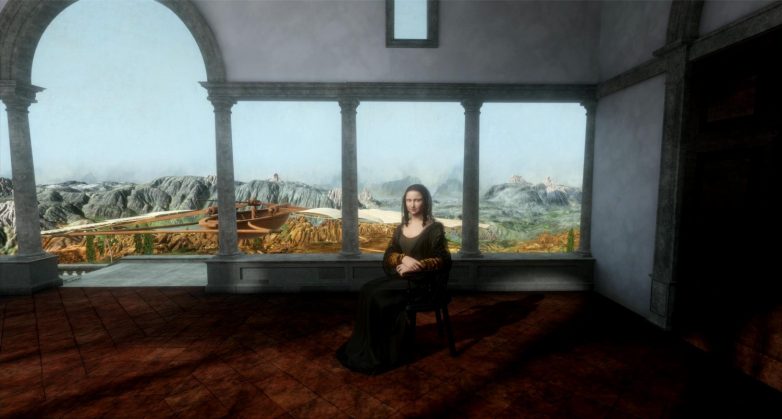 Da li ovakvo iskustvo interakcije sa virtuelnim modelom slike može da se izjednači sa iskustvom stvarnog stajanja pred slikom?
Po završetku "razgovora" sa Mona Lizom, posmatrač uzleće Leonardovom letelicom iznad trema i predela, uz stvarni doživljaj letenja, čime se aplikacija završava. Na ovaj način spojena su dva toka Leonardovnog stvaralaštva – likovnog i pronalazačkog – uz nezamislivo "vremeplovsko" učešće ljudi iz potonjih vremena, što je za rezultat dalo svojevrsno novo delo.
Za razliku od uobičajenih VR instalacija gde posmatrač ima potpunu slobodu kretanja, u ovom slučaju je percepcija ograničena na statičnost posmatrača i dinamičnost virtuelne sredine.
Doživljaj posmatrača je gotovo istovetan realnom prostornom iskustvu, jer je virtuelna sredina koncipirana kao interakcija sa posmatračem koji je u sedećem položaju, i može da posmatra okruženje okrećući se za 360 stepeni, iako ne može da se kreće kroz prostor. U okviru aplikacije, posmatrač može da vrši odabir virtuelnih iskustava, jezik i redosled prikazivanja ambijenata, ali u ograničenom, cikličnom algoritmu.
Iz ugla estetike, ali i etike, može se raspravljati o tome koliko je ispravno na ovaj način tretirati umetnička dela, pa VR iskustvo treba posmatrati zaista kao odvojeno delo za sebe. Ovaj novi način tretiranja umetničkog dela možda i senči, preoblikuje, pa i potiskuje original koji je prezentiran, ali je to, ipak, veliki pomak u mogućnostima analiza primerenih istoričarima umetnosti. U svakom slučaju, spektakularno su pokazani  novi putokazi u koncipiranju izložbi i u popularizaciji istorije umetnosti kao nauke.
Aplikacija za sve
Po završetku izložbe, aplikacija "Mona Lisa: Beyond the Glass" sa virtuelnim modelom slike, postala je dostupna za besplatno preuzimanje na lične uređaje, čime je načinjen pomak u tretiranju muzejskog iskustva kao "luksuznog". Na ovaj način je omogućeno ljudima koji ne mogu da posete Luvr, da dožive virtuelno iskustvo posmatranja Mona Lize kroz svoj telefon.
Sa aspekta popularizacije kulture, primenom novih tehnologija, kontakt sa umetničkim delima postaje dostupan svima, čime se brišu socijalne razlike koje su do sada bile preduslov za muzejsko iskustvo. I to je, svakako, iskorak, za koji bi se moglo reći da je doneo novu formu reprodukcija, pa i suvenira.
Aplikacija "Mona Lisa: Beyond the Glass" se može preuzeti za Andorid i iPhone.
Pitanje iskustva, vrednosti i dostupnosti
Pitanje koje ostaje je – da li ovakvo iskustvo interakcije sa virtuelnim modelom slike može da se izjednači sa iskustvom stvarnog stajanja pred slikom? Da li je virtuelni prikaz umetničkog dela podjednako vredan kao umetničko delo, ili se mora posmatrati odvojeno? I na kraju, da li konačno "visoka umetnost" treba da postane dostupna svima?
Kad ste već ovde…