Izvođenje
Cene montažnih kuća i razlike u odnosu na zidane
Da popularnost montažnih kuća u regionu raste govori i pitanje koje smo nedavno dobili od našeg posetioca Nebojše, a ono glasi:
Prvo da pohvalim sajt, zaista je najbolji. Mene interesuju Ytong kuće koje sam video na vašem sajtu. Intresuje me koliko izađe cena po kvadratu kada se ona skroz izvede? Takođe me interesuje vaše mišljenje o kvalitetu montažnih kuća. Jesu li bolje zidane ili montažne? Šta se dobija uz Ytong kuće? Da li je to sve sa pločicama, sanitarijama, kuhinjom? Pozdrav,
Nebojsa, Ripanj
Pitanje smo prosledili kompaniji Xella Srbija – Ytong pa je menažer prodaje Dejan Mikić dao sledeći odgovor:
Cena kuće je uslovljena sa dosta faktora. Počevši od lokacije i mogućnosti transporta materijala, nagiba i vrste terena do specifičnosti izrade, opreme kuće i nivoa zanatskih radova. Tržište diktira minimalnu cenu od 350 evra/m2, koja može biti veća, što podrazumeva sistem "Ključ u ruke" i budžetski nivo opreme kuće (stolarija, podovi, obrada, sanitarije…) i naravno, izvođenje objekta.
Donja cena može biti i niža, ali to podrazumeva parcijalno izvođenje, dovijanje i pokušaje da se mnoge stvari urade samostalno. Na taj način je dosta teže predvideti troškove, ali iako deluje da će troškovi biti niži, čest je slučaj da takav način gradnje dosta duže traje i zahteva dosta naknadnih popravki i intervencija, a o opasnostima koje ovom prilikom mogu da nastanu i da ne govorimo.
Cena koju ste videli (pretpostavljam na našem sajtu www.ytong.rs) podrazumeva potreban Ytong materijal za kuću navedene kvadrature. U tu cenu nisu uračunati ostali potrebni materijali ili radna snaga.
Kada je reč o poređenju sa montažnim kućama, ne mogu izneti svoj stav po principu bolje-gore. Zaista zavisi od potreba, namene, ličnog stava ili dugoročnih planova. Zavisi takođe i od toga sa kojim montažnim kućama se sistem poredi. Kao i svaki proizvod, i kod montažnih kuća postoji gornji i donji nivo kvaliteta. Takođe je bitan kvalitet izvođenja. Montažne kuće svakako pariraju na polju brzine gradnje, ali razlika ne mora da bude presudna (Ytong kuća se može završiti za 45 dana).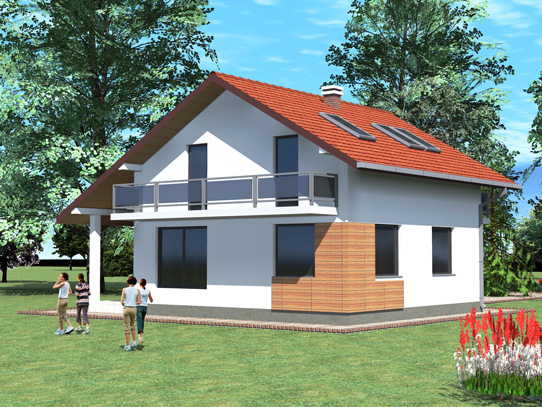 Zajedničko za oba sistema su temelji, koji imaju svoju dinamiku izrade, a ostatak gradnje je brži kod montažnih kuća. Na polju termičkih karakteristika, montažna kuća može da parira Ytong kući ukoliko je proizvođač ispratio trendove i povećao debljinu sloja termoizolacije na zahtevani nivo propisa. Sve ostalo je stvar ličnih afiniteta kada je reč o izboru između zidanog ili montažnog sistema. Zaista je lakše pričati o prednostima svog proizvoda nego o nedostacima tuđih, tako da je izbor na vama. Mi smo i dalje tu da vam pomognemo pri izboru i pojasnimo sve prednosti našeg sistema i to ćemo vrlo rade činiti i u budućnosti.