Izdvojeno
Da li će pasti cene nekretnina u Srbiji? Istražili smo najveće sajtove za prodaju stanova
Smanjenje interesovanja i ponude, usled privremenog prekida poslovanja agencija za nekretnine, ali i nesigurnost ekonomije i tržišta, može dovesti do pada cene nekretnina u Srbiji.
U poslednje vreme sve se više priča o pojeftinjenju cena nekretnina u Srbiji. Rekli bismo – s razlogom. Vanredno stanje i pojava koronavirusa uticali su na sve segmente društva, pa tako i na ekonomiju, na građevinsku industriju ali i na tržište nekretnina. Iako su cene nekretnina u Srbiji iz godine u godinu beležile rast, i sva predviđanja su bila da će se taj trend nastaviti, ipak je vanredno stanje uticalo na to da rast cena, barem privremeno, a možda i dugoročnije, stane.
Definitivno će zbog pandemije virusa COVID-19 cela privreda pretrpeti određene gubitke. Sve to utiče na pad životnog standarda ljudi u narednih nekoliko meseci. "Taj pad životnog standarda, kako god mi njega ispoljavali i merili, će uticati i na manjak tražnje za mnogim stvarima uključujući i kupovinu nekretnina." – kaže Miloš Mitić, Head of operations u City Expertu i dodaje da ne mogu jasno da definišu koliki će taj pad biti, niti u kom vremenskom intervalu će se ispoljiti.
Prosečan pad cena, koji je zabeležen na 4zida.rs u oglašenim nekretninama na nivou cele Srbije, iznosio je 6%.
Sajt za oglašavanje nekretnina 4zida.rs sproveo je istraživanje tržišta nekretnina i analizu svojih oglasa širom Srbije, njih preko 68.000, koji se odnose na starogradnju. Analiza pokazuje da je, od početka vanrednog stanja pa do sad, cena spuštena u samo malo više od 1% od ukupnog broja oglasa starogradnje na ovom sajtu, odnosno u 718 oglasa. Od ovog broja oglasa, polovina se odnosi na prodaju, a druga polovina na izdavanje.
Prosečan pad cena, koji je zabeležen na 4zida.rs u oglašenim nekretninama na nivou cele Srbije, iznosio je 6%. Kada posmatramo pojedinačne brojke, vidimo da su u većoj meri snižene cene nekretnina koje se izdaju (prosečno sniženje od 9%), od onih koje se prodaju (sniženje od 3%).
Smanjenje interesovanja
"I naš sajt Nekretnine.rs i trendovi pretrage na Guglu nam govore da je došlo do smanjenja interesovanja i konkretnih upita, međutim korisnici sajtova i dalje razgledaju ponudu na sajtovima, a s obzirom na situaciju nezanemarljiv je i broj korisnika sajta koji kroz opciju "Zatraži termin razgledanja" kontaktiraju agenciju sa konkretnim predlogom za termin razgledanja nekretnine." – kaže Ivan Krstić, Product Development Director u Nekretine.rs.
U ovom sajtu za oglašavanje nekretnina za sada ne primećuju nikakve promene u cenama nekretnina na domaćem tržištu, ali kažu da se susreću da različitim izazovima. "Za početak smanjeno interesovanje potencijalnih kupaca/zakupaca i privremeno zatvaranje poslovnica agencija s obzirom da neki nisu u stanju da svoju delatnost obavljaju u potpunosti (ograničeno vreme kretanje, strah od nebezbednog kontakta i kod prodavaca/zakupodavaca i kod potencijalnih kupaca/zakupaca) što može dovesti do neznatnog smanjenja ponude na tržištu." – kaže Ivan Krstić.
Iz razgovora sa kolegama iz grupe (Rumunija, Slovačka, Poljska, Nemačka, Švajcarska…) iz Nekretnine.rs saznaju da ni tamo još uvek nije došlo do promena cena nekretnina, ali da se i na tim tržištima susreću sa istim izazovom smanjenja interesovanja i smanjenja ponude usled privremenog prekida poslovanja agencija za nekretnine.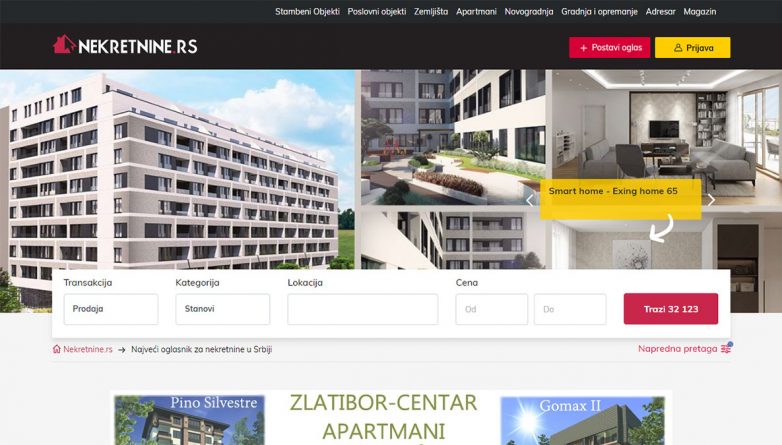 Promene cena očekuju i agenti za nekretnine
Čak 170 agenata za nekretnine koji su učestvovali u anketi sajta 4zida.rs jednoglasni su u oceni da se promene na tržištu nekretnina već osete, iako u maloj meri, ali da će cene mnogo više padati u budućnosti. Skoro 70% agencija očekuje da će cene nekretnina koje su na prodaju – padati ili već padaju. Vrlo slična situacija je i sa cenama izdavanja, s tim da agencije primećuju kako je pad cena izdavanja u većoj meri već počeo, što se kod prodaje nekretnina tek očekuje. Agenti smatraju da će tržište izdavanja malo bolje proći ovu krizu i da će se brže oporaviti, u odnosu na prodaju nekretnina.
Tržište tek očekuju veće promene cena
Pravo je pitanje kako će pandemija koronavirusa dugoročno uticati na tržište nekretnine, odnosno na cenu prodaje i izdavanja stanova u gradovima širom Srbije.
"Nezahvalno je u ovom trenutku davati bilo kakave prognoze jer u najvećoj meri zavisi od toga koliko će ova situacija trajati i kakvi ce biti efekti generalno na ekonomiju." – zaključuje Ivan Krstić.
"Možemo da zaključimo da će usled pada privrednih aktivnosti koji se dalje prožima i ima implikacije na celokupno društvo cene nekretnina će u najmanju ruku stagnirati u narednim mesecima, čak možemo da očekujemo njihov pad" – konstatuje Miloš Mitić iz City Experta. Koliki će taj pad biti i koliko dugo će trajati, zavisi isključivo od sposobnosti privrede da se brzo oporavi i podigne.
"Moja procena je da će doći do kratkoročnog pada i ne toliko dubokog kao u vreme velike ekonomske krize 2008. godine." – zaključuje Miloš Mitić iz City Experta.
Transakcije se ostavljaju za bolje dane
"Kupoprodaja gotovo da je stala zbog privremenog zatvaranja državnih institucija (katastri, opštine), ljudi ne žele da obilaze ili pokazuju nekretnine uživo, brinući se za svoje zdravlje, a kupci ne žele da troše novac dok je ekonomska situacija nestabilna." – kažu iz 4zida i dodaju da je na polju izdavanja sve je više otkazivanja stanova i to najviše od strane studenata, a u zakup uzimaju nekretninu samo oni kojima je to sad neophodno.
"Tržište je aktivno u smislu da ljudi i dalje aktivno gledaju oglase na internetu, biraju šta im je zanimljivo, a šta nije, ponekad i pozovu prodavce da se raspitaju za detalje, ali odlučivanje o kupovini i sama transakcija se za sada uglavnom ostavljaju za bolje dane. "Samim tim, možemo očekivati da će veće smanjene cena, a pogotovo u slučaju prodaje, uslediti tek u daljem periodu." – zaključuju u 4zida.
Kad ste već ovde…