Izdvojeno, Materijali
Deking terase: Koje vrste postoje, kako se postavljaju i održavaju podovi za eksterijere
Kakve vrste dekinga postoje na tržištu, kako se postavlja i na koji način se održava. Saznajte i šta da radite kada deking promeni boju ili se skupi. A cena? Svi odgovori su tu.
Deking predstavlja vrstu poda od drveta (pravog drveta ili njegove imitacije) koji se koristi za oblaganje površina koje su direktno izložene dejstvu spoljnih uticaja i promenama temperature. Najčešće se deking polaže na terase, balkone bašte ili oko bazena. Takođe, deking se može koristiti i u prostorijama sa visokom relativnom vlažnošću vazduha kao što su saune i kupatila.
Postoje dve vrste materijala za deking: prirodno drvo ili od veštačkih materijala (polimera) koji vizuelno imitiraju drvene ploče. Saznajte koje su razlike i koje je pravo rešenje za vas.
Deking od prirodnog drveta
Termotretirano drvo je najotpornije drvo na spoljne uticaje. Termička obrada drveta je postupak kojim se bez nanošenja dodatnih hemikalija, samo pod uticajem toplote, pritiska i vlage, menjaju svojstva drveta. Drvo se na obrađuje na temperaturi od 120° do 280 °C u trajanju od 15 minuta do 24 sata. Što je trajanje modifikacije duže to je dimenziona stabilnost i trajnost modifikovanog drveta veća, a gustina i mehanička svojstva se smanjuju. Takođe, što je temperatura na kojoj se vrši obrada veća, to je i promena boje izraženija.
Termo tretmanom drvo dobija tamniju nijansu, drvo menja svojstvo, postaje otpornije na vodu i insekte. Takođe, poboljšava se i dimenziona stabilnost drveta.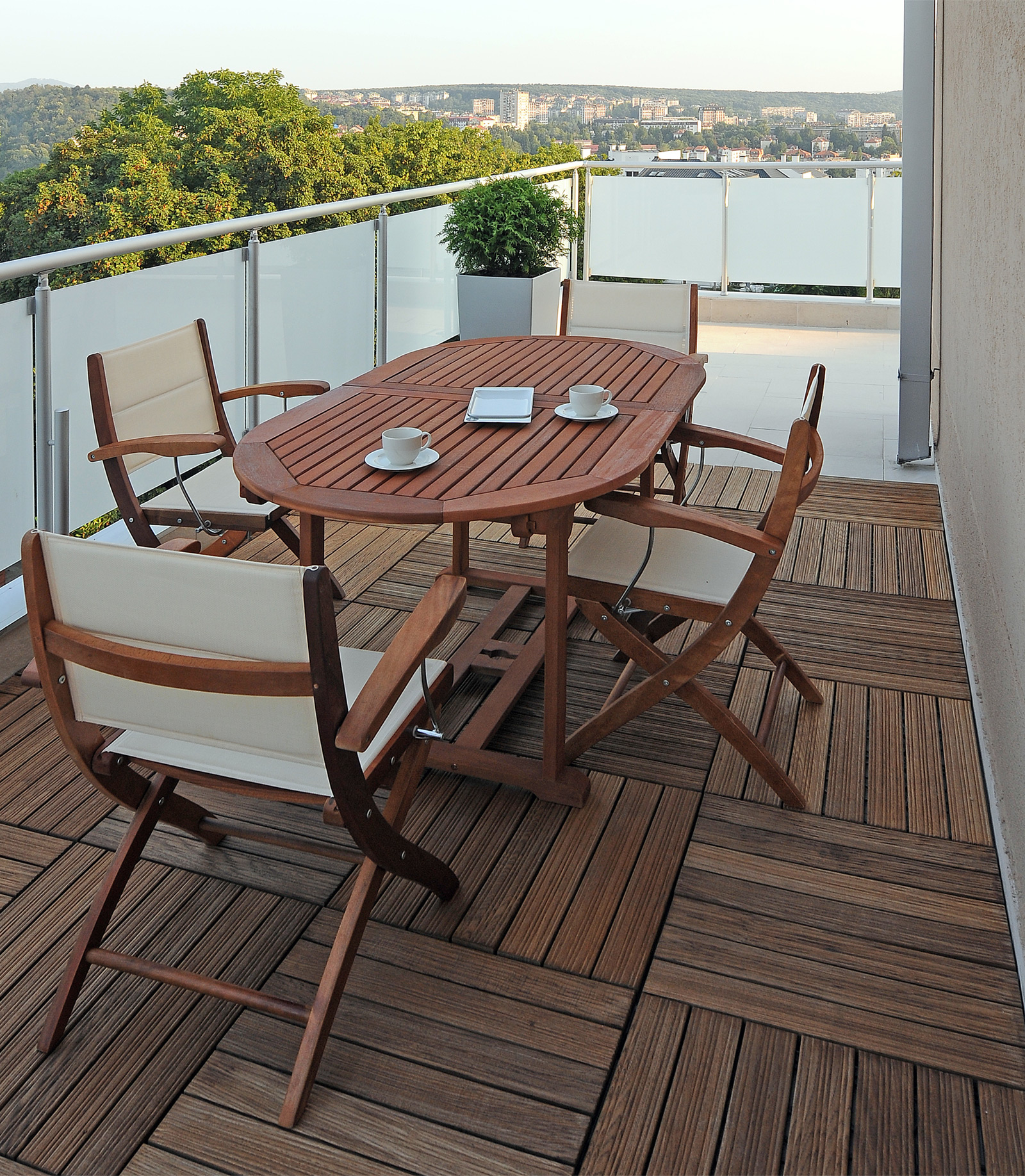 Potkonstrukcijom se deking odvaja od poda (pločica) što obezbeđuje protok vode i ventilaciju.
Drvene daske ili manje daščice postavljaju se preko postojećih pločica na podlogu koja je od metala ili od plastike u zavisnosti od odabranog tipa dekinga. Potkonstrukcijom se drvo odvaja od poda (pločica) što obezbeđuje protok vode i ventilaciju. Ako se odlučite za drvene daske većih dimenzija, one se uglavnom postavljaju na metalnu podlogu.
Cena dekinga od prirodnog drveta
Cena dekinga od prirodnog drveta na plastičnoj podlozi se kreće od 35 do 60 evra/m2 i uglavnom zavisi od veličine ploča. Što su ploče veće a drvo otpornije, to je cena veća.
Ukoliko ne želite da sami postavljate podlogu, za postavku ćete trebati izdvojiti od 5 -10 evra za manje dimenzije drveta, do 20 evra/m2 za deking u formi dugačkih dasaka.
Nakon postavljanja, deking se premazuje uljem i to se ponavlja dva do tri puta godišnje u zavisnosti od izloženosti dekinga suncu i padavinama. U cenu postavke je uglavnom uključeno prvo uljenje dekinga.
Promena izgleda površine drveta tokom vremena
Nakon premazivanja uljem, deking će imati svež izgled i glatku površinu. S obzirom na to da je izložen spoljnim uticajima (kiša, sunce, razlike u temperaturi) deking će vremenom stariti i poprimati drugačiji izgled, odnosno, menjati boju. Deking će postati rustičan što se može dobro da se uklapa uz kamen, travu i ostale prirodne elemente.
Ovakva pojava ne znači da je drvo počelo da propada, već da je površina reagovala na spoljne uticaje. U uslovima povećane vlažnosti i nedostatku sunčeve svetlosti, boja će biti najizraženija. Na tim mestima moguća je i pojava mahovine. Na mestima koja se često ispira vodom i na mestima izloženim suncu, deking će menjati boju. Razlika u boji biće prisutna i na mestima koja su više osunčana tj. zaklonjena od sunca.
Širenje i skupljanje dekinga usled spoljnih uticaja
Svaka letvica, u zavisnosti od uticaja, može da se širi ili skuplja što nastaje zahvaljujući procesu primanja i otpuštanja vlage unutar drveta. Kroz godišnja doba, letvice će prelaziti iz faze visoke u fazu niske vlage. Leti će, pod uticajem sunca i niske vlage u vazduhu, letvice biti izložene visokoj temperaturi i otpuštanju vlage (ispod 6%). Razmak između letvica će tada biti najveći.
Leti je razmak između letvica dekinga najveći, a zimi se može dogoditi da se razmak između dasaka i zatvori.
Zimi pak pod uticajem kiše, snega i visoke vlage u vazduhu, letvice će dobiti na površini, pa će njihov međusobni razmak biti najmanji. U kratkom periodu može se dogoditi da se razmak između dasaka i zatvori, pa se drvene obloge pojačano koritaju. Gubitkom vlage, letvice će se ponovno vratiti na prvobitnu meru.
Svakom drvenom elementu potrebno je nekoliko godišnjih doba da se privikne na mikroklimu lokacije gde je ugrađeno. Zato će u  prvih nekoliko meseci doći do:
manjih pomeranja dasaka (razmak između dasaka (+/-1 mm)
laganog savijanja letvica unutar razmaka
izdizanje dasaka (+/- 2 mm)
Čišćenje i održavanje drvenog dekinga
Čišćenje drvenog dekinga može se izvesti vodom, sapunom, deterdžentom, itd. Najbolji način je četkanjem tvrđom plastičnom četkom ili pranje vodom pod pritiskom. Treba paziti da smer pranja bude usmeren "niz dasku" zbog prirodnog položaja niti unutar letvice. Na taj način delimično se vraća prirodan izgled drvetu, a za obnavljanje zaštitnog sloja ulja preporuka je površinu premazati uljem jednom do dva puta godišnje (u zavisnosti od izloženosti atmosferskim uslovima i istrošenosti).
Deking daske od veštačkih materijala
Ukoliko pak ne želite toliko pažnje da posvećuje održavanju dekinga i želite trajno rešenje bez puno muke oko održavanja, možete se odlučiti za dekinge od polimera koji verno imitiraju izgled drveta. Ovaj deking se neće skupljati i širiti promenom godišnjih doba, a neće ni menjati boju. O cenama i načinu montaže ove dekinga pisaćemo u drugom članku.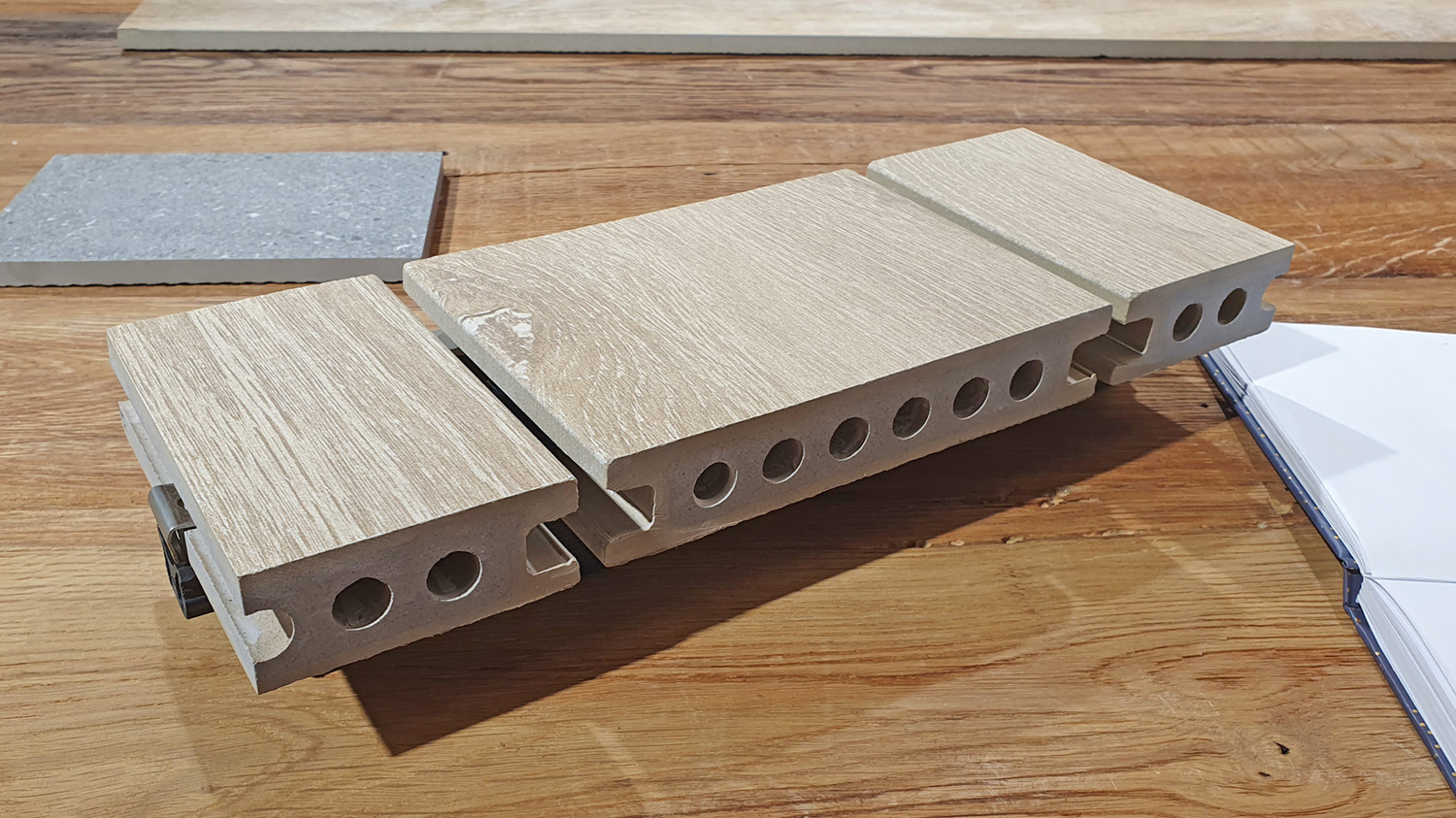 Pre biste na terasu da postavite keramičke pločice? Pogledajte naš izbor od 7 najboljih pločica za terasu i dvorište sa cenama.