Da bi se jedan grad smatrao bezbednim i dobrim za sve, potrebno ga je prilagoditi potrebama svih onih koji se u njemu kreću, bili to roditelji s malom decom, školarci, stariji, kao i osobe sa smetnjama pri kretanju. U ovom tekstu istražujemo kako se naši pojedini gradovi kotiraju po tom kriterijumu.
Pojam rodno-senzibilnog planiranja grada nije nov, ali njegova primena u praksi se uveliko razlikuje od zemlje do zemlje. Kod nas se, na primer, ovakav pristup pri planiranju urbanih područja retko uzima u obzir, što naglašava činjenica da zvanična dokumenta ne prepoznaju posebne grupe građana poput trudnica i starijih osoba koje se teže kreću, a samim tim ni njihove specifične potrebe u javnom prostoru. Takođe, bitno je napomenuti da su osobe koje svakodnevno brinu o nekome, poput majki sa malom decom, direktno zavisne od javnih gradskih prostora, jer za razliku od nekog ko veći deo dana provodi na radnom mestu i u putu do njega, mnogo više vremena provode kretajući se po javnim površinama.
Grad po meri automobila
O vezi društvene reprodukcije i planiranja grada pričamo sa sociološkinjom Anom Pajvančić-Cizelj sa Filozofskog fakulteta u Novom Sadu koja se u svom radu prvenstveno bavi temama kao što su sociologija roda, grada i urbanih okruženja, u šta spada i upotreba javnih prostora.
"Ovakva pitanja su potpuno van fokusa naših planera i onih koji donose odluke o gradu, jer su oni decenijama unazad usmereni isključivo na grad kao mašinu rasta, gradski prostor kao mesto sa koga je moguće izvući profit, a ne kao na prostor na kome se odvija reprodukovanje gradske društvene zajednice. Drugi fokus naših planera su automobili. Naši gradovi se prvenstveno planiraju u odnosu na profit i automobile, a ne u odnosu na potrebe ljudi. Automobili su potisnuli ljude sa ulica zahvaljujući planerima. Takav način planiranja bio je karakterističan i za druge velike gradove širom Evrope i Amerike, ali pre 50 godina. Danas se taj način urbanog planiranja smatra prevaziđenim. Ipak, kod nas se grad danas planira za automobile, a da nije objašnjeno zašto je to tako", govori Pajvančić-Cizelj.
Naši gradovi se prvenstveno planiraju u odnosu na profit i automobile, a ne u odnosu na potrebe ljudi.
Nažalost, ukazati na konkretne prostorne probleme i potrebe pomenutih grupa građana nije jednostavno. Razlog tome nalazimo u činjenici da se kod nas danas ne organizuju zvanična polazna istraživanja o ovoj temi, kakva se u pojedinim evropskim državama smatraju ključnim za adekvatno planiranje grada.
Problem javnog prevoza, trotoara i semafora
U razgovoru sa našom sagovornicom uspevamo da prepoznamo nekoliko konkretnih kriznih tačaka u Novom Sadu koje potvrđuju njenu tvrdnju o planiranju grada za potrebe automobila, a najvećim grupama građana onemogućavaju bezbedno i slobodno kretanje po javnim prostorima.
Prva se odnosi na problematiku javnog prevoza za koji je nužno da bude kvalitetan, dostupan i pristupačan, dok u Novom Sadu saobraćaju vozila koja se kvare i ne ispunjavaju ni osnovne bezbednosne standarde. Uz to, kako možemo primetiti na sajtu JGSP-a, u redu vožnje popularnih gradskih autobuskih linija koje saobraćaju u užem jezgru grada, u proseku svaki treći autobus je niskopodni sa rampom. Situacija je značajno lošija u slučaju autobuskih linija koje voze u pravcu industrijske zone i prigradskih naselja, gde su ovakvi autobusi praktično nepostojeći.
Daleko kompleksnije je pitanje načina na koji se oblikuju određene gradske četvrti i sve vidniji nedostatak širokih trotoara nužnih za nesmetano kretanje. Naša sagovornica naglašava da su trotoar i ulica elementi koji su izbrisani iz morfologije Novog Sada na račun prekomerne izgradnje, dok se svaki pedalj javnog gradskog prostora koristi za dalju gradnju, za pravljenje novih parking mesta i kolovoznih traka.
Među kriznim tačkama nalaze se i neki naizgled sitni, a opet vrlo bitni detalji kao što je dužina trajanja zelenog svetla na semaforu.
Među kriznim tačkama nalaze se i neki naizgled sitni, a opet vrlo bitni detalji kao što je dužina trajanja zelenog svetla na semaforu ili postojanje previsokih ivičnjaka zbog kojih brojne majke sa decom prelaze sa trotoara na biciklističke staze po kojim im je lakše da guraju kolica. Samo u Novom Sadu ovakvi slučajevi su brojni. Na primer, za prelaz semafora na širokom Bulevaru Mihajla Pupina kod Banovine predviđeno je svega 11 sekundi. Osoba sa kolicima, malim detetom, stariji – svako ko se iz nekog razloga teže kreće na ovakvim raskrsnicama prelazak nužno završi na crvenom svetlu što je nebezbedno i stresno, posebno kada isto se ponavlja na svakodnevnom nivou.
Kao poseban problem koji u poslednje vreme sve češće dotiče Novi Sad, sociološkinja Pajvančić-Cizelj navodi nedostupnost zelenih površina, parkova, klupa i hlada po vrelim danima.  Osim toga, nedostatak javnih prostora namenjenih deci kakva su kvalitetna igrališta, te bezbedni i osvetljeni putevi do škola ovde je vrlo alarmantan.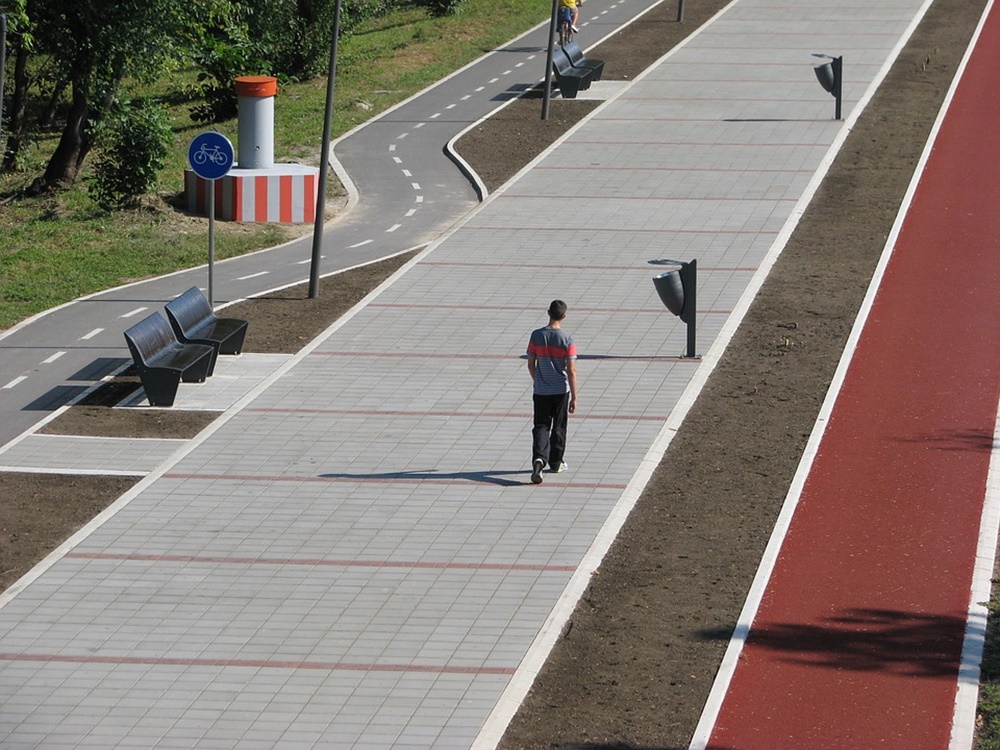 Urbanističke lekcije iz Beča
Početkom devedesetih u Beču je otvoreno posebno odeljenje u Gradskom zavodu za planiranje usmereno na potrebe svakodnevnog života i specifične potrebe žena. Ovoj odluci prethodila je anketa o putanjama kojima se građani ovog grada obično kreću. Prva razlika u odnosu na to kako Beč koriste muškarci a kako ga koriste žene videla se po tome što su muškarci anketu popunili u proseku za pet minuta, dok je ženama trebalo oko 20. Rezultati ankete pokazali su da se žene svakodnevno kreću daleko kompleksnijim rutama nego muškarci, jer pre odlaska na posao one obično prvo odvedu decu u vrtić, pa se vrate kući, odu u radnju, opet se vrate kući i tek onda kreću na posao i druge obaveze (drugim rečima, kako kaže novinarka Salona, Amanda Marcotte, "žene su šleperi").
Rezultati ankete pokazali su da se žene svakodnevno kreću daleko kompleksnijim rutama nego muškarci.
Nakon ovog istraživanja, usledilo je još jedno koje se odnosilo na korišćenje javnog prevoza i trotoara i rezultovalo poboljšanjem uličnog osvetljenja. Posebno zanimljivim pokazalo se istraživanje u kojem su dečaci i devojčice svedočili o bezbednosti gradskih parkova. Na osnovu ovih rezultata, gradske vlasti su zaključile da je u parkove potrebno uključiti i terene koji nisu namenjeni ekskluzivno za grupne sportove s loptom, ali i mnogo više novih osvetljenih puteljaka kako bi devojkama pružili osnovu za bezbedan boravak u javnom parku. Ideja je uspela, i devojke su u većem broju počele samostalno da se kreću po gradskim parkovima.
Grad za žene koje rade
Zahvaljujući sličnim istraživanjima u Beču, Gradski zavod za planiranje otvorio je novu kancelariju koja se, između ostalog, bavi pitanjem rodno-senzitivnog planiranja grada, u šta su uvek uključene žene. Studije pokazuju da ovakav pristup planiranju obično ne iziskuje nikakve dodatne troškove. Na osnovu ovakvih istraživanja razvijen je koncept "Frauen – Werk – Stadt" (u bukvalnom smislu "Grad za žene koje rade") koji objedinjuje različite urbanističke projekte koji svi dele ideju o stvaranju grada bezbednog, dostupnog i otvorenog za sve. Kako ističe Ana Pajvančić-Cizelj u autorskom tekstu na ovu temu, gotovo sve važnije odluke koje se tiču planiranja i dizajna donose se preko javnih konkursa koje vodi i organizuje grad, dok se pred investitore postavljaju visoki socijalno-ekološki kriterijumi koji moraju da se ispoštuju radi dobijanja dozvole za gradnju. Ove godine, Beč je po deveti put zaredom proglašen za grad sa najboljim kvalitetom života na svetu.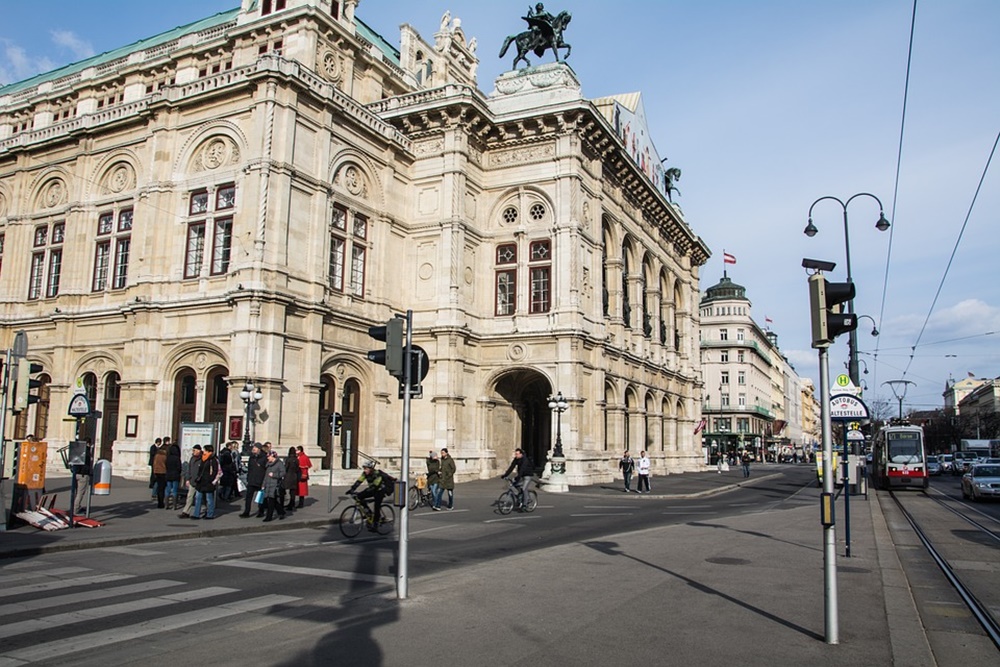 Situacija u srpskim gradovima: Ima li smisla ispravljati krive Drine?
Na primeru Beča vidimo da implementaciji rodno-senzitivnog pristupa u planiranje grada prethodi kontinuirano i obimno istraživanje javnog mnjenja. Ovakve ankete mogle bi da ukažu na potrebe svih korisnika javnih prostora i prevoza u našim gradovima, po čemu bi se pravili dalji planovi.
No, pošto se i samo pokretanje ovakvih istraživanja kod nas po običaju odlaže u fioku (dok se direkcija projekata obično ostavlja investitorima), nameće se pitanje: "Šta možemo da učinimo da poboljšamo već postojeću situaciju?". Ili konkretnije: "Šta možemo da učinimo da poboljšamo već izgrađene greške, a da nas to što manje košta?".
Jedno od rešenja može se naći u malim urbanističkim korekcijama kao što su prepravke postojećih ivičnjaka i biciklističkih staza na šta je u Novom Sadu uticala ovdašnja Biciklistička inicijativa. Na njihovom primeru, saznajemo da na pokretanje sličnih korekcija mogu da utiču i sami građani, a procedura ide ovakvim tokom: Molbe se upućuju Upravi za građevinsko zemljište i investicije; ukoliko oni smatraju da je primedba opravdana, prosleđuju nalog u JKP Put; na izvođenje radova čeka se u proseku mesec do dva, a tačno vreme se ne može znati jer nije poznata ni dinamika izvođenja radova koje sprovodi JKP Put. Gradska uprava, naravno, ima pravo da zahtev za prepravku odbije ukoliko se smatra da nije potrebna ili da bi mogla da ugrozi gradsku infrastrukturu.
Za bilo kakvo sistemsko rešavanje problema potrebna saradnja i sinergija između svih nadležnih institucija, projektanata, kao i korisnika prostora.
U razgovoru o korekcijama već postojećeg urbanističkog stanja priključuje nam se arhitektica Marija Simović iz Kragujevca. Ona naglašava da je za bilo kakvo sistemsko rešavanje problema potrebna saradnja i sinergija između svih nadležnih institucija, projektanata, kao i korisnika prostora u vidu participacije, a da je za sve to potrebno da se jasno definiše šta je čija odgovornost. Na pitanje o tome na koji način bi moglo da se regulišu kvartovi u kojima su potrebe automobila stavljene ispred potreba korisnika, odnosno da se ovakve lokacije poprave tako da postanu pristupačne svima, ona odgovara:
"Izostanak trotoara je pitanje toga da li je trotoar izostao iz planske dokumentacije tendenciozno (na primer, naselje Aerodrom u Kragujevcu nema trotoare, jer je logika nekadašnjih planera bila da pešaci koriste površine za parkiranje umesto posebnih trotoara) ili nije realizovan iako je postojao u planskoj dokumentaciji. U prvom slučaju potrebno je da se uradi planska dokumentacija koja će to da razreši, a u drugom slučaju da se sprovedu planski dokument. Trotoari sa adekvatnim popločanjem svakako su nužni i neupitni".
Javni konkursi kao ultimativno rešenje
Moguća rešenja za pristupačniji grad jesu pravljenje trotoara sa taktilnim popločanjem za slabovide osobe, te upuštanje ivičnjaka na raskrsnicama i pešačkim prelazima. Eventualno pretvaranje dvosmernih ulica u jednosmerne da bi se dobilo na prostoru smatra pristupom koji može da prouzrokuje dodatne probleme po pitanju funkcionisanja saobraćaja u postojećim strukturama gradova i to u širem kontekstu kada je protočnost u pitanju:
"Možda elegantnije rešenje je da se u stambenim naseljima postavi ograničenje brzine, eventualno postavi kaldrma koja usporava vozila kako bi se ulice posmatrale kao primarno pešačke. Na primer, u Švajcarskoj to funkcioniše krajnje normalno – vozila i pešaci kreću se u istom nivou i koriste istu površinu, samo se zna da prioritet imaju pešaci".
Da li će u domaćim urbanističkim planovima pešaci, bili to odrasli, deca ili osobe sa poteškoćama pri kretanju, takođe konačno postati prioritet, ostaje da se vidi u narednim godinama. Kao što smo naveli, jedna od strategija koja će sigurno dovesti do toga da se po pitanju uređenja javnih prostora čuju i drugačiji stavovi jeste češće otvaranje javnih konkursa za šta se nadamo da će postati uobičajena praksa.
Kad ste već ovde…