Aktuelno
Enterijer kompanije zaslužne za najbrže rastuću biznis aplikaciju svih vremena
Enterijerom kompanije Slack dominiraju linearni motivi koji su omaž fabrici tekstila koja se nekada nalazila u ovim prostorima.
Slack je kompanija zaslužna za razvijanje najbrže rastuće biznis aplikacije svih vremena koja poslovnim korisnicima omogućava da četuju u realnom vremenu. Ovaj uspešni startap sa centralom u San Francisku, otvorio je u međuvremenu kancelarije u Njujorku, Melburnu, Vankuveru, Londonu i Dablinu i to u prostorima nekadašnjih industrijskih objekata s enterijerima koji poštuju originalno nasleđe.
Takav je slučaj i sa novim Slack kancelarijama u Torontu koje su se smestile u nekadašnjoj fabrici tekstila u samom centru grada. Troetažna zgrada od opeke poslužila je kao savršeni ambijent za smeštanje 2.000 kvadrata poslovnog prostora u kojima sve vrvi od kolorita.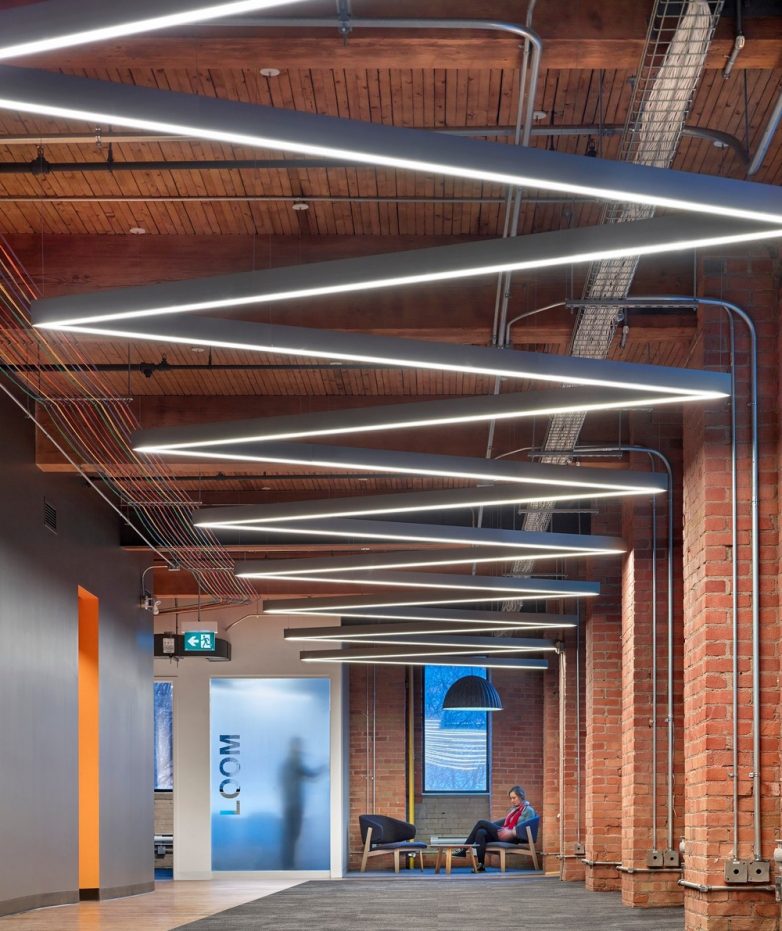 Izlomljena linearna rasveta i kablovi po zidovima u raznim bojama podsećaju na konac koji je ovde nekada bio najvažniji.
Arhitekte iz biroa Dubbeldam Architecture + Design osmislile su koncept "komunikacionih niti" koje su oživele kroz linearne geometrijske forme koje se protežu kroz ceo prostor, kao što je izlomljeno linijsko osvetljenje ili vidljivi kablovi na zidovima i plafonima u raznim bojama koje su omaž tekstilnoj industriji, odnosno, mašinama koje su razvlačile konac. U isto vreme ove niti na sjajan način predstavljaju i samu srž ove kompanije a to je komunikacija.
Recepciju je osmislila Kathryn Walter iz studija Felt koja je zidove i plafon obukla u niz dijagonalnih tekstilnih traka koje stvaraju toplu i prijatnu atmosferu.
Kolorit iz logoa
Enterijer poslovnog prostora kompanije Slack je hrabar, kontrastan i pun boja kojim se razdvajaju prostori kancelarija, konferencijskih sala, kantine, soba za odmor i kancelarija za direktore. Korišćene su boje iz Slackovog logoa koje su se odlično složile s osnovnom, crvenom bojom opeke.
Važna je akustika
Zidovi konferencijskih sala obloženi su akustičnim panelima koji svojim dizajnom potpuno odgovaraju ostatku enterijera. Cik-cak rasveta, živopisne boje i karakteristični komadi nameštaja daju ovim prostorima živost i razigranost.
Kantina za 140 ljudi
Velika kantina oblikovana je tako da prati linearnu šemu uspostavljenu u celom enterijeru pa se tako i u ovom prostoru pojavljuju bele i drvene dijagonalne letvice. Enterijer kantine osmišljen je tako da se 140 zaposlenih u njoj osećaju prijatno ali i tako da kod njih podstiče druženje i razmenu iskustava.
Foto: Shai Gil via V2com
Kad ste već ovde…