Planinsko okruženje, zima i priroda uopšte, duboko su utkani u dizajn enterijera rekonstruisanog i ribrendiranog lokala smeštenog u centar zbivanja na našoj planinskoj lepotici.
Pub & Ko, gastro pab površine 250 m2 smešten u krugu Konaka, centar je društvenog života Kopaonika od 2010. godine. Uoči tekuće skijaške sezone lokal je potpuno obnovljen. Za rekonstrukciju, dizajn enterijera i ribrending odgovoran je Project A1 Design hub iz Novog Sada. Isti studio dizajnirao je i Pajino preslo, ski bar i restoran na raskrsnici nekoliko najprometnijih staza, koji je otvoren prošle sezone. Pub & Ko. i Pajino preslo su lokali jednog investitora čija ideja je bila da gostima ponudi sveobuhvatnu uslugu – prepoznatljivo iskustvo kako na stazi, tako i prilikom boravka u Konacima, tokom dana i u noćnom provodu.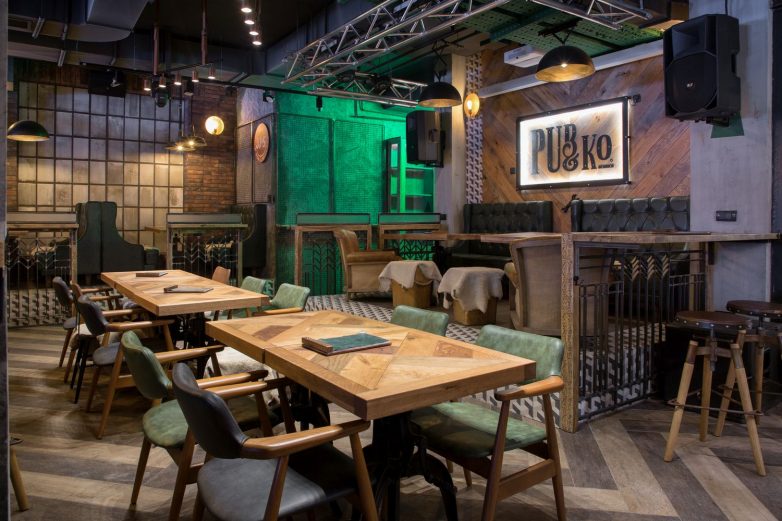 Vidljive cevi na plafonu, sirova obrada metala, obilje beton tehnika, metalni lusteri i zidne lampe dominiraju lokalom.
Lični opis gastro paba Pub & Ko. potpuno je promenjen, pri čemu je najveći izazov bila sama rekonstrukcija prostora. Krajnji rezultat je značajno proširen kapacitet lokala (110 sedećih mesta), kao i drastično poboljšana ventilacija. Uklonjene su sve pregrade osim onih koje su konstrukcijski bile neophodne, a kuhinja i šank su izmešteni na nove pozicije. Koncept otvorenog prostora nadograđen je konceptom otvorene kuhinje koja se uveče zatvara dekorativnim panelima.
Osnovni cilj bio je da se kreira multifunkcionalni prostor koji će odgovarati potrebama paba u koji se dolazi na kafu i obrok sa društvom ili porodicom, a koji se u večernjim satima transformiše u mesto za noćni provod uz nastupe bendova i DJ-eva. Tako su, na primer, bina i DJ pult pozicionirani i izvedeni na način koji obezbeđuje da budu funkcionalni i tokom dana kada se koriste za obedovanje. Osim toga, posebna pažnja je posvećena pozicioniranju rasvete koja je ključna za kreiranje dnevne, odnosno noćne atmosfere. Sva rasveta je dimabilna, a poseban dodatak raskošnoj postavci predstavlja scenska rasveta.
Industrija protkana zimom
Enterijer je u svakom smislu inspirisan okruženjem. Industrijski stil jeste dominantan – vidljive cevi na plafonu, sirova obrada metala, sirovi betonski zidovi i obilje beton tehnika, metalni lusteri i zidne lampe (proizvođača Zambelis) i slično. Ipak, planinsko okruženje, zima i priroda uopšte, duboko su utkani u dizajn enterijera.
Planinsko okruženje, zima i priroda uopšte, duboko su utkani u dizajn enterijera.
Lokacija paba uticala je na izbor materijala, kao i na geometriju korišćenu u dizajnu enterijera i grafičkom dizajnu. Rad na enterijeru planinskog lokala zahteva korišćenje materijala koji u gradskom kontekstu nisu neophodni – moraju se koristiti oni otporni na vlagu i učestalo habanje. Prostorom vladaju masiv hrast i čelik, a planinska magija upotpunjena je detaljima od kože. Takođe, dezeni keramičkih pločica inspirisani su prirodnim materijalima poput drveta i tekstila.
Pod inspirisan geometrijom planina
Geometrija planinskih motiva interpretirana je na moderan način što je uočljivo na bravarskim elementima poput ograda i kuhinjskih dekorativnih portala inspirisanih vitražima.
Najdominantniji detalj u enterijeru je pod. Dizajn poda inspirisan je planinskim pejzažima iz okruženja što se ogleda u načinu na koji su ređane pločice – podražavanje planina svedenih na geometrijski oblik. Braon tonovi se smenjuju simbolično predstavljajući različite slojeve zemljišta. Postavka poda "penje se" i na šank obrazujući bele planinske vrhove kao upečatljive detalje u enterijeru. Sličan pristup ponavlja se i prilikom ređanja drvenih talpi i dasaka na pločama stolova, zidnim oblogama i vratima.
Enterijerom gospodare murali, autorski kolaži koji kombinuju portrete Inuita, planinski okoliš i geometrijske oblike.
Osim poda, enterijerom gospodare murali, autorski kolaži koji kombinuju portrete Inuita, planinski okoliš i grafičke geometrijske oblike. Kolažne kompozicije preslikane na zid predstavljaju autorsko delo grafičkog dizajnera studija Project A1. Kao narod koji živi u ekstremno teškim uslovima u kojima se može opstati jedino u zajednici u kojoj se članovi mogu osloniti jedni na druge, Inuiti su ideal planinsko-pabske zajednice kakvu Pub & Ko. želi da okupi, što je jasno iskazano i u njihovom sloganu – People of the Mountain United.
Community stolovi
Okruženje je imalo i manje metaforični, a više praktični uticaj na dizajn enterijera. Recimo, turistički karakter lokacije uticao je na odluku da se u prostor smesti čak šest community stolova. S obzirom na to da se na zimovanje često odlazi u većim grupama, kao i zbog toga što je Pub & Ko. čest izbor za team building aktivnosti ili proslave firmi, ovakva organizacija sedećih mesta vrlo je poželjna.
Čuvajući prepoznatljivu pabsku atmosferu, Project A1 Design Hub kreirao je moderan ambijent u industrijskoj eklektici koji parira svetskim trendovima u dizajnu ugostiteljski objekata istog tipa.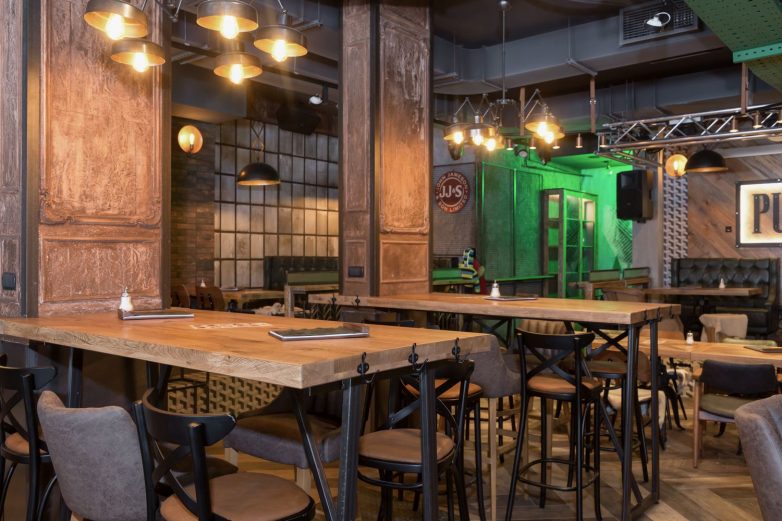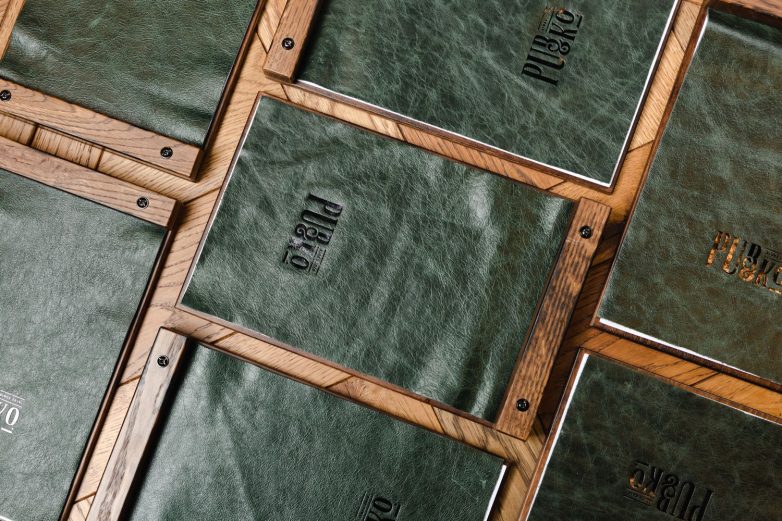 Foto: Dejan Beoković
Kad ste već ovde…