Enterijeri, Izdvojeno
Slika koja vredi više od hiljadu lajkova: Uticaj Instagrama na enterijer ugostiteljskih objekata
Saznajte kako se naši dizajneri enterijera nose s trendovima koji se diktiraju na popularnoj društvenoj mreži i kakve to zamke sa sobom nosi.
Uticaj medija na dominantne stilove u enterijeru je neupitan, a uvođenjem društvenih mreža u igru ovaj odnos se popeo na još viši nivo. Međutim, nemaju sve vrste sadržaja podjednak uticaj na ovu industriju. Tako je, u svetu dizajna, najveći preokret napravio Instagram.
Ovo ne treba da čudi. Istraživanja su odavno pokazala da vizuelni sadržaj na društvenim mrežama podstiče mnogo veći angažman od strane korisnika nego kada je u pitanju tekstualni sadržaj. Isto tako, i dizajn se najpre vrednuje po estetskim kvalitetima koje je vrlo lako istaći na ovoj mreži. Instagram danas broji preko 500 miliona korisnika koji su aktivni svaki dan, a od toga 5% spada pod biznis profile. Podaci takođe pokazuju da preko 80% aktivnih korisnika prati barem jedan brend, što potvrđuje da Instagram nudi ogroman marketinški potencijal. Samim tim je i logično da se i vaš omiljeni dizajner (ili bilo koji drag brend) nalazi na ovoj mreži, iako su mnogi do pre samo par godina Instagram skeptično opisivali samo kao platformu za deljenje pretencioznih fotografija nečijih obroka.
Međutim, upravo ova kombinacija promocije vizuelnog sadržaja i instagramske opsednutosti hranom (uzmimo u obzir da heštegovi poput #food i #foodporn imaju preko 150 miliona javnih postova) pokazala se sjajno za marketing restorana. Tako dolazimo do fokusa našeg današnjeg članka, a to je uticaj Instagrama na dizajn enterijera ugostiteljskih objekata.
Trend je kreiranje posebnih selfie cornera, iliti kutaka u kojima je eksplicitno naglašeno da se mogu koristiti za pravljenje selfija.
O ovoj temi smo pričali sa novosadskim arhitektama mlađe generacije u čijem radu smo prepoznali ovu karakteristiku, a koji i sami svakodnevno koriste društvene mreže. To su Nikola Martinović, glavni arhitekta u studiju N-Martin i Andrea Soleša, osnivačica studija Project A1. Biro N-Martin, između ostalog, potpisuje dizajn kafića Coffee Corner u Novom Sadu i kafeterije Family Cup na Banovom Brdu u Beogradu, dok se u portfoliju studija Project A1 nalaze Pajino preslo na Kopaoniku, te novosadski objekti Vida, Piatto, Piknik, Akademija i drugi. Za početak smo ih upitali koji su to elementi dizajna koji čine jedan enterijer privlačnim za fotografisanje i pospešuju promociju na Instagramu.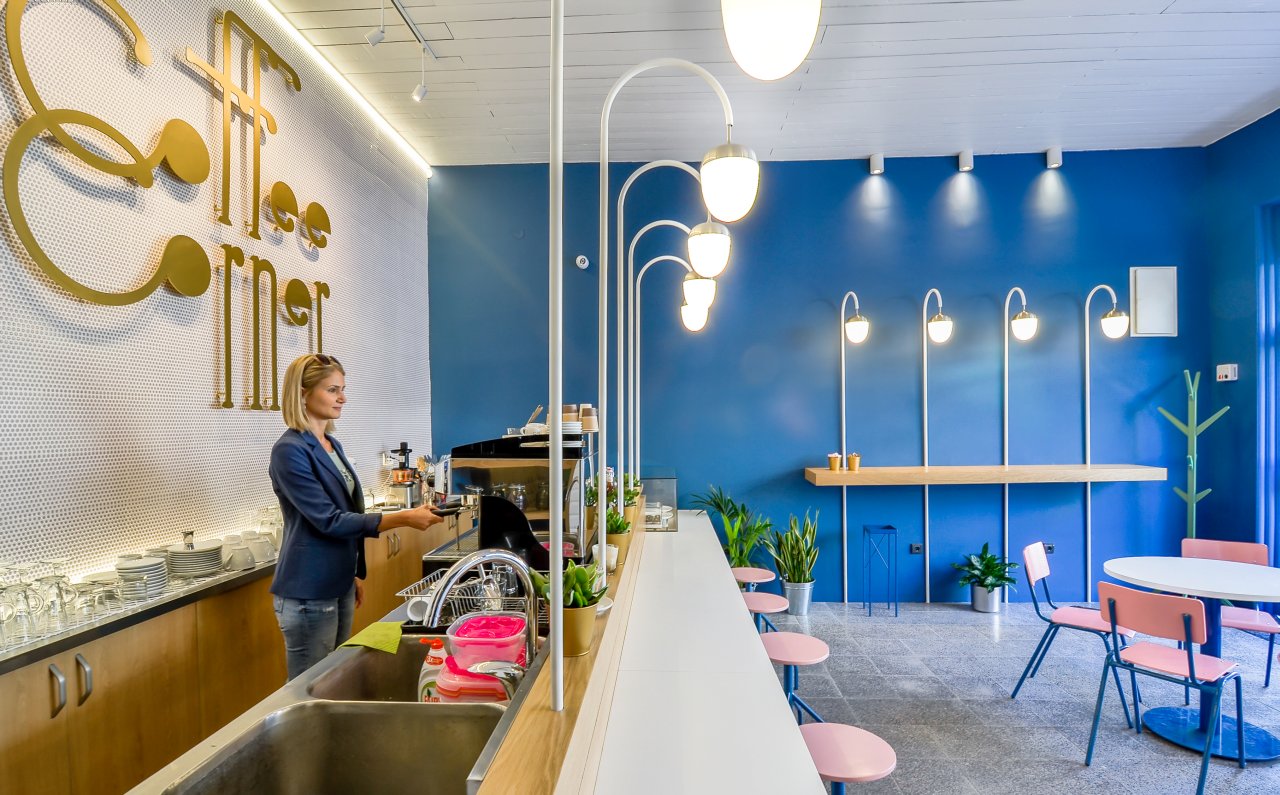 Fotogenični materijali
"Da bi jedan enterijer bio privlačan za fotografisanje, pre svega mora da bude (estetski) kompaktan, izveden na osnovu jasnog koncepta od početka do kraja. Istovremeno, mora da bude jasno da je mnogo uloženo i u pojedinačne zone objekta, u nameštaj i detalje", objašnjava nam Andrea Soleša uz praktične primere iz sopstvenog iskustva:
"U studiju često pravimo jedinstvenu rasvetu po zahtevima klijenata, zbog čega naše lampe i lusteri neretko završavaju na Instagram profilima gostiju. Važan element enterijera koji doprinosi fotogeničnosti prostora jeste zelenilo, zbog čega su prirodne ili veštačke biljke veoma prisutne u našim projektima. Takođe, s obzirom na ogromnu popularnost koju uživaju profesionalne fotografije hrane, posebnu pažnju posvećujemo pločama stolova. Ponekad koristimo drvo izraženije strukture, ponekad kamen ili mermer, igramo se godovima, atipično slažemo lestvice, bojimo određene delove kako bismo kreirali jedinstvene paterne. Ukratko, pravimo privlačnu podlogu za top view fotografije hrane ili napitaka. Osim toga, iskustvo nam govori da je veoma korisno imati zanimljive zidove. Oni mogu biti specifične teksture kakvu imaju sirovi beton ili cigla, ili mogu biti prekriveni umetničkim muralima. Podovima i plafonima, takođe, posvećujemo pažnju, ali nikad ne akcentujemo i jedno i drugo. Na podovima ponekad primenjujemo vrlo zanimljive intarzije, što je takođe primamljivo korisnicima društvenih mreža".
Budući da je Project A1 pri dizajniranju enterijera kafića i restorana uglavnom zadužen i za razvoj brenda, te su svoj fokus proširili i na digitalni marketing, Andrea ističe još nekoliko "trikova" koji su usko vezani za brending objekata koji privlače pažnju gostiju. U tom smislu je zanimljiv dizajn propratnih elemenata poput jelovnika, papirnih podloga za jelo, salveta i sličnih, ali i messaging, odnosno tehnika ispisivanja raznovrsnih poruka po zidovima, prozorima, posterima ili drugim dekorativnim elementima. Ovi motivi neretko postaju omiljeni na Instagramu i pomažu objektima da se, barem vizuelno, izdvoje od konkurencije.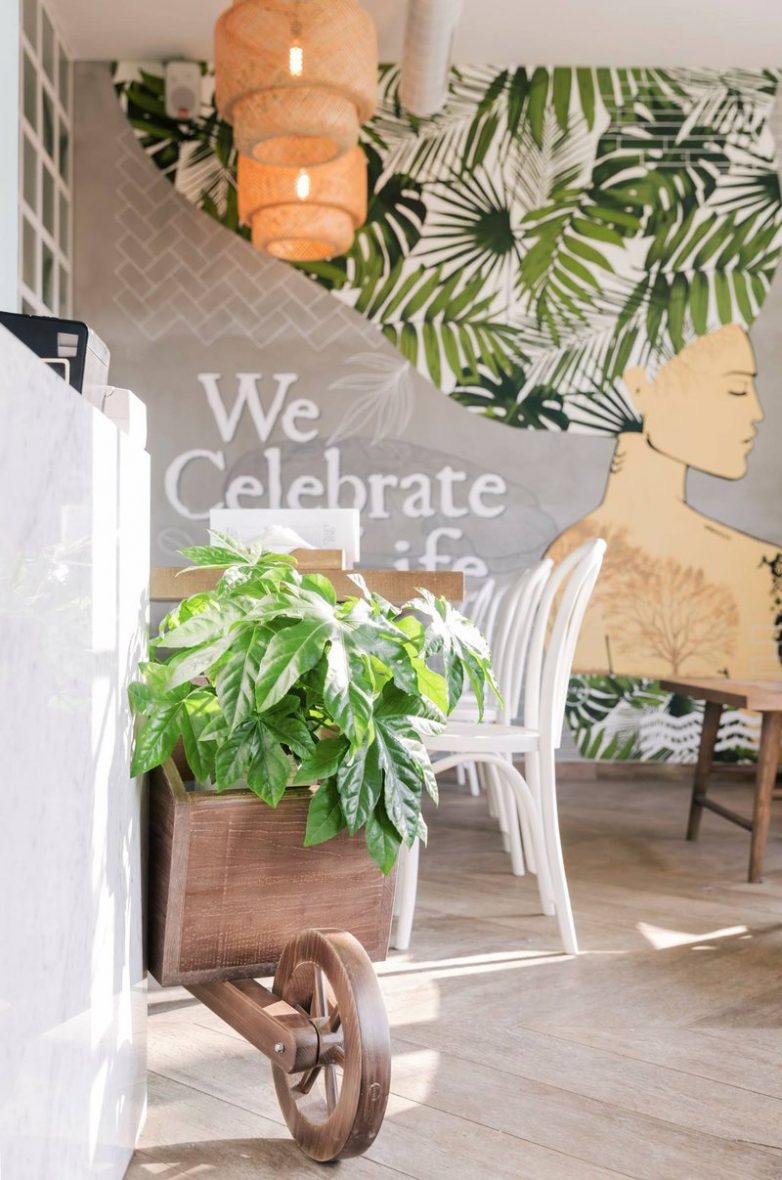 Zamke u dizajnu
Komercijalni uspeh dizajna enterijera ipak u velikoj meri zavisi od umeća fotografa da atmosferu jednog objekta prikaže na način koji je primamljiv potencijalnim gostima. Samim tim, fotografi vrlo često pažljivo biraju uglove, vizure i elemente koji će se naći na fotografiji namenjenoj Instagramu. Ovde nam Nikola Martinović ukazuje na svojevrsnu "zamku" koja je česta u tom procesu:
"Instagram fotografija pretenduje da idealizuje stvarnost, tako da se vrlo često susrećemo sa "lažnom" atmosferom prostora okupanih svetlom, punih detalja na kojima nema prašine i mekanih čistih jastuka koji vas mame da se uvaljate u njih. To je uobičajena pojava savremene komunikacije na društvenim mrežama zbog čega svaku fotografiju koju vidimo moramo uzeti sa dozom rezerve. Dakle, smatram da ne postoje elementi koji su privlačni za fotografisanje, već samo znalačka upotreba elemenata na fotografiji tako da svaki prostor može biti savršeno privlačan na Instagramu", objašnjava naš sagovornik.
Takođe, neminovno je istaći da brzina kojom se dele informacije na društvenim mrežama takođe utiče i na brzinu kojom se smenjuju trendovi u dizajnu koji se na istim platformama prikazuje. Naši sagovornici govore o tome da li prilikom dizajniranja istražuju šta je na društvenim mrežama trenutno u trendu i da li namerno inkorporiraju slične elemente u konačan dizajn.
"Istraživanje je osnov našeg zanata", govori Nikola. "Da bi opisao negativan uticaj stalne inspiracije tuđim delima, profesor Ranko Radović često je koristio izraz Pick up and choose – to podrazumeva uzimanje različitih elemenata sa različitih arhitektonskih dela i upotrebu tih istih elemenata u novoj arhitekturi. To je pogrešan put. Inspiracija vrlo često dolazi iz jednostavnih, običnih stvari, a ne nužno od izvedenih primera. Jako je teško napraviti distancu između praćenja trendova i beskrajnog upijanja novih realizovanih projekata. Ako počnemo da dizajniramo enterijere da bi bili prikladni za Instagram, onda smo u velikom problemu i važno je da ga na vreme prepoznamo. Instagram je mesto za komunikaciju, ne šablon komunikacije. Komunikaciju kreiramo mi, ne prilagođavamo se".
Kutak za selfije?
Sličnog mišljenja je i Andrea: "Redovno pratimo trendove na mrežama, ali nismo opterećeni njima. Polazimo od enterijera kao prostora u kojem posetioci treba da dožive izvesno iskustvo dok su u njemu prisutni. Svaki enterijer određen je estetikom i funkcionalnošću, a zajedno sa ostalim elementima – kao što su muzika, ponuda i usluga – sačinjava atmosferu zbog koje se gosti vraćaju ili ne. Veliku pažnju posvećujemo fotogeničnosti prostora, ali nikada na uštrb koncepta. Ipak, pojedini trendovi na društvenim mrežama toliko su izraženi da teško možete da ih zanemarite. Primer za to su selfiji napravljeni u toaletima objekata. Prilikom dizajniranja uvek imamo na umu ovaj 'običaj' i trudimo se da pretprostor toaleta bude autentičan i zgodan za fotografisanje".
Prilikom dizajniranja uvek imamo na umu 'običaj' da se ljudi fotografišu u toaletu.
Andrea nas je podstakla da se posebno osvrnemo i na jedan (nemili) trend u dizajnu enterijera, a to je kreiranje posebnih selfie corner-a, iliti kutaka u kojima je eksplicitno naglašeno da se mogu koristiti za pravljenje selfija. Nikola na ovo pitanje daje jedno kategorično "Ne", dok Andrea tvrdi da implementacija ovog kutka zavisi od samog koncepta lokala, ali da ga ne treba ubacivati po svaku cenu. Budući da su selfie corner, baš kao i sam uticaj Instagrama na elemente u enterijeru nešto novijeg datuma, dalje se bavimo pitanjem da li ovakav dizajn objekata utiče na to da se oni prilagođavaju nekoj određenoj ciljnoj grupi, odnosno milenijalcima i mladim ljudima koji su uvek "u trendu"?
"Da, smatram da je to jako dobro", potvrđuje Nikola. "Ciljna grupa mora da postoji da bi komunikacija između ugostitelja i mušterija bila jasna, da biste uspeli da prodate ono što želite i ono u čemu ste najbolji. Mi smo tu da pomognemo našim klijentima u toj komunikaciji, a u današnje vreme to ne možemo bez prezentacije naših projekata na društvenim mrežama. Da bismo ih pravilno prezentovali, moramo da poštujemo pravila po kojim društvene mreže funkcionišu."
"Klijenti uglavnom znaju ko je njihova primarna ciljna grupa", nastavlja Andrea. "Ukoliko nije tako, naš prvi zadatak je da im pomognemo da je odrede. Jasno definisana ciljna grupa je preduslov za sve drugo – dizajn enterijera, brending, planiranje promotivnih aktivnosti. Kada pokrećete biznis morate znati kome se obraćate. Ukoliko bi se svi ugostitelji fokusirali na potencijal promocije na Instagramu, ne bi bilo mnogo kafića i restorana za ljude iznad 35 koji svakako jesu manjina na ovoj mreži, ali su, takođe, platežno sposobniji od milenijalaca ili hip mladih ljudi. Kao takve, ugostitelji ni u kom slučaju ne bi smeli da ih zanemare."
Dizajn bez uslovljavanja
Međutim, očekivanja i zahtevi klijenata često počinju od toga šta se prezentuje na Instagramu, a da nije uvek u skladu sa onim što realno može da se postigne u jednom prostoru. Naši sagovornici ovo ističu kao izazov u radu.
Čest je primer da klijenti dizajnerima prilaze sa konkretnim rešenjima enterijera koja su videli na Instagramu, a koja nisu primenjiva u njihovom slučaju. Takođe, u skorije vreme, a pogotovo u poslednje dve godine, klijenti od dizajnera neretko traže da u prostor integrišu prilagođeni "Instagram kutak" što bukvalno može da bude jedno ćoše, zid, ili neki poseban element. Međutim, kako naša sagovornica dodaje, ukoliko je takav segment "nasilno" dodat u prostor, posetioci se u njemu neće osećati pozvano, niti prijatno.
"Neophodno je razmišljati o tome šta će dobro izgledati na fotografijama prilikom organizovanja prostora, dizajniranja nameštaja, izbora materijala i detalja, ali je jednako neophodno i da sam proces kreiranja teče intuitivno, i bez preteranog uslovljavanja", zaključuje dizajnerka Andrea Soleša.
Foto naslovna: Dejan Beoković (Vida, Novi Sad)
Kad ste već ovde…