Dušan Rakić iz Temerina bavi se intarzijom – umetničkim zanatom koji nas vraća lepoti drveta. Pročitajte njegovu zanimljivu životnu priču.
U vremenu kada funkcionalnost i savremena estetika sve više upravljaju oblikovanjem prostora, sve je manje želje za upotrebom proizvoda nastalih primenom umetničkih zanata. Iako se zanatlije bore za svoje komad sunca pod nebom, smanjenje potrebe za njihovim proizvodima smanjuje se i želja za nasledstvom njihovih veština. Ipak, rad zanatlije Dušana Rakića iz Temerina i njegove zanatske radionice Marquetry Design osim što je poznat kod nas, prihvaćen je i u svetu jer je učestvovao na sajmovima, radionicama i izložbama. Njegovi primeri enterijerske, nameštajne i suvenirske intarzije inspirisani su gotovo svim što nas okružuje: ljudima, životinjama, gradovima, prirodom ali istorijom. Dušan Rakić svakako bi trebalo da bude inspiracija i podstrek za sve ljude koji krče svoj put.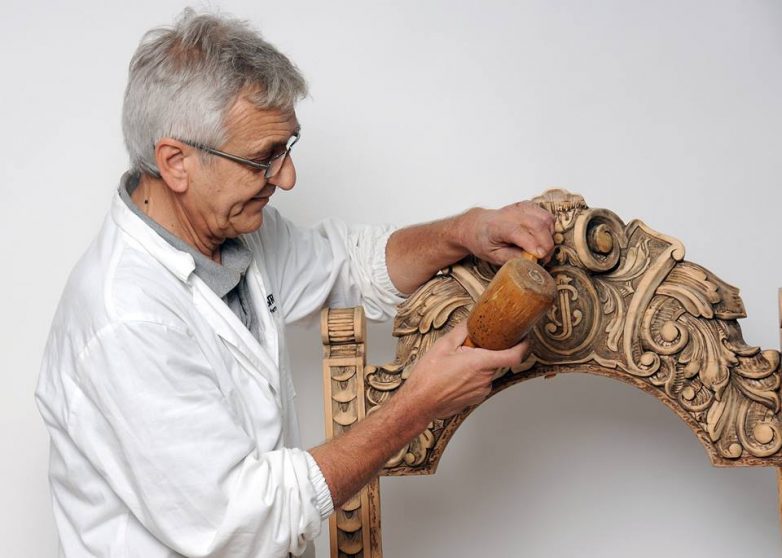 Intarzija je stari, umetnički zanat koji nas vraća lepoti drveta.
Sama reč intarzija koja svoje daleko poreklo nosi još od arapske reči "tarsio" i označava "umetanje" ili "uleganje", a u praktičnoj primeni mogli bismo reći da je intarzija tehnika koja se u prvom redu primenjuje u izradi nameštaja, gde se različiti komadi furnira sklapaju čineći određeni vizuelni prikaz.
Za razvijanje intarzije kao zanatsko-tehničkog postupka naročito je značajan 16. vek u kom se ona izvodila na dva načina. Prvi način je da komadići drveta različitih nijansi i struktura uležu u udubljenja podloge masivnog drveta. Drugi način, nešto složeniji, jeste piljena intarzija. Stvara se od elemenata prirodno ili veštački obojenog furnira, gotovo jednakih debljina, koji se (poput kolaža) sastavljaju u motive i lepe na konstrukciju predmeta, nameštaja, obično od mekog drveta. Pored furnira upotrebljavan je mesing, komadići sedefa, kornjačevine, slonovače i slično.
Iako je intarzija najprisutnija kroz oblikovanje nameštaja, intarzija je kroz vreme nalazila primenu u izradi samostalnih dekoracija na kojim su prikazivani portreti, aktovi, pejzaži, objekti, mrtva priroda i drugo.
Međutim, pravo je pitanje kako se nekome ko se prvi put susreće s intarzijom uopšte može opisati ovaj zanat?
– Intarzija je zanat koji kroz drvo kao osnovni medij izražavanja nastoji da nas vrati prirodi, s jedne strane, odnosno, lepoti i umetnosti našeg svakodnevnog življenja, u enterijerima u kojima živimo, s druge strane. Vratiti nas onome što se kroz epohe nazivalo ars vivendi!
Enterijer je beskrajno polje izražavanja naše individualnosti, naših ukusa, koje se može izraziti i intarziranim dekoracijama na nameštaju, na zidnim površinama, ali i na predmetima svakodnevne upotrebe. Intarzirane aplikacije, kroz vekove, osim na nameštaju, srećemo i na muzičkim instrumentima, trofejnom oružju, kočijama, na ramovima slika, ogledalima…
Pokušao bih takvom posmatraču pojasniti da je intarzija kao zanatska tehnika stari i umetnički zanat koji nas vraća lepoti drveta. Određeni motiv se na osnovu crteža i različitijih vrsta furnira sklapaju u raskošne prirodne, ali u isto vreme i haotične teksture koje prijaju našem ukusu i senzibilitetu.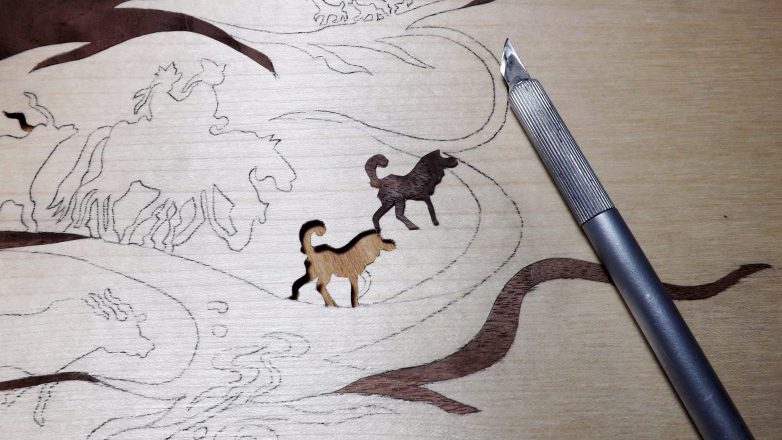 Zašto smatrate da je dobro primeniti ovu vrstu umetničkog zanata u sintezi s komadnim nameštajem i kakav stil nameštaja je poželjan za takvu vrstu "saradnje"?
– Nema sumnje da je dobro kada se na komad nameštaja doda dimenzija više. Dodavanje intarziranih ornamenata i motiva dodatno će istaći lepotu i postojeću formu određenog komada nameštaja.
Nama je intarzirani nameštaj poznat iz bogate istorije stilova od renesanse, baroka, rokokoa, klasicizma i neoklasicizma, ampir stila ili art-nuvoa ali ovaj umetnički zanat nipošto se ne sme ograničiti samo na antikvarni nameštaj ili oponašanje pređašnjih stilova jer živimo u jednom sasvim novom vremenu, u epohalnom nastojanju da se modernošću življenja inkorporiraju ali i reinterpretiraju i redizajniraju dosadašnji tradicijski obrasci, dodaje Dušan Rakić.
Veliki je izazov jedan stari zanat osavremeniti i izneti u aktuelnim dizajnersko-enterijerskim previranjima.
Koliko dugo se bavite ovim zanatom i kako ste se odlučili na to da intarzija bude vaš poziv?
– Sagledavajći svoje bavljenje ovim lepim zanatom lično mi je veoma drago da sam u njemu već veoma dugo, praktično od đačkih dana kada me je kućni prijatelj naučio elementima tog zanata – čemu ima već bezmalo 40 godina. Pratim postupnost mog razvijanja i savladavanja dragocenih nijansi u ovladavanju drvetom, crtežom, dizajnom…
Odluka za profesionalizaciju tog zanatskog bavljenja uistinu nije nimalo laka u sredini u kojoj je osiromašenjem, i materijalnim i duhovnim, uništavana sama kultura življenja i kulturna potražnja, u kojoj nebrigom i ravnodušnošću relevantnih institucija i ustanova neprekinuto traje jedno višedecenijsko tiho marginalizovanje i devastiranje našeg staro-zanatskog i umetničko-zanatskog nasleđa.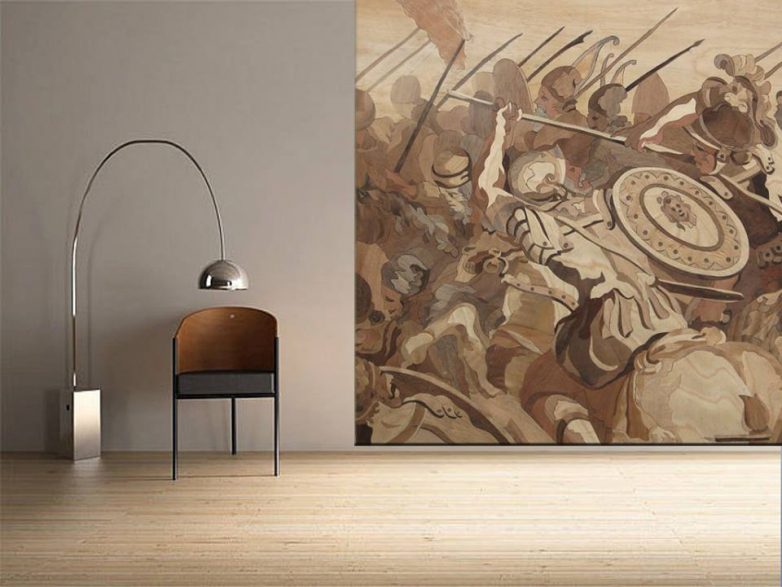 Šta vas inspiriše u radu?
– Lepo je to da gotovo sve može da me inspiriše! Pogled na oblak zaintrigira kako od njegovog obličja stvoriti površine, koje vrste i nijanse drveta, odnosno, furnira upotrebiti za njegovo izražavanje, u koji ambijent ga uklopiti. Pogled na detalj neke građevine, pogled na lepu ženu, što da ne! (smeh)
Ali, možda najdublja inspiracija je proučavanje crteža starih majstora slikarstva, jer u osnovi, crtež je osnova svekolike primenjene, ili kako se već ranije nazivala, dekorativne umetnosti. I otuda sam radio, i radim, na čitavom ciklusu intarziranih interpretacija dela starih majstora crteža.
Inspiracija je i naša ogromna srednjevekovna umetnička baština, kao i bogatstvo staroćirilične ornamentike.
Inspiracija su i neverovatna ornamenika i motivi sveta islama i intrigacija tim svetom samo je produbljena mojim boravkom i učešćem na festivalu u Maskatu, u Omanu, 2014. godine gde sam, u tom impresivnom arabijskom okruženju, imao priliku upoznati i najrazličitije zanatlije i njihove zanatske tehnike iz Tunisa, Palestine, Sirije, Jordana, Irana… Kao što je sasvim novo otkriće i nepresušna inspiracija svet motiva srednje-azijske stepsko-nomadske ornamentike koji sam upoznao i otkrivao pretprošle godine na master class programu moje zanatske tehnike na gorskom jezeru Issyk-Kul i u Biškeku, u Kirgistanu (a po pozivu Nacionalnog muzeja lepih umetnosti imena G.Aitieva u Biškeku).
Ipak, često uhvatim samog sebe u zagledanosti i utisku da je najdublja inspiracija onda kada se zagledam u sam komad drveta, i od njega nastalog lista furnira, u to savršenstvo stvaranja prirode.
Koje materijale koristite?
– Osnovni materijal zanatske tehnike kojom se bavim jeste drvo – odnosno, najrafiniraniji i najfiniji proizvod u drvno-prerađivačkoj industriji – furnir (debljine od 0,6 do 1 mm). Upravo retke i probrane pa i egzotične  vrste najrazličitijih vrsta prirodnih (nebojenih) furnira, među kojima su oni nastali iz korena drveta najkvalitetniji, a time i najskuplji.
Obzirom da su u istoriji intarzije pored furnira, korišćeni i slonovača, kornjačevina, sedef, mesing i drugi dragoceni materijali veliki je izazov neke od tih materijala upotrebiti u nekim od budućih radova.
Međutim, do sada glavni izazov bio mi je od prirodnih vrsta drveta i furnira iskazati maksimalno moguće izražajnosti u nekom motivu, utoliko pre što je paleta boja drveta redukovana, jer gotovo da ne postoje zelene ili plave nijanse prirodnih furnira.
Šta je za vas bio najveći uspeh u dosadašnjem radu?
Kao i kod svakog od nas, uspeh je prilično relativna stvar i može se ocenjivati i sagledavati kroz različite kriterijume. Uspeh javnog priznanja za vlastiti rad je svakako i dobijanje državnog sertifikata Ministarstva privrede 2013. godine, da je moja zanatska delatnost u kategoriji umetničkog zanatstva. Uspeh je u strukovnom i profesionalnom smislu i dobijanje počasne nagrade na konkursu Veneer Tech Craftsman's Challenge 2011. godine, poznatog američkog proizvođača i distributera furnira, na Sajmu nameštaja u Las Vegasu.
Bez sumnje, uspeh i satisfakcija su zadovoljstvo pred onim realizovanim i urađenim u očima poručilaca sa zanimljivim, neobičnim po nekad i čudnim zahtevima, jer njima poručene stvari najčešće poseduju izvesnu, često samo njima poznatu emotivnu vrednost. I zadovoljstvo njihovim zadovoljstvom je uistinu – zadovoljstvo.
Ipak, možda je intimno najprijatniji uspeh dečija iskrena zadivljenost i znatiželja, kada posmatraju nešto što nikada do tada nisu videla, kada otkrivaju nešto sasvim novo. Kada shvataju da je svo to složeno zanatsko tkanje načinjeno naprosto od drveta, drveta kao resursa koji tako nemilosrdno i bahato uništavamo.
I želja da u tim dečijim očima sazre jedan novi i drugačiji odnos prema svetu i prirodi oko nas, i prema umetnosti i stvaranjima onih daleko u vremenu iza nas.
Od inspiracije do realizacije
Šta smatrate da je najveća prednost intarzije u odnosu na druge dekorativne tehnike i zanate koji svoju praktičnu primenu mogu imati u uređenju enterijera?
– U oplemenjivanju enterijera nikada nisam intarziju stavljao iznad drugih dekorativnih tehnika, i smatrao da ona ima naročite prednosti. Lepota i neslućena izražajnost kamena kod kipara i mozaičara iznose sasvim nešto drugo estetskom oku posmatrača u odnosu na recimo masivnost i čvrstinu metala kod kovača.
Ono što je samo izvesna prednost intarzije možda je u sveprisutnosti drveta u našem enterijerskom okruženju, ali iznad svega u specifičnoj toplini koje drvo kao medijum iskazivanja poseduje, i ona vremešnost i postojanost koju u drvetu osećamo.
Moguća prednost je svakako i tehnološki lakša primenljivost i prilagodljivost drveta enterijerskim uslovima u odnosu na druge materijale.
Šta je to što vas izdvaja u odnosu na druge zanatlije/umetnike koji se bave intarzijom?
– Nas koji se bavimo ovom starom umetničko-zanatskom tehnikom je zaista malo. I u Evropi i kod nas. Činjenica da sam jedini zanatlija u zemlji koji se kroz svoju registrovanu radionicu umetničkog zanata isključivo bavi manufakturnom intarzijom, odvaja me od drugih ali sam samim tim i prinuđen da neprekidno smišljam nova dizajnerska rešenja, bez lagodnosti hobističkog, povremenog bavljenja. Ipak, svakako je na drugima da procene šta mene samog odvaja od drugih koji se ovim prelepim zanatom bave.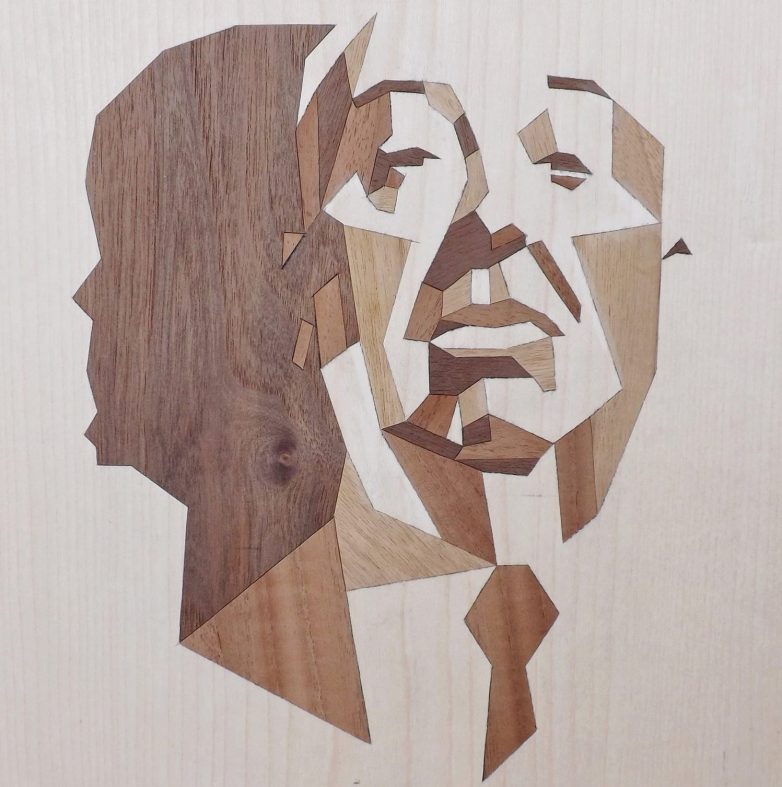 Zašto intarzija nije adekvatno prihvaćena u praksi u Srbiji?
– Već duži vremenski period unazad nisam primetio da je intarzija bilo inkorporirana u nekom javnom enterijerskom prostoru. Ranije, u 60-tim i 70-tim godinama bilo je veoma lepih i zanimljivih intarziranih enterijera, kao što su holovi nekada najluksuznijeg hotela Metropol u Beogradu, veliki apstraktni intarzirani pano u nekadašnjoj kongresnoj dvorani hotela Park u Novom Sadu. Sećam se iz sredine 80-tih savršeno elegantnog enterijera prodajnog mesta kompanije Kluz u jednom suterenu Knez Mihajlove ulice u Beogradu gde je jedna, prilično velika zidna površina bila dekorisana u vitraž tehnici, drugi mozaikom a treći u intarziji.
Ako su tvorci i enterijeristi, za to doba pa i danas, luksuznog Simplon Orient Expressa mogli da u vagonske enterijere izdašno inkorporiraju intarzirane ornamente ili aplikacije, ili, ako je u unutarnjim površinama ručno izrađenih Rolls-Royce automobila primenjena intarzija, zašto onda one ne bi mogle biti primenjivane i danas u rezidencijalnim, poslovnim prostorima ili enterijerima vozova, jahti ili aviona?
Naprosto, to je odraz  jednog široko rasprostranjenog odnosa zapuštanja većine kulturno tradicijskih tehnika uprkos tome što je drvo i nadalje veoma prisutni, počesto i nezaobilazni, element u enterijerskom izražavanju.
Pravdanje takvog stanja slabom platežnom moći klijentele je klimavo, jer je kultura življenja univerzalna i vanvremena kategorija. U posleratnoj, prilično siromašnoj, zemlji u okviru tehničkog obrazovanja osnovci su izučavali razne zanatske i umetničke tehnike, pa i intarziju među njima – pri čemu je dakle, obrazovni ali i medijsko-prezenterski moment bio i te kako prisutan.
Kakvi su vaši dalji planovi? Da li spremate nekakve inovacije u svom poslovanju ili tehnici izrade?
Svi napori i svi planovi usmereni su na – opstajanje. Opstajanje u svakom smislu. Naravno, i u tom da koliko moje skromne mogućnosti dopuštaju promovišem vrednosti manufakturnog rada i moju zanatsku tehniku kao i zanatstvo uopšte ne samo, prvenstveno novim radovima, već i medijski, institucionalno, međunarodno.
U tom smislu svakako su nužne po malo već osmišljene i inovacije u poslovanju ali i u tehnici izrade. Ali, o onom što je još u začetku i što, na kraju krajeva, još nije realizovano, nezahvalno je govoriti. Osim da naročitim izazovom sada smatram sintezu različitih zanatskih tehnika izuzetno darovitih zanatlija koje sam upoznao i kod nas, i na čudesnim, dalekim meridijanima. I pokušaje zajedničkog nastupanja.
Foto: Marquetry Design
Kad ste već ovde…