Arhitektura, Intervju
Marek Sivak, češki arhitekta o potencijalu javnih prostora Evropske prestonice kulture
Povodom programa Evropske prestonice kulture koji će u Novom Sadu trajati do 2021. godine, najavljeno je da će se Grad u narednom periodu aktivno baviti uređenjem javnih prostora.
Tim povodom, 22. marta 2018. godine je u StartIt centru održan četvrti po redu Divan, diskusija u okviru Fondacije 2021, na kojem se govorilo na temu (pre)oblikovanja javnih gradskih prostora i uključivanja građana u projekte tog tipa. Naš sagovornik bio je arhitekta Marek Sivak, gost Divana koji nosi veliko iskustvo u ovakvim projektima.
Naime, Marek je jedan od vodećih ljudi nevladine organizacije Pěstuj prostor (Negovanje prostora) iz češkog grada Plzenja. Njihova priča počela je i pre nego što je Plzenj dobio titulu Evropske prestonice kulture za 2015. godinu, a do sada su radili na desetinama malih i srednjih projekata koji se prvenstveno tiču uređenja javnih prostora. Najveća vrednost njihovog rada je upravo to što su u proces njihog rada direktno uključeni građani Plzenja.
– Pestuj prostor je počeo sa radom mimo programa za titulu prestonice, u vreme kada je Kancelarija za prostorno planiranje i i urbanizam Grada Plzenja počela da razvija novi plan grada i da priprema novu razvojnu dokumentaciju. Oni su to tada morali to da urade po novom zakonu, kao što su radili i ostali gradovi u Češkoj. Tome su pristupili "iza zatvorenih vrata", na način koji nije bio participativan. Nisu se konsultovali s ostalim stručnjacima, niti su delili ideje van kancelarije. S druge strane, mi smo mislili građani treba da znaju koliko je važan ovaj novi plan grada jer on direktno utiče na to kako će Plzenj izgledati u narednih 10 do 15 godina.
Kako ste tome pristupili?
– Želeli smo da građani budu uključeni, ali da se ta komunikacija ne svodi samo na iznošenje problema, nego da bude produktivna. Zato smo počeli da se pojavljujemo na nekim manjim događajima i arhitektonskim festivalima u gradu gde bismo zauzeli mesto, pričali s ljudima i pripremili interaktivne igre planiranja za decu.
Potom smo počeli da organizujemo šetnje gradom koje su vodile kako kroz lepe i sređene, tako i kroz neuređene delove Plzenja, a bile su slobodne za sve. Na šetnjama su gostovali profesionalci iz raznih oblasti, a organizovali smo i javne rasprave. Te šetnje su bile dobro posećene.
Korisnici dobijaju oko 4.000 evra i našu podršku za realizaciju konkretnog plana.
Na osnovu ovih projekata, tim koji je stajao iza programa Evropske prestonice kulture (EPK) nam je prišao sa predlogom da učestvujemo u projektima koji se tiču uređenja javnih prostora, i mi smo pristali. Naš prvi projekat odnosio se na otvaranje velikog javnog poziva u kojem smo upitali građane da nam podele svoje ideje i predloge rešenja od značaja za javni prostor. Ovaj otvoreni poziv važio je za sve, a bilo nam je bitno da u aktivnosti uključimo i lokalne škole.
Kako od tada funkcioniše vaša organizacija?
– To je bio trenutak kada je Pestuj prostor postao moj stalni posao, a zaposlili smo još nekoliko ljudi na određenim projektima aktivnih u okviru EPK programa. Međutim, ubrzo smo počeli da se pitamo šta ćemo raditi nakon 2015. kada sve to prođe. Obećali smo ljudima otvorene pozive i bili smo ozbiljni u tome. Nismo želeli da nam to bude nekakav marketinški alat, nego smo nameravali da nastavimo tim putem na dalje staze. Pre svega nas je brinulo da će finansiranja naglo opasti nakon što se titula preda dalje. No, onda smo prelomili i odlučili da otvorimo nezavisni NVO i pre nego što 2015. zakuca na vrata. Te godine smo radili kao nezavisni partner EPK tima i dobili smo određena sredstva od njih, a podržala nas je još i Opština, kao i Ministarstvo kulture. Od tada zvanično funkcionišemo kao nevladina organizacija. Danas u organizaciji radi nas nekoliko (iliti 3,5 čoveka kako mi to volimo da kažemo), ali nam pomaže još dosta ljudi.
Organizujete raznovrzne aktivnosti preko kojih je javnost pozvana da učestvuje u razvoju i uređenju javnih površina i prostora. Na kakav ste odziv isprva naišli kod građana Plzenja i na koje načine se oni uključuju?
– Tokom godina niko nije zaozbiljno pitao lokalce kako oni žele da im se uredi javni prostor. Čak i ako su pitali, to se radilo na usko specifičan način. Nije bilo velikih javnih poziva u smislu da su ljudi bili pozivani da iznesu svoje mišljenje o opcijama uređenja, a mi smo to pružili. Ipak, aktivnost smo ograničili na neke manje projekte i projekte srednjih veličina (dakle, nismo se bavili preusmeravanjem saobraćajnica i sličnim velikim stvarima). Svi naši projekti se tiču javnih prostora, uključujući i privatne posede koji su dostupni javnosti. Naš pristup se razlikuje od pristupa gradskih institucija po tome što one obično, uz neke izuzetke, žele da investiraju isključivo u zemlju u gradskom vlasništvu.
Da li do arhitektonskih rešenja nekog urbanog džepa dolazite putem konkursa ili vam prilaze s konkretnim planovima?
– Naš javni poziv se odnosi na dve vrste projekata. U pitanju su grantovi pomoću kojih korisnici dobijaju oko 4.000 evra i našu podršku, s tim da sva odgovornost oko celokupnog projekta i novca pada na njih. Mi smo tu da ih savetujemo i da ne budu u svemu tome sami, a nekad im pomažemo i u pregovorima s Gradom.
Uz pomoć građana uspeli smo da od nekadašnje krizne tačke u gradu napravimo igralište za decu koje je sada dobro osvetljeno i bezbedno.
Drugi tip projekata se odnosi na situacije kada korisnici nama daju predloge, a mi, u slučaju da imamo dovoljno kapaciteta, preuzimamo projekat i stupamo sa njima u partnerski odnos. Sve su to mali i srednji projekti. Velikim projektima se nismo bavili kao deo EPK ekipe. Taj program je uključivao izgrdanju nekih velikih objekata po gradu, ali to je išlo potpuno mimo nas i nismo na te stvari nikako mogli da utičemo.
Kakvi su to projekti na kojima radite s građanima i koje korake preuzimate kada neko postavi ideju za koju vi smatrate da je dobra?
– To isto zavisi od tipa projekta za koji su oni zainteresovani. Koji god da je slučaj, nezavisni žiri određuje da li će neko dobriti grant. Ukoliko neko ne ostvari projekat u roku, dužan je da vrati novac, ali to se retko dešava. Pored toga, postoje i projekti za koje nam nije potrebna pomoć građana, poput malih tehničkih izmena u okviru pojedinih objekata ili javnih površina. Naime, mi imamo tu slobodu da pristupimo menadžmentu neke firme ili privatnom vlasniku i da od njih zatražimo da naprave neke izmene na svom objektu. To su obično mala poboljšanja.
Na primer, bio je taj jedan supermarket za koji su nam se ljudi žalili da nema pristupnu rampu i da je roditeljima sa malom decom i invalidima praktično nemoguće da se popnu do prodavnice preko stepenica. Vlasnik je uvažio naš predlog i sagradio rampu, što se ispostavilo dobro i za njega jer je tako uspeo da privuče neke nove mušterije koje su ga ranije izbegavale. Radili smo i na mnogim drugim zanimljivim projektima poput uređenja rečne obale sa bazenima, inače lokacije u gradu koja je dostupna svima, a koja je od velikog istorijskog značaja.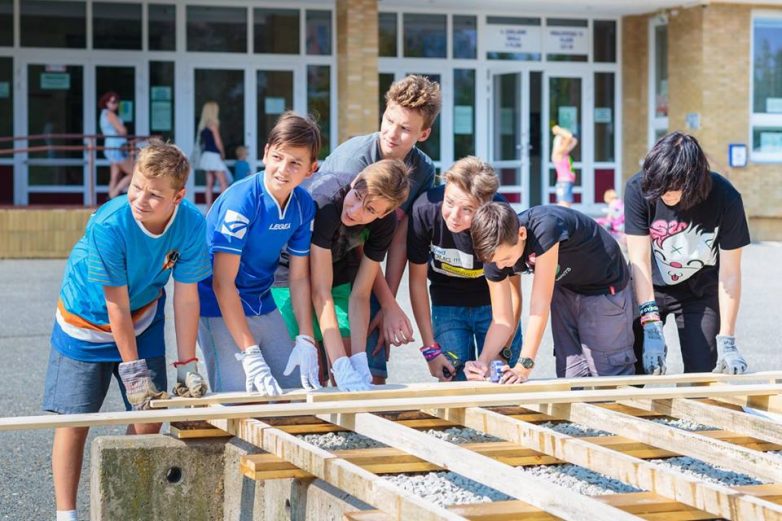 Studirali ste arhitekturu u rodnoj Češkoj i u Holandiji, a posao vas je vodio i u druge zemlje Evrope. Gde ste zapazili najbolje primere uređenja javnih prostora?
–  U Holandiji sam shvatio da se tamnošnje arhitekte u velikoj meri fokusiraju na uređenje javnih prostora i da imaju zaista dugu istoriju te prakse. Oni tome prilaze sistematski uz mnogo pravila o tome kako kombinuju privatne, poluprivatne, polujavne i javne prostore koji se koriste na različite načine, i to od strane raznih ljudi. Kod njih sve to funkcioniše i mislim da su time napravili najbolju "recepturu" za učenje.
Primetio sam, takođe, da u razvijenim zapadnim zemljama poput Nemačke sve funkcioniše na vrlo visokom nivou, tako da ljudi nemaju ni preveliku potrebu da se uključuju u slične projekte u aktivističkom smislu. Oni su tamo već deo razgovora i mogu bez problema da se bave svojim malim projektima poput zajedničkih bašta. U okviru EPK programa smo posećivali uspešne javne prostore u ovim zemljama, ali sam primetio da su oni obično na neki način institucionalizovani. Primera radi, u danskom gradu Orhusu koji je titulu Evropske prestonice kulture poneo 2017. godine radilo se na uređivanju priobalskih delova i za to su bile zadužene gradske institucije.
U razvijenim zemljama sve funkcioniše na vrlo visokom nivou, tako da ljudi nemaju ni preveliku potrebu da se uključuju u slične projekte.
Zanimljiva mi je i heterogenost javnih prostora u tim zemljama. Na primer, u Holandiji bez problema možete naći pomalo prljavu javnu baštu odmah do izuzetno skupih rezidencijalnih objekata čiji placevi sigurno koštaju čitavo bogatstvo. No, umesto da prodaju tu baštu nekome ko bi od toga napravio skupo uređeni objekat, oni je ostavljaju takvom kakva jeste – pomalo neuredna i dostupna svima. Iako Grad zna da bi za takvu parcelu mogao da dobije mnogo novca, oni joj puštaju da živi neki svoj život.
Kako Plzenj izgleda sada u odnosu na doba pre 2012. kada je ozbiljnije počelo da se radi na gradskom planu, pogotovo kada pričamo o javnim prostorima i zelenim površinama?
– Lepi projekti poput zajedničkih bašta dobro idu i pojavljuju je nove zelene površine. Ipak, uvek postoje projekti za koje moramo malo više da se borimo, čak i ako nisu neke velike promene u pitanju. Takođe, uvek je prisutan problem parking mesta kada se tačno vidi da je Gradu od interesa da izađe u susret komercijalnim objektima poput tržnica koji im donose profit, umesto da ukine nekoliko parking mesta kako bi se obezbedio lakši pristup do, na primer, određenih fakulteta. U takvim slučajima dobijamo podršku akademske zajednice, pa čak i nekih političara, ali razgovor ne prevagne uvek na našu stranu.
Recite nam nešto više o projektima mapiranja grada u koje je uključena vaša organizacija?
– Imamo nekoliko mapa grada koje se mogu naći na našem sajtu ali i u štampanom izdanju. Neke radimo mi, a neke su radile grupe koje su nam prišle putem javnog poziva. Među njima su zelena mapa grada, kao i neke druge zanimljive ture poput mape skulptura starog režima za koje ljudi obično misle da nisu posebno značajne, a zapravo imaju veliku istorijsku vrednost. Naši saradnici trenutno rade na mapiranju arhitektonskih objekata u gradu nastalih u prvoj polovini 20. veka, što uključuje i radove velikih čeških arhitekata poput Adolfa Loosa.
Od zapuštenog prolaza do igrališta za decu
U prvoj godini, organizacija "Pestuj prostor" primila je čak 83 predloga od strane građana od kojih je izvedeno nekoliko desetina. Posebno interesantan projekat predstavljen je na Divanu. U pitanju je uređenje nekada zapuštenog podzemnog prolaza i okoline jedne plzenjske škole u urbanom gradskom kvartu. Uz volontersku pomoć građana i učenika škole, ekipa ove organizacije uspela je da od nekadašnje krizne tačke u gradu napravi interesantno igralište za decu koje je sada dobro osvetljeno i bezbedno.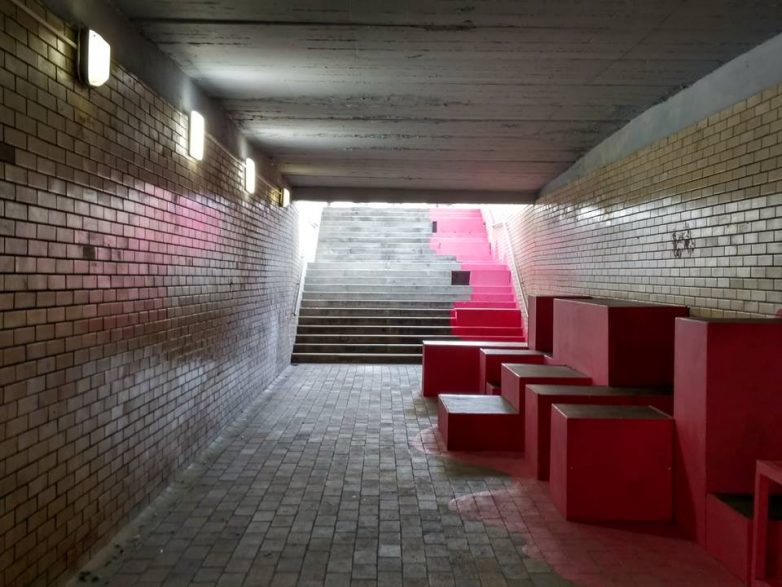 Projekti kod nas
Pored našeg sagovornika, u jučerašnjoj diskusiji učestvovali su: Vera Golubović iz Uprave za građevinsko zemljište i investicije Grada Novog Sada, Slobodan Jović kao predstavnik Društva arhitekata Novog Sada (DaNS), te Danica Jovović Prodanović iz Beogradske internacionalne nedelja arhitekture (BINA). Program je vodila je Vesna Farkaš. Fokus njihovog razgovora bilo je predstavljanje gradskih uprava i Društva arhitekata kao svojevrsnog servisa za pomoć građanima zainteresovanih za realizaciju projekata uređenja javnih prostora. Prvi koraci učinjeni su još prošle godine otvaranjem konkursa Nova mesta zahvaljujući kojem su pomoć dobile Mesna zajednica Kovilj, Sremska Kamenica i Telep.
Foto naslovna: Vnitroblok Krašovská
Kad ste već tu…