Kombinacijom različitih tehnika, ovaj pejzažni arhitekta iz Sombora pravi scenografije u enterijerima koje bude osećaj harmonije i povezuju nas sa prirodom.
Kada nekom enterijeru treba uneti svežine ili kada ga treba povezati s prirodom, jedna od veoma efektnih, ali nedovoljno primenjivanih tehnika za postizanje ovih karakteristika jesu zeleni zidovi. Da li će to biti ceo zid ili samo jedan njegov deo, zavisi prvo od funkcije i organizacije prostora, a onda i od estetskog senzibiliteta dizajnera pa i krajnjeg korisnika prostora.
Renato Lakatoš, pejzažni arhitekta i preduzetnik iz Sombora, poslednjih nekoliko godina, osim osnovne delatnosti planiranja, uređenja i održavanja zelenih i vodenih površina, bavi se još dekoracijom i biodekoracijom enterijera, među koje ubraja i nekoliko atraktivnih zelenih instalacija u komercijalnim prostorima koje su izvedene na našim prostorima. Pogledajte kako one izgledaju!
Brezova šuma
Instalacija u supermarketu Niš, Bogojevo 2015.
Prvi zeleni zid, tačnije zelenu instalaciju, Renato je formirao u ulaznoj partiji supermarketa gde je čitav jedan zid pretvoren u optičku iluziju brezove šume. To je učinjeno relativno jednostavnom tehnikom primene štampane foto-tapete brezove šume iz koje iskaču i praktično se trodimenionalno materijalizuju debla breza, paprati, i drugo šumsko bilje. Za trodimenzionalni efekat korišćena su prava debla i grane breze fiksirana na stabilnu drvenu podlogu, beli kamen oblutak i šumske kombinacije realističnih veštačkih biljaka sa tehnologijom Real Touch. To znači da kada ih dodirnete, i dalje ćete sebi postavljati pitanje jesu li one prave.
Iako je posmatraču potpuno jasno da je u toj scenografiji sve lažno i da to nije zaista šuma, ona u njemu budi osećaj harmonije, povezanosti sa prirodom i daje prostoru specifičnu svežinu i željeni zeleni identitet.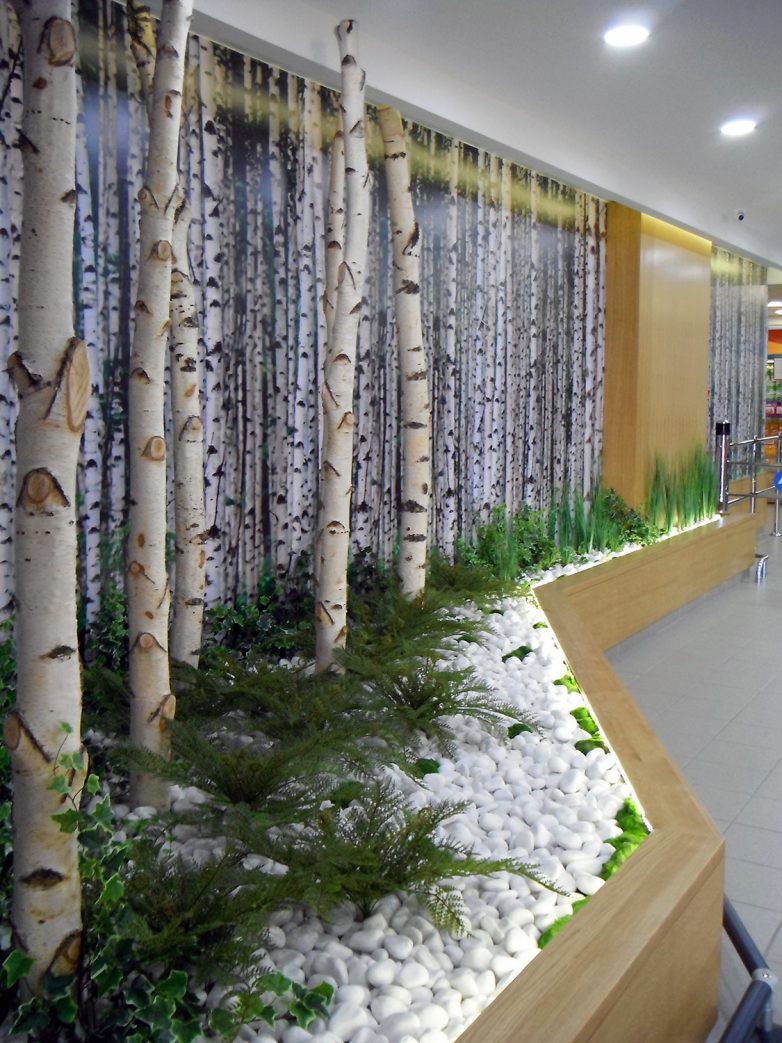 Zelenilo u nišama
Instalacija u kafeu SG Priča, Sombor, 2017.
Tokom uređenja kafea specifičnog autorskog oblikovanja enterijera u prizemju somborske Gradske kuće, obijeni malter otkrio je tragove prethodnih vekovnih adaptacija ovog prostora koja se vremenom menjala u zavisnosti od namene. Tokom poslednje adaptacije u kafe, pojavile su se dve lučne niše, nekadašnji zazidani portali, u koje je Renato ugradio specijalno izrađene konstrukcije sa kombinovanim pravim i veštačkim zelenilom.
Nakon formiranja zelenila u nišama, krenula je potraga za konstruktivnim kasetnim elementima zelenog zida. Tu su naišli prvi problemi zbog specifičnosti robe, potrebnih količina, dugog vremena isporuke, kao i samih dimenzija kasetnih elemenata. Nakon neuspešne potrage za gotovim elementima, Renato je odlučio da će dizajnirati sopstveni sistem po meri, koji su mu izradili lokalni građevinski limar i čeličar. Ta odluka bila je pun pogodak!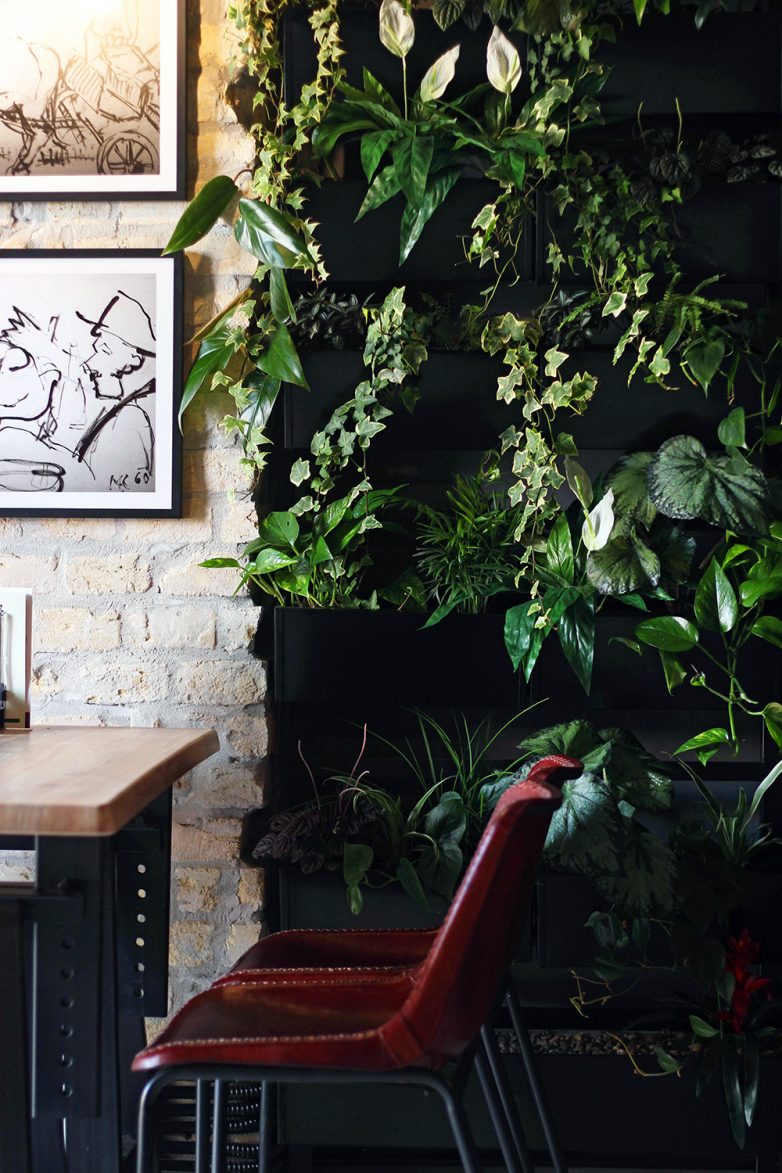 Volim da zbunim ljude koji će u jednom momentu pipnuti listove i povesti diskusiju na relaciji da li je to pravo ili veštačko cveće.
Sistem podrazumeva čelični ram sa poprečnim nosačima na koje se kače limene, delimično zakošene, posude sa supstratom i biljkama. Svaka posuda je zasebna i moguće ih je premeštati po želji i potrebi kompletno sa biljkama u njima. Prave i veštačke biljke su kombinovane u odnosu 3:2 u korist pravih biljaka. Osim što obezbeđuju ujednačenu i stabilnu ozelenjenost, ove kombinacije vremenom je potrebno zameniti usled gubljenja optimalne estetike ili odumiranja.
"Naročito volim da radim zbog čiste provokacije i drske želje da zbunim ljude, koji će svakako u jednom momentu pipnuti listove i povesti diskusiju na relaciji da li je to pravo ili veštačko cveće." – kaže Renato Lakatoš za naš portal.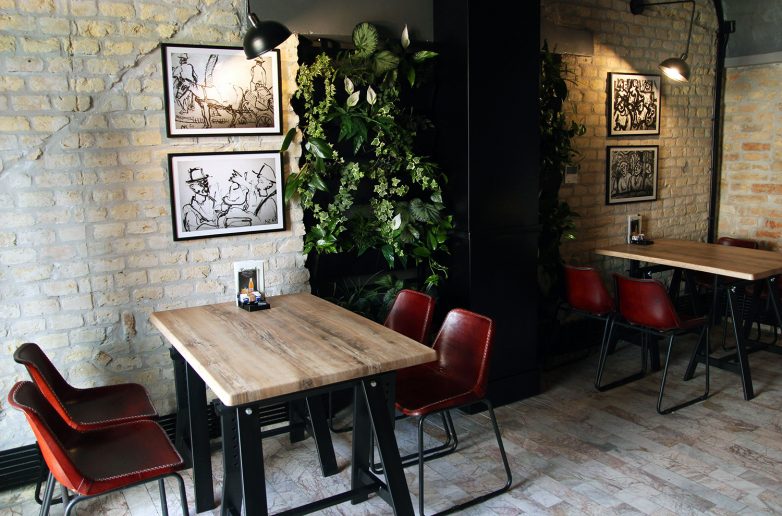 Sinagoga u zelenilu
Instalacija supermarket preduzeća Sinagoga doo, Sombor, 2018.
Ova instalacija nastala je iz potrebe da se na nezgodnom mestu zamaskiraju široke bočne strane kompozicije rashladnih vitrina i da se na ulazu u market stvori reprezentativna i pamtljiva slika brenda.
Kada je razvijen konačan dizajn instalacije, prvo je prema nacrtima montiran drveni okvir od univera koji će biti noseća baza za biljke. Ovaj okvir je ujedno i nosilac estetske masivnosti koja je bila neophodna da bi instalacija došla do željenog izražaja u otvorenom hangarskom tipu enterijera. Na unutrašnji deo montiranog drvenog okvira nalepljena je foto-tapeta prostog zelenila (mahovine, lišajevi i drugo ), a potom je na tu pozadinu dodat trodimenzionalan brend natpis specijalno izrađen od osam slepljenih slojeva šperploče sečene na CNC mašini. Radi postizanja efekta sjaja i isijavanja, na vršni deo slova je nalepljen beli glatki klirit.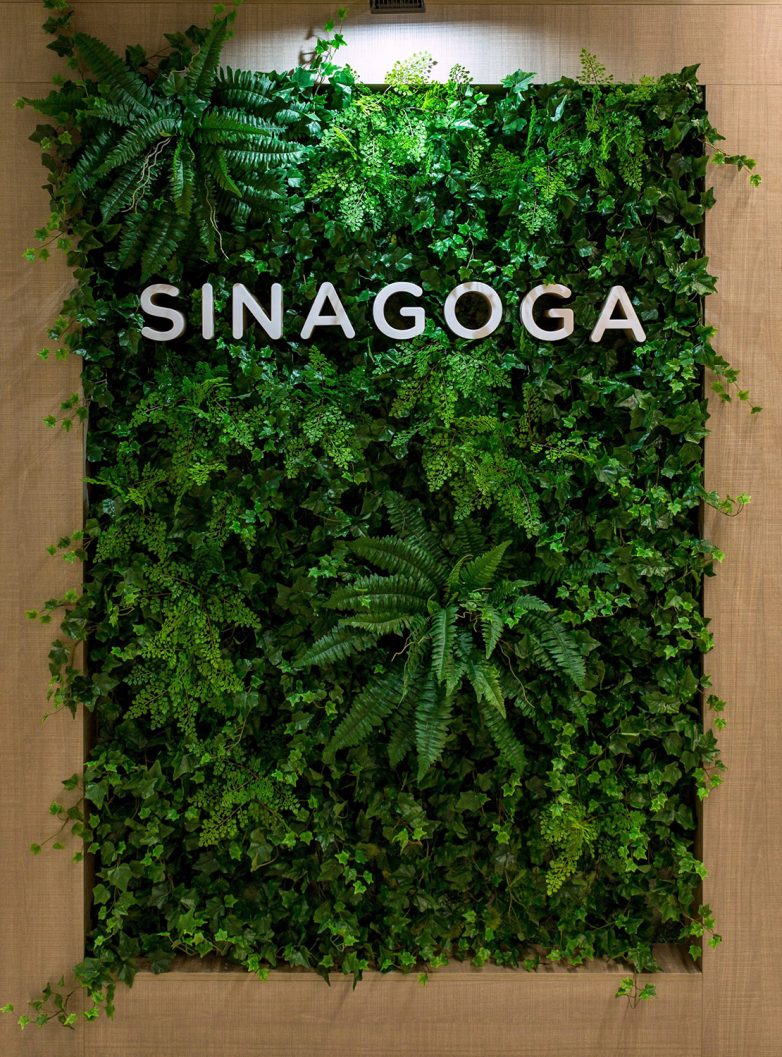 Vrhunske veštačke biljke sa tehnologijom Real Touch montirane su na kraju procesa slobodnim aranžiranjem i ubušivanjem u podlogu od univera sa foto-tapetom. Kombinovane su efektne šumske biljke koje odišu svežinom, poput bršljana i paprati. Ova relativno jednostavna instalacija dugoročno je obeležila brend preduzeća kao nešto novo i sveže na tržištu sa drugačijom ponudom i pristupom potrošačima.
Renatove ideje i realizacije čine da se i u komercijalnim enterijerima, kao što su prodavnice i kafići, unese dašak prirode jer biljke, pa makar to i veštačke ali za koje to ne možete na prvi pogled utvrditi, prave harmoniju zbog kojeg se kupci i gosti osećaju bolje. Pa i više troše! Krug je tako zatvoren.
Foto naslovna: Ivan Janković
Kad ste već ovde…