Dobar mural ostvaruje interakciju sa sredinom i postaje nezaobilazni deo ambijentalne celine u kojoj se nalazi, ocenjuje Milenko Vasić iz umetničke grupe Dim Tim u razgovoru za naš portal.
Pažnju stručne ali i šire javnosti je krajem prošle godine privukao mural Vizija od 155 metara kvadratnih oslikan na Geodetskoj školi u Beogradu kojeg je Dim Tim izveo sa grupom alpinista. Međutim, ovaj interesantan poduhvat, koji je privlačio pažnju prolaznika, je deo svakodnevice za Danijelu, Milenka pa i malu Iskru koje je posao oslikavanja murala odveo na sve strane sveta. Nas je za početak interesovalo ko čini ovu grupu i kako su počeli da se bave ovim poslom:
– Umetničku kolaborativnu grupu Dim Tim čine vizuelni umetnici Danijela Mršulja Vasić i Milenko Vasić, a tu je i naša petogodišnja kćerka Iskra Skiba koja nas svuda prati. U nazivu DIM njeno je srednje slovo "I". Od 2011. radimo zajedno na različitim umetničkim projektima u različitim medijima (slika, skulptura, fotografija i instalacija). U svojoj umetničkoj praksi Dim Tim se bavi utopijom, istorizacijom umetnosti i mogućnostima komunikacije među ljudima i različitim kulturama u vreme brze individualizacije koja je podstaknuta novim tehnologijama, društvenim mrežama i virtuelnim svetovima. Tražeći alternativne lokacije za izlaganje različitih umetničkih praksi promovišemo nove umetničke diskurse, pa smo tako od 2014. počeli sa izvođenjem murala u javnim prostorima.
Grupu Dim Tim čine vizuelni umetnici Danijela Mršulja Vasić i Milenko Vasić, a tu je i njihova petogodišnja ćerka Iskra Skiba.
– Koji su bili vaši prvi projekti i kako ih gledate iz današnje perspektive?
Za prvi takav projekat prostor i sredstva za produkciju je ponudio Vladimir Milentijević vlasnik poznatog restorana Zaplet na Crvenom Krstu u Beogradu. Kao kolekcionar savremene umetnosti on je već ranije ostvario saradnju sa nekoliko umetnika. Tako smo 2014. na fasadu Zapleta postavili uvećanje naše slike Metamorfoze ili Alibi za retoriku utopijske arhitekture koja se sada nalazi u Austriji. Restoran više nije na toj lokaciji ali naša slika dimenzija 5×2,5 metra jeste i na nju smo posebno ponosni.
U inostranstvu, naš prvi projekat je bio u gradu umetnika , u Gmundu u Austriji i taj rad nas je preporučio za projekat u starom zamku.
– Na kojim projektima trenutno radite?
U toku su završne pripreme za oslikavanje murala u Batutovoj ulici u Beogradu na Zvezdari. Mural ukupne površine od 100 m2 ima dinamičnu geometrizovanu formu. Čekamo na prvi duži period lepog vremena pošto je neophodno izvesti pripremne radove koji uključuju i sanaciju oronule fasade.
Biće to nastavak saradnje sa direktorkom Geodetske tehničke škole gospođom Marijom Radić nakon uspešno završenog projekta oslikavanja murala Vizija koji je u novembru 2017. izveo Dim Tim sa grupom alpinista na ukupno 155 m2. Mural je realizovan sredstvima Ministarstva kulture i informisanja Republike Srbije u okviru konkursa za finansiranje umetničkih dela iz oblasti vizuelnih umetnosti.
– Kako se tačno prave murali? Koje tehnike primenjujete?
Kao umetnici poznajemo tradicionalne tehnike za oslikavanje murala. Naša umetnost je bliska geometrizmu, a može se definisati i kao plošno slikarstvo ili način slikanja gde su dominantne linije kojima su oblici definisani, a boje se nanose ravnomerno na podlogu tako da se ne mogu uočiti potezi četke ili valjka. To je svojstveno egipatskoj, etrurskoj i vizantijskoj umetnosti, ali takođe i nekim pravcima umetnosti 20. veka kao što su kubizam, konstruktivizam i drugi. Najbliže određenje za formalne uzore Dim Tim-a i moguću plastičku aproprijaciju elemenata je umetnost međuratne avangarde kao i interdisciplinarna komunikacija aktera i dela delotvorno organizovanih oko institucije Bauhausa.
Koristimo kvalitetne fasadne akrilne boje koje nanosimo valjcima i četkama, retko koristimo sprejeve u boji.
Postupak je takav da odabrano idejno rešenje nacrtamo u tačnoj razmeri na hameru formata B1, a potom crtež prenosimo na fasadu uz pomoć dugačkih lenjira, libela, viska i zidarskog konca (majstori ga popularno zovu puc-puc). Površine se ograničavaju papirnom trakom kako bi se obezbedila preciznost linija koja je bitna za naše murale. Podrazumeva se da je zid prethodno dobro pripremljen, dakle ravan i suv, da mural ima kvalitetnu podlogu i osnovnu boju koju biramo tako da se uklopi u našu osnovnu zamisao. Koristimo kvalitetne fasadne akrilne boje koje nanosimo valjcima i četkama, retko koristimo sprejeve u boji. Za našu srebrnu boju imamo posebnu recepturu. Ta boja menja tonalitet u zavisnosti od količine svetlosti koju prima. Zbog toga mural postiže dinamičan performans, različit tokom dana ili noću, na suncu ili kada je oblačno.
Treba posebno istaći da je važno da su skele pravilno postavljene i da se poštuju svi aspekti bezbednosti za rad na visini, kako nas autora tako i naših asistenata. U dve situacije u proces smo uključili i alpiniste, kada zbog konfiguracije i nepristupačnosti nije bilo drugog rešenja.
– A kada se mural izvodi u zatvorenom prostoru?
Kada se mural radi u zatvorenom prostoru, koristimo spektar akrilnih boja za enterijere koje nanosimo valjkom i četkama. Slikanje murala je moguće pretvoriti u korporativni događaj, a u cilju tim bildinga uključiti i zaposlene, kao što je to bilo tokom našeg nedavnog boravka u Hanoju. Postigli smo sjajan rezultat i namera nam je da sa takvom praksom nastavimo i u Srbiji.
Ovim putem pozivamo na saradnju preduzeća, odnosno njihove marketinške i HR timove. Predavanje o umetnosti slikanja murala bi pratila radionica i na kraju zajedničko oslikavanje murala u radnom okruženju preduzeća.
– Da li se plašite visine? 
Ne bojimo se visine, mada nam nije svejedno. Važno je samo početi, kasnije sve postaje rutina.
– Da li je nekih nezgodnih situacija na radu? 
U junu 2016. godine dobili smo godišnju nagradu za najbolji mural na konkursu italijanske fondacije Paola de Manincor. Trebalo je u kratkom roku oslikati mural u Prijedoru na 185 m2, a za inauguraciju murala 5. avgusta pored domaće publike bilo je najavljeno i 70  zvanica iz Italije. Zbog oslikavanja murala pomerili smo za nekoliko dana svečano otvaranje naše izložbe u Kotoru koja je bila zakazana tri meseca ranije. Za par dana smo prešli 2.500 km u trouglu Beograd-Prijedor-Kotor. Vrlo malo smo spavali zbog paralelnih priprema za izložbu i za mural. U Prijedoru nas je čekao dobro pripremljen beli zid, dva asistenta – akademska slikara i prilično labava skela sa vertikalno postavljenim merdevinama za uspon na svih osam nivoa. Tražili smo šlemove i naišli na opšti smeh. Primetili smo da su metalne merdevine bile vezane žicom i tražili smo da se penjanje bolje obezbedi. Opet smeh, ali samo do momenta kada je naš asistent akademski slikar Ljubiša Pušac krenuo sa svojih 120 kilograma da se penje. Sjurio se dva tri metra zajedno sa merdevinama ka zemlji kao u crtanom filmu, na sreću spretno je pao i samo ugruvao koleno. Nakon toga su merdevine postavljene pod uglom tako da je naša sigurnost bila obezbeđena.
– Bila je to dobra škola…
Da, veoma dobra škola! Kiša i vetar su na dva tri dana rad na visini učinili opasnim i tako zaustavili radove. Zbog kratkog roka pokušali smo da ubrzamo proces i crtež nanesemo uz pomoć projektora. Međutim, to nam nije pošlo za rukom zbog konfiguracije i veličine fasade. Crtež smo postavili rukom, a tokom rada smo ga menjali i prilagođavali fasadi kako bismo u celinu inkorporirali dva prozora i podužnu kutiju sa instalacijama.
Postojala je bojazan da li ćemo dobiti željeni ton srebrne boje, ali to se desilo već u drugom pokušaju. Za mural smo dobili skupocenu crnu boju koja je na zidu bila siva. Zastupnik renomirane nemačke firme Caparol, pokušao je sa više premaza da to koriguje ali uzalud. Analizirajući problem shvatili smo da ta inače veoma kvalitetna Amphibolin 100% akrilna boja velike adhezivne moći i izuzetne otpornosti u svojoj formuli sadrži skupoceni ultramarin. Dilemu smo razrešili tako što smo nastavili rad sa običnom fasadnom crnom akrilnom bojom i dobili željeni rezultat.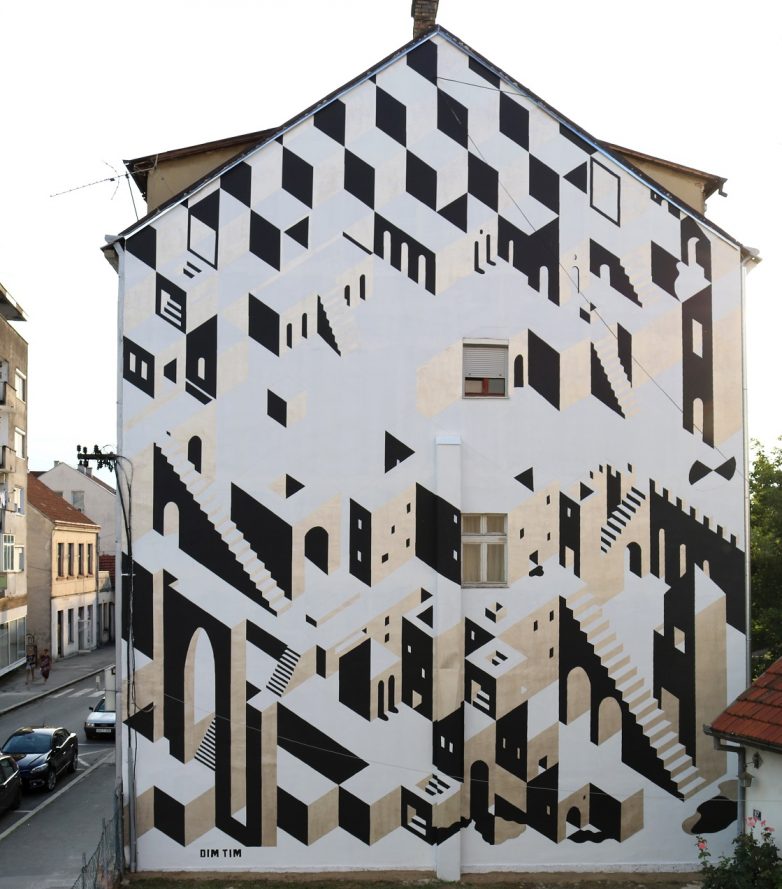 Ako želite pravi mural koji se može smatrati umetničkim delom, ta cena je od 20 evra po metru kvadratnom pa naviše.
– Koliko košta izrada ovakvih murala? 
Kod nas cena dosta varira. Ako želite pravi mural koji se može smatrati umetničkim delom, ta cena je od 20 evra po metru kvadratnom pa naviše. Faktori koji utiču na cenu su složenost motiva, kvalitet boja, visina postavljanja i pristupačnost.
U Vijetnamu, u Hanoju gradu od 8 miliona ljudi i sa najvišom zgradom od 72 sprata, cena murala je oko 40 evra po metru kvadratnom, pri tome nivo troškova života je sličan našem.
Cene u SAD su znatno više, pa je tako za mural površine oko 15 kvadrata plaćeno 5.600 dolara. Dakle, cena od oko 370 dolara po kvadratu može biti i uvećana ukoliko je umetnik etabliran i ako su mu radovi traženi.
– Koliko su murali otporni na vremenske uticaje?
Dobra podloga i kvalitetne boje garantuju postojanost i dugotrajnost murala tako da vremenski uticaji ne predstavljaju bitan problem. Ovo posebno nakon fantastičnog uspeha tima tehnologa-istraživača sa Tehnološkog fakulteta u Novom Sadu koji su proizveli suspenziju Heromat, samočistivu prevlaku koja bez velikih troškova čuva murale.
– A od vandala?
Sprej u rukama vandala je glavni neprijatelj murala. Pogledajte onaj čuveni Veličkovićev mural na platou ispred Filozofskog fakulteta u Beogradu i do koje se visine popnu da sprejevima ispišu svoje poruke na tom zidu. A taj mural je možda i najznačajniji mural koji imamo u Srbiji. Čak mu ni to nije dovoljna legitimacija i zaštita.
Navešćemo kao suprotan, dakle dobar, primer iz Čačka gde se murali vole, poštuju i čuvaju. Mladi ljudi su shvatili da se lepše živi sa muralima poput onog sa reprodukcijom slike Žetva velike slikarke Nadežde Petrović. U saradnji sa galerijom njenog imena smo prošle godine za noć muzeja postavili u centru grada baner sa našom slikom Otkrivanje grada 11 x 5,5 metara.
Još jedan dobar primer je grad Prijedor u BiH. Tamo nema šaranja po fasadama i ljudi su ponosni na činjenicu da žive u gradu murala kako Prijedor od nedavno nazivaju.
– Kako se borite sa digitalnom štampom koja zamenjuje ručni rad?
Pravi mural je unikatno umetničko delo per se. I to ostaje za sva vremena. A baner je print i kao takvog ga treba i tretirati.
Uzmimo kao primer za paralelu uljanu sliku i fotografiju. Kod nas još uvek fotografija nije na ceni, ali treba znati da je do danas najskuplje plaćena fotografija na svetu, Rajna nemačkog umetnika Andreasa Gurskog, koštala 4,3 miliona dolara. Dakle, može i baner ali u određenim uslovima. To je jeftinije rešenje sa kraćim vekom trajanja, lako se menja, nema draž i lepotu murala, odnosno nema vrednost originala. Banksy vrlo uspešno prodaje printove svojih murala za svoje dobrotvorne akcije. Naravno, znate onu izreku: Ako ne možeš protiv njih, pridruži im se.
Između ostalih realizovali smo baner i u dvorcu Alte Burg Gmund iz 1252. godine u Austriji. Tamo je baner ispunio u potpunosti sve postavljene zahteve. Na tim zidovima se ni esker nije smeo zakucati, a kamoli oslikati mural. Naš digitalni print Piano dimenzija 5×9 metara, od materijala koji ispunjava sve komplikovane zahteve zaštitara čak i one protivpožarne, stoji iznad ulaza u svečanu koncertnu dvoranu, na naše i zadovoljstvo inače veoma probirljivih vlasnika.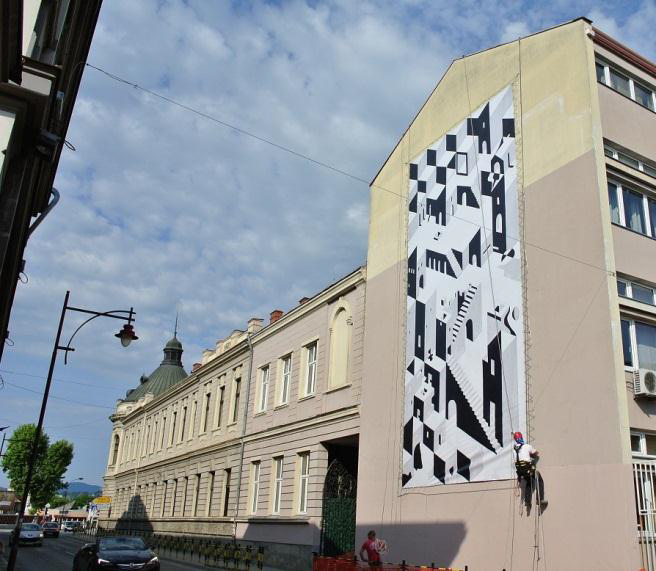 Još jedan primer uspešne primene printova velikih dimenzija je takozvano oblačenje nebodera Ringturm, koji je posle drugog svetskog rata sa svijih 92 metra bio najviša zgrada u Beču. Tu je smeštena centrala kompanije Wiener Stadtische. Svake godine umetnici iz različitih zemalja obuku zgradu u svoja umetnička dela uz pomoć ogromnog printa. Trake su dugačke 63 metra, široke 3 metra i spajaju se u celinu. Dim Tim je sa svojim  projektom bio u užem izboru na konkursu za 2017. godinu i nastaviće sa sličnom praksom i u drugim državama i gradovima.
Svake godine umetnici iz različitih zemalja obuku bečku zgradu u svoja umetnička dela uz pomoć ogromnog printa.
– Koliko je ova ulična umetnost prihvaćena na našim prostorima?
Istorijski oslikavanje murala nema kontinuiran tok kod nas, nego se odvija u vidu kampanjskih akcija koje se mogu grupisati u nekoliko celina. Jednu od prvih većih akcija oslikavanja murala inicirao je gospodin Čedomir Vasić,  profesor na FLU. Takođe, bitna inicijativa oslikavanja murala bila je 1989. godine i vezana je za IX Samit nesvrstanih zemalja koji je održan u Beogradu. Tu su i inicijative u okviru Beogradskog letnjeg festivala (BELEF) i projekta Karakterom protiv nasilja, kao i u organizaciji platforme za savremenu umetnost – Kiosk. Treba pomenuti i oslikavanje murala u okviru priprema za manifestaciju Novi Sad – Evropska prestonica kulture 2021. godine.
Među autorima oslikanih fasada su i poznati domaći i strani umetnici, a mnogi njihovi radovi su u međuvremenu uništeni ili oštećeni, što ukazuje na neupućenost i nezainteresovanost  sredine. Većina murala finansirana je od gradskih  i opštinskih uprava, a u tri poslednje godine i od strane Ministarstva kulture i informisanja Republike Srbije u okviru konkursa za finansiranje umetničkih dela iz oblasti vizuelnih umetnosti. Povremeno tu su inicijative kompanija koje se bave proizvodnjom boja, zatim NIS-a, Aerodroma Nikola Tesla, firme Bosis iz Valjeva i tako dalje.
Ulična umetnost je u svetu zahvaljujući umetnicima poput Benksija osigurala respekt i dostojno vrednovanje, a kod nas je sve to još uvek u povoju. Imajući u vidu kompleksnost postupka izvođenja i efekat koji imaju na okolinu, murali su kod nas kao medij nedovoljno cenjeni i zastupljeni. "Art" je suviše ozbiljna reč a dosta se toga švercuje kao "street art". Treba ukazati na kič i šund, razlikovati dekorativni od umetničkog koncepta, zatim naivni crtež od crteža umetnika, a takođe tematski isprazan od murala sa porukom koja se razume, prihvata i traje. Dobar mural ostvaruje interakciju sa sredinom i postaje nezaobilazni deo ambijentalne celine u kojoj se nalazi.
– Koji su vaši budući projekti?
Sledeći projekat je dvanaesta samostalna izložba u galeriji Zvono u Beogradu koju će Dim Tim imati u drugoj polovini maja. Za tu izložbu od početka godine pripremamo seriju novih slika i asemblaža.
Pripremamo nacrte i za murale koje ćemo izvesti tokom narednog Artist in residence programa u Bosni u interesantnom prostoru napuštene fabrike koju već nekoliko godina uspešno revitalizuje gospodin Mihael Švim iz Nemačke. Tokom protekle četiri godine tu su svoje murale oslikali umetnici iz Japana, Meksika, Turske, Nemačke i drugih zemalja. Gospodinu Švimu se dopao naš mural koji smo 2016. izveli u Prijedoru kao i naša prošlogodišnja izložba Eho u galeriji na 450 m2 u Kamenoj kući u Banjaluci. Artist in residence projekat će trajati tokom celog jula, raduje nas taj novi izazov, posebno što ćemo provesti mesec dana pored Une, kako kažu najlepše reke u Evropi.
Takođe, pozvani smo da na jesen provedemo tri meseca na umetničkom rezidensu u Švajcarskoj,  na Lemanskom jezeru nedaleko od Ženeve. Biće to za nas još jedno dragoceno iskustvo a možda i lokacija za još jedan mural.
Kad ste već ovde…