Studentsko ćoše
Kako transformisati Rašku u grad pešaka koji miriše na jorgovan
Kao što je Uroš I Nemanjić, za doček supruge iz Provanse, sure litice doline Ibra sakrio cvetovima ljubičaste boje, tako i ovaj master rad predviđa da Raška ponovo prekrije jorgovanima ali i da se podredi pešacima.
Tema studije transformacije dela industrijske zone grada Raške u "grad po meri pešaka" kao i sam zadatak master teze Strahinje Banovića, pod mentorstvom Prof. dr Darka Rebe, imao je cilj da pokaže kako dobro urbano planiranje utiče na socijalizaciju stanovništva.
Društvo i međuljudski odnosi su sve veći problem današnjice, jer ljudi jedni na druge gledaju samo kao na prepreke koje se nalaze na njihovom putu. Dobrom arhitekturom i dobrim urbanim planiranjem može se podstaći veća interakcija ljudi u prostoru čime će obogati svoj društveni život.
Socijalizacija kao globalni problem danas, odnosno njen nedostatak, izaziva osećaj usamljenosti u punom gradu i neprijatnost među ljudima kao psihološko stanje većine. U mnogo slučajeva u svetu se dešava da zbog izostavljanja ljudskog faktora pri projektovanju, osobe koje žive u istoj zgradi se ne poznaju uopšte.
Kreiranjem površina u kojima se konstantno dešava određena interakcija, uključuje ljude koji tu žive ili privlači turiste. Tako kreirana arhitektura će na taj način odavati totalno drugačiji utisak o tom mestu, dajući mu nov život i podstičući njegovu živost, jer ljudi su ti koji gradu daju atmosferu, a ne zgrade.
Cilj ovog izučavanja bio je pronalaženje rešenja za kreiranje, aktiviranje i podsticanje društvene socijalizacije izazvano kreiranjem "dobre" arhitekture i urbanizma u gradu. Na delu industrijske zone grada Raške, kompletno planiranje podređeno je čoveku i kreiramo za ljude, to jest, po meri pešaka.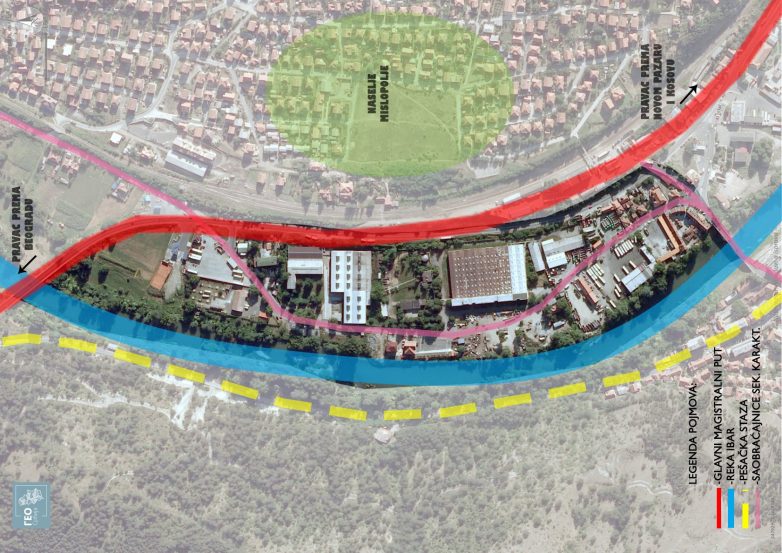 Pošto jorgovan lepo izgleda i opojno miriše, ovakav prizor bi očarao svakog ko prođe magistralnim putem.
Izabrana lokacija se nalazi u industrijskoj zoni naselja Raška, okrenuta širom stranom prema magistralnom putu koji povezuje Novi Pazar, Kosovsku Mitrovicu i Beograd sa jedne strane i prema reci Ibar sa suprotne strane, celom dužinom. Objekti u neposrednom okruženju su spratnosti od P+1 do P+6+Pk, građeni u različitim periodima 20. veka, sa karakterističnim modernističkim kao i industrijskim stilom. Planirana lokacija nalazi se u blizini glavnog mosta koji spaja Vlasovo i grad Rašku i u direktnom je kontaktu sa istim. Na udaljenosti je 300 metara od centra grada, tj. glavnog trga.
Koncept projekta obuhvata arhitektonsko urbanistički potez, koji će uticajem novokreiranog prostora aktivirati socijalizaciju, edukaciju i rekreaciju u ovom gradu. Na takav način će pokazati da se pešacima treba dati više površine na zemlji, a da se automobilski saobraćaj odvija ispod.
Jorgovan s razlogom
Primenom principa održive arhitekture implementiranjem zelenila (stabla jorgovana), a i preko sistema za sakupljanje kišnice koja se može koristiti za sanitarnu vodu, štitimo pijaću vodu koja važi za jednu od najčistijih u Srbiji.
Jorgovan nije slučajno izabran… Naime, srpski kralj Uroš I Nemanjić je želeo da na poseban način dočeka svoju buduću suprugu, pa je naredio da se pre njenog dolaska duž nepristupačne doline Ibra posadi prelepo cvetno drveće jorgovana kako bi je predeo podsećao na njenu rodnu Provansu. Sure litice doline Ibra sakrili su veliki grozdasti cvetovi ljubičaste boje, a taj stenovit kraj postao je prilično pitom.
Pošto cvet jorgovana stvara lep prizor pri cvetanju a i opojno miriše, ovakav prizor bi očarao svakog ko prođe magistralnim putem. To bi postao novi simbol Raške – simbol s razlogom.
Prostorni koncept
Pored ankete koju je korišćena kao ulazne referenca u procesu projektovanja, kroz analize kao drugi deo ulaznih referenci, nastojalo se da se poveže predmetna lokacija sa gradom. To je urađeno kroz tri vrste povezivanja:
Povezivanje događaja u gradu sa pešacima
Povezivanje pešaka sa rekom Ibar, kao draguljem grada
Povezivanje grada i lokacije sa rekom kao zapostavljenim elementom.
Dijagram povezanosti
Kao logičan sled istraživanja, bilo je potrebno doći do razmatranja programskih aktivnosti koje bi pomogle u aktiviranju socijalizacije tokom cele godine. Na takav način bi grad bi oživljen u kontinuitetu tokom cele godine, nezavisno od starosnih generacija. Još jedan način podsticanja socijalizacije je aktiviranjem prizemlja raznim sadržajima kao jedan od glavnih potencijala projekta za povećanje društvene interakcije.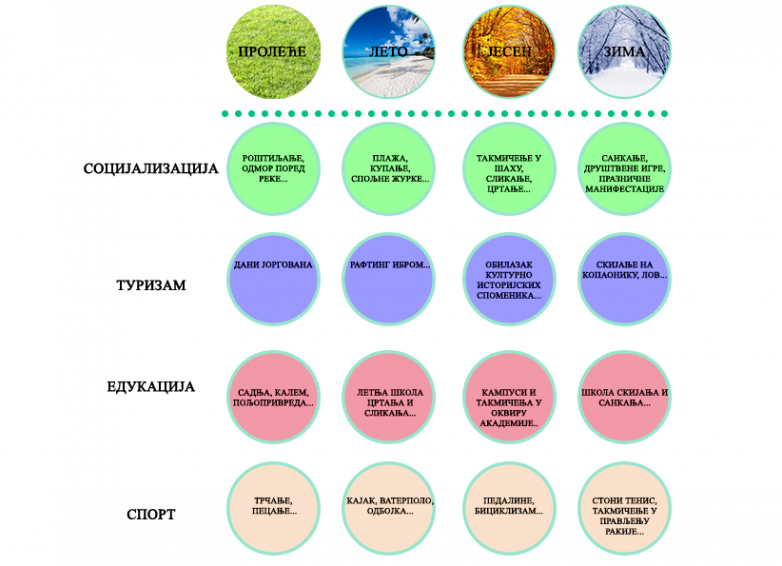 Objekti će imati ulogu da podstiču interakciju između komšija.
Funkcionalna podela lokacije deli se u tri osnovne grupe: zonu edukacije, rekreacije i stanovanja. Sve tri zone su povezane stazama za pešake i bicikliste, dok se u automobilskom saobraćaju "prekida" saobraćaj na površini zemlje na ulazima u ovaj deo, koji je rešen podzemnim tunelom, koji je zaštićen drenažnim cevima do podzemnih voda koje postoje od reke Ibar kao i svi ostali objekti u neposrednoj blizini.
U zoni stanovanja su primenjeni objekti kolektivnog stanovanja jednaki po tipologiji ali svaki različit i specifičan na svoj način, tako da predstavljaju jednu zanimljivu stambenu celinu, koja će biti prepoznatljiva po svom jedinstvu u različitosti.
Objekti će imati ulogu da podstiču interakciju između komšija orijentisani tako da u budućnosti zajednički prostori stanara jedne zgrade razbiju barijeru i sastave taj prostor sa stanarima druge zgrade i na taj način prošire svoje zajedničke prostore i započnu interakciju preko tih objekata sa svima oko sebe. Svaki objekat ima sopstvenu garažu za parking automobila ispod površine zemlje kako bi automobili izgubili svako pravo da budu na površini zemlje i zagađuju okolinu.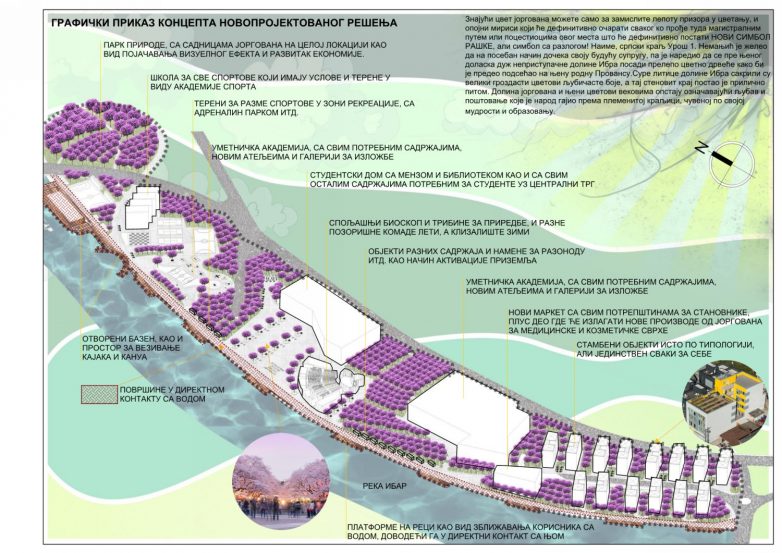 Grafički prikaz koncepta novoprojektovanog rešenja
Studentski kampus i akademija
Što se tiče zone za edukaciju ona sadrži studentski kampus "Dolina Jorgovana", koji u sebi ima sve potrebne sadržaje koji karakterišu jedan takav vid kampusa "ogrnut" drvećem jorgovana.
Kreiran je centralni trg sa prostorima za sedenje, okupljanje i druženje, kao i lokalima različitog sadržaja i raznolikih izgleda kao vid "aktivacije prizemlja" u cilju poboljšanja interakcije.
Kao najbitniji objekat tu se nalazi Umetnička akademija kao jedan definitivno potreban objekat ovom gradu prepunom umetnosti na svakom koraku. Leti takođe studenti mogu da pripremaju priredbe i izvedbe kao i mini koncerte i razne manifestacije na temu umetnosti, scenskog dizajna ili muzike dok se zimi tribine sklope i to se pretvori u klizalište gde se aktivira škola umetničkog klizanja.
U delu rekreacije nalazi se mnoštvo sportskih sadržaja koje ćete videti u grafičkim prilozima da ih ne bismo nabrajali bespotrebno. Kreirani su tereni za fudbal, tenis, otvoreni bazeni itd., za letnje sportove, kao i adrenalin parkovi. Zimi se organizuju škola klizanja, šaha itd…