Arhitektura
Ljudsko telo kao merna jedinica u svetu koji nas okružuje
Čuveni Le Korbizije imao je svoje teorije o trenutku diskonekcije ljudskog tela u arhitekturi i o težnji da se ono usko poveže sa njom.
Davne 1948. godine Le Korbizije je izdao jednu od svojih najpoznatijih publikacija Modular, da bi zatim nekoliko godina kasnije izdao i Modular 2. U ovim tekstualnim izdanjima arhitekta je izrazio svoju podršku istraživanjima njegovih prethodnika, Vitruvija, Da Vinčija i Batiste Albertija na temu pronalaženja matematičkih odnosa između ljudske dimenzije i prirode.
Istraživanja ovih velikana predstavljaju težnju da se dokaže povezanost proporcija i izgradnje Partenona i sličnih hramova po merama ljudskog tela. Naime, u prilog ovoj teoriji idu nazivi za instrumente merenja poput lakta, stope, palca, dlana, koji aludiraju na delove ljudskog tela, a koji su naziv za određenu mernu dužinu.
Sve se promenilo kada je svet postao povezaniji i kada su se kontinenti morali na neki način ujediniti i u mernom sistemu.
I zaista za njihovog doba mogli su se koristiti lokalni sistemi merenja, bez preterane potrebe za standardizacijom. Međutim, ovo se promenilo kada je svet postao povezaniji i kada su se kontinenti morali na neki način ujediniti i u mernom sistemu. Francuska revolucija otvorila je vrata mnogim naučnim dostignućima koja su testirala granice čoveka i koja su u sistem standardizacije uvrstila metar kao osnovnu mernu jedinicu za dužinu.
Novo merenje, tačno precizirano, predstavlja merni put izvan onog koji je bio moguć zahvaljujući ljudskom telu, te se čovečanstvo suočilo da disocijacijom između tela i njegovog staništa u novom svetu, piše ArchDaily.
Le Korbizjeov doprinos
S druge strane Le Korbizijeov Modular proizilazi iz težnje autora za uspostavljanjem harmonije između prostora i ljudskog tela što simbolizuje korak ka vezivanju tela i arhitektonskog sveta.
Nije neophodno biti stručnjak za arhitekturu ili anatomiju pa da se zaključi da mere po Modularu aludiraju na telo od 180 centimetra bele, evropeidne rase koja se najčešće i može videti u filmovima, časopisima ili na malim ekranima, što daje nagoveštaj kako je arhitektura zapravo u bliskoj vezi sa šou biznisom. Iako evropeidi čine samo jedna mali deo svetske populacije, Le Korbizije ju je iskoristio ne bi li ponovno uspostavio ljudsko telo kao merilo.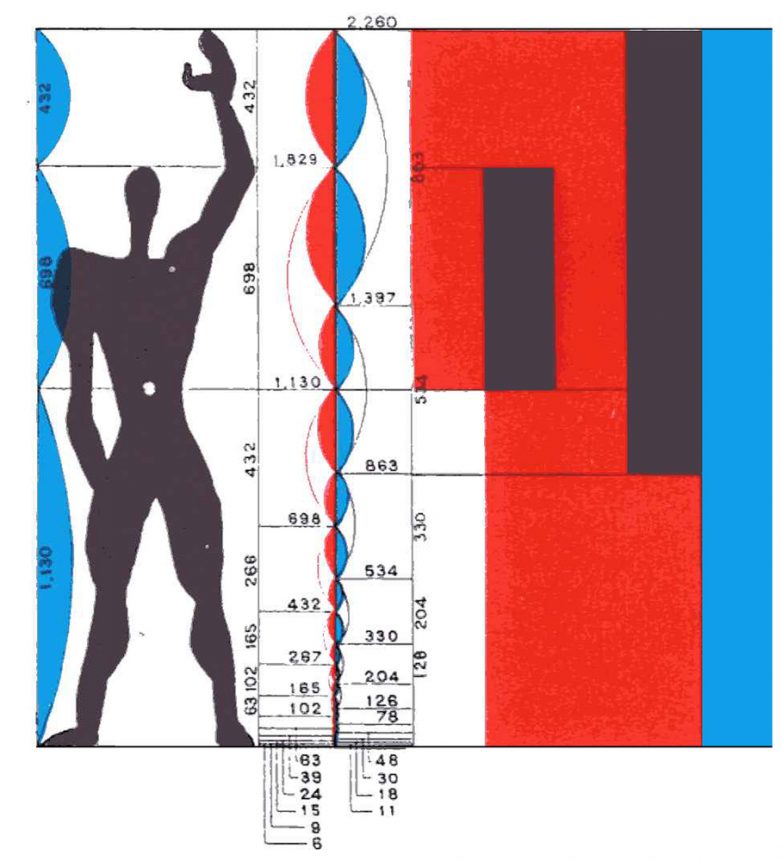 Prilagođavanje kontekstu života
Modular predstavlja značajan napredak u istoriji arhitekture jer je ukazao na isključivanje odnosa našeg okruženja s telom čoveka koje je izazvala industrijalizacija, kao i na njene konstantne pokušaje uvođenja standardizacije. On se oslanja na stvaranje sistema kroz proporcije ljudskog tela u koncepciji ljudskog merila gde je čovek merilo stvari i osnovni modul koji predstavlja dobru meru za univerzalnu primenu u arhitekturi.
Le Korbizije je svakako otvorio jednu značajnu temu a to je da je neophodno nastaviti s revizijom lekcija koje su nam ostavili naši preci, te da otkrijemo šta se to sve može prilagoditi našem savremenom kontekstu života.
Kad ste već ovde…