Konkursi
Naša arhitektica finalista na konkursu za muzejski kompleks u Italiji
Maja Goračinska iz Beograda je osmislila strukture koje izgledaju kao da su uronjene u prirodu, i kao da su deo okruženja od samog početka vremena.
YAC (Young Architects Competition) je raspisao konkurs za dizajniranje sistema objekata koji bi trebali da budu raspoređeni po jednom od najzanimljivijih "art-parkova" na svetu u mestu Arte Sella koje se nalazi na brdovitom severu Italije.
Arte Sella je muzej na otvorenom u kojem su brojni svetski umetnici ostavili traga prethodnih decenija kroz niz umetničkih instalacija koje su bile savršeno uklopljene u pejzaž. Instalacije su bile koncentrisane duž zemljanog puta kojim su desetine turista dnevno imale prilike da vidi kreativne kompozicije od metala, drveta, pruća i mnogih drugih materijala. Nažalost, usled velike oluje koja je zadesila park u oktobru 2018. godine, jedan broj umetničkih radova je zauvek uništen.
YAC je raspisao konkurs Calamity Atelier sa željom da ponovi približi umetnike i prirodu i da kroz par ateljea za umetnike, muzej gde mogu da budu izloženi ostaci porušenih radova, restoran i auditorium osveži sećanje na umetnike čiji su radovi uništeni ali i dovede nove umetnike da tu stvaraju.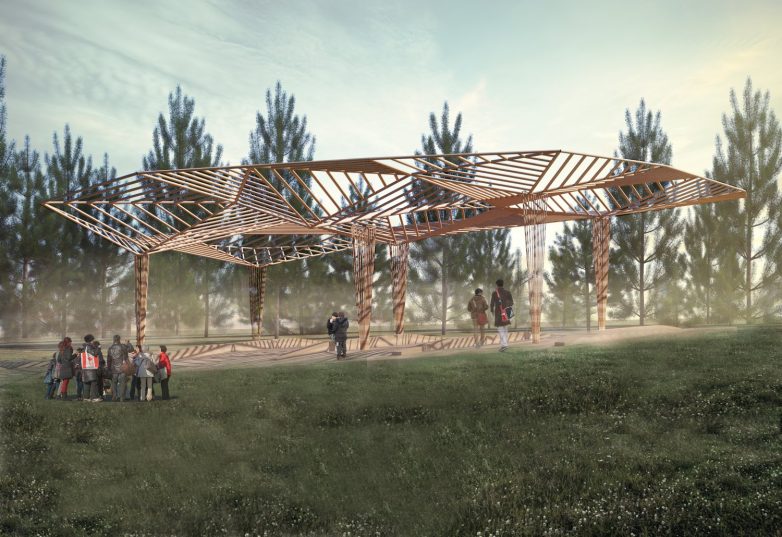 Želela sam da strukture izgledaju kao da su uronjene u prirodu, da se na neinvazivan način nadovezuju na pejzaž.
"Jedna od najvažnijih ideja u procesu dizajna je bila da strukture izgledaju kao da su uronjene u prirodu, da se na neinvazivan način nadovezuju na pejzaž i da izgledaju kao da su deo okruženja od samog početka vremena." – kaže Maja za naš portal. Predvidela je 5 umetničkih ateljea, muzej nestalih radova i auditorijum za posetioce. "Nisam zamislila nikakve puteve koji bi ih povezivali jer želim da uticaj struktura na prirodu bude najminimalniji moguć. Takođe, želela sam da one budu neočekivana "otkrića" posetilaca muzeja Arte Sella." – dodaje Maja Goračinska.
Umetnički ateljei
Svih 5 ateljea je identične površine – 90 metara kvadratnih. Izdužena staklena fasada pruža neometan pogled na okolni pejzaž a duž nje se prostire dugačka terasa. Uprkos svom organskom izgledu atelje je zapravo ortogonalne forme čija je jedna ivica pritisnuta tako da se atelje uvlači u nagib terena, a iznad krova se stvara lako dostupna zelena površina. U samom sastavu ateljea se nalaze spavaća soba, kuhinja, kupatilo i radni prostor, a ukoliko vremenske prilike to dozvoljavaju, moguće je premestiti prostor za rad i na dugačku terasu ili na sam zeleni krov objekta. Struktura se sastoji iz drvenih stubova i greda koji su nagnuti.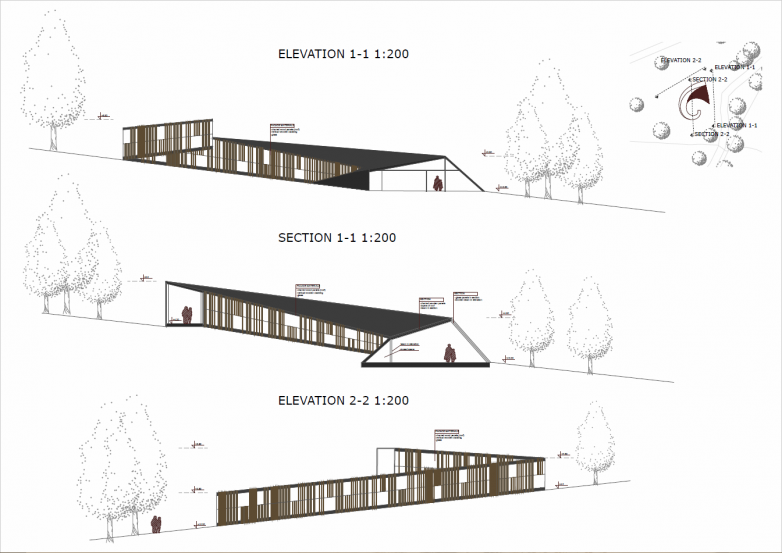 Muzej nestalih stvari
"Najvažniji zadatak tokom projektovanja muzeja mi je bio da prenesem adekvatnu emociju posetiocima ovog objekta." – kaže Maja Goračinska. Zbog forme koja prati teren u padu posetioci su primorani da se penju ili spuštaju dok obilaze radove što je simbolično za samo penjanje i silazak sa vrha planine. Spiralna forma stvara ambijent u kojem posetioci dok prolaze kroz muzej gube iz vida sve ranije izložene radove, jer kada pogledaju preko svog ramena, njihov pogled je ograničen zakrivljenim muzejskim zidovima. Na ovaj način posetioci su primorani da se fokusiraju samo na objekte koji su ispred njih jer je to sve što mogu da obuhvate pogledom u tom trenutku. Namera dizajna je da uhvati suštinu efemerne prirode čitavog muzeja Arte Sella gde je posetilac podstaknut da se fokusira samo na trenutni prolazni momenat. Deo krova je prohodan i sa njega se pružaju lepe vizure na okolni pejzaž.
Auditorijum
Auditorijum je sačinjen od drvenih letvi koje su rotirane u raznim pravcima tako da u svakom trenutku pružaju zaklon od sunca. Krov se sastoji iz transparentnih panela od polikarbonata koji pružaju zaklon od kiše i svu kišnicu usmeravaju ka centrima šest nosećih stubova odakle dalje prolazi kroz drenažni sloj ispod ploče auditorijuma i vraća se nazad u tlo. Inspiracija za formu je bilo drveće koje se obično i koristi kao zaklon od kiše ili sunca i koje je ponekad i meeting point za javna okupljanja i sastanke.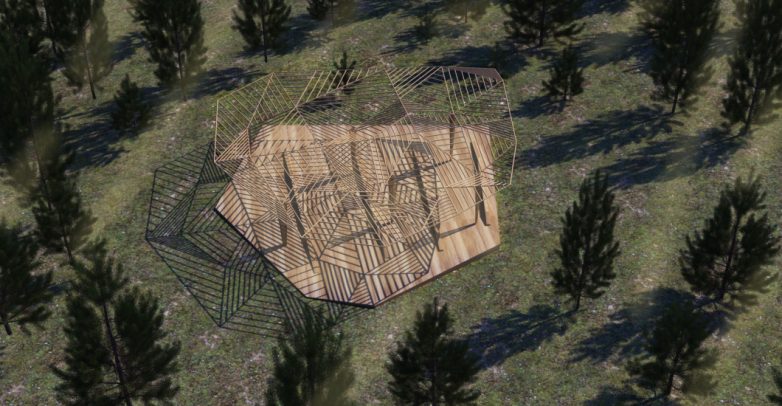 Arhitektica Maja Goračinska se na ovom međunardnom konkursu koji za mlade arhitekte organizuje YAC, našla među finalistima. Prva nagrada otišla je u Kinu.
Kad ste već ovde…