Svetski praznik (ne)rada Beograđani najčešće proslavljaju na izletištima poput Košutnjaka, Ade Ciganlije i Avale. Ovo poslednje izletište posebno je zanimljivo, jer se pored prirodnih lepota, izletnici mogu susresti i sa zanimljivom arhitekturom. Arhitektonska dela sagrađena na Avali potiču iz različitih istorijskih perioda, a posebno zagonetna su ona iz međuratnog perioda.
O spomeniku poginulim crvenoarmejcima i Avalskom tornju će biti reči u nekom narednom tekstu, dok će u ovom glavni motivi biti Spomenik neznanom junaku i Hotel Avala, izgrađeni u periodu Kraljevine SHS/Jugoslavije. Oba arhitektonska dela poseduju veoma zanimljivu graditeljsko-filozofsku koncepciju, koja je poznata samo malom broju stručnjaka.
Zajedničko za oba ostvarenja je da su građena na inicijativu kralja Aleksandra Karađorđevića i da su njihovi autori pažljivo odabrani umetnici/arhitekte, koji su već uveliko stvarali u prestonici Kraljevine SHS. Zašto je ovaj koncept, sa velikom pažnjom pokrenut od strane kralja Aleksandra, doživeo svoju realizaciju upravo na Avali, pokušaćemo da rasvetlimo kroz ovaj tekst.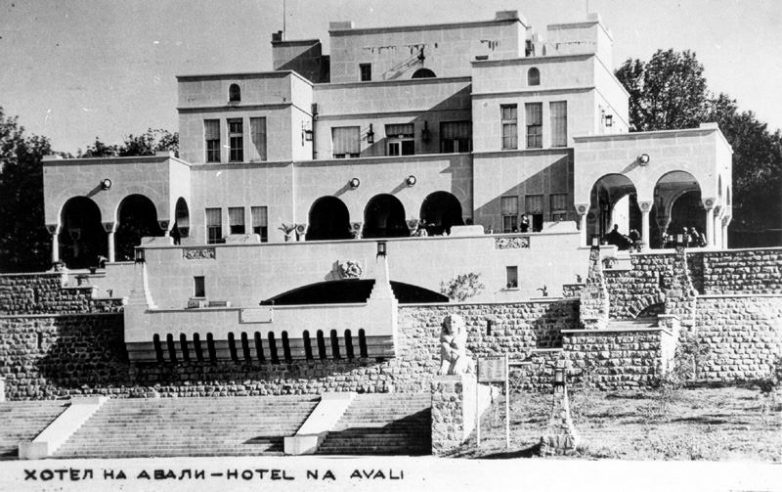 Hotel Avala poseduje formu srednjovekovnog utvrđenja, a najviše pažnje posmatrača privlače dve monumentalne statue sfinge.
Najpre je na kraljev zahtev 1928. godine (po nekim istraživanjima 1931), za potrebe Ministarstva ruda, šumarstva i vodoprivrede, izgrađen hotel Avala, gde se kao autor potpisuje ruski arhitekta Viktor Lukomski. Njegova najznačajnija referenca pre hotela, bila je projektovanje kompleksa Kraljevskog dvora na Dedinju (koautor arhitekta Živojin Nikolić) u periodu od 1924. i 1929. godine, dok je posle hotela 1935. godine projektovao zgradu Patrijaršije, koja se nalazi preko puta Saborne crkve. Zajedničko za sve ove projekte je da su izvedeni u arhitekturi kod koje dominira prisustvo srpskog srednjovekovnog graditeljstva, takozvanog (neo)srpsko-vizantijski stil, što se može videti u primeni rustičnih kamenih kvadera, srednjovekovnih lukova i portala, prozorskih otvora i prepoznatljivoj dekoraciji. Autor dekoracija na svim objektima bio je još jedan Rus, vajar Vladimir Zagorodnjuk.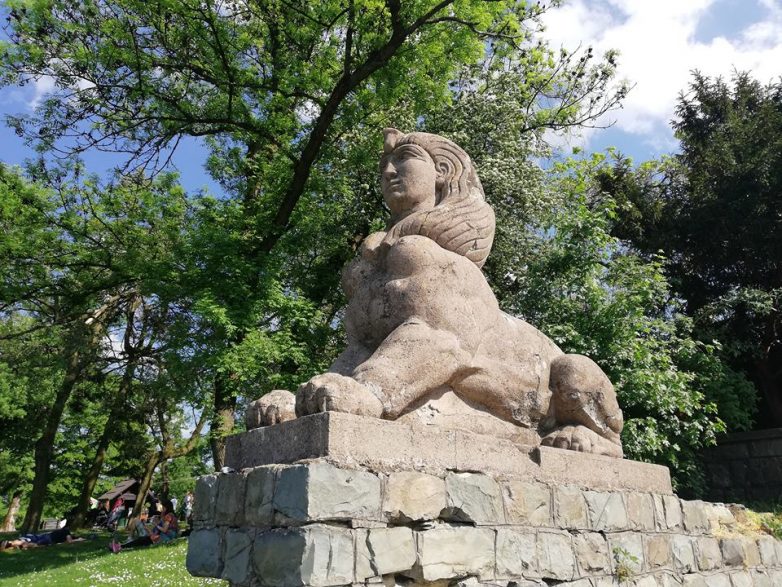 Borba čoveka i prirode
Kao što se na prvi pogled primećuje, hotel Avala takođe poseduje formu srednjovekovnog utvrđenja, sa grubo obrađenim kamenim kvaderima, kojima je obrađen kaskadni stepenišni prilaz i prostrani trem hotela. Forma zgrade je moderna, u vidu pročišćenih kubusa, ali sa obaveznim srednjovekovnim arkadama, koje oblikuju svod trema.
Najviše pažnje posmatrača privlače dve monumentalne statue sfinge, postavljene na bokovima prilaznog stepeništa, koje su delo vajara Zagorodnjuka. Nešto diskretnije obrađen je i glavni ulaz u hotel sa suprotne strane, koji takođe poseduje trem. Kapiteli stubova trema dekorisani su reljefima u betonu, na kojima su predstave mitskih bića, polu ljudskih-polu životinjskih, kao što su Satir, Kentaur, Sirena i Sfinga. Kako je zgrada hotela izgrađena u prirodi (poludivljem prostoru), ovim je naglašeno prisustvo čoveka u tom okruženju, jer sva ova mitska stvorenja simboliše borba njihove razumne čovečije prirode sa divljom, strastvenom prirodom životinja. Sfinga je posebno naglašena jer su u njoj ovaploćene karakteristike čoveka i tri svete životinje – bika, lava i orla i kao takva prestavlja čuvara mitskog, iracionalnog, sveta tajnog znanja, koji je dostupan samo odabranima.
Galerija reljefa u betonu:
Spomenik ideji jugoslovenstva
Spomenik neznanom junaku nastaje gotovo deceniju kasnije, a potpisuje ga vajar Ivan Meštrović. Da bi on bio realizovan, najpre je bilo potrebno pripremiti teren za izgradnju i to na samom vrhu Avale. Koliko je ovaj projekat bio važan kralju Aleksandru govori činjenica da je za potrebe izgradnje spomenika izdao naredbu da se u potpunosti sruši srednjovekovno utvrđenje Žrnov. U periodu od 1934. i 1938. godine, vojska je polako odnosila kamenje i raščišćavala teren. Poslednje godine tekli su radovi na izgradnji samog spomenika i smeštanju kostiju poginulog bezimenog srpskog vojnika. Ovakvi spomenici bili su česti u Evropi nakon Prvog svetskog rata, koji su proslavljali nacionalnu pobedu nad neprijateljem, koja je bila ovekovečena spomenikom bezimenog vojnika.
Josip Broz Tito zvanično nikada nije došao da položi cveće na grob neznanog junaka.
Naravno, kralj Aleksandar je želeo mnogo više od memorisanja dela neznanog srpskog junaka. Kroz spomenik želeo je da prikaže ideju jugoslovenstva, koja se sa poteškoćama stvarala u novoj proširenoj državi. Nažalost, bio je živ samo da postavi kamen temeljac, ne i da vidi završeno delo jer je iste godine u Marseju poginuo prilikom atentata koji je na njega bio izvršen.
Ideja je preživela svog poručioca. Spomenik je realizovan četiri godine kasnije i u njemu se ogledao celokupan koncept ideje jedinstva u različitosti, koju su propagirali zagovornici ujedinjenja južnoslovenskih naroda u jednu državnu tvorevinu. Spomenik je dobio formu, koja se poziva na izgled antičke grobnice persijskog cara Kira Velikog, koja bi time aludirala na drevnost nacije koju proslavlja.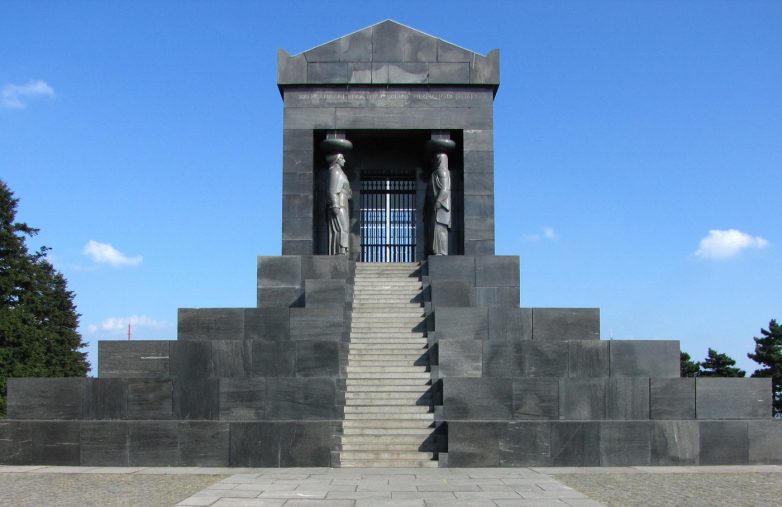 Problem s uklesanim imenom kralja
Pored jednostavnosti konstrukcije, jedinu dekoraciju čini osam karijatida, koje su glavni nosioci koncepta jugoslovenstva. U pitanju su statue Šumadinke, Crnogorke, Hrvatice, Slovenke, Makedonke, Banaćanke, Bosanke i Dalmatinke, kako su prikazane u svojim nošnjama i imenovane od strane samog autora. Na pročelju spomenika je uklesan natpis – Aleksandar I kralj Jugoslavije neznanom junaku. Vajar Meštrović je kroz jedinstven koncept sublimirao celokupnu ideju Jugoslovenstva, koju je od njega poručio kralj Aleksandar. Detaljnu analizu spomenika razradio je Prof. Dr Aleksandar Ignjatović u svojoj knjizi Jugoslovenstvo u arhitekturi 1904-1941.
Naravno, pojavile su se zamerke na temu spomenika. Mnogi su još kada je spomenik bio završen skretali pažnju na činjenicu da se spomenikom memoriše slava neznanog srpskog vojnika, koji je poginuo u odbrani Kraljevine Srbije, a da njegov koncept propagira ključnu ideju Kraljevine Jugoslavije.
Izgradnjom spomenika i hotela, Avala je zaodenuta u ruho mitskog i misterioznog. Još je u vreme neposredno posle izgradnje, ovo izletište i memorijalni kompleks, krenuli su da intrigiraju posetioce. Drevna arhitektura spomenika delovala je veoma upečatljivo, naročito kada se posmatrala tokom jutarnje izmaglice, a sličan efekat je izazivao izgled hotela, dekorisanog mitskim stvorenjima šuma i divljina. Celokupan utisak je bio toliko fascinantan, da je i Josip Broz Tito, koji zvanično nikada nije došao da položi cveće na grob neznanog junaka (mnogi tvrde da je to zbog uklesanog natpisa, gde mu je smetalo ime kralja Aleksandra), krišom noću dolazio, šetao se i u tišini posmatrao crni, granitni spomenik.
Fotografije: Marko Stojanović, ukoliko nije drugačije naznačeno
Kad ste već ovde…