Enterijeri
Neobičan projekat: Od prostrane kuće do 14 mikro-stanova
Stari objekti ne moraju se rušiti kako bi se ispunile potrebe stanovništva za što povoljnijim nekretninama. Ovaj primer to najbolje dokazuje.
Kako bi se umirila jagma za stambenim jedinicama u centrima gradova širom sveta, čija populacija a samim tim i cene stanova, intezivno raste, poslednjih godina sve su više prisutniji mikro-stanovi, odnosno, stanovi koji ne prelaze 20 metara kvadratnih. Projekat adaptacije jedne londonske kuće u viktorijanskom stilu, koji je izvela firma BicBloc, ukazala je na činjenicu da i stari objekti mogu zadovoljiti potrebe savremenog društva.
Neosporno je da je uvek veliki izazov pretvoriti kompaktan stariji objekat u više zasebnih savremenih jedinica. Ipak, BicBloc je uspeo da od četvorospratne kuće napravi 14 mikro-stanova s površinom od po 18 kvadrata, i da u svaki od njih strpa sve što jedan stan treba da ima.
Dizajnerski tim se potrudio da adekvatno organizuje svaki kvadratni centimetar stana kako bi život u njima bio ugodan i funkcionalan. Iako novonastali stanovi nemaju veliku površinu, zahvaljujući dovoljnoj količini prirodnog osvetljenja i upotrebi modularnog nameštaja ovi prostori su prozračni i otvoreni, piše Inhabitat.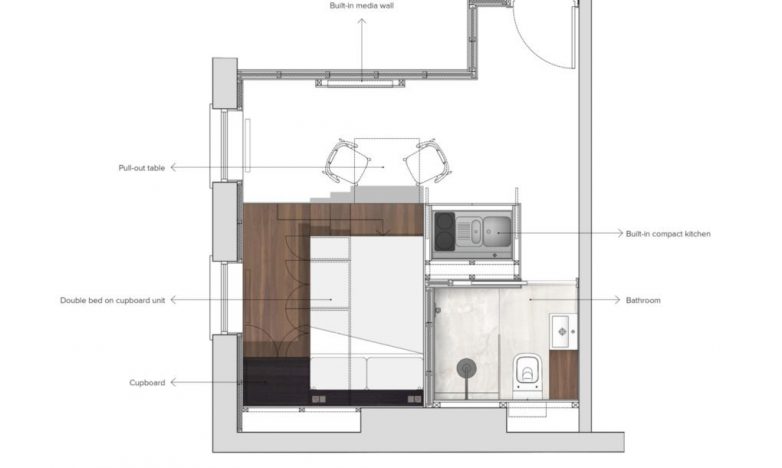 Kako je to sve bilo moguće? Naravno, zahvaljujući multifunkcionalnim rešenjima. Za početak, svi stanovi imaju spavaću jedinicu sa izdignutim krevet na platformi, ispod kog je radni sto na izvlačenje.
Ispod kreveta je sto na izvlačenje, a pored je smeštena kuhinjska niša sa svim elementima potrebnim za spremanje hrane.
Dalje, pored spavaće zone smeštena je čajna kuhinja sa šporetom, frižiderom i mikrotalasnom, a svi ovi uređaji mogu biti zaklonjeni velikim vratima od ormana koji je ujedno i bok kreveta.
A kupatilo? Tu je, doduše malo! U metar s metar stao je i tuš, a ovaj enterijer krase svedene keramičke pločice.
Stanovi imaju veliki broj efikasno organizovanih prostora za skladištenje. Prostor ispod kreveta može se iskoristiti za skladištenje posteljine, dok je svaki ćošak iskorišćen za pravljenje plakara.
Unutar nekadašnje kuće organizovani su hodnici i zajednički prostori koji povezuju zasebne stambene jedinice, a zajedničko dvorište podstiče osećaj življenja u zajednici.
Osnove spratova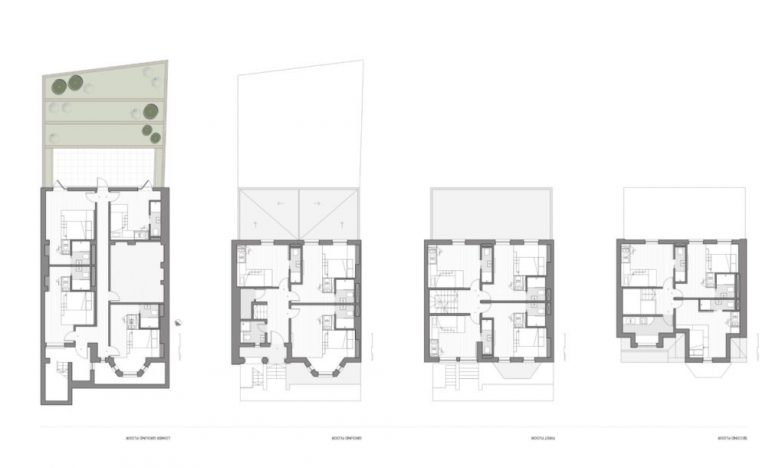 Odgovor na zahteve tržišta
Prema rečima glavnog dizajnera BicBloca, Laure Encinasa, njihov klijent je želeo da preuredi svoju imovinu u prostor koji bi trebalo da zadovolji potrebe stanovnika Londona koji su u stalnoj potrazi za pristupačnim i funkcionalnim stanovima. Izgleda da je u tome i uspeo! Jedino se treba privići na život u 18 kvadrata…
Foto: BicBloc (Laura Encinas)
Kad ste već ovde…