Fudbalska groznica i dalje trese celu planetu, a nas interesuje kako stadioni, kao posebna institucija u polju arhitekture, umeju da zasene i samu igru. 
Da li se nekada zapitate kako bi izgledala naša svakodnevica da fudbal nekim čudom nije nastao. Šta bi to drugo bilo, što bi dobilo titulu najvažnije sporedne stvari na svetu i šta bi nam to živce kidalo na svake četiri godine? Ipak tu je! Igra, navijači i stadion neraskidivo su povezani. Svakako, za dobar amaterski fudbal dovoljan je i komad travnate površine, četiri ranca, lopta i spretne noge. Ipak, kada je igra ozbiljnija tu je i stadion, kao posebna institucija u polju arhitekture koja ponekad ume i da zaseni samu igru. Kako je on kao forma nastao i kako se vremenom razvijao i prilagođavao sve većoj pomami za ovom igrom, pročitajte u daljem tekstu.
Iako fudbal kakav je u današnjoj formi datira zvanično od 1863. godine, nakon formiranja prvog fudbalskog saveza, njegovi koreni sežu malo dalje u prošlost. Igre koje su se temeljile na šutiranju lopte odigravale su se u mnogim zemljama tokom istorije. Najstarija igra o kojoj postoje dokumenti je cuju, koja se pominje tokom vojnih vežbi za vreme dinastije Čin u Kini (255—206. pre nove ere). Ostale pradavne igre bile su kemari u Japanu i harpastum u Starom Rimu.
Donošenjem jedinstvenih pravila igre, počelo se i sa izgradnjom stadiona širom Velike Britanije.
Forma igrališta iz tog perioda bila je veoma svedena. Teren pravougaone forme bio je oivičen drvenom ogradom, oko koje su se skupljali posmatrači. Kao i kod svih drugih stadiona i kod ovih je postojala izdignuta tribina iz koje je igru posmatralo plemstvo.
Kako su nastali prvi stadioni
Jedinstvena pravila fudbalske igre su doneta sredinom 19. veka kako bi konačno ujedinila sve vrste fudbala koje su se igrale po raznim školama širom Velike Britanije. Prva su pravila izmišljena u Kembridžu 1848, ali nisu bila usvojena. Tokom 50-ih godina 19. veka brojni klubovi u državama s engleskim kao maternjim jezikom igrali su fudbal koji se razlikovao od jednog do drugog mesta. Neki su klubovi donosili sopstvena pravila, a najpoznatija su bila "šefildska fudbalska pravila" iz 1867. Takođe, 1862, Džon Čarls Tring izneo je svoju vrstu pravila koja su imala uticaja u stvaranju prvih "fiksnih" pravila. Donošenjem jedinstvenih pravila igre, počelo se i sa izgradnjom stadiona širom Velike Britanije.
Najstariji fudbalski stadion na svetu Sendigejt Roud nastao je 1860. godine i mogao je da primi 700 ljudi. Na njemu danas nastupa engleski niželigaš FK Halam.
Megalomanski projekti današnjice
Ipak neki od stadiona fizički su ranije bili izgrađeni, ali su korišćeni za druge vrste sportova, da bi kasnije bili adaptirani tako da se na njima igra fudbal.
Fudbalski stadioni danas svakako predstavljaju simbole i ponose svojih klubova, mesto na kom se igrači i navijači susreću i gde stvaraju zajedno istoriju. Kao i za obavljanje bilo koje druge funkcije potreban je objekat, a njegovu formu i sadržaj uslovila je igra. Tako je bilo u prošlosti, tako je i sada. Doduše, sada i mnogi drugi faktori oblikuju stadion, počev od segmenta održivosti, preko borbe da kapacitetom, do luksuznosti sadržaja i opreme. Ranije je bilo bitno napraviti funkcionalno odgovarajući prostor, koji može da obezbedi pristojan teren igračima, da ugosti što je moguće više navijača i igra je mogla da počne. Danas, u vremenu kada je fudbal postao jedna nova industrija, mnogi bi rekli i biznis, sve je dosta luksuznije, pa možda često i nepotrebno megalomanski. Ipak, svakim novim spektakularnim objektom bivamo oduševljeni, jer strast ka ovoj igri veća je od bilo kakvog racija.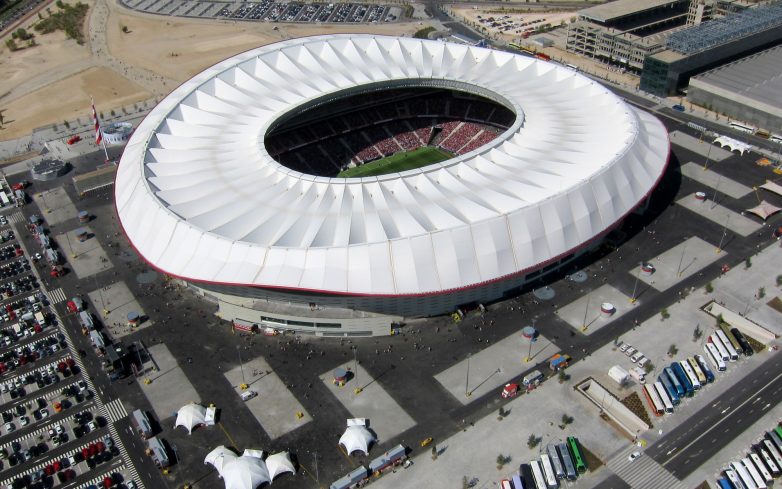 Danas, u vremenu kada je fudbal postao jedna nova industrija, mnogi bi rekli i biznis, sve je dosta luksuznije, pa možda često i nepotrebno megalomanski
Današnji stadioni teže da u potpunosti omoguće idealan tok igre i navijanja. Pa tako novi stadion Atletiko Madrida ima impozantan novi krov, a tu je i budući stadion Khalifa u Katru na kom će se, i pored velikih spoljašnjih temperatura, na samom stadionu održavati veoma prijatna klima.
Kada buka oblikuje stadion
Pored vremenskih uslova bitan faktor je i kapacitet stadiona i efektna organizacija tribina, kako bi vizuelni i audio doživljaj svih posmatrača bio na zavidnom nivou. Arhitekta Populousa Geri Rivs pojasnio je na primer neke nejasnoće oko akustičnosti stadiona. Svi se bore da njihovi navijači budu najglasniji, međutim jačina zvuka na stadionu u velikom delu zavisi od organizacije i konstrukcije stadiona. Pa tako on ističe da je bitno na koji način će se usmeriti zvuk. Najveći stadioni u Evropi obično su mnogo strmiji od britanskih. Ovako se sprečava da buka beži gore, a i navijači ostaju bliže terenu. Rivs kaže da je na nekim delovima gornjeg nivoa San Sira tribina pod uglom od čak 40 stepeni. Kamp Nou, Bernabeu, Mestaja, i stadion Juventusa imaju slične strmine. Sa druge strane, u Britaniji se od Hilsboro incidenta preporučuje maksimalna strmina od 35 stepeni da se ne bi rizikovala vrtoglavica kod navijača. Svakako bitno je i da stadion ima krov, kao i da su mu zatvoreni uglovi kako zvuk ne bi "bežao"
Kada smo kod krova, singapurski stadion SportsHub postao je rekorder, ne samo među stadionima, već i među svim objektima na svetu sa najvećom kupolom na svetu koja premošćava čak 308 metara.
Bitna karakteristika je i fleksibilnost, pa će tako stadion u Londonu imati pokretni teren koji se može zameniti po potrebi terenom za ragbi.
Kao i kod svih ostalih vrsta objekata današnjice pažnja je usmerena i na održivost pa se tako neretko javljaju stadioni izgrađeni primenom održivih sistema ili materijala. Tu je prvi stadion od drveta, kao i demontažni stadion od transportnih kontejnera.  
Navijači vole da nazdrave sa po kojim pićem za bolji rezultat svog tima, pa je i zbog ovog razloga poželjno stadion postaviti u blizini centra grada, pa samim tim i pabova
Osim prostorno-tehničkih i konstruktivnih karakteristika stadiona tu je i njegov položaj. Stariji stadioni svakako se nalaze u središtu grada, kada njegova teritorija nije bila previše raširena. Današnji stadioni u urbanističkom smislu zauzimaju bitne lokacije u gradovima širom sveta. Osim što svojom formom neretko predstavljaju arhitektonsku atrakciju grada bitno je da se stadion nalazi na pristupačnoj lokaciji, kako bi velika količina ljudi koja se uputi na stadion efikasno mogla sa stigne do njega, pretežno gradskim prevozom, kako bi se izbegla potraga za parking mestom i rizikovalo da se zakasni zbog gužve u saobraćaju. Tu je i neminovan detalj da veliki broj navijača voli da nazdravi sa po kojim pićem za bolji rezultat svog tima, pa je i zbog ovog razloga poželjno stadion postaviti u blizini centra grada, pa samim tim i pabova, kao i stanica gradskog prevoza.
Kako je građena Marakana
Ako se na trenutak usmerimo i na fudbal u našoj zemlji, možda bi zanimljiv podatak bio iz perioda izgradnje stadiona Marakana, koji je nastao sada već davne 1963. godine.
Naime, kako bi se napravio pogodan teren za izgradnju novog terena, tom prilikom odneto je više od 350.000 kubika zemlje i 15.000 kubika kamena. Pored velelepnog izgleda, stadion je dobio i, u to vreme, izuzetnu travu na igralištu, sa drenažom i svim slojevima neophodnim za "dug život" travnatog terena.
Zanimljivo je da je stadion podignut tako što je zapravo ukopan u brdo 12 metara ispod nivoa stadiona FK Jugoslavije. Ovo je moralo da bude urađeno pošto je Dedinje u tom periodu bilo ogromno klizište.
Na ovaj ili onaj način, u zavisnosti od prilika u pojedinim delovima sveta, fudbalski stadioni su se razvijali, menjali svoju kompoziciju i formu ali pažnja usmerena na primarni faktor oblikovanja uvek je ostala ista. To je igra, koja usmerava arhitekturu i svaki element podređen je doprinosu što boljeg užitka kako navijača tako i igrača na terenu.
Kako god se razvijali društveno-ekonomski uslovi širom sveta, jedno je sigurno. Kako pokazuje istorija, fudbala će pre ili kasnije uvek biti, pa samim tim i velelepnih stadiona koji svojim izgledom i inovativnošću oduzimaju dah.
Kada ste već ovde…