Podigli ste stari parket pa je cementna košuljica ostala neravna ili vam je možda potrebna idealno ravna podloga za parket, itison, laminat ili pločice? Pravo rešenje je samoizlivajuća masa, odnosno, nivelin!
Samoizlivajuća masa koristi se za ravnavanje podloge pre polaganja podnih obloga bez obzira da li su u pitanju tekstilne i elastične podne obloge ili parket. Nivelin može da se izliva na staru podlogu ili na ostatke lepka, na manje ili veće pukotine.
Ukoliko na podlozi imate veće pukotine (iznad 10mm) potrebno je da se koristiti samoizlivajuća masa krupnije granulacije i to tako što se u prvom sloju pokrpe veće rupe i oštećenja, a zatim da se uradi drugi sloj. Ovo je važan korak kako veće rupe ne bi pucale.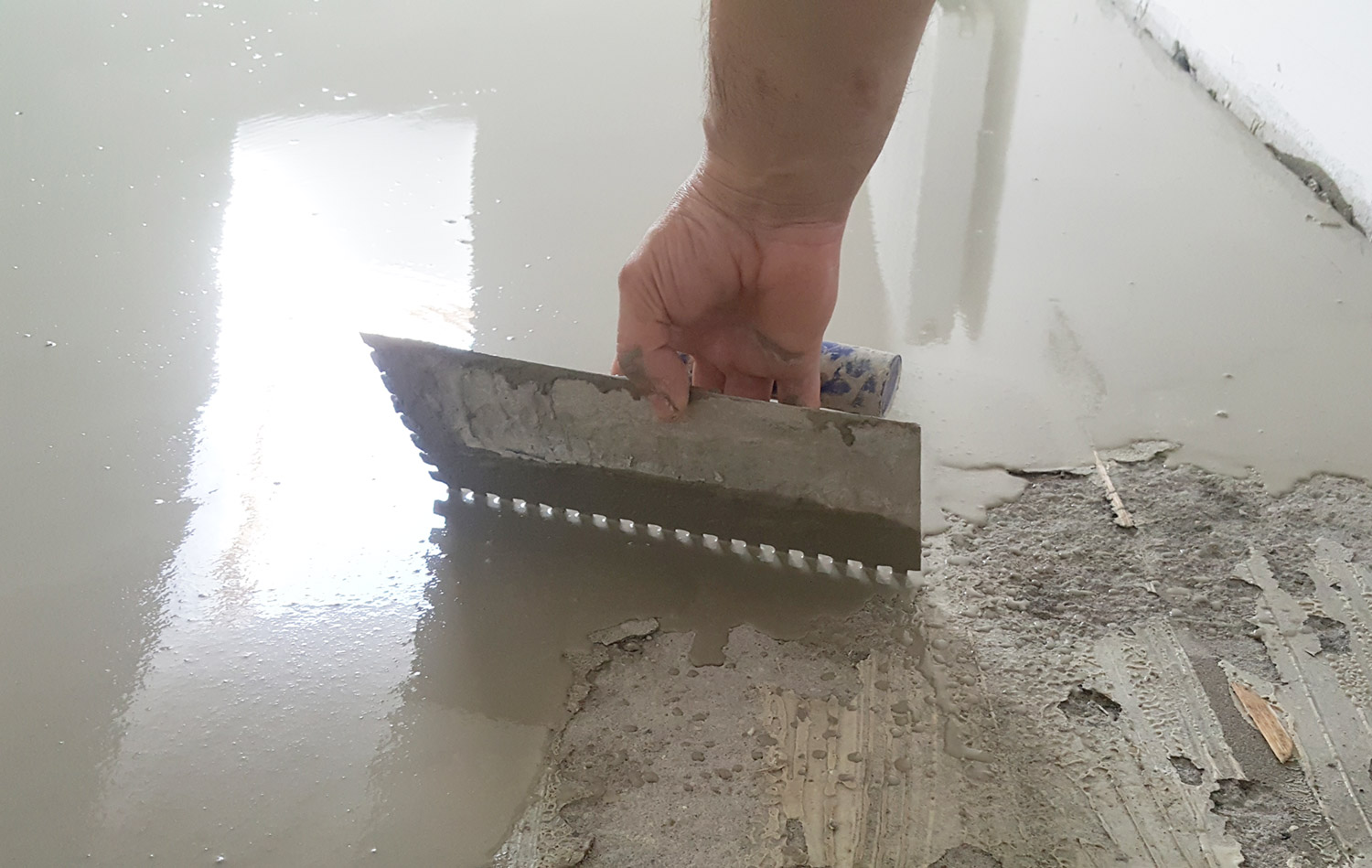 Šta je potrebno od alata:
usisivač, metla
prajmer i četka (valjak) za nanošenje prajmera
Masa za izravnjavanje (samizlivajuća masa)
ručni mikser
kante
nazubljena špakla (gleterica) ili jež valjak
polirka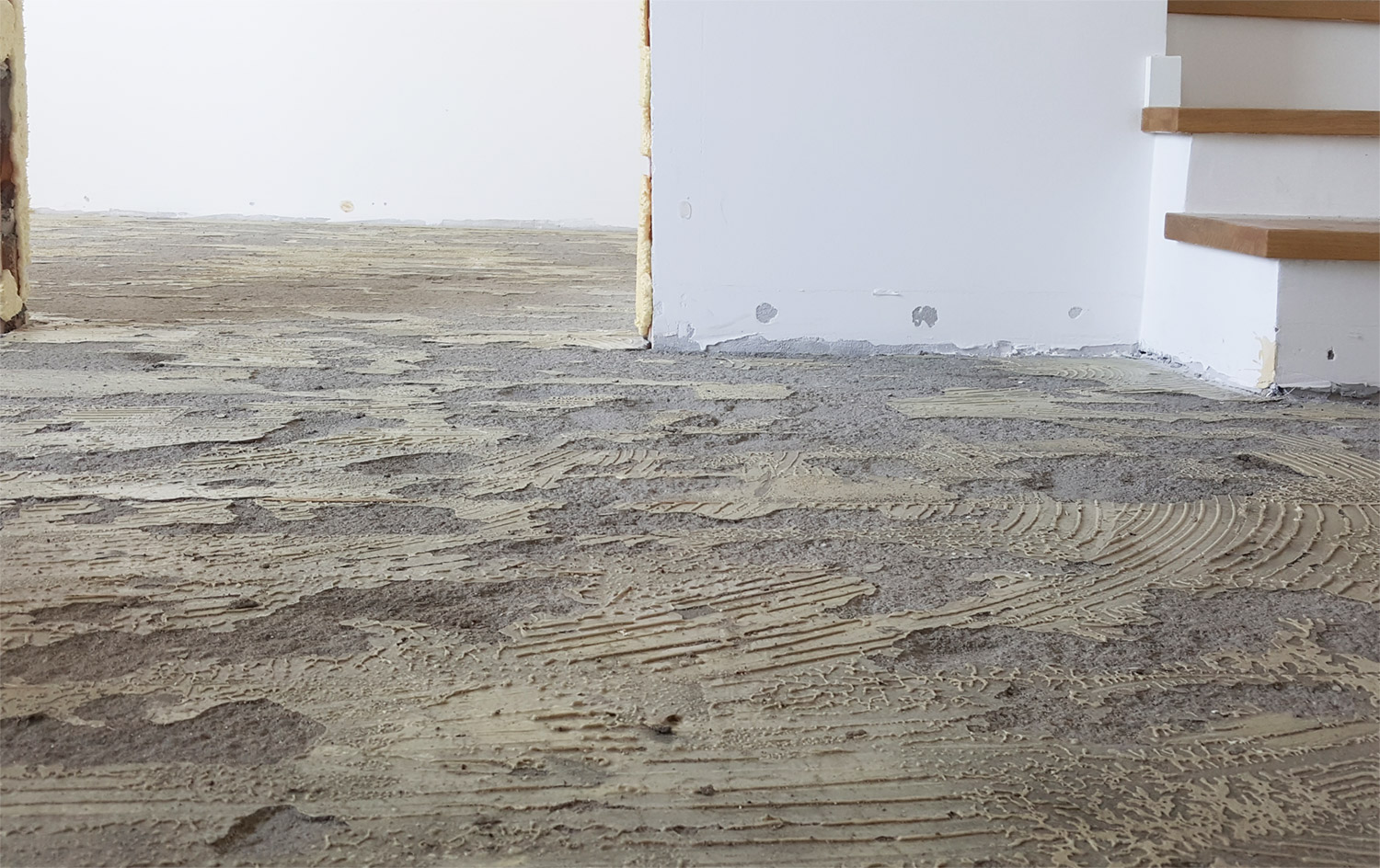 Tok izvođenja: prvo podloga pa onda masa za izravnavanje
Pod dobro očistiti metlom od krupnih nečistoća, a zatim je usisati kako bi bilo što manje prašine. U čišćenju poda će vam poslužiti i nanošenje podloge jer ona veže prašinu.
Podlogu iz kanistera usuti u kantu, a potom je naneti četkom ili valjkom na očišćenu podlogu. Mi smo koristili podlogu Uzin PE 360 koja služi da se masa za izravnavanje bolje veže za postojeću pod. U našem slučaju na podu su se nalazili i ostaci starog lepka.
Cena ove podloge je oko 5 evra po kanti od 3 litre (potrošnja oko 200g/m2). Podlozi je potrebno oko 10 minuta da se osuši nakon čega se može započeti izlivanje nivelišuće podloge.
U kantama sa nasutom vodom dodaje se masa za izravnavanje i meša se ručnim mikserom. Mi smo koristili samonivelišuću masu Uzin NC 160 Si koja spada u skuplje i kvalitetnije izravnavajuće mase sa cenom od oko 1 evro/m2 (džak od 25 kg je oko 25 evra). Za razliku od jeftinijih brendova (džak od 25 kg oko 10 evra), ovom masom je moguće popuniti veće pukotine – i to one od čak 20 mm.
Gustoća mase treba da je ređa od jogurta kako bi se samoizlivanjem lepo mogla rasporediti po površini poda.
Nakon sto se nivelišuća masa dobro umuti, kantom je raspite i lepo rastrite nazubljenom gletericom (ili jež valjkom) po prostoriji počinjući od uglova ka izlazu iz prostorije.
Period sušenja
Nakon izlivanja nivelšuće mase, po njoj može da se gazi tek nakon dva sata. Ipak, za lepljenje parketa potrebno je da prođe oko dva dana (tačan period zavisi od godišnjeg doba) kako bi se dostigla odgovarajuća vlažnost.
Nakon toga je potrebno da se podloga ispolira, odnosno, da se skine gornji površinski sloj cementa kako bi se završna podna obloga bolje lepila sledeći, završni sloj. Nakon toga je podloga spremna za polaganje parketa, laminata ili druge podne obloge.
Visina samonivelišuće mase
Visina koju pokriva nivelišući pod je od 1 mm pa do 20 mm (za veće dubine od 3 mm obavezno moraju da se koriste kvalitetniji materijal. Slabije i jeftinije materijale koristite samo ako su pukotine manje, odnosno pliće – od 2-3 mm. Ako je površina poda dosta oštećena i neravna, preporučuju se kvalitetniji, a samim tim i skuplji materijali kako ne bi dolazilo do pucanja.
Potrošnja  i cena nivelin mase
Cena nivelisanja poda najviše zavisi od veličine neravnina, odnosno, debljine sloja nivelina. Standardna potrošnja (važi za sve praškaste materijale: nivelin, lepkove) je od 1,6 do 1,8 kilograma po milimetru visine za kvadratni metar. Vrlo je teško izračunati tačno potrebnu količinu nivelina jer debljina izlivanja po podlozi dosta varira.
Cena džaka od 25 kg kreće oko 25 evra (za kvalitetnije i bolje brendove) dok se materijali slabijih brendova mogu mogu kupiti znatno povoljnije, odnosno cena džaka od 25 kg je oko 10 evra. Međutim, sa ovim materijalima se ne mogu ispravljati veća udubljenja i neravnine već mogu koristiti samo za zaglađivanje košuljice.
Cena rada majstora kreće se uglavnom od 3 do 4 evra po sloju.
Znači, cena nivelin mase za dubine neravnina od 2-3 mm i nivelin kvalitetnijeg proizvođača je oko 7 evra/m2 s uračunatim materijalom i radom. Međutim, ako su pukotine veće i potrebna je veća debljina nivelina (do 6mm) potrebno je duplo više materijala i cena je duplo veća, oko 14 evra/m2.
Pogledajte detaljno video-uputstvo za izlivanje nivelina:
Foto i video: Gradnja.rs
Korisni tekstovi…