Želite da u prostoru napravite dva nivoa? To možete uraditi veoma lako podizanjem nivoa poda za jedan stepenik pomoću Ytong blokova.
Podizanje nivoa poda za jedan stepenik može biti veoma zgodno ukoliko želite da, na primer, u prostoru napravite dve celine. To može biti slučaj sa trpezarijom čijim podizanjem nivoa možete da je istaknete u odnosu na dnevni boravak. Takođe, denivelacija poda je veoma praktična ako treba da provučete instalacije, ili da podignete nivo tuš kabine. Ako želite da podignete kadu na postolje, to takođe možete lako uraditi tako što ćete napraviti stepenik. I zaista mislimo lako jer možete korisiti lagane Ytong blokove.
Pogledajte detaljan video-postupak:
Za podizanje nivoa poda koristili smo Ytong Univerzalne ploče, dimenzije 62,5 (d) x 20 (š) i debljina 7,5cm.
U našem primeru uređivali smo poslovni prostor za IT kompaniju i želja nam je bila da se u prostoru podigne nivo poda na kojem će biti organizovane konferencijske sale. Ovaj prostor je ujedno vizuelno dominantan motiv celog enterijera.
Za podizanje nivoa poda koristili smo Ytong Univerzalne ploče, dimenzije 62,5 (d) x 20 (š). Njihova debljina je 7,5cm jer smo za toliko želeli da podignemo ovaj nivo poda. Osim ove visine, postoje visine blokova od 5 cm ali i od 10, 12, 15, 20, 25, 30 i 37,5 centimetara.
Šta vam je potrebno od alata i materijala:
testera,
kanta,
mešalica,
lopatica,
Ytong Univerzalne ploče,
Ytong tankoslojni malter.
Za podizanje poda, od alata vam je potrebna testera kojom se seku blokovi, kanta za mućenje lepka, mešalica, lopatica za nanošenje lepka i naravno lepak za koji smo mi koristili Ytong tankoslojni malter.
Postupak podizanja poda
Na podu prvo razmerite mesto podizanja poda i osmislite slaganje tako da na krajevima ne ostaju mali delovi blokova. Mi smo po obodu rasporedili cele blokove kako bi čvrstoća na ivicama bila što veća. Sa kanapom za obeležavanje ili olovkom obeležite pravce ivica podignutog poda.
Uz pomoć mešalice u kantama zamutite Ytong tankoslojni malter zajedno sa vodom.  Za nanošenje maltera na pod smo koristili zupčastu špahtlu. Malter se nanosi na podlogu, a zatim postavlja preko nje blok. Višak maltera sa strane pokupite špahtlom. Za kontrolu pravca poda možete koristiti laser.
Pre postavke drugog bloka, manju količinu maltera dodajte na bočnu stranu na koju se nastavlja drugi blok, vodeći računa da ne malter iscuri. Dakle, ne stavljate veliku količina maltera.
Postavljene blokove učvrstite lepo jedan uz drugi lupkajući po njima i ujedno prateći pravac. Višak lepka skinite sa podloge ravnom špahtlom. Nastavite da slažete blokove ponavljajući ovaj postupak.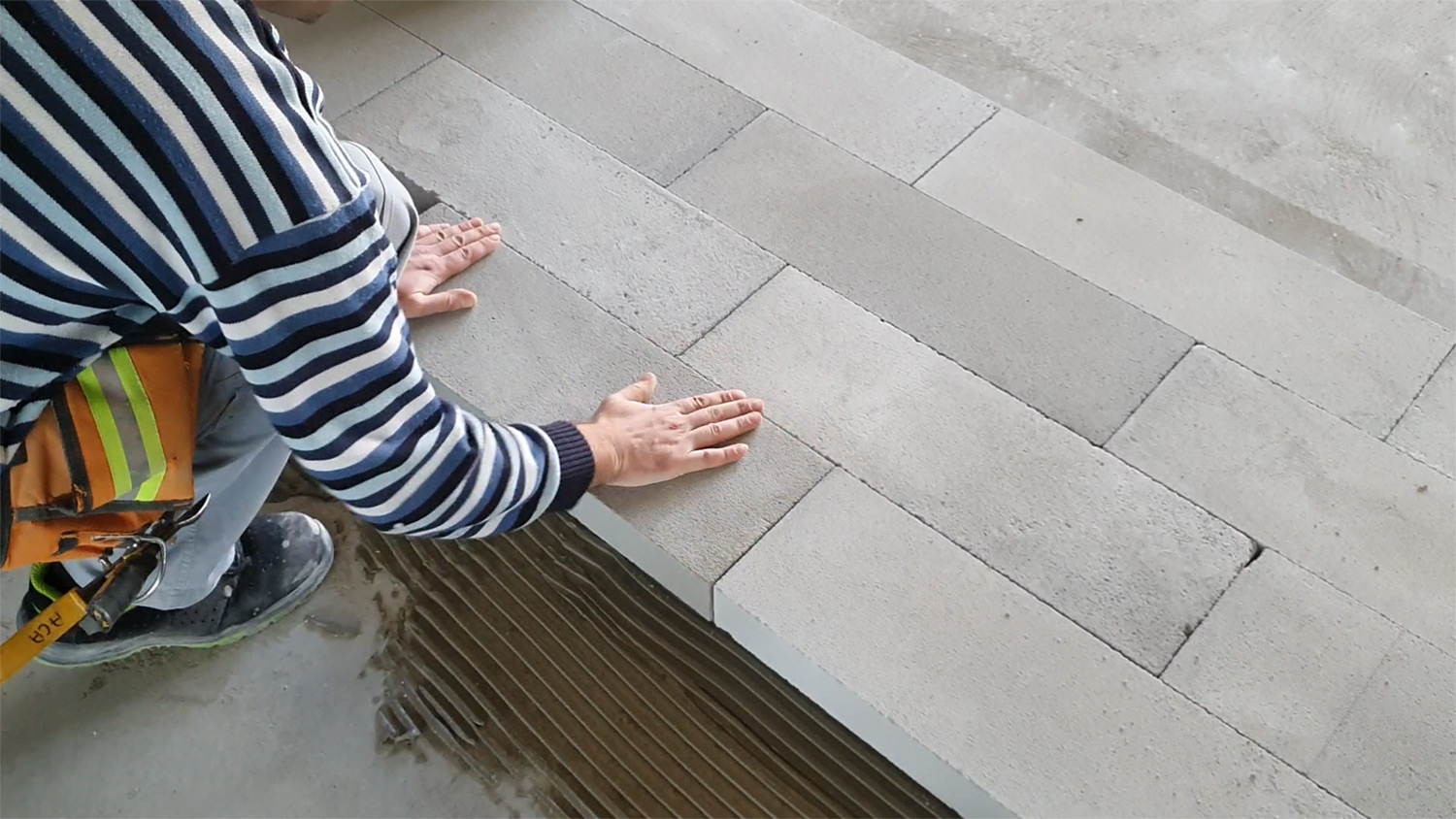 Lako sečenje ručnom testerom
Kao osnovna prednost ovih blokova jeste njihovo lako sečenje i oblikovanje ali i mala težina tako da se vrlo lako blokovi mogu nositi i slagati. Blokovi se veoma seku na željenu dimenziju uz pomoć ručne testere.
Podignuti nivo poda je potom obložen laminatom, a ispod je ugrađena LED traka.
Nakon postavljanja svih blokova na svoje mesto, potrebno je da se postavi materijal za završnu obradu. U našem slučaju na ovaj podignut pod postavljali smo laminat. Pre završnog sloja, na blokove smo naneli sloj mrežice i lepka koji je ispunio eventualne fuge između blokova i sa kojim smo dobili ravnu podlogu za postavku laminata. Ako postavljate pločice, ovaj sloj nije potreban i pločice možete lepkom direktno na blokove.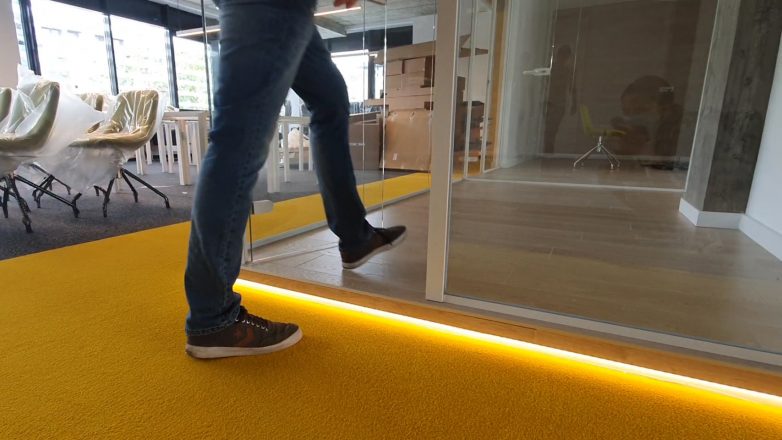 Lebdeći prostor
Laminat smo prepustili na bočnu stranu podignutog poda ali ga nismo psustili do poda već smo na završnu lajsnu postavili LED traku koja je dala interesantan završni utisak da cela platforma "lebdi". Tako je ovaj denivelisani prostor postao vizuelno dominantan motiv celog enterijera.
Foto i video: Gradnja.rs
Kad ste već ovde…