Šta je zapravo brutalistička arhitektura, zašto je u Evropi beton tako popularan materijal i kako ćemo pametno obnoviti i sanirati sve te dotrajale planine od betona u našim gradovima.
Webinar "Džinovi od betona" Jelice Jovanović bilo je veoma posećeno onlajn stručno predavanje. Sa preko 600 slušalaca, webinar je probio sve poznate rekorde i bacio novo svetlo na mogućnosti interneta. U intervju, sa Jelicom razgovaramo o arhitekturi brutalizma, zašto je u Evropi beton bio tako popularan materijal, ali i o tome šta činiti sa svim tim dotrajalim planinama od betona.
Webinar "Džinovi od betona" privikao je veliku pažnju stručne javnosti. Da li nam možete reći nešto više o izabranoj temi? Zašto baš beton?
Tema predavanja je zapravo bila brutalistička arhitektura i ideja je potekla od organizatora programa "Online Božidarac", Centra za obrazovanje i kulturu Božidarac. Oni su, kako brojke pokazuju, dobro procenili svoju publiku i ponudili joj niz webinara u vreme trajanja izolacije, a brutalizam jeste jedna od tih "vrućih" i vrlo zanimljivih tema. Odabrala sam da akcenat stavim na betonske objekte, i držim se prilično uske definicije termina izvedenog po osnovu materijalizacije objekta iz više razloga. Najpre, čini mi se da zbog ugoženosti i stigme koja ide uz beton potrebno što više pričati o ovim objektima i komunicirati sa širim krugom ljudi njihovu pojavu, program, vrednost i probleme.
Novi brutalizam
Čini mi se da postoji potreba za takvim sadržajima u našoj javnosti i da ljudi žele da čuju ovakve prezentacije. Ja se nadam da će biti još prilika i da ćemo proširiti dijapazon tema. Drugi razlog je više profesionalna deformacija. Naime, ukoliko objekat nije pretežno građen u "natur betonu", onda je moguće da je u pitanju (još i) neki drugi stilski pravac, koji ispravnije definiše karateristike datog objekta, i nama je u okviru profesije naprosto lakše da se sporazumemo ukoliko se držimo tih preciznih termina.
Možda je primer spomenika Narodnooslobodilačke borbe najslikovitiji u ovom slučaju. Naravno da se neki od njih – prateći navedenu logiku materijalizacije – mogu svrstati u brutalizam, jer su mnogi od građeni u čistom armiranom betonu, ali oni mnogo više pripadaju pravcima na primer ekspresionizma, (neo)vernakulara, figuracije/apstrakcije, ili naprosto modernizma. Dakle, postoji niz preciznijih odrednica, a iz ličnog iskustva sa problemima dekontekstualizacije, zapuštanja i vandalizma, "prepravki" i ukljanjanja, smatram da u današnje vreme svrstavanjem u brutalizam redukujemo i menjamo njihovu semantiku. Naprosto, sami sebi činimo medveđu uslugu, i kao struka i kao društvo. Kratkotrajna popularizacija je doprinela njihovoj većoj vidljivosti, ali ostaje pitanje njenih problematičnih ishodišta i krajnjih rezultata, naročito sada kada ne znamo kako će izgledati industrija (masovnog) turizma koja u ovom kontekstu najčešće figurira kao najznačajniji akter. Dakle, ne adresira se primarna funkcija ovih objekata – memorijalna u ovom slučaju – već se odjednom pred sve nas postavlja imperativ (inostranog) turiste i naplate usluga koje pritom ne doprinose održavanju objekata.
Koje su bile ideje vodilje "brutalističke arhitekture"? Čemu je ona težila? Koje su bile njene vrednosti?
Termin "novi brutalizam" se pojavljuje tokom 1950-tih, kada je arhitekt Hans Asplund upotrebio ovaj izraz da opiše autorsku filozofiju arhitekte Lennarta Holma prilikom projektovanja Vile Göth u Upsali. Objekat ima zidove od nemalterisane opeke, natprozorne grede su vidljive, betonski elementi konstrukcije su ostavljeni baš onakvi kakvi su izašli iz oplate. U istorijskom kontekstu posleratne obnove Evrope, gde je akcenat na jeftinim, materijalima koji se jednostavno prave i ugrađuju, gde se žuri da se obnovi što više infrastrukture u što kraćem roku, ovaj autorski pristup je potpuno logičan sled događaja.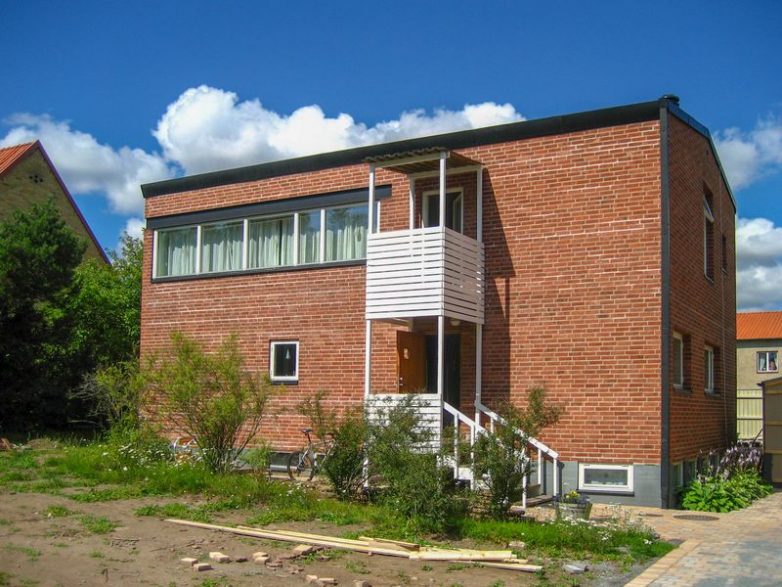 Brutalizam zagovara upotrebu čistih, iskrenih i jasnih formi i materijalizacije, bez (suvišnog) oblaganja i dekorisanja elemenata arhitekture i konstrukcije.
Brutalizam počinje da označava jedan pod-pravac moderne arhitekture koji zagovara upotrebu čistih, iskrenih i jasnih formi i materijalizacije, bez (suvišnog) oblaganja i dekorisanja elemenata arhitekture i konstrukcije. Iz Skandinavije ovaj pristup arhitekturi putuje u Britaniju, gde Alison i Peter Smithson opisuju svoju arhitekturu terminom "novi brutalizam" već 1953. godine, govoreći o svom neizvedenom projektu Kuće Soho "za društvo koje ništa nije imalo". Ključne karakteristike ove arhitekture po njima su memorabilnost, odnosno lako pamćenje i jasna vizuelizacija slike objekta, zatim jasno vidljiva konstrukcija i vrednovanje materijala bez dodatne obrade, onakvog kako je ugrađen ili izašao iz oplate. Kasnije, sredinom 1960-tih u Velikoj Britaniji istoričar arhitekture Reyner Banham, nakon inicijalnih zapisa o novom brutalizmu i pokušaja kodifikacije ovog pravca tokom 1950-tih, postavlja pitanje etike i estetike brutalizma, piše o značajnim predstavnicima i karakteristikama.
Međutim, druga linija istoriografije, koja "brutalizam" dovodi u vezu sa Le Korbizijeovim Unite d'Habitation u Marseju, objekat koji je izveden u armiranom betonu izlivenom u oplati tako da se vide tragovi dasaka, a koji je autor nazvao "beton brut". Kada pogledate domaću literaturu iz tog vremena, najčešće nailazite na kovanice "natur beton" ili "sirovi beton", koja je doslovni prevod izraza "beton brut" sa francuskog. Ukoliko se uporede godine nastanka ključnih objekata u Francuskoj i Jugoslaviji, ukoliko znamo kako su uticaji putovali između nas i ostatka sveta, vrlo je verovatno da je brutalizam kao stil tako "doputovao" do nas. Brutalizam kao termin je, čini mi se, ipak svojevrsna naknadna pamet naše istoriografije, jer su retki autori koji su za svoja dela navodili da su projektovana po principima brutalizma.
Važno je, čini mi se, još jednom podcrtati i značaj armiranog i prednapregnutog betona u ovom kontekstu. Dakle, beton – jeftin kompozitni materijal neverovatnih oblikovnih i tehničkih mogućnosti – jeste materijal posleratne obnove. Evropa nije imala na raspolaganju tolike količine čelika kao SAD, uvoz bi bio preskup, te se evropske zemlje opredeljuju za beton, čiju proizvodnju, proračune, ugradnju usavršavaju tokom nekoliko decenija. To je i materijal ekonomičnosti, racionalnosti, materijal široke dostupnosti, pa je među istoričarima arhitekture jasno i da je obračun sa betonom – i posledično brutalizmom – zapravo obračun sa njegovim instrumentalnim značajem u širem kontekstu stvaranja države socijalnog staranja.
Koji su bili autori svih tih džinovskih zgrada? Da li vam je neko omiljen?
Kod nas Branislav Jovin, iako je on pre svega funkcionalista, isto kao što je Aleksandar Stjepanović sa svojim koautorima najpre funkcionalista i strukturalista, pa onda 'brutalista' – iako on nerado prihvata tu kategorizaciju. Jovinova zgrada Urbanističkog zavoda i Zavoda za izgradnju je svojevrsni udžbenik arhitekture, objekat koji je na toliko nivoa značajan za istoriju domaće arhitekture, od namene objekta u kojem se i danas nalaze dve institucije koje su bile od izuzetnog značaja za planiranje i izgradnju Beograda i Srbije, preko urbanističke dispozicije, arhitektonskog programa, tehničke izvedbe, pa sve do najsitnijih detalja materijalizacije. Jovin je koautor i Opštine Novi Beograd, jedan od urbanista autoputa kroz Beograd i autor Mostarske petlje, saradnik na Sava Centru – da pomenemo samo one izvedene – dakle čovek koji je radio na ključnim objektima gradske infrastrukture i koji se uklapa u profil etičnog arhitekte.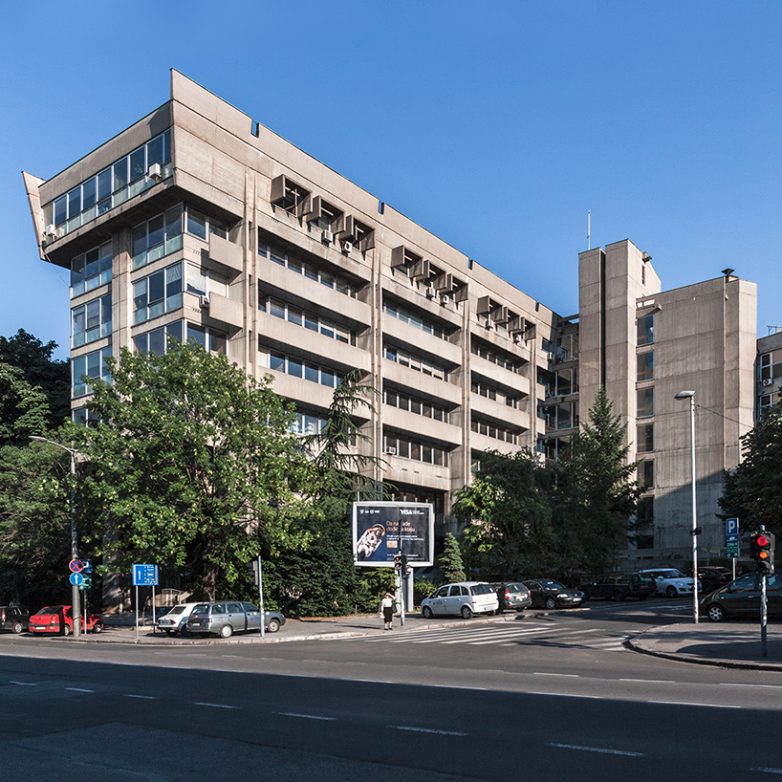 Jovinova zgrada Urbanističkog zavoda i Zavoda za izgradnju je svojevrsni udžbenik arhitekture.
Od inostranih, trenutno mi je zanimljiv Neave Brown, arhitekta koji je radio za Camden Council. Zanimljiv mi je iz više razloga, ali trenutno me fascinira njegova biografija, a sve to zato što pokušavam da shvatim razmere hajke koja se u javnosti vodila protiv modernizma i brutalizma u Britaniji i u svetu, i napravim korelaciju sa onim što se dešavalo ovde kod nas. Zbog naselja Alexandra Road, Brown je prošao kroz javno saslušanje, zbog kojeg je njegova reputacija uništena – iako nije pronađen ni jedan dokaz da je njegovom krivicom došlo do problema u realizaciji ovog projekta, on više nikada nije gradio u Britaniji, a po penzionisanju se preorijentisao na primenjene umetnosti. Ipak, baš ovo naselje je prvo od posleratnih naselja koje je stavljeno pod zaštitu još 1993. godine, Brown je jedini arhitekta te generacije čija su sva dela u Britaniji pod zaštitom, a samo naselje je omiljeno i "najmanje neuspešno" naselje od svih council-housing. Brown je inače sa svojom suprugom stanovao u naseljima koja je projektovao, a za Alexandra Road je primio i najviše nagrade RIBA.
Jedina priča koja prevazilazi ovu – isključivo zbog svoje bizarnosti i globalne vidljivosti – jeste "pozajmica" prezimena arhitekte Erna Goldfingera, autora kula Trellick i Balfron, za ime zlikovca u Bond filmovima. Loš tretman su imale i naše arhitekte iz te generacije, uz dodatni stres oko raspada države, društva i sistema u kojem su stvarali, a evo, danas ih gledamo u stalnoj kolekciji MoMA.
Aktivan ste član udruženje DoCoMoMo. Koja je pozicija modernističkog nasleđa u našem društvu?
Danas je mnogo bolja nego kada smo osnovali Docomomo Srbija, ali je i dalje dug put pred nama. Rekla bih da valorizacija više ne predstavlja toliko veliki problem, ali obnova je i dalje nešto u šta se naše službe nerado upuštaju, zbog obima posla i komplikovanih administrativnih i pravnih procedura. Javnosti su danas mnogo dostupnije informacije, stasale su i nove generacije koje drugačije posmatraju ovu arhitekturu, stvorena je vremenska distanca pa rasprave nemaju onakav emotivni naboj kao pre 10 ili 20 godina. Na drugoj strani, čini mi se i da nam savremena izgradnja ide na ruku, jer odlično kontrastira modernizam i nažalost, plastično pokazuje regresiju naše arhitekture i urbanizma. Što se više gradi novih objekata – naročito stambenih – sve je jasnije koliko je kvalitetnija moderna od pre 30, 40 ili 50 godina, uprkos dotrajalosti objekata i brojnim poznatim nedostacima.
Kakav je naš odnos prema modernoj istoriji? Da li smo previše romantični?
Ne mislim da smo romantični, naprotiv. Svakodnevica nas demantuje. Možda to tako izgleda jer, sa inflacijom diplomaca (arhitekture), definitivno sada postoji mnogo više istraživača angažovanih na polju istorije arhitekture pa je vidljivija problematika. Takođe, znatno je veća dostupnost istraživačkom, popularnom ili čak senzacionalističkom sadržaju – imate u ponudi sve, od produkcije hobista do vrhunskih profesionalaca – na par klikova. Međutim, to što je moderna prisutnija u javnom ili profesionalnom diskursu govori nekoliko stvari.
Prvo, da je naprosto došao red i na nju da bude propisno valorizovana, jer su prethodni stilovi već u velikoj meri obrađeni i svima je manje ili više jasna njihova vrednost. Drugo, posleratna moderna zapravo procentualno čini najveći deo naše građene sredine – a ukoliko se uradi distribucija po tipologijama, preraspodela postaje još dramatičnija – uzmite za primer recimo, objekte (nestajuće) industrije, zdravstva, obrazovanja ili kulture. Dakle, to su strukture koje mi svakodnevno koristimo, deo su naših navika i rutina, pa ljudi počinju da reaguju kada se dešavaju promene.
Najzad, reč je o periodu po kojem je naša arhitektura postala prepoznatljiva u međunarodnim stručnim krugovima i među entuzijastima. Kao što je recimo Beč – možda i malo stereotipno – prepoznatljiv po objektima iz perioda Gründerzeit , Barselona po blokovima Ildefonsa Cerda, ili Pariz po Osmanovskim bulevarima, tako je i Beograd poznat po modernoj arhitekturi, naprosto zbog vidljivosti organizovane masovne produkcije prostora. Kako je reč o recentnijoj arhitekturi, možda smo samo malo zbunjeni i ne znamo kako da se postavimo.
Od ukupnog modernističkog nasleđa, najviše 1% zgrada ima neku istorijsku vrednost? Šta je sa drugih, 99%? Koja je njihova sudbina?
Ostalih 99% je ono što zovemo "modernizam upotrebne vrednosti". To su jednostavne, generičke, jeftine zgrade koje su građene svuda oko nas – naglašavam, ovo nikako ne implicira (bez)vrednost njihove arhitekture. Te zgrade će se koristiti, menjati, prepravljati, neke će neminovno nestajati – to je naprosto ciklus koji je istorijska konstanta.
99% zgrada je ono što zovemo "modernizam upotrebne vrednosti". To su jednostavne, generičke, jeftine zgrade koje su građene svuda oko nas.
Kao neko ko se bavi konzervacijom, odavno sam shvatila i prihvatila da je posao mojih kolega i mene da te objekte najpre razumemo, a onda da pokušamo da usporimo te procese koji će se neminovno dešavati, kako bismo im produžili vek. Međutim, promena koju bih želela da vidim jeste postojanje nekakavog pozitivnog pristupa prema tim objektima i poštovanje njihovih autora, kao i prestanak prakse drastičnih izmena pod krinkom rekonstrukcije ili unapređenja efikasnosti. To se radi masovno kod nas, i gde treba i gde ne treba, što ukazuje da je problem i unutar naše profesije. Ne želim da govorim o rogobatnim dogradnjama, ta je tema davno ispričana i postala opšte mesto i dnevnik naše svakodnevice.
Imamo ilustrativan i vrlo svež primer rekonstrukcije Hotela Rubin u Kruševcu, koji je bio kvalitetan objekat upravo tog modernizma upotrebne vrednosti. Jednostavno, uporedite izgled pre i posle rekonstrukcije. Energetska sanacija je rešena pukim kačenjem aluminijumske fasade preko stare mermerne obloge. Kako je objekat ispražnjen i rekonstruisan u potpunosti, te nisu postojali problemi koji se inače javljaju kada morate još i kordinirati korisike ili stanare, mislim da je postojala mogućnost drugačijeg pristupa ovom problemu. Bojim se da će se slična situacija desiti i u Užicu, sa daleko značajnijim Hotelom Zlatibor Svetlane Kane Radević za koji je pokrenuta inicijativa zaštite, a imali smo i sličan primer sa beogradskim Hotelom Putnik Mihajla Mitrovića.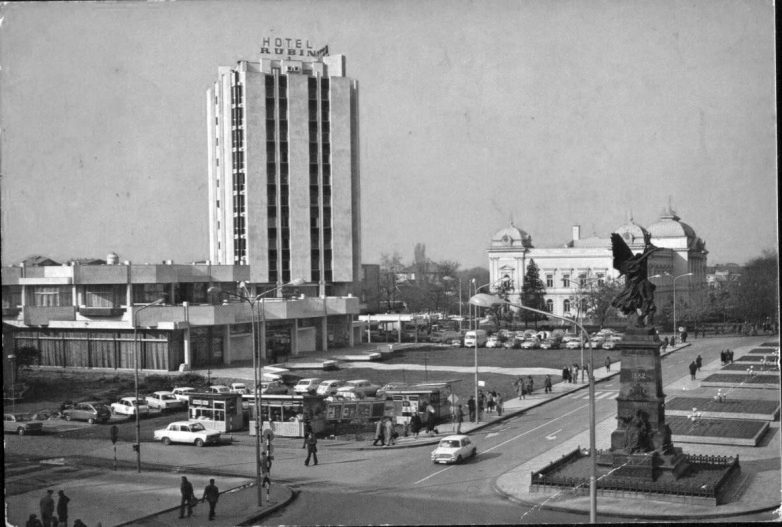 U jugoslovenskom periodu zidano je na stotine hiljada stanova. Betonska prefabrikacija bila je najzastupljeniji sistem gradnje. Danas, 50-70 godina nakon izgradnje, te zgrade je teško održavati. Fasadni paneli i stolarija su oronuli. Energetska efikasnost je upitna. Problem njihovog održavanja je ogroman. Da li se neko iz naše struke bavi tom problematikom?
Nažalost, problem održavanja je stvoren svuda gde ima višeporodičnog stanovanja, a na primerima u Britaniji možemo najjasnije videti da je krajni cilj špekulacija sa zemljištem i nekretninama – uporedite primere Barbican, Park Hill, Trelick Tower.  Kod nas, mislim da moramo postaviti i pitanje monopola: već više decenija postoje nadležna javna preduzeća, koja – u zavisnosti od perioda – imaju manji ili veći monopol nad održavanjem objekata ili javnih prostora, imaju i monopol nad naplatom istog, ali efekti izostaju. Kada se postavi pitanje sanacije, uvek postoji paravan (nedostatka) raznih nadležnosti, od 1990-tih kombinovan sa komplikovanim imovinskim odnosima i manjkom raspoloživih kapaciteta. Dakle, paradoksalno, problemi se ne rešavaju onda kada su mali i lakše rešivi – politikom kontinuiranog investiranja u održavanje – već se ostavljaju za neku, valjda bogatiju, budućnost. Do tada će i troškovi njihovog rešavanja nedvosmisleno porasti i tako ostajemo da se vrtimo u začaranom krugu.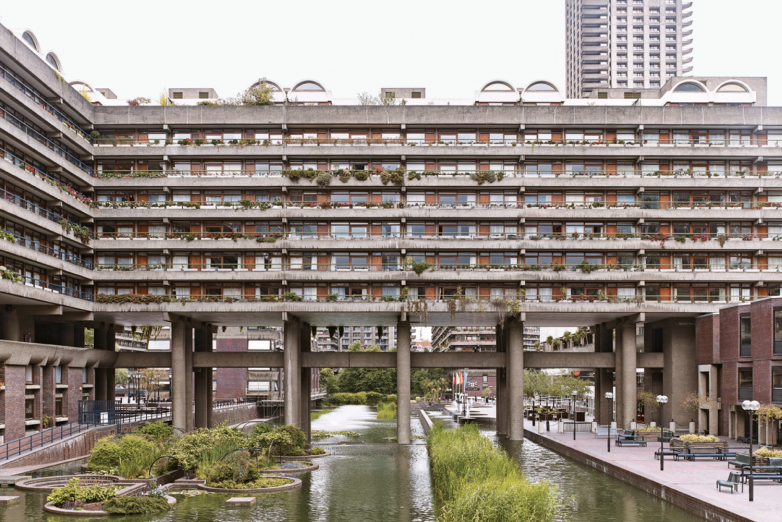 Teror toplotnog komfora
O energetskoj sanaciji sam već pisala u nekoliko navrata, čini mi se da je jasno koje je moje polazno stanovište iz teksta "Teror toplotnog komfora" koji sam pisala za 82. broj DANS-ovog časopisa. Naprosto, ne mislim da problem energetske efikasnosti treba rešavati praksom pukog lepljenja termoizolacije na fasade i zamenom stolarije. Naše poslovično kaskanje za savremenim trendovima i praksama nam sada nudi uvid u rezultate istih – one zemlje koje su masovno koristile stiropor i kontaktne fasade sada traže druga rešenja zbog fizičke deterioracije i opadanja performansi stiropora, problema sa kondenzom – koji vodi većem problemu zadržavanja vlage u konstrukciji – i najzad problema sa stvaranjem otpada.
Ne mislim da problem energetske efikasnosti treba rešavati praksom pukog lepljenja termoizolacije na fasade i zamenom stolarije.
Slično je i sa široko rasprostranjenom PVC stolarijom, kojoj je rok trajanja u principu oko 15 godina. Iako neki proizvođači ostavljaju mogućnost poprakve i zamene delova, činjenica je da većina završava na otpadu, jer je i dalje skuplje popravljati nego kupiti novi prozor. Mi imamo i nikad rešeni i sve teži problem nedostatka zanatlija koji bi to radili. Carl Elefante koji je 2018. godine postao 94. predsednik Američkog instituta arhitekata – AIA, poznat je po stavu koji je nama u zaštititi već odavno usađen kao polazna premisa: "najzelenija" zgrada je ona koja je već izgrađena. Dakle, potrebno je pametno retrofitovanje. U poslednje vreme se u (post)industrijskim zemljama stidljivo pomalja tema tzv. dekonstrukcije, koja ustvari i nije neka novost, pogotovo za nas u Srbiji, gde smo zbog krize i siromaštva naučili da popravljamo i recikliramo. Mislim da treba i ove aspekte uzeti u obzir i da ne treba zaboraviti da su popravka i sekundarna upotreba građevinskog materijala stare koliko i čovečanstvo.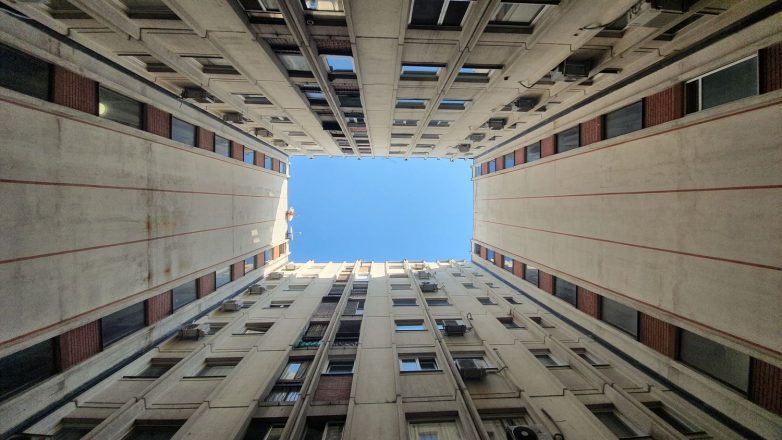 "Najzelenija" zgrada je ona koja je već izgrađena. Dakle, potrebno je pametno retrofitovanje.
Sad, kako sve ovo govorim iz pozicije de facto autsajdera, ne mogu reći da baš imam dobar uvid u strukturu kadrova koji su na raspolaganju u Srbiji, a koji bi bili potrebni za rešavanje ovih problema. Znam da postoje brojni pojedinci koji se bave različitim aspektima ovog komleksnog problema, ali ih treba povezati u jedinstvenu platformu, treba omogućiti široku raspravu o mogućnostima i pristupima, treba posegnuti i za inostranim ekspertima i iskustvima – što nije novost za nas jer smo kroz istoriju uspešno koristili institut tehničke pomoći i stipendiranja. Za sve to je potrebna državna politika. Iz tuđih, ali i iz sopstvenih iskustava znamo da je to moguće i neophodno, naprosto, organizacija kakva je bila potrebna za izgradnju ovih objekata je potrebna u nešto drugačijoj formi i za njihovu obnovu.
Koja je budućnost "Džinova od betona"? Šta je tvoje mišljenje?
Želim da budem optimista i verujem da ćemo ih obnoviti i sanirati na odgovarajući način, tako da ne narušimo njihovu autentičnost. Kada postoji volja, nađe se i način.
Tvoje onlajn predavanje privuklo je čak 600 ljudi. Da li misliš da su webinari budućnost stručnog umrežavanja i razmene znanja?
Mislim da jesu i iskreno se čudim da te mogućnosti nismo više koristili do sada. Ja za sve te aplikacije i platforme, priznajem, nisam uopšte čula sve do ove situacije sa epidemijom, kada su počele da se obilato koriste. Ovih dana sam slušala niz webinara sa svih strana sveta, ali mi se čini da smo čekali i da se stav organizatora promeni i da se pomeri ka stanovištu da znanje treba mnogo više deliti. Možda se to desilo i zbog sve jače krize anti-intelektualizma, naročito u Americi, pa je karantin postao zgodna prilika i za onlajn popularizaciju nauke kroz webinare. Ranijih godina to ipak nije bio slučaj, tada je ekskluzivnost pristupa i dostupnosti bila imperativ i tada bih bila srećna kada pronađem snimke kurseva sa npr. Stanforda koji su nekoliko godina stari. U našem slučaju, smatram da webinare treba što više koristiti, jer je onda lakše ponuditi sadržaje i publici u unutrašnjosti ili u susednim zemljama. Videćemo koliko će ovaj pristup potrajati.
Posle velikog uspeha "Džinova od betona", da li nam pripremaš još neki webinar?
Trenutno spremam jedno predavanje za studente arhitekture, tema je okvirno o razvoju tehnologija gradnje kod nas, i jedan 'response' za diskusiju u okviru koje ćemo pričati o Jugoslovensko-Američkom projektu iz 1960-tih godina. Međutim, ti webinari su usmereni ka usko stručnoj, ciljanoj publici, u ovoj fazi oni neće biti javno dostupni.
Posle ovog iskustva sa "Džinovima od betona" razmišljam šta bismo sve mogli da ponudimo u ovakvoj formi i koje bi to teme mogli da otvorimo, a da budu zanimljive i široj publici. Odlično je, recimo, da je Božidarac u saradnji sa BINA-om ponudio onlajn predavanje-diskusiju "Minimalni stan – maksimalni standard", koja je bila planirana za ovogodišnji program, ali je usled nastale situacije odložena. Trebaće nam svima malo vremena da se snađemo u novim okolnostima, ali ne sumnjam da će biti novih prilika za onlajn događaje.
Kad ste već ovde…