Pogledajte kakve projekte su arhitekte s područja bivše Jugoslavije, uglavnom uz podršku giganta zvanog Energoprojekt, podizali po svetu.
Poslednjih godina modernistička arhitektura Jugoslavije počinje sve više da interesuje globalnu populaciju i biva prepoznata kao jedinstvena arhitektonska scena. Međutim, jednaku pažnju ne dobijaju radovi jugoslovenskih arhitekti koji su izgrađeni van područja Jugoslavije. Zbog ostvarenih uticaja i političkih veza koje je Jugoslavija gajila kreiranjem i učestvovanjem u Pokretu nesvrstanih, ona je bila u mogućnosti da svoja arhitektonska dela i modernističku estetiku "izvozi" u mnoge države koje su bile članice ovog pokreta. Jedan od najvećih tragova jugoslovenske arhitekture postignut je stvaranjem velikog broja zgrada i infrastrukture širom Afrike i Bliskog Istoka, piše Spomenik Database.
1. Međunarodni sajam, Lagos, Nigerija
Arhitekte: Zoran Bojović, Predrag Ðaković, Milorad Cvijić i Ljiljana Bojović
Godina izgradnje: 1974-1977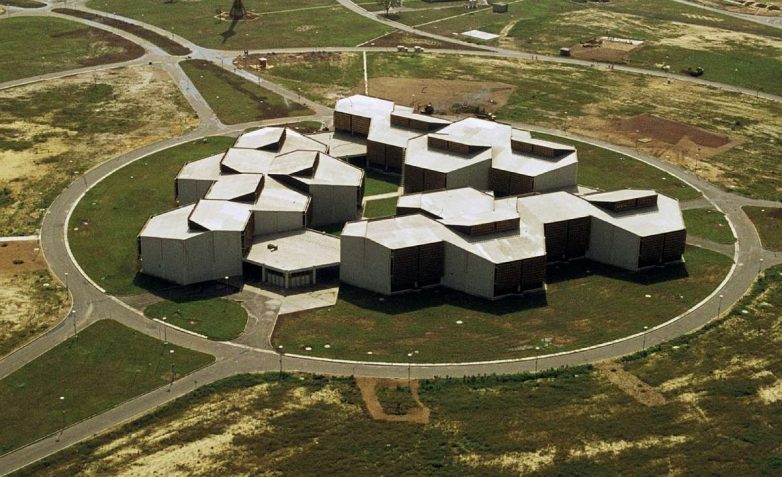 Sa lokacijom uz auto-put Lagos-Badagry, na parceli od 350 hektara izgrađen je kompleks sajma, sa ciljem organizovanja prvog međunarodnog sajma 1977. godine. Sajamski prostor na površini od 40.000 kvadratnih metara izgradila je firma Energoprojekt, dok je projekat izvodio tim koji je predvodio beogradski arhitekta Zoran Bojović. On je inspiraciju za kružnu formu kompleksa dobio tokom posete nigerijskim selima, gde je od lokalne dece zatražio da mu nacrtaju mape njihovih malih zajednica. Iako se u kompleksu i dalje organizuju mnogobrojni događaji, mnogi njegovi delovi se nalaze u lošem stanju poslednjih godina.
2. The FINDECO House, Lusaka, Zambija
Arhitekte: Dušan Milenković i Branimir Ganović
Godina izgradnje: 1971 -1974
Sa visinom od 90 metara i 23 sprata na kojim je organizovano 8.900 kvadratnih metara prostora, FINDECO House predstavlja najvišu zgradu Zambije, što je i dalje čini jednom od najpopularnijih u ovoj zemlji. Zgrada je jedinstvena po svojoj konstrukciji, gde su ploče konzolno ispuštene u odnosu na centrali stub. Kula je izgrađena u jeku zambijskog izvoza bakra, ali čim je objekat završen cene bakra su pale, što je ostavilo ovu zemlju u recesiji koja i danas traje. Danas ova zgrada uglavnom funkcioniše kao kancelarijski i prodajni prostor. Poslednjih godina ulažu se napori u organizovanje obnove i modernizacije kule, ali se nažalost još ništa ne dešava.
3. Međunarodni konferencijski centar, Kampala, Uganda
Arhitekte: tim jugoslovenske inženjersko-građevinske firme Energoprojekt
Godina izgradnje: 1975
Konferencijski centar izgrađen je povodom organizovanja 13. samita Organizacije afričkog jedinstva (OAU). Građevina šestougaone forme, obložena je dekorativnim aluminijumskim panelima zahvaljujući kojim je dobila atraktivan izgled, ali i zaštitu od tropskog sunca. Zloglasni predsednik Ugande, Idi Amin, centar je koristio i za sve svoje lične aktivnosti. Kompleks se i dalje koristi za raznovrsne aktivnosti, a tokom poslednjih godina je obnavljan u nekoliko navrata.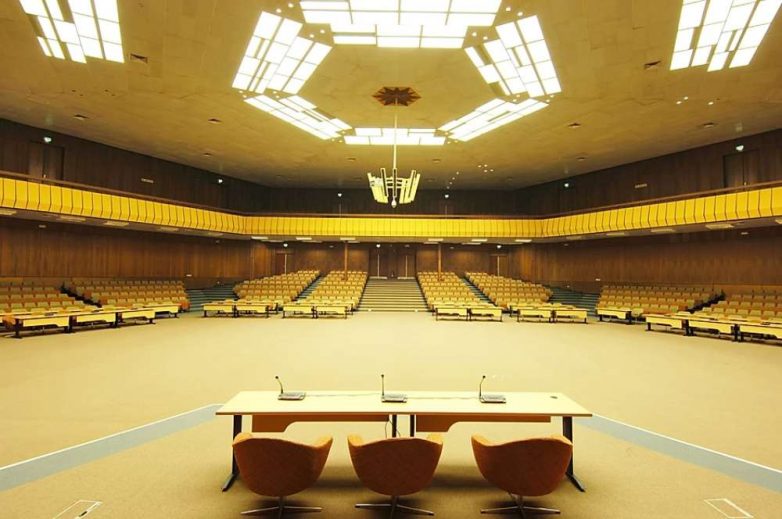 4. The Babylon Hotel, Bagdad, Irak
Arhitekte: Edvard Ravnikar, Majda Kregar, Edo Ravnikar Jr i Miha Kerin
Godina izgradnje: 1969-1982
Fascinantna stepenasta struktura izgrađena je sa namerom da bude simbol drevne Vavilonske bašte, međutim zanimljivo je da je slovenački arhitektonski tim zapravo objekat izveo prema planu koji je prvobitno osmišljen za izgradnju crnogorskog objekta u Budvi, gde je trebalo da predstavlja ogledalo okolnih planina. Međutim, nakon što su prvobitni planovi propali, prema vrlo malo izmenjenom projektu izgrađen je hotel u Bagdadu. Hotel je radio tokom narednih godina, čak i u periodu rata, kada je pretrpeo nekoliko terorističkih napada tokom 2010. i 2015. godine, što je dovelo do ozbiljnih oštećenja nekih delova kompleksa.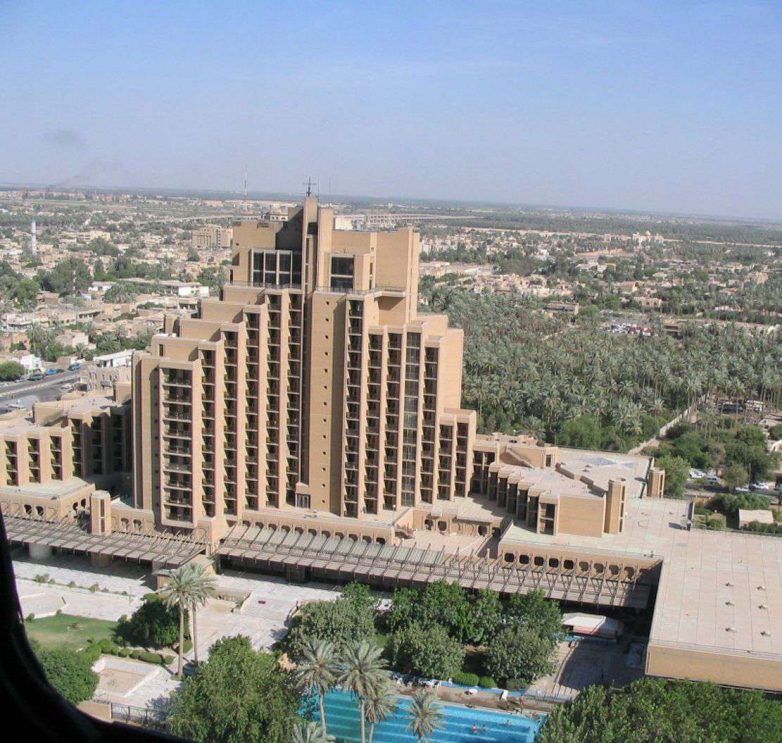 5. Conference Palace, Librevile, Gabon
Arhitekte: tim jugoslovenske inženjersko-građevinske firme Energoprojekt
Godina izgradnje: 1977 (objekat srušen 2014)
Masivni kompleks konferencijskog centra je izgrađen povodom organizovanja 14. samita Organizacije afričkog jedinstva (OAU). Kompleks je bio izveden prema projektu koji je kombinovao najfinije stilove iz tog perioda, a raskošno predvorje krasio je masivni reljef beogradskog umetnika Miodraga Živkovića. Neki izvori opisuju ovaj kompleks kao najluksuzniju zgradu ove vrste u Africi, ali je on ipak srušen 2014. godine, kako bi se izgradio novi kompleks za predsednika Gabona.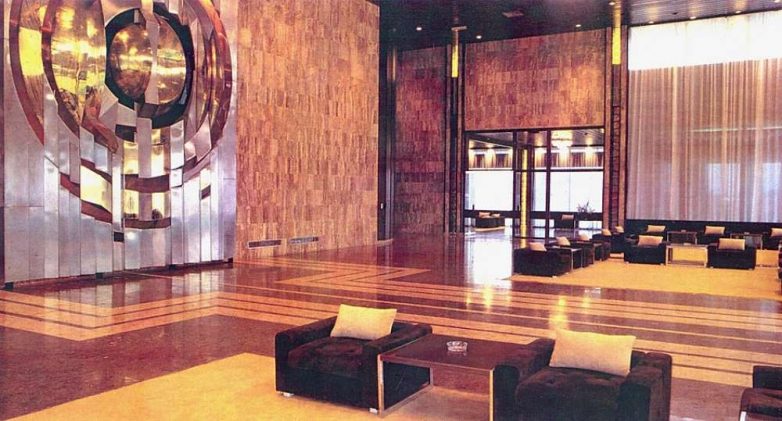 6. Konferencijski centar Mulungushi, Lusaka, Zambija
Arhitekte: tim jugoslovenske inženjersko-građevinske firme Energoprojekt
Godina izgradnje: 1970
Izgradnja ovog objekta rezultat je tadašnje krize kada je predsednik Zambije trebalo da bude domaćin 3. sastanka Pokreta nesvrstanih. Međutim, problem je bio u tome što Zambija nije imala gde da organizuje pomenuti događaj, te su inženjeri Energoprojekta za nekoliko dana na licu mesta napravili planove za izgradnju objekta. Centar je nastao u roku od četiri meseca i bio je spreman za predstojeći događaj, sa kapacitetom od preko 4.000 mesta i sa 65 okolnih vila za smeštaj posetilaca. Centar je i danas u upotrebi i u dobrom je stanju.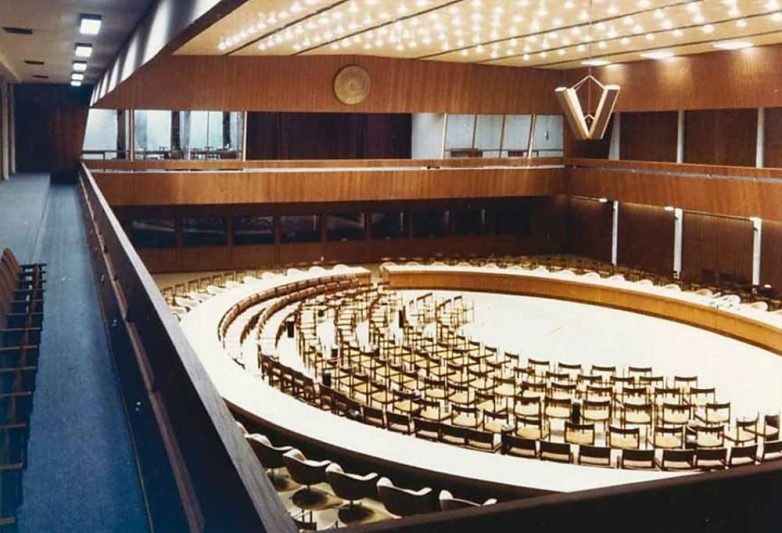 7. Rezidencijalni kompleks Al Khulafa, Bagdad, Irak
Arhitekte: Zoran Bojović i Ljiljana Bojović
Godina izgradnje: 1984
Dva tornja sa po 11 spratova izrazito su modernistička po svom stilu, ali se kroz njih istovremeno reflektuje i tradicionalna arhitektura Iraka. Takve karakteristike se na primer mogu videti u formi nekih prozora. Svojom visinom i primenjenom belom bojom kule se ističu u odnosu na okolne tradicionalne kuće, te služe kao orijentir u gradu. Kule su i danas u dobrom stanju
8. Hotel Šeraton, Harare, Zimbabve
Arhitekte: Zoran Bojović i Ljiljana Bojović
Godina izgradnje: 1982-1986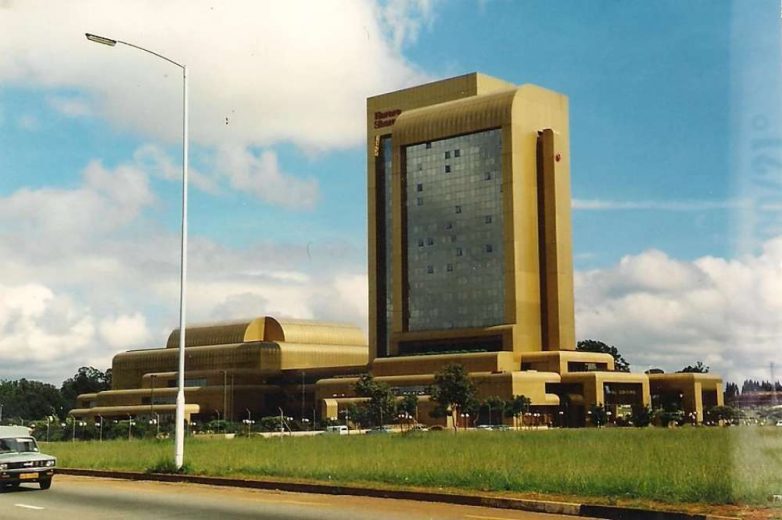 U vreme kada je izgrađen kao hotel Šeraton sa pet zvezdica bio je prvi te vrste, a i do dan danas ostao jedini a ujedno i najveći hotel Zimbabvea sa skoro 400 soba. Objekat karakteriše glatka i zakrivljena zlatna fasada sa masivnim staklenim površinama. Objekat je promenio naziv 2005. godine u Rainbow Towers i dalje se nalazi u odličnom stanju.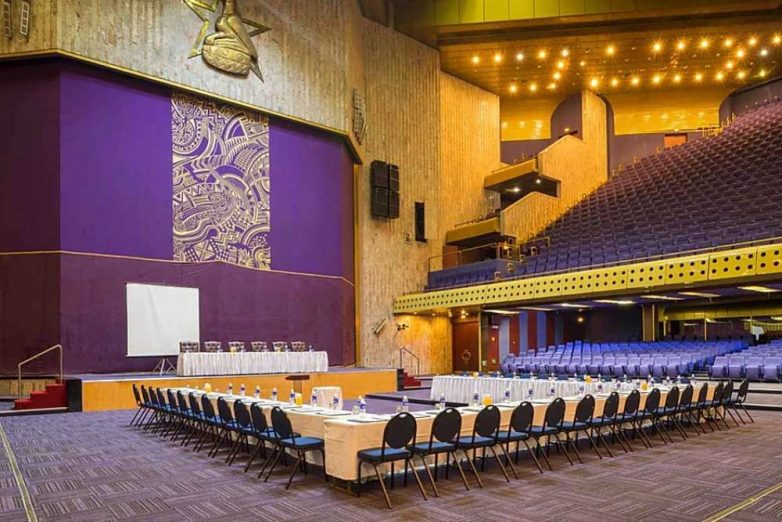 9. Međunarodni aerodrom, Entebe, Uganda
Arhitekta: Aleksandar Keković
Godina izgradnje: 1972-1973
Na oko 45 kilometara južno od glavnog grada Ugande smešten je međunarodni aerodrom Entebe. Ovaj objekat globalno je, nažalost, poznat po incidentu iz 1976. godine kada je avion koji je krenu iz Tel Aviva za Pariz otet, a zatim preusmeren baš na ovaj aerodrom jer je napad otmičara podržan od strane Idi Amina, predsednika Ugande. Da ovo ne bude malo, aerodrom je zadesila naredna nesreća tri godine kasnije kada su neki njegovi delovi uništeni tokom rata između Ugande i Tanzanije. Aerodromski kompleks koji je projektovan od strane crnogorskog arhitekte još uvek je u funkciji, ali postoje planovi za njegovu obnovu i modernizaciju u narednih nekoliko godina.
10. State Ministries Complex, Kano, Nigerija
Arhitekte: Milica Šterić i Zoran Bojović
Godina izgradnje: 1978
Kako bi se izborili sa jakim suncem, arhitekte su kao dominantnu boju primenile belu, a uticaj je smanjen i rešetkastim otvorima ispred prozora, što je bila tehnika pozajmljena iz tradicionalne lokalne arhitekture. Ovaj objekat predstavlja jedan od napora Energoprojekta za bolju gradnju u Africi, jer je stvoren od prefabrikovanih elemenata što je povećalo efikasnost i brzinu izgradnje. Objekat i danas radi i nalazi se u dobrom stanju.
11. Glavna pošta, Adis Abeba, Etiopija
Arhitekte: Ivan Štraus i Zdravko Kovačević
Godina izgradnje: 1964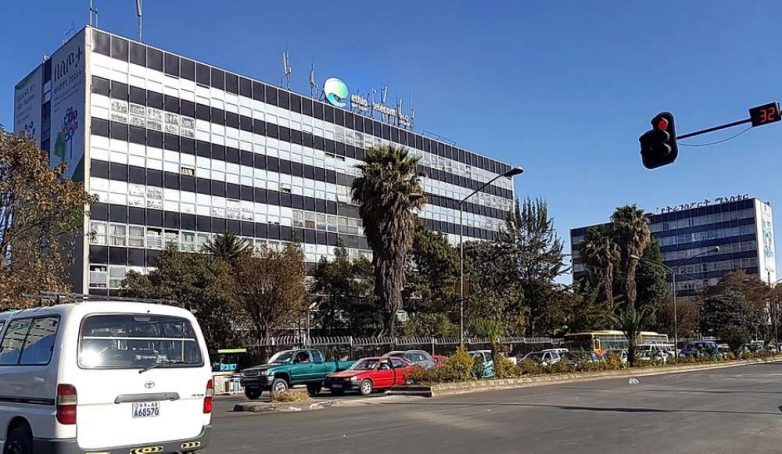 Realizacija ovog projekta je delom nastala kao rezultat snažne veze između Hajla Selasija, cara Etiopije i Josipa Broza Tita. Projektovan u internacionalnom stilu, ovaj masivni kompleks se sastoji od dve odvojene i izdužene modernističke zgrade od po osam spratova. Kompleks i dalje ima originalnu funkciju i u dobrom je stanju.
12. Memorijalna bolnica Duke of Harar, Adis Abeba, Etiopija
Arhitekte: tim firme "Union Engineering"
Godina izgradnje: 1964-1973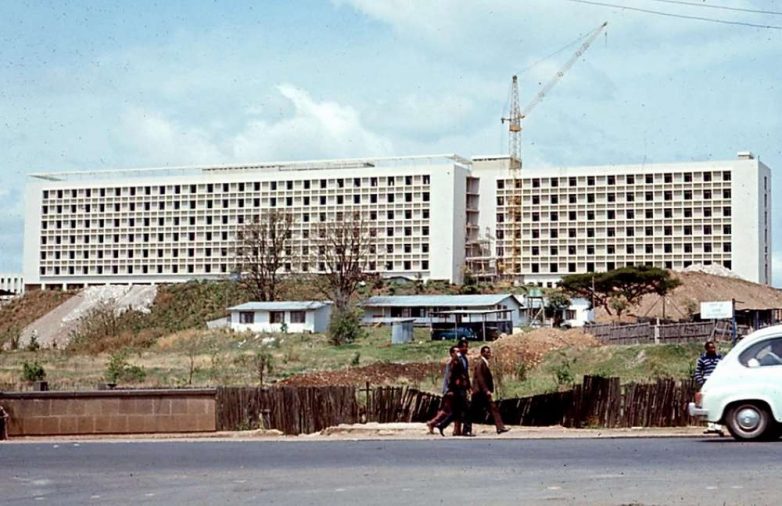 Čuvena "Bolnica crnog lava" organizovana na osam spratova i dužine 155 metara, iako je tokom izgradnje nailazila na finansijske probleme, kada je otvorena predstavljala je najveću i tehnički najnapredniju medicinsku ustanovu u Etiopiji, koju je vodio tim švajcarskih lekara. Danas, bolnica i dalje radi ali nivo medicinske nege koji pruža zaostaje za mnogim zemljama u Africi.
13. Konferencijski centar Bayan, Kuvajt Siti, Kuvajt
Arhitekta: Stojan Maksimović
Godina izgradnje: 1987
Nakon što je 1979. godine projektovao Sava Centar, Stojan Maksimović je postao jedan od najslavnijih arhitekti u Jugoslaviji. Kao rezultat ovog uspešnog projekta Vlada Kuvajta ga godinu dana kasnije poziva da učestvuje na konkursu za realizaciju novog kompleksa konferencijskog centra u Kuvajtu. Maksimović je sa svojim rešenjem pobedio na održanom konkursu, a izgradnja je nedugo zatim i počela.
Međutim, neki izvori kažu da je iz nekog razloga konačni oblik kompleksa izgledao znatno drugačije u odnosu na Maksimovićev koncept. Nažalost, tri godine nakon otvaranja Centar je pretrpeo ozbiljnu štetu tokom rata. Ipak, nakon obimnog projekta obnove, kompleks je ponovo otvoren i radi i danas kao najveći ove vrste u Kuvajtu.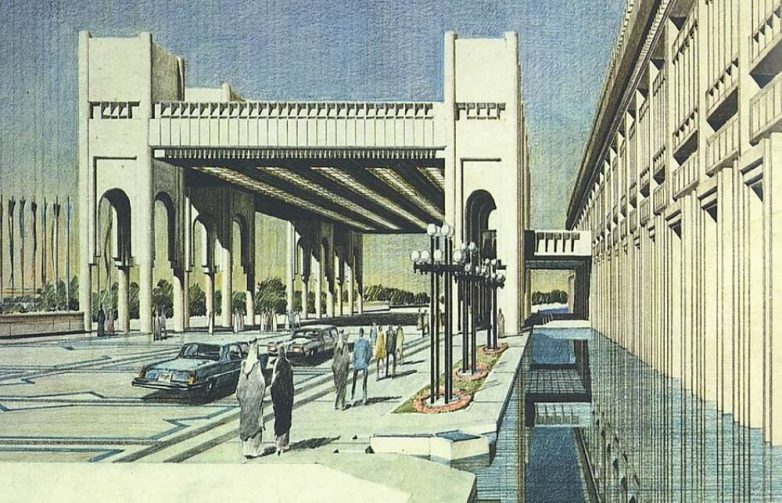 14. Pet objekata na Univerzitetu Kwame Nkrumah, Kumasi, Gana
Arhitekte: Mira Marasović, Niksa Ciko i John Owusu-Addo
Godina izgradnje: svi objekti izgrađeni u periodu između 1964 i 1968
Vlada Gane je tokom 1960. godine odlučila da malo strukovno učilište, poznato kao tehnološki fakultet Kwame, postane punopravni univerzitet. Tokom narednih godina kompleks je prošao kroz ekspanziju tokom koje mu je dodat velik broj objekata. Pet novih univerzitetskih zgrada projektovane su od strane jugoslovenskih arhitekti i nose nazive Vice-Chancellor's Lodge, Unity Hall, Africa Hall, Senior Staff Club i College of Architecture.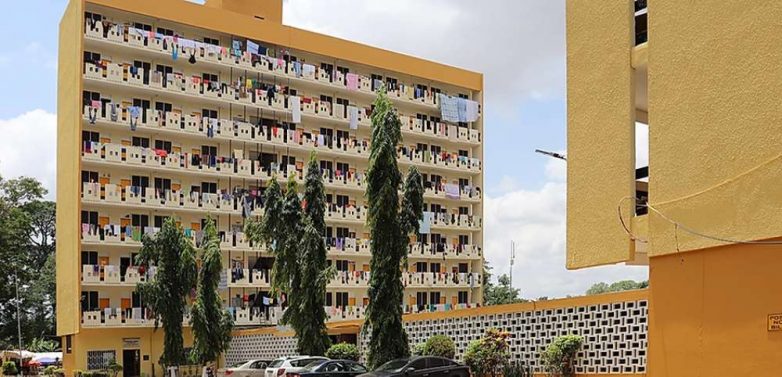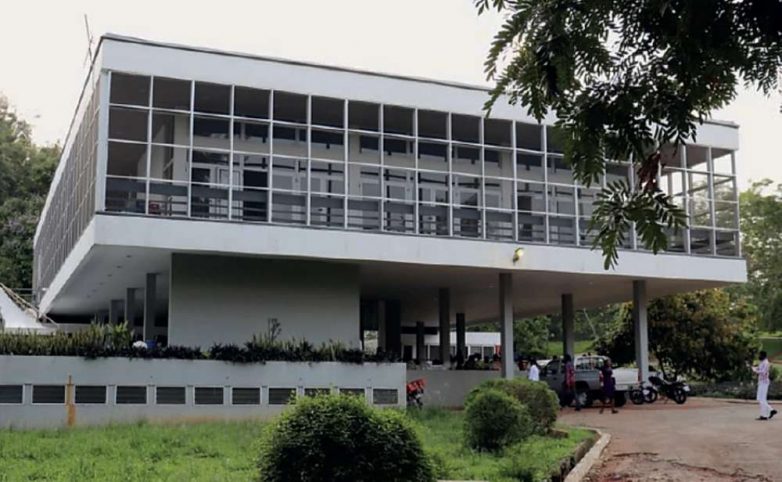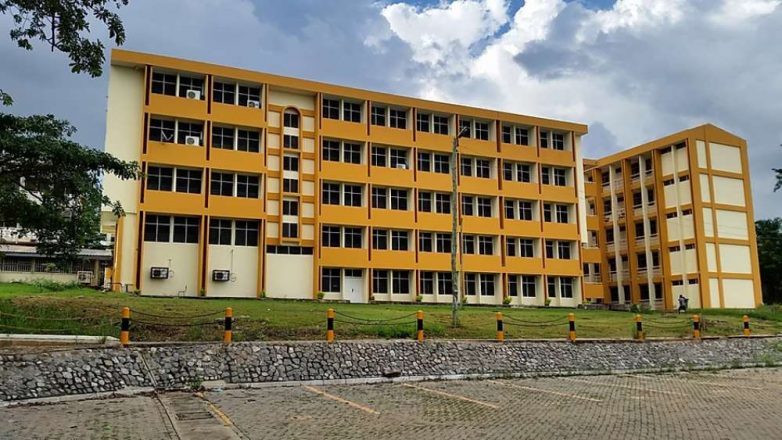 Kad ste već ovde…