Autori pobedničkog rešenja su se odlučili da poslovno-ugostiteljski objekat integrišu s mostom, vodeći se time istorijskim primerima pokrivenih mostova, kao što su Rialto u Veneciji ili Ponte Vekio u Firenci.
Prošle nedelje je javnosti predstavljeno pobedničko i druga nagrađena rešenja za pešački most na kanalu DTD. Naravno, prikazana rešenja su pokrenula lavinu pitanja, ali i komentara, često bez razloga negativnih. Da bismo dali odgovore na neka od tih pitanja i publici detaljnije predstavili pobedničko rešenje, obratili smo se projektnom birou ARCVS i otkrili da je njihov projekat kompleksniji nego što smo mislili.
Formu "na lakat" možemo videti pre svega u tradicionalnoj vojvođanskoj kući.
Bilo bi najbolje krenuti od ključnih stavki u raspisu konkursa, a koje se odnose na funkciju i formu budućeg mosta. Od učesnika se očekivalo da daju rešenje za pešačko-infrastrukturni most i poslovno-ugostiteljski objekat, kao celinu, gde je reč celina dodatno zaboldovana. S druge strane, most će biti još jedno urbano obeležje na ulasku u Novi Sad, pa je veoma važno voditi računa od njegovoj estetici, funkcionalnosti i konstruktivnosti.
Na osnovu prispelih radova, primetili smo da su se gotovo svi vodili konceptom da most i komercijalni objekat postave kao dva zasebna elementa, često s mostom koji ima veoma kompleksnu, robusnu formu, koja ne odgovara razdaljini koju bi trebalo premostiti. S druge strane, komercijalni objekat je svuda predstavljan takođe veoma kompleksno, zasenjujući time most, kao centralnu temu konkursa. Tim ARCVS je problemu prišao potpuno drugačije.
Za početak, treba napomenuti da tim ARCVS, na čelu sa arhitektom Branislavom Redžićem, često učestvuje na međunarodnim konkursima, gde se treniraju i stiču iskustva koja primenjuju na domaćim nadmetanjima. To se najbolje može videti na jednom od prethodnih konkursa, za Gradsku galeriju, gde je njihovo rešenje bilo zaista bez premca i koje je, kao i kod mosta, ponudilo inovativno i sveobuhvatno rešenje kojim se na jednostavan način zaokružuje forma i funkcija objekta. Dakle, kao što mudar čovek sa što manje reči iskazuje svoje misli i poentira u svom izlaganju, tako i tim ARCVS sa jezgrovitim konceptom dao rešenje za problem raspisanog konkursa.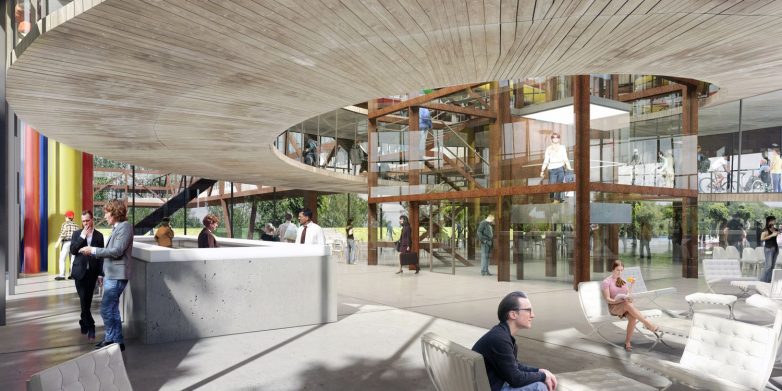 Novosadski Rialto
Kako u raspisu nije pisalo gde bi trebalo postaviti multifunkcionalni objekat, autori su odlučili da ga integrišu sa mostom, vodeći se time istorijskim primerima pokrivenih mostova, kao što su Rialto u Veneciji ili Ponte Vekio u Firenci.
Forma mosta je proizišla iz svog prirodnog i kulturološkog okruženja. Kako je kanal tekuća voda, bilo je potrebno mostu dati izvesnu dinamiku, a što je postignuto formom "na lakat" koju možemo videti pre svega u tradicionalnoj vojvođanskoj kući. Tu je naravno i čelična konstrukcija, u mašinsko-industrijskom izrazu, ali i pešačka zona koja podseća na palubu broda, čime se aludiralo na višedecenijsku namenu okruženja ovog dela kanala.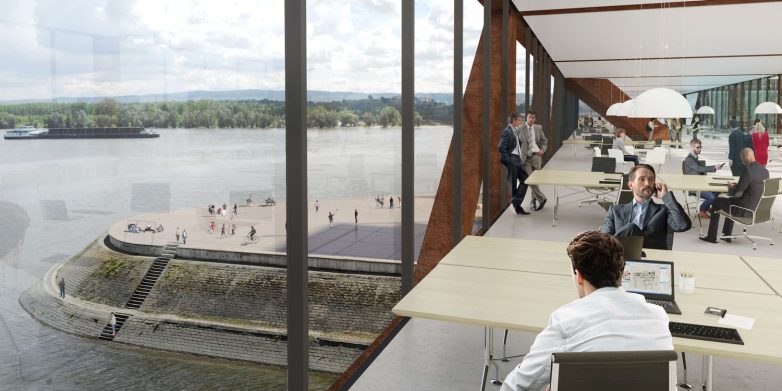 Odvojena topla i hladna veza
Okosnicu projekta čini još jedan zanimljiv koncept, a to je odvojeno postojanje tople i hladne veze unutar ovo jedinstvene strukture. Naime, kako je ideja bila integrisati pešačku zonu sa komercijalnom namenom ugostiteljskog objekta i/ili poslovnog prostora, autori su došli na ideju da ove dve namene odvoje različitim temperaturnim zonama. Tačnije, kompletna javna pešačka zona poseduje hladnu, a poslovno-ugostiteljska neprekinutu toplu vezu. Još jedna prednost mosta su vertikalne veze u vidu spirala, koje omogućavaju lakši pristup biciklistima i osobama sa specijalnim potrebama.
Most kao mesto susreta
Kao jedna od zamerki ovom rešenju mnogi su takođe navodili glomaznost, odnosno, veličinu mosta, čija je primarna funkcija da premosti jedan kanal. Međutim, pored spajanja dve obale, mostovi ne moraju postojati da bi se, kao u slučaju drumskog mosta, pešaci samo prebacili sa jednog kraja na drugi. Za takve potrebe "pretrčavanja" zaista nije potrebno previše filozofije u projektu. U slučaju pešačkih mostova, oni moraju posedovati i onu sociološku crtu, mesta susreta. Baš kao u Andrićevom romanu "Na Drini ćuprija", gde se na središtu mosta nalazi jednostavno proširenje sa sovrom za sedenje.
Pogledajte sve grafičke priloge: