Izvođenje
Kako se pravi kuća od transportnih kontejnera (video)
U iscrpnom video-prilogu možete dobiti instrukcije gde nabaviti transportni kontejner, kako doći do potrebnih građevinskih dozvola i kako izgraditi betonske temelje.
Potreba za malim i povoljnim domovima sve je izraženija u uzroci su svima jasni. Paprene cene nekretnina u gradovima koji postaju sve zagušljiviji i bučniji pa se mnogi mladi parovi odlučuju za stanovanje u manjim domovima na periferiji. Transportni kontejneri je kao "građevinski materijal" odavno poznat, ali retko se gde može pronaći uputstvo za izgradnju – od dozvole, preko temelja do gradnje.
Zato je The Modern Home Project pokazuje princip izgradnje male i moderne kuće, po pristupačnim cenama, i to od transportnog kontejnera. Čitav proces je predstavljen u prvoj epizodi koja je objavljenu na njihovom YouTube kanalu.
Pogledajte proces izgradnje:
Kroz video je ispraćen proces kupovine zemljišta, dobijanja dozvola, odabir materijala, izgradnje, postavljanje instalacija i na kraju opremanje doma.
Projekat prve male kuće izveden je u kalifornijskom mestu Joshua tree, a kroz video je ispraćen proces kupovine zemljišta, dobijanja građevinskih dozvola, odabir materijala, izgradnje, postavljanje instalacija i na kraju opremanje novog doma.
Ovaj projekat predstavlja kombinaciju "uradi sam" izgradnje i angažovanja profesionalaca u specifičnim segmentima izgradnje koji iziskuju stručno znanje i veštine i specijalnu opremu.
Za konkretno ovaj projekat, kupljeni su Hi-cube kontejneri koji su samo jednom korišćeni i koji su za jedan metar viši od standardnih kontejnera za transport. Korišćeni su kontejneri dužine 12 metara čija je cena 4.800 dolara i manji, dužine 6 metara, koji su koštali po 3.250 dolara.
Dobra je stvar da se u Kaliforniji mora poštovati zahtev da kontejneri koji se koriste za izgradnju stambenih objekata imaju dokumentaciju koja potvrđuje da se u njemu nije prevozio otpadni ili radioaktivni materijal. Ipak, zbog ovog zahteva ali i zbog kupovine nestandardnog Hi-cube kontejnera, cena je bila veća nego što je to slučaj kod drugih transportnih kontejnera koji se koriste za izgradnju objekata u ostalim delovima sveta.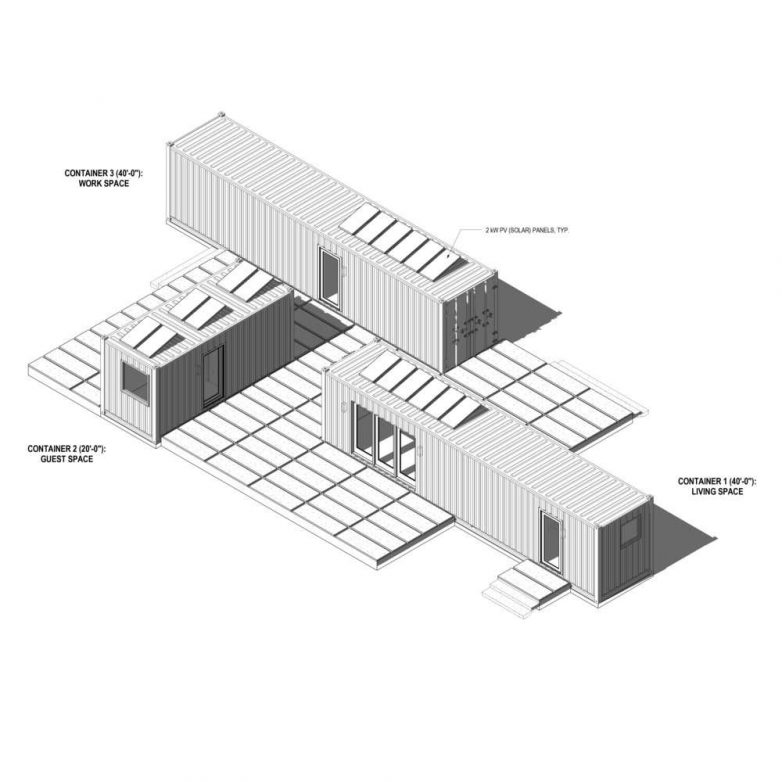 Ništa bez dozvole
Ben Uyeda, osnivač The Modern Home Project ističe da je poželjno, kao prvi korak u procesu, otići do lokalne gradske službe koje se bavi građevinskim poslovima i saznati šta vam je sve potrebno od dokumentacije, obzirom da je projekat specifičan. Nakon dobijenih informacija, Ben je angažovao firmu ZeroEnergy Design, čije suosnivač, koja mu je uradila arhitektonski projekat po ceni od 5.000 dolara.
Arhitektonski projekat je zatim prosledio građevinskoj firmi koja je napravila detaljne proračune i planove izgradnje, kako bi se na kraju dobio čvrst i siguran objekat.
Cena tehničke dokumentacije, kao i svih dozvola iznosila je oko 25.000 dolara i Benu je bilo potrebno oko četiri meseca za završi tu fazu.
Nakon što je objekat kroz sve procese gradnje uspešno izveden na monolitnoj betonskoj ploči, uređen je i kompletan enterijer. Dobijen je moderan i atraktivan prostor sa velikim otvorima pa ova kuća, na prvi pogled, a pogotovo iznutra, ne izgleda kao da je napravljena od alternativnih materijala.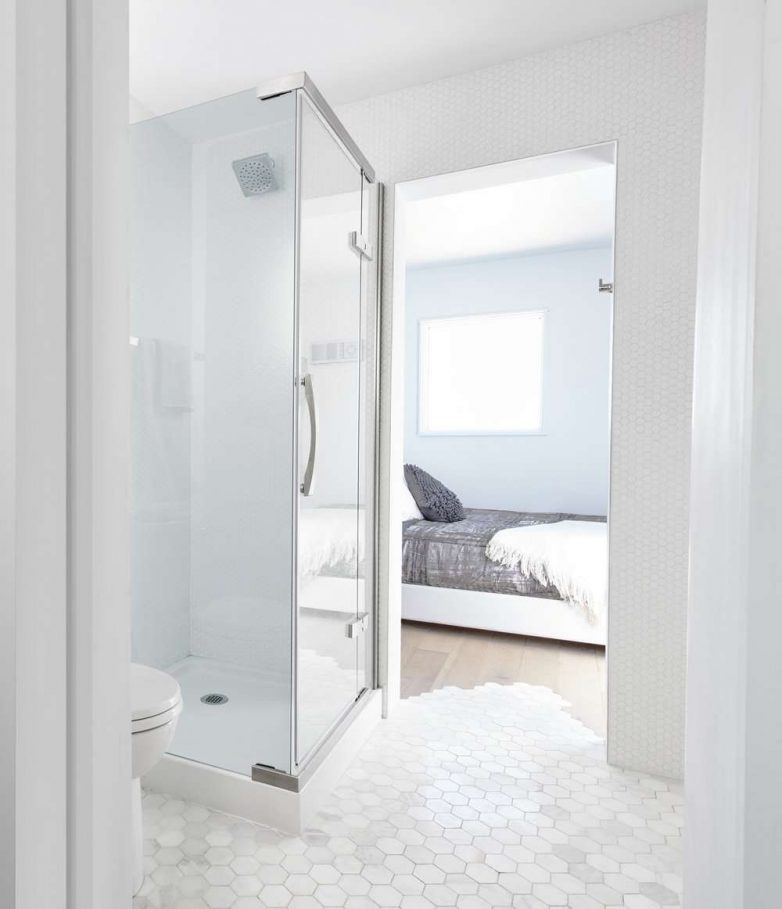 Ceo proces izgradnje je zaista detaljno prikazan ali on naravno važi za Ameriku. U suštini, princip gradnje je isti i kod nas samo što su cene malo drugačije, kao i proces nabavke građevinske dozvole.
Kad ste već ovde…