Opremanje
Prizme na ovoj fasadi stvaraju efekat kamuflaže korišćene u Prvom svetskom ratu
Nekada su se ovom tehnikom skrivali brodovi na moru, a sada njom dizajneri ukrašavaju zgrade.
Zgrada aerodroma u San Dijegu dobila je instalaciju nazvanu DAZZLE koja je izvedena pomoću tehnologije koju pravi kompanija E Ink. Instalacija je dizajnirana tako da se na fasadi stvara optička iluzija slična onoj koja se u Prvom svetskom ratu koristila za kamufliranje brodova.
Naime, tehnika Razzle Dazzle, iliti zaslepljujuća kamuflaža, vizuelni je trik kojim se nizom pruga objekat kamuflira ali ne tako da on postaje nevidljiv već da oko posmatrača ne može tačno da odredi njegove proporcije niti veličinu. Navodno, i zebre imaju pruge da bi ih predatori teže uočili… Elem, vizuelni trik na ovoj fasadi nije izveden tako što su zidovi farbani u pruge već tako što su na njih nakačene E Ink prizme koje se pale i gase u tačno određenim sekvencama.
Pogledajte kako to izgleda:
Prizme stvaraju neobičnu scenu u kojoj objekat nekad izgleda veći a nekad manji.
DAZZLE je napravljen od 2.100 autonomnih E Ink prizmi koje su napajaju fotovoltričnim solarnim ćelijama. Ove prizme troše veoma malo struje – duplo manje nego standardni paneli za televizore.
Umetnički tim Ueberall International je fasadu obložio prizmama u unapred određenom rasporedu i to tako da je od nje dobio jedan veliki ekran na kojem mogu da prave piksel projekcije. Efekat Razzle Dazzle stvara neobičnu scenu u kojoj objekat nekad izgleda veći a nekad manji. Navodno, ovaj efekat izgleda mnogo bolje uživo nego na fotografijama ili video-snimcima. Poverovaćemo im…
Mali potrošači, velike mogućnosti
E Ink je svetski lider u tehnologiji elektronskog papira, odnosno, ekrana koji troše veoma malo energije i pritom su veoma otporni, a njihove proizvode najčešće srećemo u raznim elektronskim čitačima knjiga. Ova instalacija napravljena je od prizmi, koje su takođe mali potrošači i pritom se napajaju solarnom energijom. Možda nam fasade uskoro postanu jedni veliki bilbordi… koji doduše troše malo struje.
Instalacija dobro izgleda čak i kada je ugašena…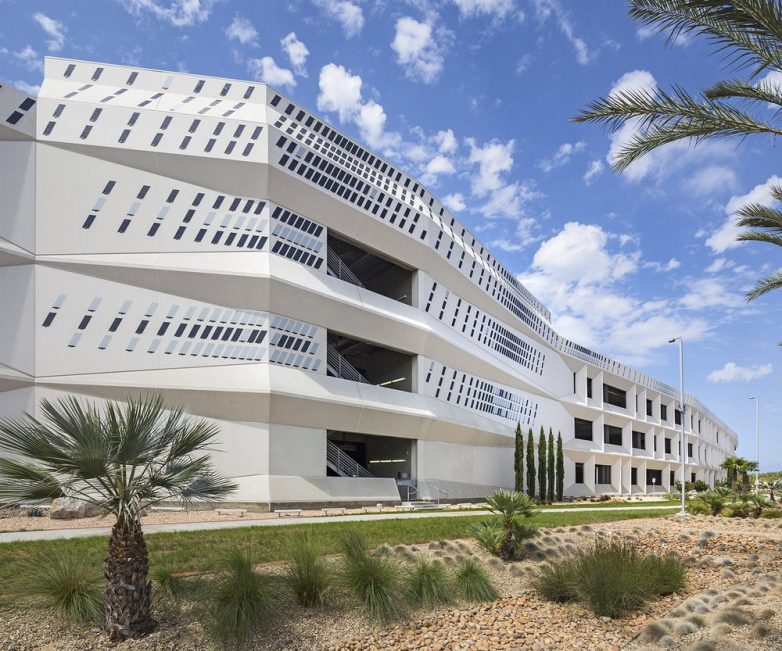 Foto: Courtesy of E Ink
Kad ste već ovde…